It's the first week of June, and you know what that means: it's time to talk ACC basketball! I say that in half-jest, but with the deadline to remain in the NBA Draft in the past, and the transfer market near completion, it's worth taking a look at how the league's teams stack up.
We have a better idea of the rosters now; for instance, Tyus Battle is back; Jerome Robinson is headed pro. (The NBA Draft is two weeks away.)
If you missed Part 1 yesterday: we evaluated the bottom half of the league for the 2018-19 season. Now, we will once again go in reverse order, and look at the top of the ACC basketball pecking order, which features several teams capable of contending for titles.
Order them however you like: They are all very good
No. 8 Miami
Miami waves goodbye to two future NBA Draft picks — Lonnie Walker (likely lottery-bound) and Bruce Brown. That's a lot of backcourt talent headed out the door. However, this team returns plenty from last season's roster, and gets a boost from an influx of new players.
With another offseason under his belt, 5-foot-7 point guard Chris Lykes will be one of the most dynamic players in the ACC next season. A gifted pick-and-roll guard, Miami scored 1.04 points per possession when Lykes was a passer out of the screen-roll game, per Synergy Sports. That's a good number, and it could balloon in 2018-19 with the return of big man Dewan Huell.
Miami's offense is all about ball screens and making opponents defend. Huell is a monster athlete in the middle, and he should be used as a non-stop screen-roll hub with Lykes. According to Synergy: Huell scored 1.14 points per possession out of the pick-and-roll (59.6 FG%).
Huell is a force at the rim; he shot 66.2 percent and scored 1.36 points per possession (a top 90 number nationally), per Synergy. There's no doubt: Huell, who ranked fifth in the ACC with 58 dunks in 2017-18, has it in him to be the league's most talented and productive post player.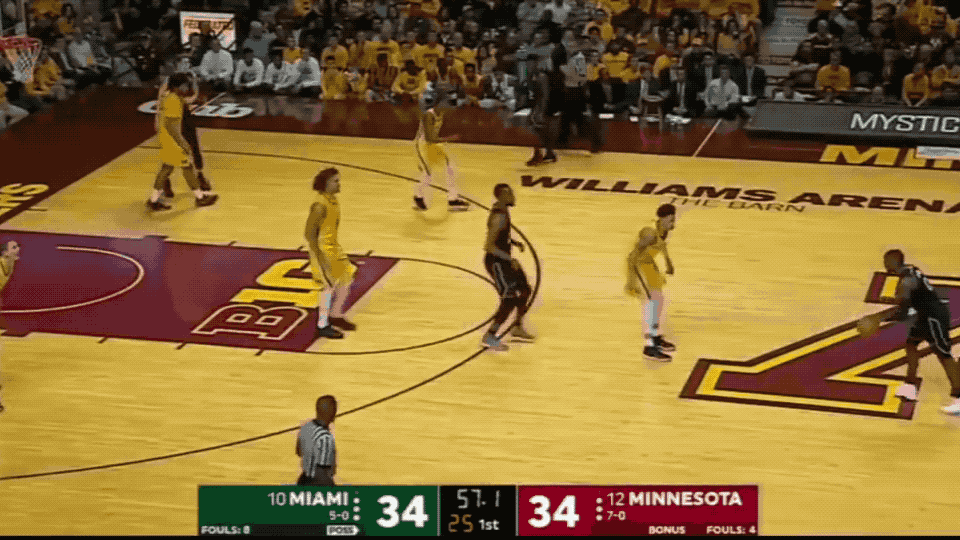 The Hurricanes will create space for Huell rim-runs with a collection of shooters, including Dunk City grad transfer Zach Johnson.
Johnson, who has over 1,300 career points, shot 42 percent (62.9 eFG%) and scored 1.27 points per possession (No. 91 in the nation) on catch-and-shoots, per Synergy. Veteran Anthony Lawrence (4.1 3PA per 40 minutes for his career) shot 40.7 percent (53.3 eFG%) on spot-up possessions last season. Mount St. Mary's transfer Miles Wilson is eligible and should be a factor, too; as should big man Ebuka Izundu.
No. 7 Florida State
Florida State must replace Braian Angola, who put together a great senior season for the Seminoles: 12.5 points, 37.6 percent shooting on three-pointers. Somewhat unexpectedly, point guard C.J. Walker and shot-blocker Ike Obiagu (21 percent block rate) transferred out of the program.
Fortunately, though, FSU was able to get a fifth year of eligibility for stretch-4 Phil Cofer, who blossomed during the 2017-18 campaign: 1.19 points per possession (59 eFG%) on catch-and-shoots — No. 6 in the ACC (minimum 100 possessions)
After attempting just 32 three-pointers in his first three seasons at Florida State (76 games), Cofer launched 128 in 2017-18 — making 48 (37.5 3P%). Cofer also shot 55.3 percent from inside the arc, including 54.2 percent on post-ups and 56.8 percent on other attempts at the basket, per Synergy.
His shooting provides space for Florida State to invert its offense, and let 6-foot-6 wing Terance Mann wreck shop at the rim. Mann scored 1.47 points per possession (69.1 eFG%) on finishes at the hoop (No. 21 nationally), which was good for third in the ACC. Mann is the only player in the top 10 of that list under 6-foot-9.
C.J. Walker is a good player, but his departure opens the door for Trent Forrest (1.18 points per possession in transition), who usurped him in the lineup and played incredible basketball at the end of last season. Now a sophomore, M.J. Walker has gobs of talent and should be more efficient on the perimeter; the explosive P.J. Savoy — 55.6 eFG% on spot-ups — returns, too.
On paper, a starting five of Forrest, Mann, Walker, Cofer and Mfiondu Kabengele (19.5 points, 12.6 rebounds per 40 minutes) — with Savoy as the sixth man — is pretty fierce. Big, switchy, with enough shooting to power a postseason run.
No. 6 Clemson
It took a few years to arrive at this point, but in 2017-18, Clemson finally broke through for coach Brad Brownell: 25 wins and a trip to the Sweet 16.
The Tigers got things done with a top-10 defense (No. 7 in adjusted defensive efficiency, per KenPom) and an offense that relied on a trio of guards: Shelton Mitchell, Marcquise Reed and sniper Gabe DeVoe. Two parts of that triumvirate — Mitchell (12.2 points, 50 three-pointers) and Reed — return, which is a serious boon for Clemson.
Reed led the Tigers in usage rate (24.5 percent), and is a productive pick-and-roll scorer; according to Synergy Sports, Reed shot 44 percent shooting (50 eFG%) and scored 0.88 points out of that action. The 6-foot-3 Reed will look to build on an excellent redshirt junior season: 15.8 points, 56 percent true shooting and 67 three-pointers.
Up front, Elijah Thomas and his low-block-bully post moves (50.5 FG% on post-ups) returns. He will team up with Aamir Sims, who saw more playing time than expected after the season-ending injury to star senior Donte Grantham; the 6-foot-7 flex forward played well over the final nine games — 5.8 points, 4.1 rebounds.
Joining those two: Javan White — a grad transfer from Oral Roberts. White is an excellent offensive rebounder (13.9 percent offensive rebound rate) — something Clemson struggled with last season.
No. 5 Virginia Tech
This is a team that I'm bullish on, and it's not because of my affection for Charlotte Hornets great Dell Curry, either. After four years of hard work, and back-to-back opening round losses in the NCAA Tournament, Buzz Williams has his best team in Blacksburg.
It starts with Justin Robinson, who enters his senior season as the ACC's best returning point guard. As a junior, Robinson averaged 14 points and dished out 7.2 assists per 40 minutes. In 2017-18, Virginia Tech ranked 16th nationally in spot-up efficiency (1.09 points per possession) and effective shooting (57.7 percent); a lot of this stems from Robinson's playmaking.
Robinson is an excellent shooter (59 percent true shooting), but when he's in the pick-and-roll, VT hits a new level. The Hokies scored 1.18 points per possession when Robinson passed out of the pick-and-roll — a massive number that ranked No. 5 in the nation (minimum 200 possessions), per Synergy.
Lefty Justin Bibbs' graduation from the program is a blow, but in April, the Hokies got some great news: a sixth year of eligibility for Ty Outlaw.
#Hokies wing Ty Outlaw granted 6th season of eligibility by NCAA. Sat out last season after having July surgery to repair ruptured ACL in right knee. He also missed the 2015-16 season with a heart condition. In the 2016-17 season, he avg.'d 6.3 ppg, shot 48.7% on 3's (57-of-117).

— Norm Wood (@normwood) April 9, 2018
Outlaw was one of the ACC's top three-point shooters during his breakout 2016-17 season. The 6-foot-6 wing was insanely good as a catch-and-shoot artist: 52-of-105 (49.5 FG%, 74.3 eFG%) and scored 1.49 points per possession on this type of attempt — good for No. 4 in the nation.
Also on the wing: Ahmed Hill (41 3P%, 4.4 3PM per 100 possessions) and uber-talented rising sophomore Nickeil Alexander-Walker return — 1.09 points per possession on spot-ups (57.8 eFG%).
This is the makings of one of the top three-point shooting teams in America, and it will balance nicely with the forward spots: utility guy Chris Clarke and inside-out threat Kerry Blackshear.
No. 4 Syracuse
Within the confines of the ACC, there isn't a team that benefitted more from a decision to remain in school. One of the last players to make a decision — on the day of the withdraw deadline — was Tyus Battle. After going through the pre-draft process, Battle, a borderline first round pick, opted to return for his junior season; the expected outcome for Syracuse basketball changed, drastically and immediately.
Battle, who averaged averaged a shade under 20 points, is an absolute workhorse for Jim Boeheim. He played 1,443 minutes last season, which averages out to 39 per game — both of those were tops in Division I.
It wasn't just the minutes, though; it was how Battle was deployed — which is to say, extensively. Battle used 28.1 percent of Syracuse's possessions while on the floor, which was basically all of the time — 758 in total. Going back to the 2005-06 season, according to Synergy, only eight ACC players, including Battle, have recorded over 700 possessions in a single season.
| Player | Team | Season | Possessions |
| --- | --- | --- | --- |
| Tyus Battle | Syracuse | 2017-18 | 758 |
| Justin Jackson | UNC | 2016-17 | 723 |
| Grayson Allen | Duke | 2015-16 | 708 |
| Cat Barber | NC State | 2015-16 | 784 |
| TJ Warren | NC State | 2013-14 | 821 |
| Erick Green | Virginia Tech | 2012-13 | 730 |
| Nolan Smith | Duke | 2010-11 | 746 |
| Tyler Hansbrough | UNC | 2007-08 | 728 |
With the arrival of 4-star combo guard Jalen Carey, Battle shouldn't have to shoulder quite the same load, thankfully. Those two, along with Frank Howard, should form a potent perimeter group. According to Sports Reference, Howard was one of four ACC players to play over 1,200 minutes and post a usage rate above 25 percent last season.
After a brief flirtation with turning pro, too, forward Oshae Brissett (14.9 points) is also back, which is a big boon for the Orange. Brissett wasn't super efficient as a freshman (49.1 percent true shooting), but he was rather productive: Brissett was one of just 12 Division I players to score at least 200 points on spot-up possessions.
Brissett is just the 14th ACC freshman since the 2009-10 season to play at least 1,000 minutes and post a usage rate above 22 percent, per Sports Reference.
With all of this guard/perimeter talent, it would be nice to see Syracuse diversify its offense, though. In 2017-18, way too much of this team's attack was simply Battle and Howard passing the ball back-and-forth, pointing at teammates, as the shot clock drained. Stop, please.
Paschal Chukwu — 5.6 blocks per 100 possessions — will patrol the middle for Syracuse.
Final Four Threats: ACC Basketball
In 2018, the ACC was shutout of the Final Four for the first time in three seasons. One of these three teams will likely have to rise to the occasion to avoid that happening again.
No. 3 Virginia
There shouldn't be a more motivated basketball team next season than Virginia. The best way for UVA to put 2018's historical upset to UMBC behind them: get to the Final Four.
Virginia is now without program stalwarts Devon Hall and Isaiah Wilkins — two gritty defenders and impact players on offense. However, man, there's a lot of talent back in Charlottesville.
The list starts with De'Andre Hunter, who gets better and better each day. His season-ending wrist injury proved costly; he's back now, though, and with plenty to prove. Hunter has it in him to become the ACC's Player of the Year and Defensive Player of the Year. He's that good.
In 2017-18, a little over 39 percent of Hunter's half-court shot attempts came on non-post-up possessions around the basket, per Synergy. Hunter, with that 7-foot plus wingspan, connected on 60.3 percent of these attempts — scoring 1.27 points per possession. He's a monster in the face-up game, and if he continues to expand his range out to the three-point line, few in college hoops should bother him.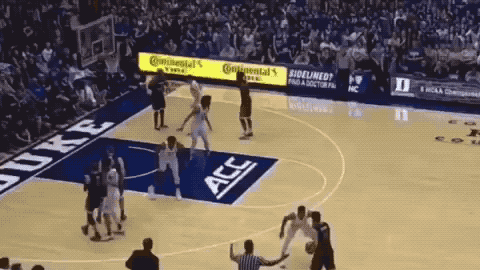 With Hunter covering crazy ground, Virginia will once again dominate defensively. The Cavs have ranked inside the top 10 in defensive efficiency for five straight seasons, per KenPom. Hunter has a chance to solidify his stock as a lottery pick.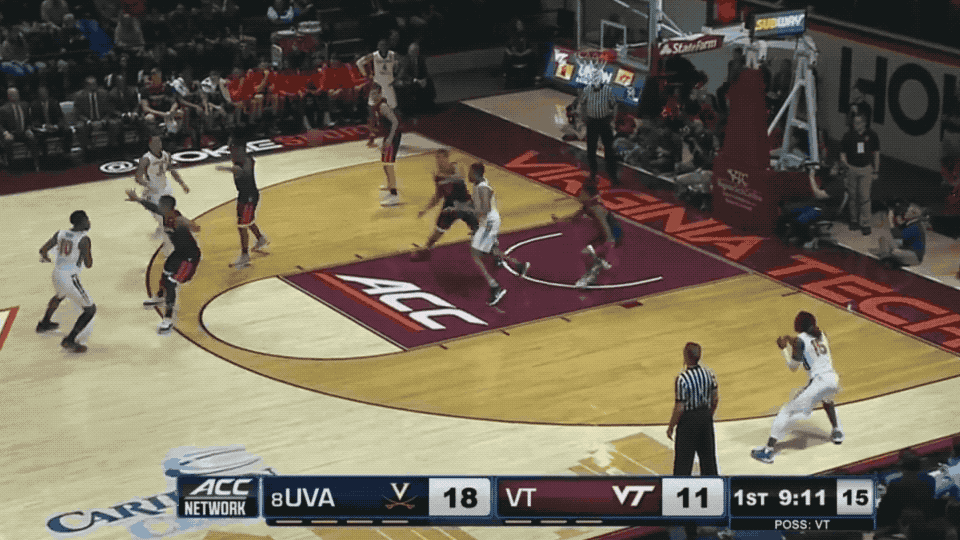 The backcourt is dynamic, too. Kyle Guy improved as playmaker last season, and continued to bomb from deep, off the catch. According to Synergy, Guy scored 1.14 points per possession (56.8 eFG%) on catch-and-shoots. The 258 points he scored on these attempts was tops in the ACC — by a wide margin. (Boston College's Jordan Chatman was No. 2 with 202 points.) Dude is an absolute menace off the ball, using screens.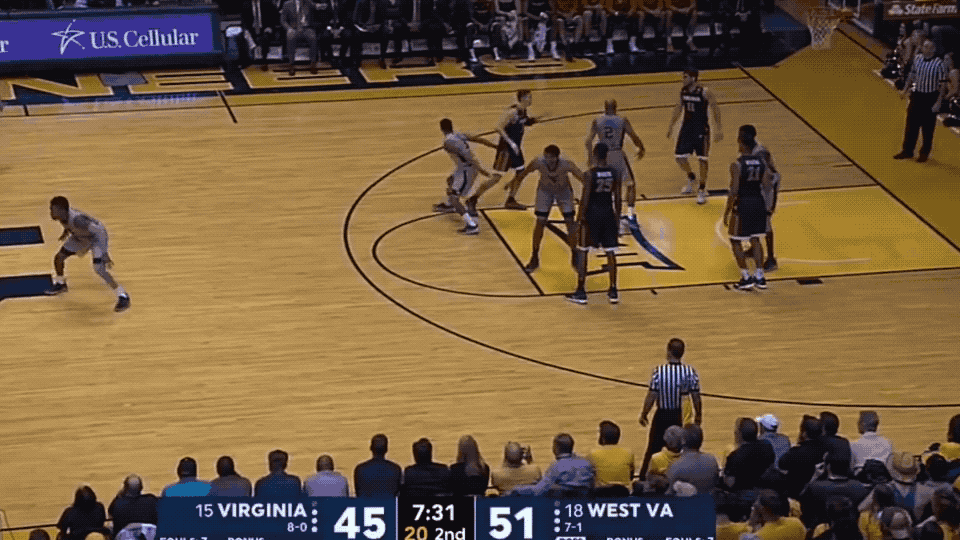 Ty Jerome made a big jump during his sophomore season, and will once again be this team's floor leader. To achieve its full potential, though, Virginia will need contributions for another cast of characters: Mamadi Diakite, Marco Anthony and Francesco Badocchi. Can the Player Development Machine in Charlottesville continue to churn out greatness?
No. 2 Duke
So, what does the market bear this year? This seems to be a question Duke fans must ask themselves annually, at this point. Duke fell just short of making the Final Four in 2018, but last year's freshman class was prolific.
Marvin Bagley was as good as advertised; Wendell Carter did his best Al Horford impersonation. In the backcourt, Trevon Duval had moments of brilliance, but underwhelmed; however, Gary Trent proved to be a stud, too. That quartet combined with Grayson Allen to form one of the most efficient offenses in Duke history.
With all five of those guys gone, a new group of Burger Boy stars arrive in the form of the nation's No. 1 recruiting class. That cast includes the No. 1 point guard (Tre Jones), No. 1 shooting guard (R.J. Barrett), No. 1 small forward (Cameron Reddish) and the No. 1 power forward (Zion Williamson). (And yes, it felt ridiculous to type that out.)
Barrett, Reddish and Williamson project as top-10 picks in the 2019 NBA Draft. This could be the most athletic Duke team we've ever seen before.
According to Synergy, Duke played zone on 50 percent of its half-court possessions this season — the most in program history. It worked, and fit the team's personnel; Bagley, especially, struggled in pick-and-roll coverages. With this new group, though, Duke could look to dial up the ball pressure and return to its man-to-man principles. (Duke pressed at time this season, too, but fell back to a zone.)
There's variance, but even KenPom's computers love Duke's class — it's just that good.
Post-deadline computer top 10: 1) Kansas, 2) Duke, 3) Villanova, 4) Nevada, 5) Virginia, 6) North Carolina, 7) Syracuse, 8) Gonzaga, 9) Tennessee, 10) Kentucky, 11) West Virginia.

— Ken Pomeroy (@kenpomeroy) June 1, 2018
Mix in Javin DeLaurier and Alex O'Connell, and Duke has the roster that should be able to switch everything, and force turnovers. Creating transition opportunities will be critical for a team that lacks shooting (on paper) and cohesion in the half-court.
Not to be forgotten: Marques Bolden, somewhat quietly, had a nice sophomore season. He could emerge as a needed half-court post-up/offensive rebound hub. On non-post-up attempts at the hoop, Bolden shot 65.9 percent and scored 1.42 points per possession. In terms of efficiency, this ranked 12th amongst ACC players (107 total) with at least 30 possessions.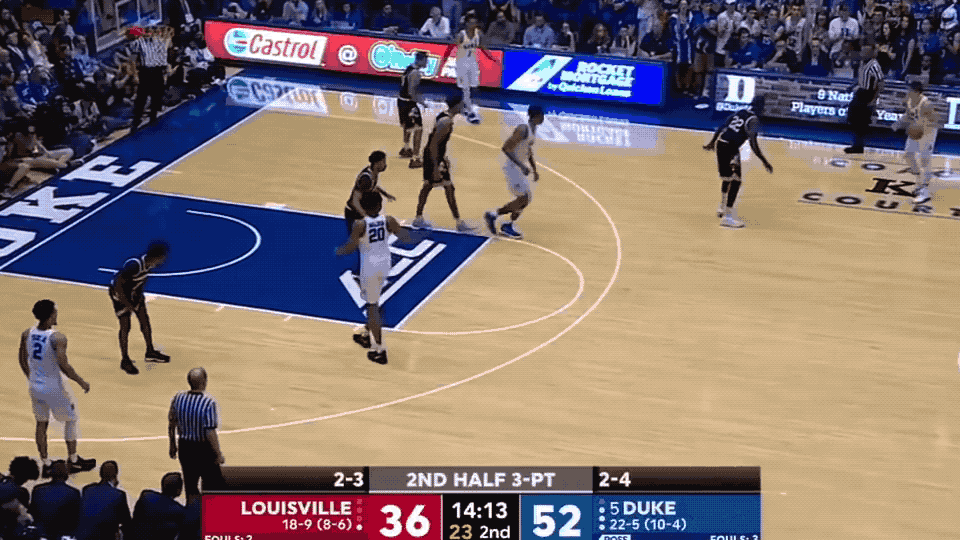 No. 1 North Carolina
This looks like a classic Roy Williams team: Loaded with talented mix of veteran stars and gifted incoming rookies. Expectations are high in Chapel Hill — as they should be; this is a title-contending team that has some of everything.
As a junior, Luke Maye emerged as one of the premier frontcourt weapons in college basketball; no longer a one-hit wonder, Maye provided efficient offense from all over the floor. According to Synergy, Maye — who averaged 16.9 points, 10.1 rebounds and 2.4 assists — shot 44 percent on post-ups, 60.4 percent at the rim (1.24 points per possession) and posted an effective shooting clip of 55.9 percent on catch-and-shoots.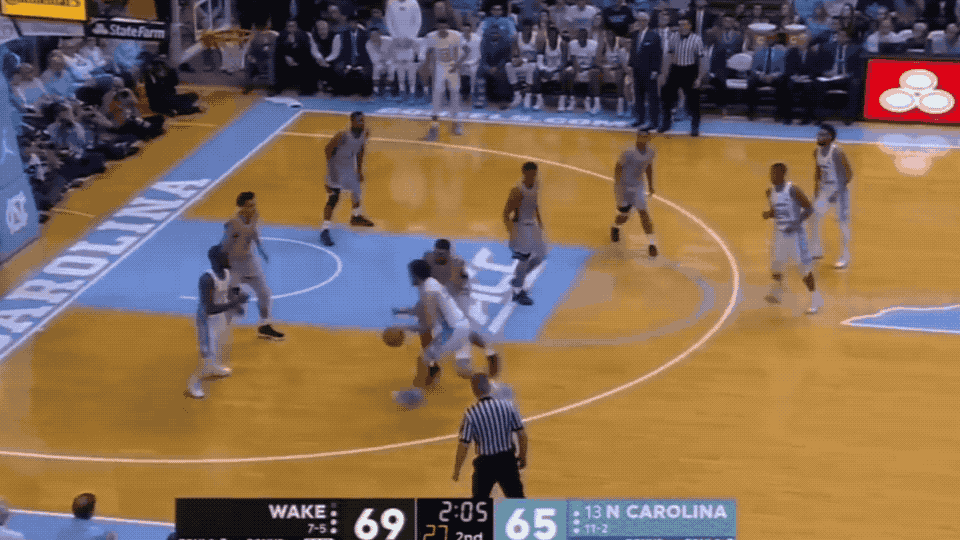 After testing the NBA Draft waters, Maye is back; so, too, is veteran wing Cameron Johnson — 1.14 points per possession (43.5 FG%, 57.8 eFG%) on spot-ups, per Synergy. Now a senior, Kenny Williams provides two-way punch on the wing (1.3 steals per 40 minutes) as well. Williams is a floor-spacer with outstanding range: 1.22 points per possession (60.5 eFG%) on catch-and-shoots — No. 5 in the ACC.
The departures of Theo Pinson and Joel Berry ends an era in Chapel Hill; it also strips UNC of its top two playmakers from the last two seasons. However, with Maye, Johnson and Williams back — plus interesting post talents: Sterling Manley and Garrison Brooks — North Carolina still has an embarrassment of riches.
There's cavalry on the way, too — in the form of another top-15 recruiting class. That class is headline by 5-star stud Nassir Little, likely a one-and-done stud, and 5-star guard Coby White.
One issue, though: the point guard position. Unless Seventh Woods is ready to make a jump, there's no natural replacement for Berry on the roster; UNC will need White or Rechon Black, another incoming freshman, to handle playmaking duties.
Read More
Part 1: Post NBA Draft Deadline: ACC Hoops, starting from the bottom