Heading into this season, there were two man things Seventh Woods needed to improve. Woods played in all 40 games a season ago; however, the freshman averaged less than eight minutes per contest. The road blocks to more playing time — aside from productive upperclassmen taking up the majority of minutes: too many turnovers and a shaky jumper.
For Woods, the season opener against Northern Iowa was positive. In 18 minutes of action off the bench (the most for any UNC bench players), Woods showcased a refined skill set.
Jump Around
In over 300 minutes of action last season, Seventh Woods attempted 60 field goals; he shot just 17-of-60 from the field, including 2-of-11 on three-pointers. During league play, the 6-foot-2 guard went only 6-of-26 from the field — an effective field goal rate of 23.1 percent. According to Hoop-Math.com, Woods shot just 12.5 percent on two-point jump shots.
Nearly 42 percent of Woods' field goal attempts came at the rim; the freshman shot just 48 percent on said attempts, per Hoop-Math.
Woods scored just 0.4 points per possession on jump shots in the half-court in 2016-17, per Synergy Sports. There were 104 players in the ACC last season that recorded at least 20 jump-shot possessions; of this group, Woods ranked last in offensive efficiency.
In the win over Northern Iowa, though, Woods splashed 3-of-4 jump shots attempts — all of which were two-pointers, 1.5 points per possession. Watch him step into this attempt with confidence after the ball gets swung to the weak side from Kenny Williams.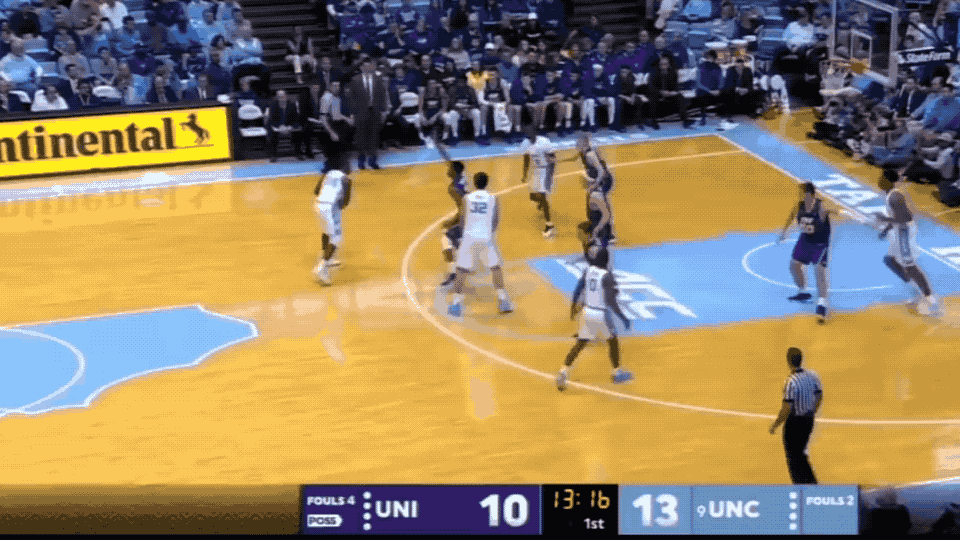 On the final possession of the first half, after Woods forced a steal, he cashed in. Woods uses a few rhythm dribbles, gets to his spot and rises with ease. The crossover dribble is tasty, too. That's the look of a guy that's put in a lot of work in the gym.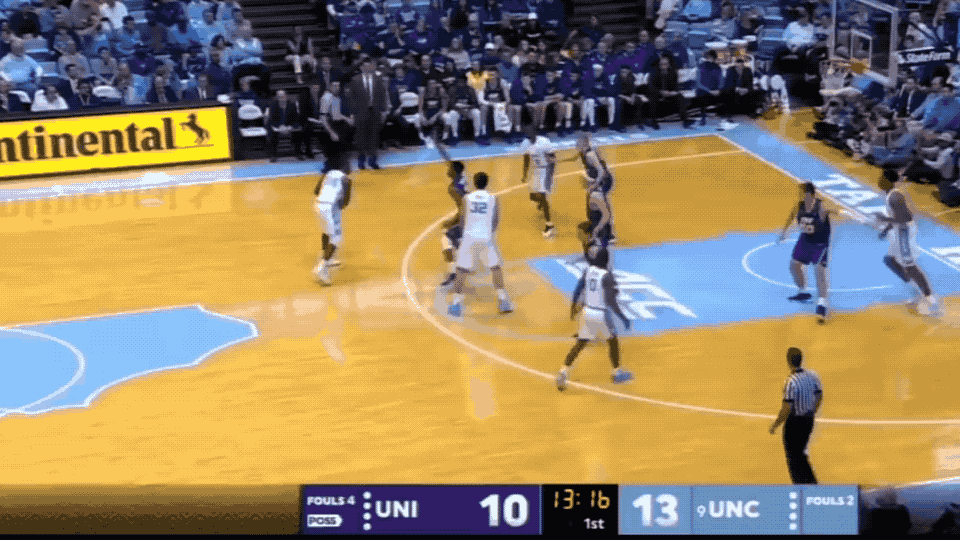 Turn and Burn
As a freshman, Seventh Woods was one of only two ACC players to play at least 300 minutes and record a turnover rate above 30 percent — Georgia Tech's Josh Heath was the other. Things got especially hairy for Woods in transition; nearly 29 percent of his transition possessions ended with a turnover, per Synergy.
Woods wanted to get his teammates involved. In league play, Woods assisted on 30 percent of his teammates' made field goals while on the floor.
Last Friday in Chapel Hill, Woods handed out two assists, and recorded only one turnover — which came with under two minutes to play. Here Woods makes the simple pass to Luke Maye for a catch-and-shoot triple — off a Kenny Williams screen, something we talked about this offseason.
This may seem simple, but it's a nice read by Woods. The sophomore made several plays as a secondary option along the perimeter. He moves the defense one way, knowing the ball will head back to the top of the key, which is where the action is headed.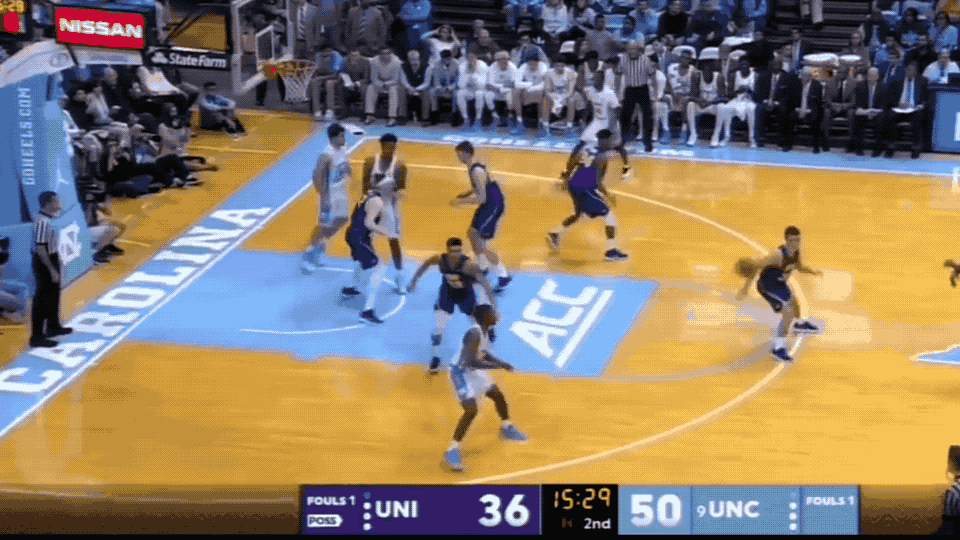 According to KenPom, Woods registered an offensive rating of 111 points per 100 possessions against NIU. This marks the first time in his career that Woods has played at least 15 minutes and scored an offensive rating north of 110.
Read More
The More the Merrier: Will that be the case for Cameron Johnson at UNC?