With only a few days left before the deadline to withdraw from the NBA Draft, Dewan Huell made a decision. The rising junior, one of the biggest recruits in program history, announced that he plans to return to Miami for his third season in Coral Gables.
Everyone has their own route… Trust The Process #Butterflyszn pic.twitter.com/ftmbKLfH3U

— Dewan Huell (@DewanGoesFor_20) May 26, 2018
The move by Huell makes sense — his status as a draft prospect was limited. However, his return offers plenty of intrigue, too.
Over the last few weeks, several ACC players have come to a conclusion as to where they plan to play next season. Some, like Josh Okogie and Bryant Crawford, will remain in the draft pool; others, like Luke Maye and Torin Dorn, plan to return.
Dewan Huell falls into that second category, which puts him in a unique place: Can he be the ACC's most talented post player in 2018-19? Hear me out.
The field ain't bad, either
Inside the ACC this past season, the league posted some of the nation's most potent post players. It started with Marvin Bagley and Wendell Carter at Duke; it continued to NC State's Omer Yurtseven. Ben Lammers, Ray Spaling and Doral Moore are all really good, too.
North Carolina's Luke Maye went from overnight celebrity to one of the ACC's top five players; a transition that was truly incredible to watch and log.
Of this aforementioned group, Maye is the only player who will return to his school. This is important. The departure of most of these players immediately ascends Huell up the ladder inside the ACC, in terms of frontcourt talent.
(It would also remiss of me to not mention Clemson's Elijah Thomas, too — a post-up force for Brad Brownell's Tigers.)
New and old faces
The league will of course receive a new infusion of talented rookie recruits — an annual tradition. At the top of that list is Duke's star-studded class; however, that quintet is heavy on switchy wings: four players between 6-foot-6 and 6-foot-7.
5-star forward Nasir Little will arrive in Chapel Hill for UNC, and will no doubt see some time up front. He's also technically listed as a small forward, and while it's a bit reductive to box players in with positional distinctions, this discussion is focused on post players.
The same could be said for De'Andre Hunter of Virginia, who has the potential to be the ACC's best all-around player next season. My thought process here, though, is focused on guys that vacillate between the 4 and 5, not the 3 and 4.
Backcourt Attack
It's a changing of the guards for Miami basketball this offseason — literally. Lottery-bound Lonnie Walker and Bruce Brown are headed to the NBA Draft; senior Ja'Quan Newton used up his eligibility.
In terms of usage rate: Walker (22.4 percent), Brown (21.2 percent) and Newton (21.2 percent) ranked second, fourth and fifth, respectively, on Miami's roster. According to Synergy Sports, that trio of players combined to use a total of 994 possession in 2017-18.
Basically, that's a lot of production headed out of the door.
All of this sets the dynamic Chris Lykes up for a big sophomore season; the ball will be in his hands, there's no doubt about that. Dunk City grad transfer Zach Johnson gives Miami a three-point sniper to pair with Lykes, too.
The handles of Lykes and Johnson's shooting are critical elements to pair with Huell.
What Dewan Huell brings to the table
As we've discussed in this space before, Miami's offense is an endless maze of ball screens. The Hurricanes of Jim Larranaga are methodic on the offensive side of the floor. Last season, Miami averaged 17.8 seconds per offensive possessions, which ranked No. 222 in the nation, per KenPom; it was also the fastest Miami's played on offense since Larranaga arrived.
The 6-foot-10 Huell is a monster at the rim; that's where he gets his work done: in nearly 1,400 career minutes, Huell has attempted only five three-pointers — a three-point attempt rate of 1.3 percent. As a sophomore only 5.2 percent of Huell's half-court field goal attempts were jump shots, per Synergy.
Huell is the perfect dive/slip man for Miami's offense. For those ball screens to hit, Huell has to draw gravity towards the middle of the floor. This is how Miami creates catch-and-shoots for Anthony Lawrence and allows Lykes to get north-south in attack mode.
According to Synergy, Huell shot 59.6 percent and scored 1.14 points per possession out of the pick-and-roll last season.
When Lykes was a passer out of the pick-and-roll, Miami scored 1.04 points per possession (a very good number), and 1.39 points per possession (75 FG%) when those passes connected with rollers.
On non-post-up attempts at the rim, Huell shot 66.2 percent and scored 1.36 points per possession (a top 90 number nationally), per Synergy. In the ACC, 22 players recorded at least 100 such possessions. Of that group, Huell ranked sixth in efficiency — behind guys like Moore, Bagley and Carter.
In Action
Miami mixes up the origin point of its pick-and-roll attack on offense. In the win over NC State in Raleigh a few months back, the Canes carved up the Pack with a bevy of side ball screens. It was also probably the best game Bruce Brown played all season.
This is from Miami's home win over Florida State. Dewan Huell and Ebuka Izundu set up a double drag screen for Chris Lykes in transition. Huell, however, doesn't hold his screen; instead, he slips quickly, which catches Phil Cofer out of position. Braian Angola comes over from the weak side, but he can't hang with Huell in the air.
Huell ranked fifth in the ACC with 58 dunks last season, per Adrian Atkinson. That's roughly 36 percent of the total field goals he made during his sophomore year.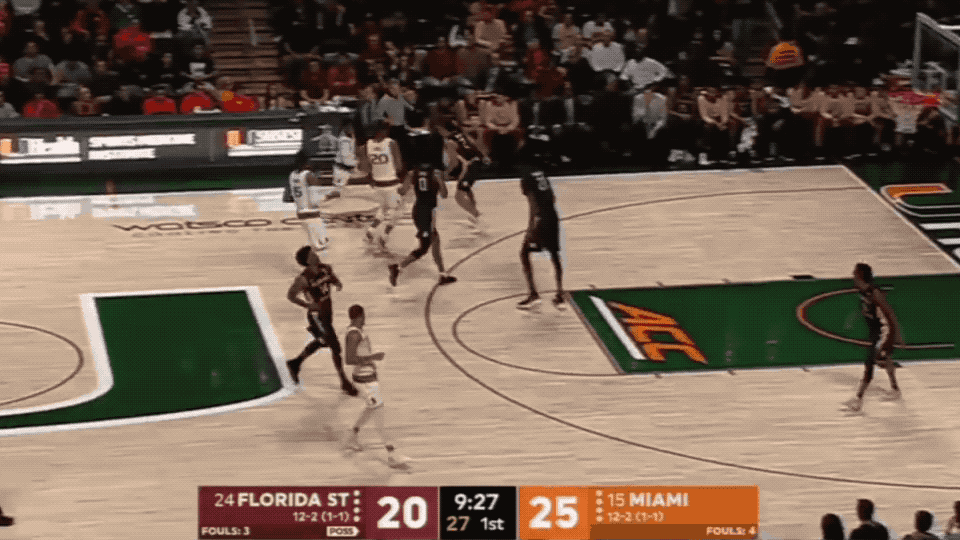 The Hurricanes also like to set a lot of flat ball screens; these usually occur high and in the middle of the floor. In a flat screen, the screen sets the pick with his or her feet facing half-court — directly behind the on-ball defender, as opposed to picking a side. This allows the screener to pop or roll in either direction.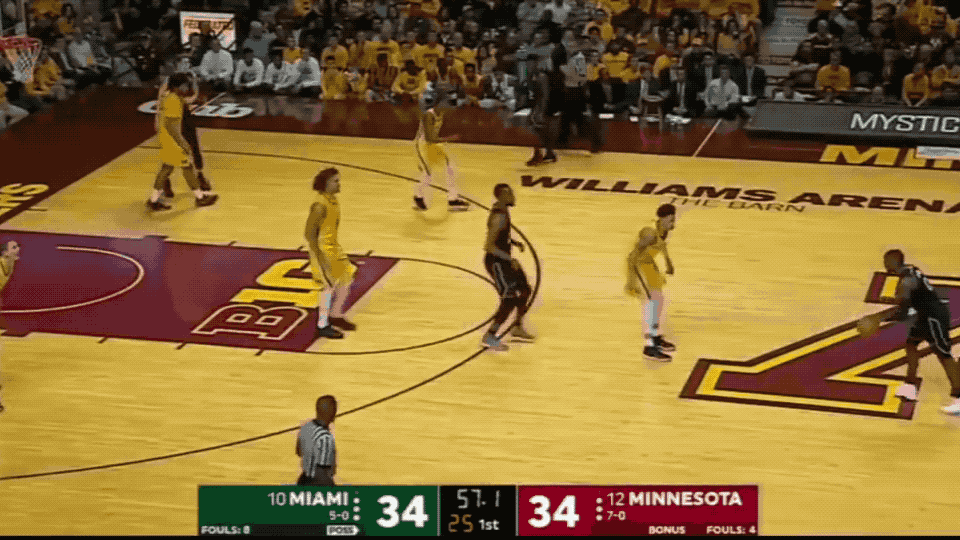 Huell also isn't just a rim-running turnstile; the former 5-star recruit can run the floor and has some skill, too. If given space, Huell can put the ball on the floor and make a play.
Back to the Florida State game. On this possession, C.J. Walker and Ike Obiagu "Ice" this ball screen; look at how Walker angles Lykes to one side of the floor while Obiagu — a monster shot-blocker — drops. There's zero panic from either Huell or Lykes, though. Huell floats to a vacant spot in the middle of the floor, and after a touch pass from Lykes, he makes a playing, going right at Obiagu.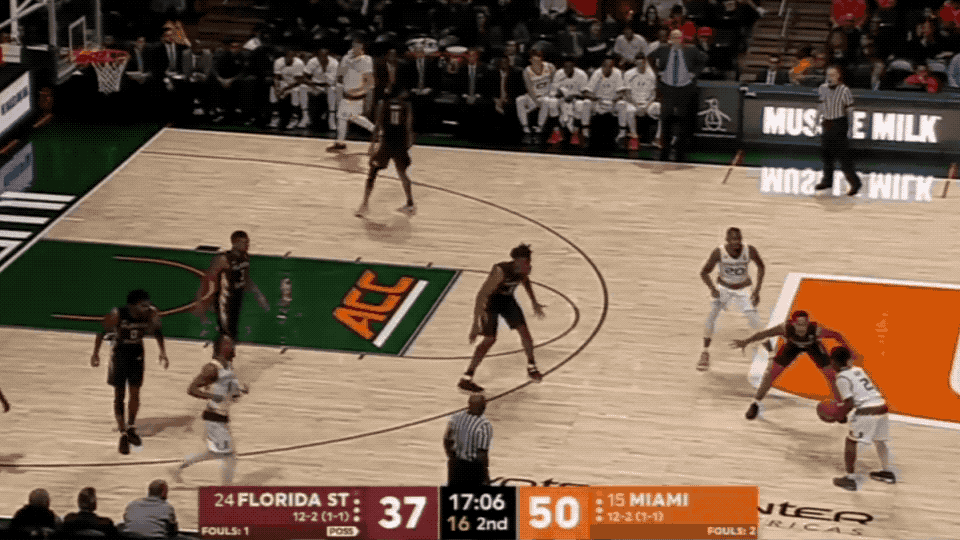 One of the things that sticks out with Huell: his ability to drive quickly and in tighter spaces. Out of this baseline inbounds play, Huell takes the pass from Brown and dribbles to the top of the key — as Newton sprints to him for the dribble handoff.
Like a quarterback on an RPO, Huell handles the mesh point with ease, then opens wide, and wastes no time getting to the rim. He's a step ahead of every defender and off the floor before anyone else is jumping.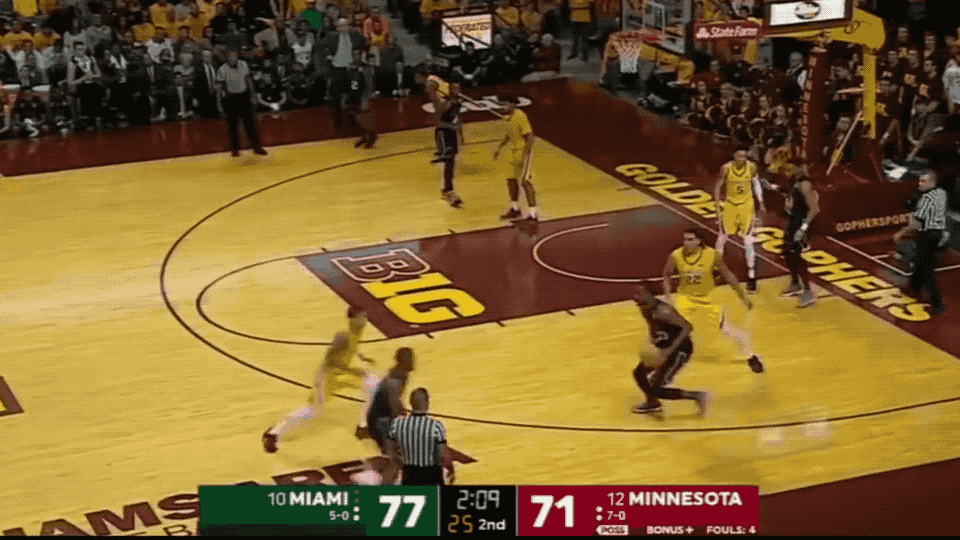 Something else to post about
Huell, who shot 42.6 percent on post-ups this season, has a decent back-to-the-basket game, too, which offers room to grow. When Huell moves quickly, and goes to his right, he can be rather effective.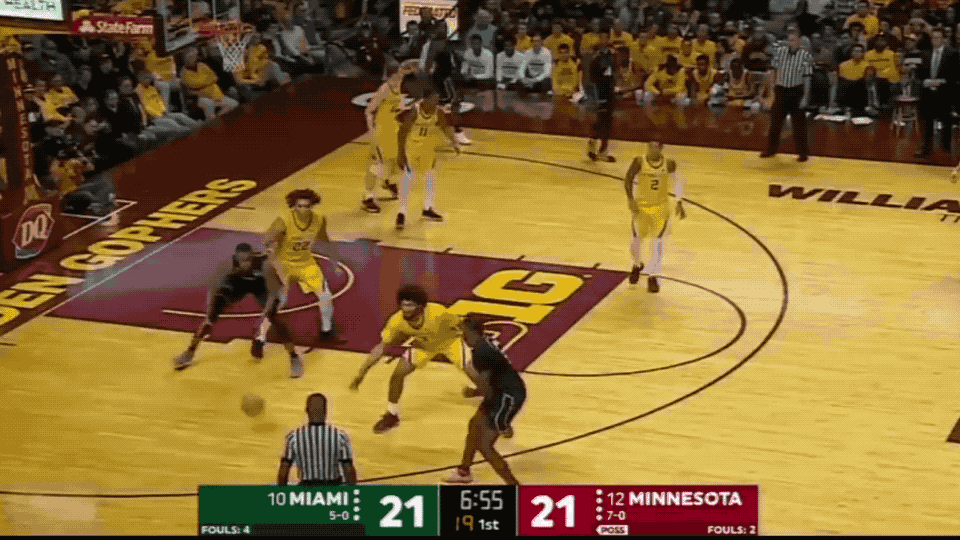 Even in the ACC, few players should be able to contend with Huell's athletic combination of foot speed and length: he should be able to take advantage of that.
As of right now, Huell gets most of his offense done in the money areas of the floor — or at least the ones that are inside the arc. More possessions should flow through Huell, too, which should increase his counting stats. It's not hyperbole to suggest that Lykes and Huell could form the ACC's top pick-and-roll battery next season.
Big things are ahead.
Read More
Jim Larranaga agrees to a two-year contract extension with Miami