On Wednesday night, Duke basketball won its fourth straight game — all without Marvin Bagley. A lot has happened the last two weeks for the Blue Devils; Duke's zone defense has been prolific; Grayson Allen has found his range and played aggressively. In this week's win over Louisville, though, Wendell Carter stole the show with one of the best performances we've seen in college basketball this season.
None Shall Stats
Against Louisville, Wendell Carter scored 18 points (on 10 field goal attempts), dished out a career high six assists, grabbed 26 percent of the available defensive rebounds while on the floor and block three shots.
Carter even continued to flash a tantalizing three-point shooting stroke. The 6-foot-10 freshman usually needs plenty of space and time to get his three-pointer off; however, in recent weeks, he's shown the ability get that shot off fluidly — weak-side attempts against UNC, and a trail three in the Louisville game.
For the season, Carter has connected on 50 percent of his attempts from beyond the arc (18-of-36); he now has a true shooting rate of 63.3 percent in ACC play, which ranks third in the league, per KenPom.
According to Synergy Sports, Carter is shooting 53.6 percent (76.8 effective rate) and scoring 1.54 points per possession on catch-and-shoot attempts.
What stuck out the most
Wendell Carter became the first Duke forward since Jayson Tatum last season to record at least six assists in one game. All of that is nice, but what's so impressive was the caliber of passes from Carter. Five of Carter's six assists went for either dunks or three-pointers — two of the money shots.
Last season, Luke Kennard and Amile Jefferson formed an impressive partnership in the confines of Duke's offense. Kennard deftly curled off pindown screens from Jefferson away from the ball; or the two would engage in dribble handoff action. It's not quite the same thing, but we could be witnessing Grayson Allen and Carter developing similar chemistry.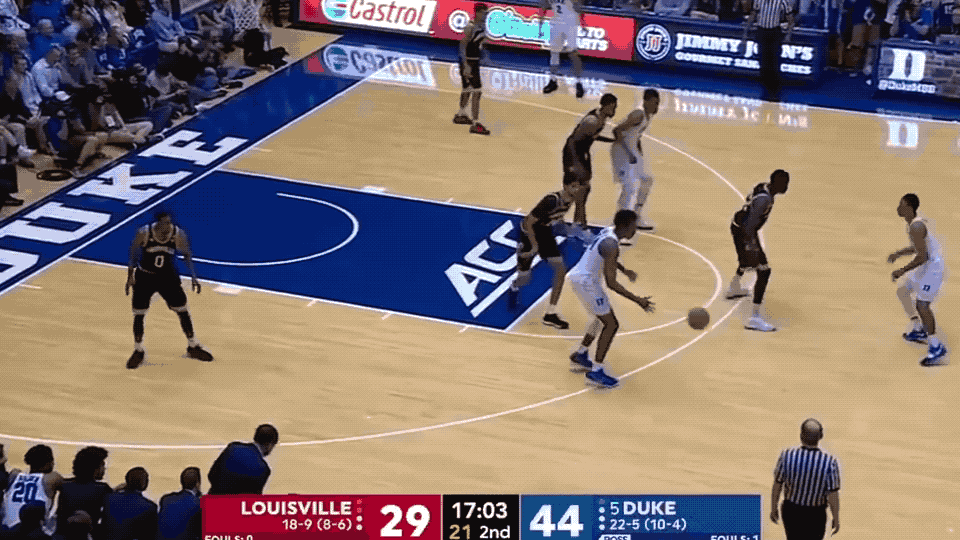 Carter almost had a seventh assist, too, when Louisville iced a pick-and-roll. He slid to the middle of the floor snagged a pass, and then found Jack White in the weak-side corner for an open catch-and-shoot three. White couldn't quite stick the triple, though.
Next Level Stuff
Duke did a lot of things right as it demolished Louisville; the dominance above the rim and on the glass was staggering. However, the most impressive play from the Blue Devils came early the second half — when Carter found Marques Bolden for a slam.
Carter sets a high ball screen for Allen and rolls to the hoop. Two Louisville defenders — Ray Spalding and Deng Adel — trap Allen off the screen, who slips a nice pocket pass to a rolling Carter.
In an ideal four-around-one offense, this would lead to a slam at the hoop for Carter; but with Bolden at the dunker spot on the baseline, there's another help defender. Normally help shouldn't also come from the strong side of the floor, but Quentin Snider feels comfortable digging down off Trevon Duval — a so-so three-point shooter.
What Carter does next, though, is really impressive. He takes no dribbles, stops short of barreling into Dwayne Sutton for a charge and, on the short roll, hits Bolden for the easy slam.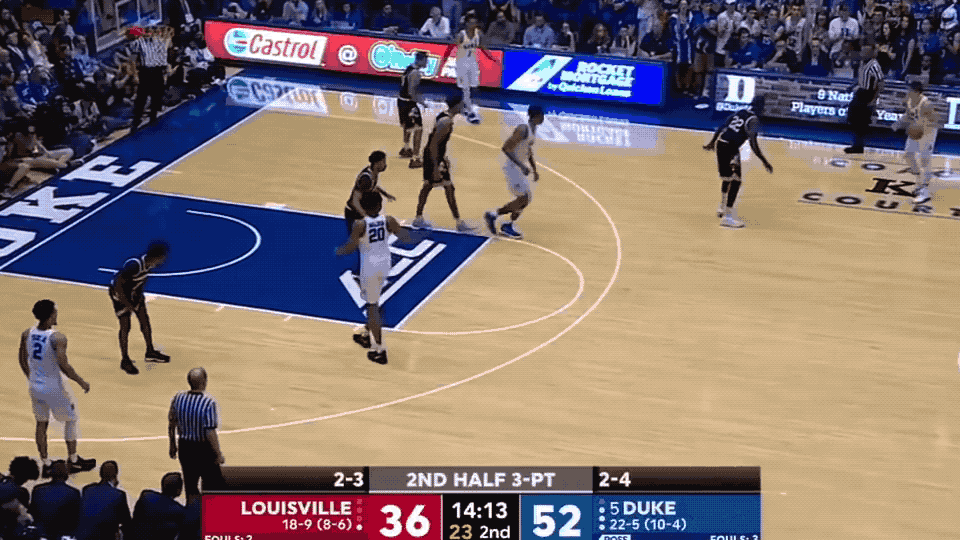 This is a next level move, and it's something I've discussed in this space before — when Marvin Bagley found Carter similarly for a bucket back in the Indiana game.
Down the road
After the game, Mike Krzyzewski mentioned that Bagley's health is improving, but there's no date set for his return. It will be a significant boon for the Blue Devils if Bagley can return in good form. However, this type of performance — what Carter did against Louisville — shows that Duke still has the power inside to beat any opponent on any night.
Read More
Dimension Zone: Can Duke Basketball win a championship with its zone defense?