After three seasons in a secondary role — next to Frank Mason — Devonte' Graham was named Big 12 Player of the Year in 2018. Graham scores over 17 points per game; he also plays lead guard for a team that's won 14-straight league titles.
What really makes Graham a special player, though, is his ability to set the table for his teammates. He is one of the best shot-creators in the nation.
Pick-and-chose…and-lose
While on the floor this season, Devonte' Graham assisted on 32.3 percent of his teammates' field goals — which ranks in the 99th percentile nationally (No. 53 in Division I).
Graham is a pretty good scorer out of the pick-and-roll: 0.91 points per possession on 41.7 percent shooting (50.3 eFG%), according to Synergy Sports. The 191 points he's scored as a pick-and-roll ball handler are good for No. 59 in Division I. And when Graham record nine or more assists in a game this season, Kansas is 9-1.
All of that is great; however, the Raleigh, North Carolina native is at his peak when he passes out of this action.
According to Synergy, Graham has recorded 224 possessions this season when he's been a pick-and-roll passer. On these looks, Graham's teammates have shot 54 percent (67.3 eFG%) and score 1.3 points per possession. That ranks No. 2 nationally amongst players with at least 100 possessions.
Kansas is an elite spot-up offense, too. The Jayhawks rank 17th in the nation in terms of efficiency on spot-up possessions (1.09). Graham drives this attack. Spot-up players have shot 45 percent (63 eFG%), and scored 1.25 points per possession after a pass from Graham out of the pick-and-roll.
The menu options
Devonte' Graham is a darn good three-pointer shooter — 40.4 percent from deep, on nearly seven attempts per game. However, he isn't alone in terms of range shooting on this roster; Sviatoslav Mykhailiuk, Malik Newman and Lagerald Vick all attempted at least 140 threes this season, and all connected better than 37 percent of those chucks.
In total, that trio combined to shoot 238-of-566 on three-pointers: 42 percent. This season, Mykhailiuk became just the 74th player since the 1992-93 season to shoot better than 45 percent on at least 200 attempts from beyond the arc. Only eight players in the Big 12 this season recorded 140 or more three-pointers and shot better than 37 percent from deep. Four of those guys hail from Kansas.
All three of those guys also recorded at least 100 spot-up possessions, per Synergy; all three were rather efficient, too, especially Mykhailiuk.
| | Spot-up Possessions | Spot-up PPP | Spot-up FG% | Spot-up eFG% | Percent of 3PM Assisted |
| --- | --- | --- | --- | --- | --- |
| Sviatoslav Mykhailiuk | 209 | 1.14 | 43.3 FG% | 60.1 eFG% | 87.3% |
| Malik Newman | 153 | 1.08 | 42.2 FG% | 56.2 eFG% | 79.7% |
| Lagerald Vick | 112 | 1.03 | 36.3 FG% | 52.5 eFG% | 66.7% |
*Data from Synergy Sports and Bart Torvik
Clemson's Defense: A Paws for Concern?
Obviously, it will be a challenge to slow down the nation's fourth-most efficient offense; Clemson's defense need to play a top-flight performance. That seems like a possibility, right? The Tigers rank No. 8 in defensive efficiency.
Here's something to keep an eye on, though. Clemson allows 0.95 points per possession on spot-ups, which ranks 219th nationally, per Synergy. Under the direction of Brad Brownell, Clemson likes to aggressively hedge or trap ball screens above the arc. (This is something I detailed back in January, after UNC carved up the Tigers in Chapel Hill.)
If Clemson gets caught out of balance like this, Kansas shooters or Jayhawks big man Udoka Azubuike (77.5 2P%) could have big days — catch-and-shoots or slips after ball reversals.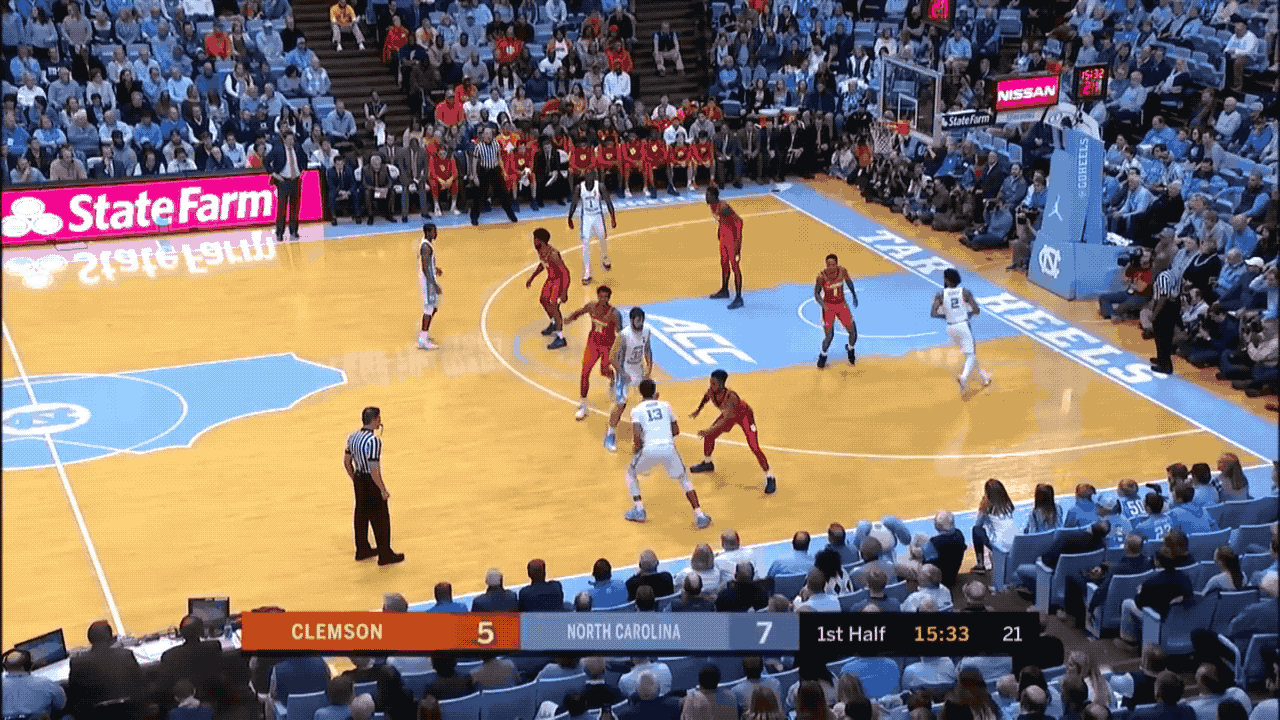 Read More
Should UNC basketball consider the grad transfer market for a point guard?