A week ago, as the deadline to declare for the 2018 NBA Draft approached, De'Andre Hunter of Virginia made a big decision. The ACC's Sixth Man of the Year, and All-Rookie team selection, chose to return for his sophomore season. The 6-foot-8 Hunter profiles as an immensely intriguing NBA prospect; his combination of rangy athleticism and skills is where the game is headed.
However, Hunter — who is in the midst of a recovery from wrist surgery — elected to return to Charlottesville. (The second biggest return announced for that city in the last week.)
This sets the stage for next season: Big things for De'Andre Hunter. Here's why Hunter, who is yet to start a college basketball game, is poised to be the ACC's best player, and a 2019 lottery pick.
There Are Other POY Candidates, Too
So, to caution from this coming across as hyperbolic, let's acknowledge some other very good basketball players. Duke's absurd 2018 recruiting class features four players projected to land in the lottery of the 2019 NBA Draft. At the top of the list is R.J. Barrett — predicted to be that draft's No. 1 pick.
And even though a freshman, Marvin Bagley, claimed the ACC Player of the Year award in 2018, it's a more of a rarity; that trophy generally goes to more experienced players, fair or foul. In fact, Bagley and Jahlil Okafor, another one-and-done Blue Devil, are the only two freshmen to ever win ACC Player of the Year.
Of course, several other ACC players are currently entered into the 2018 draft pool, but have yet to sign with an agent. Jerome Robinson is awesome; he could be back in Chestnut Hill next season. The same could be said for North Carolina's Luke Maye.
Even on De'Andre Hunter's own team, super talented players exist, too; Kyle Guy and Ty Jerome will enter their third year in Tony Bennett's system. Big things could be on the horizon for those guys as well.
It's a bit of a fool's game to forecast a player's draft outlook a year out — unless it's a surefire prospect. There are simply too many variables.
One Door Closes, Another One Opens (Perhaps One With A 7-foot Wingspan)
Three seniors will depart the Virginia basketball program after this season: Devon Hall, Isaiah Wilkins and Nigel Johnson. Wilkins is known more for his handiwork on the defensive end; Johnson was only in Charlottesville for one year. According to Synergy Sports, though, those three players combined for 772 of Virginia offensive possessions — 33.4 percent of the team's possessions.
That's a lot of trips up the floor that have opened up. Hunter finished fourth on Virginia's roster in total possessions (12.2 percent), and was tops in usage rate, per KenPom: 25.4 percent. Guy and Jerome will play a role here, too, but Hunter is in line to see increased minutes and overall raw possessions.
Essentially, an improved version of Hunter should, theoretically, get even more pulls at the proverbial slot machine on offense next season. It's go time.
Little Bit Of This, Even More Of That
At an early point in his playing career, De'Andre Hunter has already flashed a nasty streak on offense. He's a powerful driver of the basketball, and can get to the rim in a variety of methods — face-up-and-drive, put-backs and vertical cuts down the lane.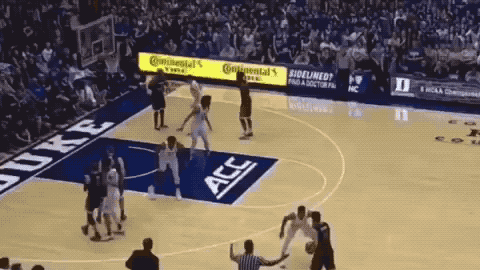 I doubt this play will make the package for Marvin Bagley's defensive highlights, either.
As a redshirt freshman this season, a little over 39 percent of Hunter's half-court shot attempts came on non-post-up possessions around the basket, per Synergy. Hunter, with that 7-foot plus wingspan of his, connected on 60.3 percent of these attempts — scoring 1.27 points per possession. This is a number that charts similarly to Bonzie Colson (1.34) and Luke Maye (1.24.)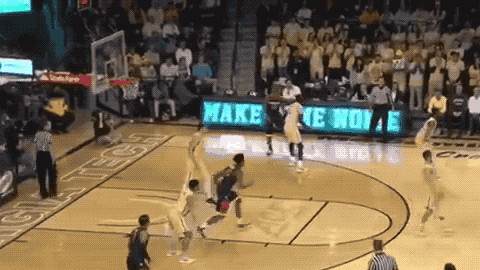 Poor Ben Lammers; The Lamminater never had a chance.
The next step for Hunter: Expanding his perimeter game. In the second half of this past season, UVA and Hunter got the ball rolling, though, which is encouraging. Hunter connected on 62 percent of his threes — 13-of-21 3PA — over the final 11 games of the season.
That's a relatively low volume, admittedly, but it was nice to see him find some success outside the arc. I like Hunter's jumper release, too; he shoots the ball high with little wasted motion. Hunter can get a shot off quickly — just ask Louisville. On catch-and-shoot attempts, Hunt posted an eFG% of 51.5 person, according to Synergy.
Do It Alone
On smaller samples, Hunter also shot 64.3 percent in transition and 60 percent in isolation, per Synergy. The knock on UVA's offense has been that it lacks a true bucket-getter; when things bog down in the postseason, and Virginia's mover-blocker attack is stymied, the Cavs don't have a player Tony Bennett can hand the ball to and say, "Go win us this game."
That critique may not be entirely fair; however, it will be put to the test in 2018-19. De'Andre Hunter is different from any other player of the Bennett Era, which has already produced several good NBA players. If he takes his offensive game to another level, does that also raise the overall bar of a program that would love to get past the UMBC game and Jarius Lyles.
How does he project out?
Spencer Percy from Queen City Hoops, a former high school coach, tracks NBA Draft prospects, including Hunter, and likes the progress he's seen: "He pulls it a little in front of his face, but actual shot mechanics aren't bad. I love how consistently he gets his feet under him and gets vertical."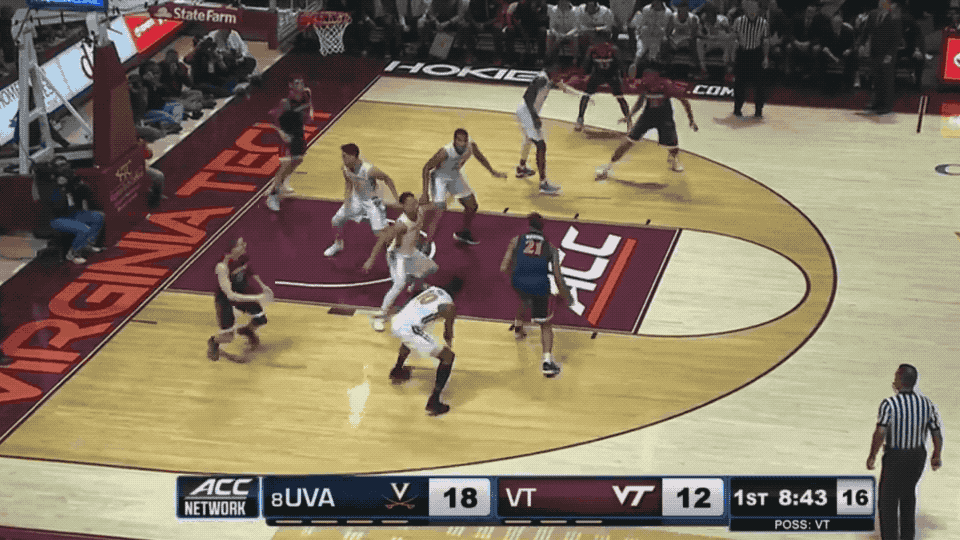 (Also: Hunter shot 75.5 percent from the free throw line — a valuable tool in projecting a prospect's shooting to the NBA level.)
So far, in terms of shot creation, Hunter is limited to action inside the arc, which is totally fine. All 21 of Hunter's three-pointers this season were assisted on this season.
Defense First: And For Good Reason For De'Andre Hunter
The ACC has honored one player each season as the league's Defensive Player of the Year, dating back to the 2004-05 season. In that stretch of time, only one player — another Cavalier, Malcolm Brogdon — has been named ACC Player of the Year and Defensive Player of the Year. Although one has to think: If this award existed back in 1997 or 2001, Tim Duncan and Shane Battier would have doubled up, too.
Regardless of what hardware he claims a year from now, De'Andre Hunter has extraordinary defensive ability; this is the primary driver of Hunter's NBA potential. As I described a few weeks ago, switch and guard a multitude of positions and players:
Put him on the floor, and let him do his thing. Toronto Raptors coach Dwane Casey has a saying that a basketball player's position is defined by who he or she can defend. For Hunter, that means his positional definition is essentially limitless.
Keep an eye on the NBA playoffs, and when the Toronto Raptors play, watch their fantastic rookie forward OG Anunoby. He's the team's most reliable wing defender, and has responsibilities to check both John Wall and Bradley Beal at times. Could Hunter, at an early age, become something similar?
Hunter needs to get stronger; he can get knocked off his line by some attacking wings. However, if and when he accomplishes that, wow, lookout. He's already so darn good — watch him work here against Virginia Tech.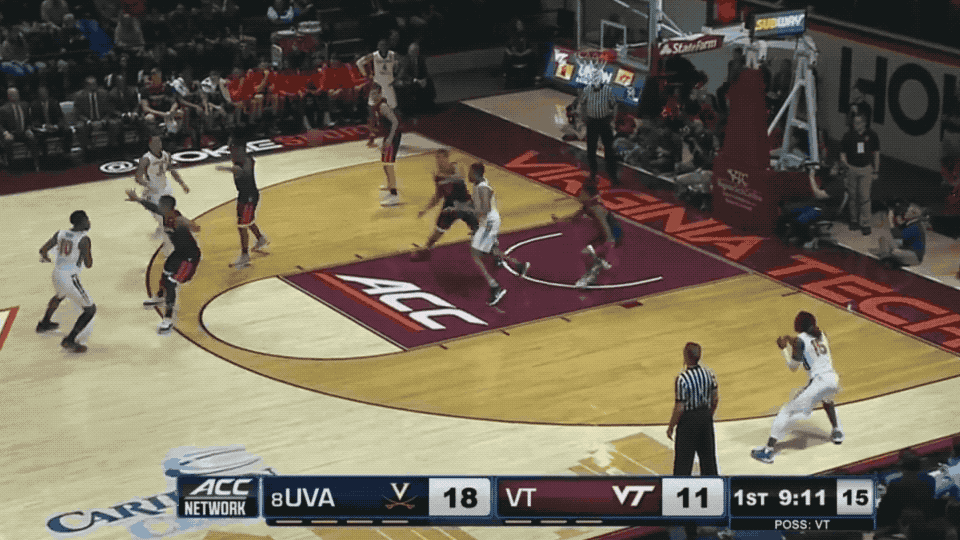 For those keeping score at home, De'Andre Hunter control closes out against Chris Clarke (compare this with what Bagley did in the clip above), then slides to curtail the dribble-penetration of Clarke, a strong driver. He forces a ball reversal; Hunter then rotates from the weak side to stop Kerry Blackshear's rim run. I don't care that he got popped for a block — this is tremendous work.
Read More
NC State target: What UW-Milwaukee grad transfer Brock Stull could add to State's offense