The North Carolina Tar Heels are an inclusive bunch on the offensive side of the floor; head coach Roy Williams wouldn't have it any other way.
UNC has assisted on 58.5 percent of its field goals this season — an assist rate that ranks No. 45 in the nation, per KenPom. If this rate remains, it will be the fourth straight season that North Carolina has assisted on over 57 percent of its field goals. In ACC play, the Heels have assisted on 246 of 424 field goals (58 percent); the 246 assists are tops in the ACC, too.
Never was the team's passing arsenal on better display than the win last month over Clemson. Led by Theo Pinson (six assists, two turnovers), UNC assisted on 88.5 percent of its field goals. Pinson is No. 1 on UNC roster this season in assist rate — assisting on 24.1 percent of his teammates' field goals while on the floor.
That type of pass-first role is normally associated with the archetypal point guard — think Chris Paul or Tyus Jones. However, it's inverted with UNC and Pinson. According to Sports Reference, is the only frontcout player in the ACC this season to have an assist rate above 20 percent, and a turnover rate under 22 percent.
Pinson gets a lot of his assists off slash-and-kicks — sometimes out of the pick-and-roll — and in transition. In the win over NC State, though, UNC went to a half-court look that, frankly, I'm not sure I've seen them go to before.
PNC-You're Open
After an Omer Yurtseven put-back brought NC State within one point, 59-58, last Saturday, UNC did something different on offense. For most of the season, Joel Berry has been the primary ball handler; however, once the ball crosses the time-lime, Pinson becomes the fulcrum of the offense.
Depending on the opponent, Pinson uses different vantage points to distribute from. With NC State predominantly playing small — with Torin Dorn as the nominal 4 — and switching a lot defensively, the Heels went to a set that you will see the Golden State Warriors use with Draymond Green — another pass-happy, defensive-minded forward. Clear out one side of the floor for Pinson, and let him look for shooters and cutters out of the pinch post.
Over a two minute stretch, North Carolina scored on four out of five possessions — including one transition bucket from Cameron Johnson. The four half-court possessions ran through Theo Pinson, near the elbow.
Switch the station
This can be incredibly challenging to defense — especially with four dangerous shooters dotting the arc. In the first clip, Luke Maye (62.5 FG% on cuts, per Synergy Sports) slips right behind Omer Yurtseven for a high-percentage look.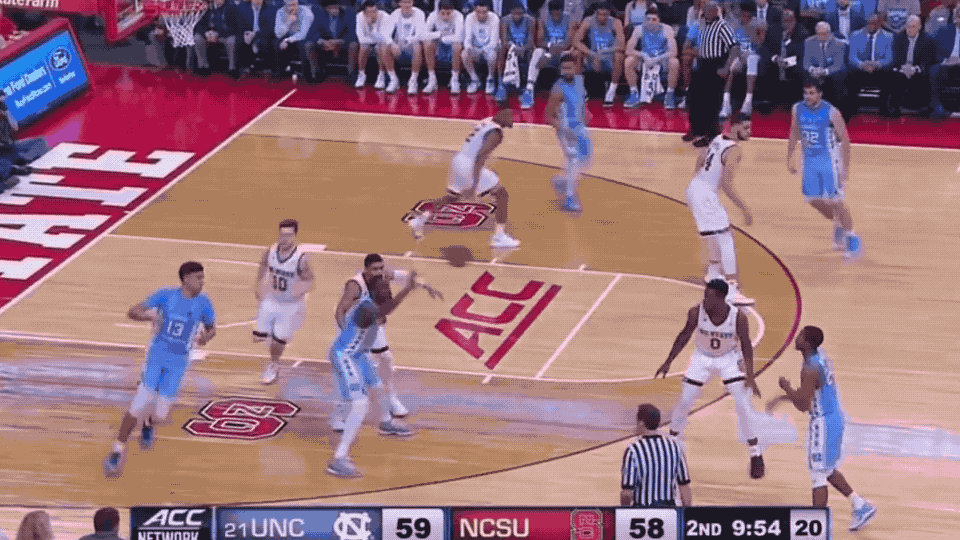 A minute later, in the next half-court possession, watch what the Heels do to counter NC State's switches — this is the kind of confusion that a stretch big like Maye can cause. Lennard Freeman and Braxton Beverly, who feels the need to deny a passing angle to Maye, botch the switch, and Berry cooks them backdoor — with a Steve Nash-like reverse finish at the rim.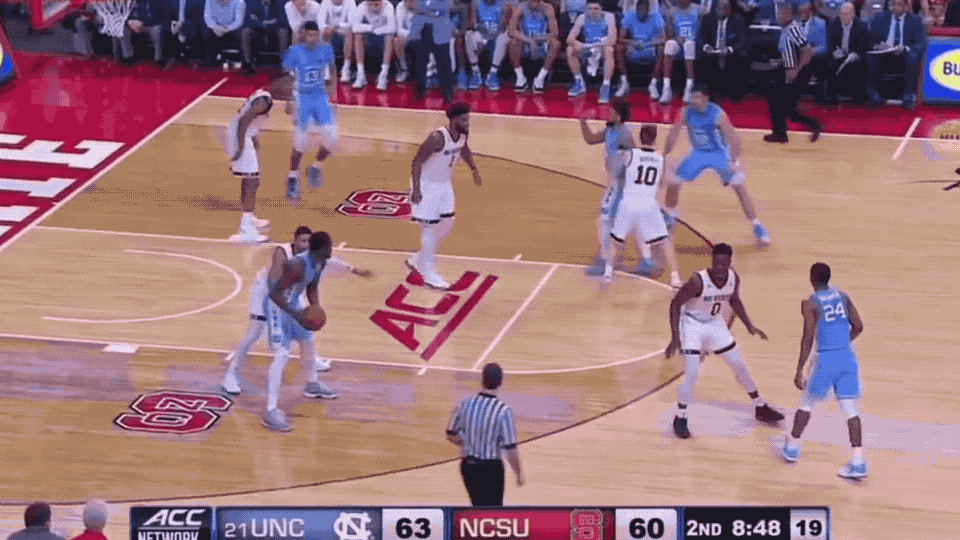 If it isn't broke, why fix it? On the very next possession, UNC goes to the (old) well once more; this time, though, NC State bottles up UNC's off-ball action — an easier task with Seventh Woods in for Joel Berry. Pinson, checked by the shorter Beverly, has the mismatch now.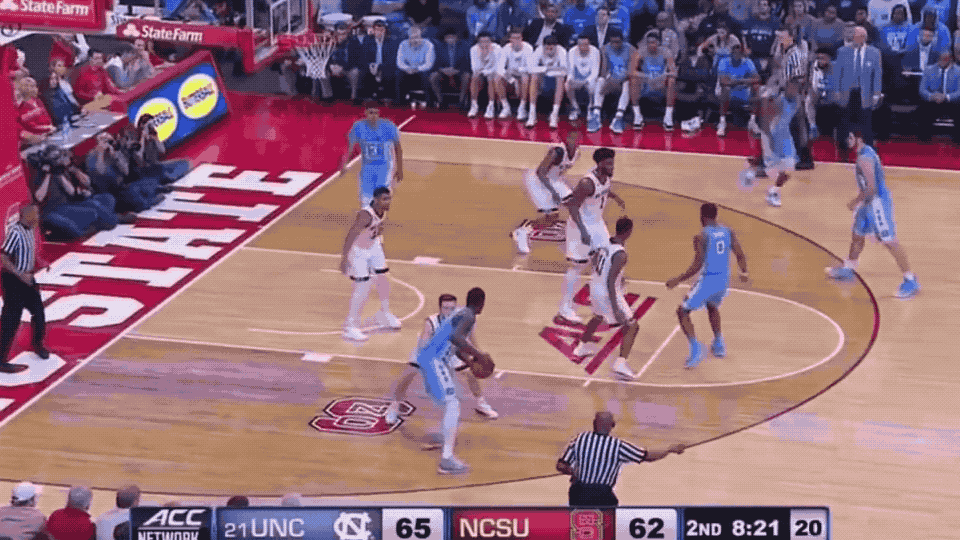 According to Synergy, Pinson shoots 43.5 percent on isolation attempts this season, and on this possession he scores right on top of Beverly.
North Carolina went to a similar look on the following possession, and Pinson found Johnson for a layup opportunity that was rejected by Torin Dorn — who was phenomenal against the Heels.
4 straight possessions UNC's gone to Theo in the pinch post — produced 3 scores. 2 cutting buckets for Maye, Berry. Then Pinson iso'd on Beverly. Nice hands by Dorn (again) to force the jump on Johnson's attempt. https://t.co/ifQ1Bf87cJ

— Brian Geisinger (@bgeis_bird) February 10, 2018
Keep it simple with Theo Pinson
One of the best parts of this type of offense is how simple it is. Space the floor with shooters, make the defense cover a vast swatch of area — then get player movement away from the ball. It's gorgeous offense. But don't take it from me — just ask the greatest offense in the history of basketball.
Read More
In-N-Out: The offensive versatility of Luke Maye makes him the ACC's No. 2 player