Earlier this week, in an interview with SEC Country, 5-star power forward EJ Montgomery detailed his decision to commit to Kentucky.
At one point, Montgomery was believed to be Durham-bound — the fifth and final piece of Duke's lauded 2018 recruiting class. However, only two weeks after the McDonald's All-American game — after spending time with Duke commits RJ Barrett, Tre Jones, Cameron Reddish and Zion Williamson — Montgomery picked UK.
In conversations with SEC Country, Montgomery and his team — which includes his mom and high school coach (Larry Thompson) — seemed to indicate an unease with committing to Duke after the McDonald's game. Part of their concerns dealt how the pieces would fit in Durham; would Montgomery and Williamson makes sense on the floor together? What about everyone else?
Montgomery can chose any school he wants for whatever reason he desires; it's his career, and his choice. I look forward to watching him play at Kentucky and in the NBA. Plus, it's not hard to see why he may have concerns with fit and playing time. (Although Kentucky will have a loaded frontcourt, too: Montgomery, Nick Richards, PJ Washington and possibly Stanford transfer Reid Travis.)
What's of a little more interest to me, though: At no point was the name Marques Bolden invoked during the published portion of this interview. That's not just this specific interview, either. When the conversation arises about how Duke basketball will look in 2018-19, the conversation usually starts and ends with the team's incoming freshmen.
That makes sense; Duke's rookies will power the program. However, it's worth remembering that Marques Bolden did some really good things for the Blue Devils last season, too.
Admittedly, this is a long way to bury the lede, but: With no other true rotational post players on the roster (Sorry, Vrank), Bolden will enter the 2018-19 season as one of the ACC's most intriguing players.
A Revival of the Post
After a tough, injury-plagued freshman season, the 6-foot-11 Texan — a former blue-chip prospect — struggled for consistent playing time in Duke's frontcourt in 2018. No real surprise there; with two lottery picks in Marvin Bagley and Wendell Carter, minutes were hard to come by. (Duke would also deploy Javin DeLaurier at the 4, which would take up some of the minutes, too.)
When Bolden did get some playing time, though, he flashed skills that should inspire some confidence in Duke fans.
In only 378 minutes of action, Bolden was rather productive. He improved across the board: 61.7 percent true shooting, 15 percent total rebound rate (11 per 40 minutes) and an offensive rating of 122.6 points per 100 possessions, per KenPom. These are all great numbers, in a relatively small sample.
Bolden turned the ball over less (1.7 per 40 minutes) and got the the free throw line at higher rate: 34.6 percent free throw attempt rate.
There's no secret to his efficiency on offense; the vast majority of Bolden's touches came right at the rim (high-percentage looks) — off post-ups, slips or offensive rebounds. According to Synergy Sports, over 98 percent of Bolden's field goal attempts in the half-court this season were around the rim or a post-up.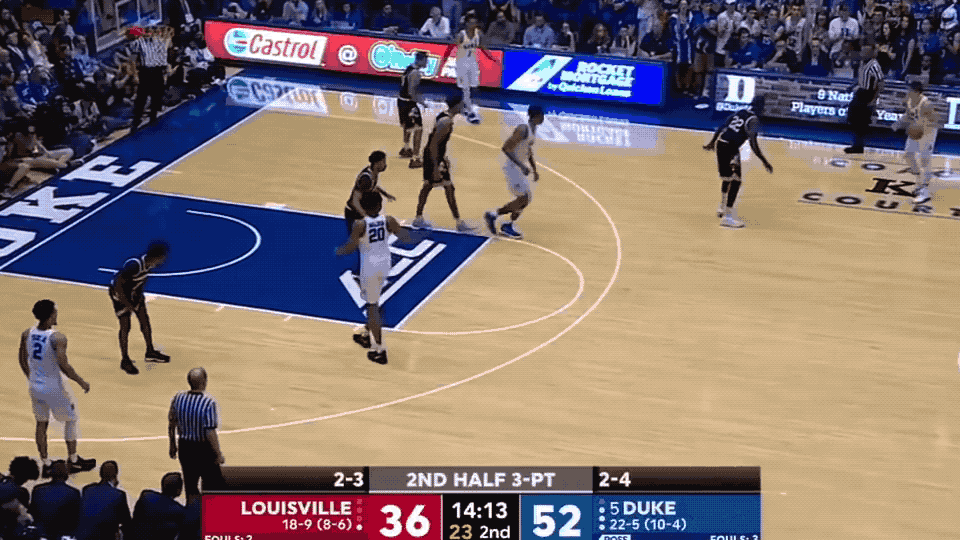 (Note: When Wendell Carter turns into the next generation's Al Horford, remember this pass. Wow.)
On non-post-up attempts at the hoop, Bolden shot 65.9 percent and scored 1.42 points per possession. In terms of efficiency, this ranked 12th amongst ACC players (107 total) with at least 30 possessions.
Defensive Look
Duke's near full-time transition to the zone defense was well-documented this season. With pick-and-roll defense a concern, the Blue Devils were content to let Bagley and Carter wall off the rim in one of the team's amoeba-like zone looks. It worked, too!
When Duke plays man-to-man defense, opponents score 0.85 points per possession (No. 166, 12th in the ACC), shoot 41 FG% (47 eFG%) — in the half-court.

When Duke plays zone: opponents score 0.79 points per possession (No. 51, 6th in the ACC), shoot 37 FG% (44 eFG%)

— Brian Geisinger (@bgeis_bird) January 23, 2018
For the season, Duke played zone defense on 50 percent of its half-court possessions, per Synergy. That's stark contrast compared to previous iterations. (The Synergy data only goes back over the last seven seasons, but it's almost certainly the highest rate for a Mike Krzyzewski-coached team.)
As a sophomore, Bolden made strides as a defender, too: He blocked 7.2 percent of opponent two-point field goal attempts while on the floor. (Three blocks per 40 minutes — up from 1.8 in 2016-17).
He rebounded well (17.8 percent defensive rebound rate), and also fouled way less. As a freshman, Bolden struggled in space — reaching, grabbing at drivers — and struggled to grasp the concept of verticality at the rim. After averaging 8.3 fouls per 40 minutes as a rookie, Bolden shaved that rate in half: 4.3 per 40 minutes, according to KenPom.
Bolden got done in a stance more this season, which helped him do a better job staying in front of speedy ball handlers.
However, unless he gains added foot mobility, Bolden may always be a liability in pick-and-roll coverage. Bolden did, however, show better pep while defending ball screens in 2017-18; as long as he's active, Bolden can at least get in the way.
All of the Above
This begs the question: Which defense will Coach K and Duke trot out next season? The answer should be both.
Duke's freshman class features four players right around 6-foot-6 or 6-foot-7, and will include some of the best athletes in college basketball. In terms of personnel, this is absolutely the type of team that swarm and switch defensively. Returning rotation pieces like Alex O'Connell and DeLaurier should nicely fit into that paradigm as well. (DeLaurier has gobs of mostly untapped defensive potential, including as a nominal 5.)
Of course, switching and ball pressure requires excellent communication and defensive know-how. Defenders have to be able to rotate on a string, talk and cover up gaps as quickly as possible.
Krzyzewski is an amazing coach (hot take alert, I know), but it's not easy to get a group to connect like that after only a few months of prep. Defenses can leave themselves susceptible to back cuts, slips and open three-point shooters.
That said, the risk-reward proposition is still definitely in favor of Duke trying the strategy. It should allow turn to force turnovers and get out on the break. (This is also where the team's preseason trip to Canada, which includes practices and three games, can serve as a beneficial team-building resource.)
The Blue Devils should absolutely attack opponents with a man-to-man approach to defense; however, when Bolden hits the floor — as a starter or off the bench — Duke could look to shift into a zone. The move would be a bit telegraphed under this set of circumstances, but it's certainly not a bad thing to throw multiple defensive looks at an offense.
Rules of Engagement: A Date in November
It's not yet June, but in a few short months, we will get to watch some of this stuff will play out. On Nov. 6 in Indianapolis at the Champions Classic, Duke will take on Kentucky. This will matchup Montgomery against several other would-be teammates.
The season will be defined by what happens over the following four months, but this could also setup Marques Bolden to have a bigger role as a junior. Duke could really use his presence up front; let's see if he can deliver.
Read More