North Carolina hit on all cylinders offensively Wednesday night against Michigan. The Tar Heels moved the ball efficiently, scored nearly 1.2 points per possession and defeated the Wolverines 86-71 in the ACC-Big Ten Challenge.
After a bricky performance against Michigan State, Luke Maye scored 27 points on 16 field goal attempts; North Carolina's starting backcourt, Joel Berry and Kenny Williams, combined to hit six three-pointers. UNC also assisted on 24 of its 34 field goals — an assist rate of 70.6 percent.
A variety of players got in on the act, but the tone was set early on thanks to Kenny Williams, who continues to expand his game as a junior.
K-Dub
It wasn't as prolific as his start against Stanford, but Kenny Williams came out hot against Michigan. Williams scored 11 points in the first five minutes of game action, sinking his first four attempts from the field, including three three-pointers.
According to Synergy Sports, Williams is now 12-of-20 on catch-and-shoot possessions this season — with an effective field goal rate of 90 percent. This means he scores 1.8 points per possession, which is Steph Curry-level good. Amongst players with at least 20 attempts, Williams ranks No. 1 in the ACC in offensive efficiency on catch-and-shoot possessions.
All of that is great, and it's exactly what UNC needs with Justin Jackson now in the NBA. However, what we will look at here is what that type of shooting can also create for North Carolina's offense.
Curly Fries
On the first possession after halftime against Michigan, UNC opened in one of its horns sets — with Garrison Brooks and Luke Maye stationed at opposite elbows.
As Joel Berry initiates the offense and dribbles right, Theo Pinson lifts up and sets a diagonal screen for Maye. This initial action is to get Maye post touch. That's not a bad idea; Maye is shooting 45.5 percent on post-up possessions this season, per Synergy.
Maye actually gets good post position — he has Duncan Robinson sealed close to the basket. That, however, is not where Berry wants to go with the basketball.
The secondary action of this set is gorgeous. Next, Kenny Williams jets off a set of staggered screens — Pinson and Brooks. This could be an opportunity for Williams to let a three-ball fly, but his defender, Muhammad-Ali Abdur-Rahkman, does a solid job tracking him off the screens.
Williams has a countermove in his back pocket, though. The junior curls hard off the picks, and gets moving to the basket. Williams misses the driving attempt, which was actually pretty well defended by Mo Wagner.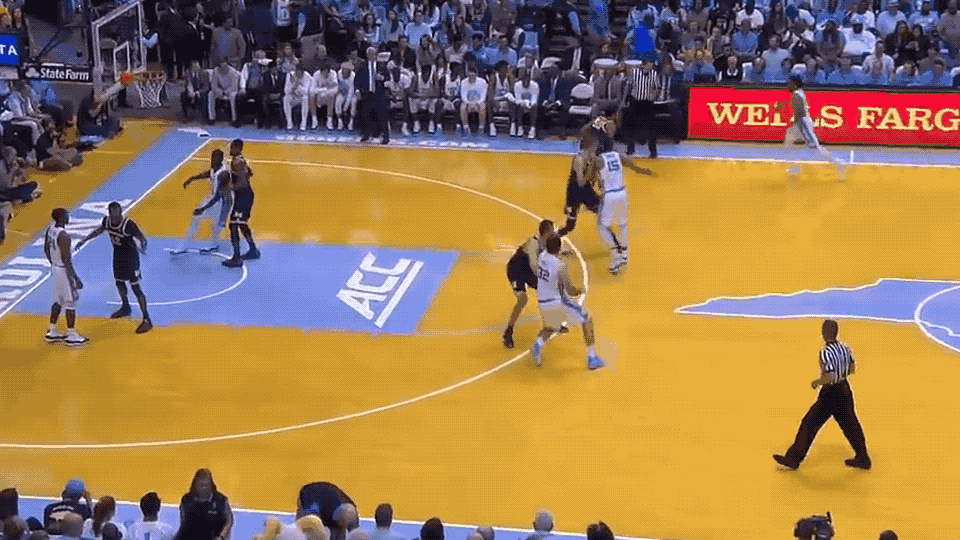 Room for refinement
UNC actually ran this same set later in the second half; it led to a pick-and-roll possession with Jalek Felton and Sterling Manley.
North Carolina can improve this set by setting stronger screens on the staggers. Abdur-Rahkman is still on Williams' hip when he catches and curls. A better screen from Pinson or Brooks gives Williams more room on the catch, and could force one of the post defenders to step up. Wagner is able to sink back and wall off the rim.
The return of Cameron Johnson will factor in here, too. Let's say he's in for Pinson in this set. Well, after screening for Williams, Johnson can flare out beyond the arc. This makes him an outlet for Berry or Williams, and it also draws a help defender further away from the basket.
Read More
Playing through the post: UNC, Luke Maye work to find efficiency