The Atlantic Coast Conference announced on Monday its future ACC football schedules for the next seven years, 2024 through 2030. With the addition of the ACC's three new member institutions next summer – University of California (Cal), Southern Methodist University (SMU) and Stanford University – the new football scheduling model will go into effect beginning with the 2024 season.
The new schedule will continue with no divisions, feature 17 schools and will increase the number of annual conference matchups from 56 to 68. The top two teams based on conference winning percentage will compete in the ACC Football Championship Game.
"We are extremely excited to welcome Cal, SMU and Stanford to the ACC and look forward to having them compete beginning in the fall of 2024," said ACC Commissioner Jim Phillips, Ph.D. "Throughout the entire scheduling model process, the membership was incredibly thoughtful and purposeful in building a creative, flexible and aggressive conference scheduling model while keeping the student-athlete experience at the forefront. The excitement and anticipation for our teams, alumni and fans will undoubtedly build as we look ahead to the future of this incredible conference."
Schedule structure
The approved format for the ACC football schedules will continue to have each member institution play eight conference games per season. All 17 teams playing each other at least twice over the next seven seasons – once at home and once on the road. The current 14 conference teams will play a total of three times each in California over the seven years and none will travel west to California in back-to-back seasons.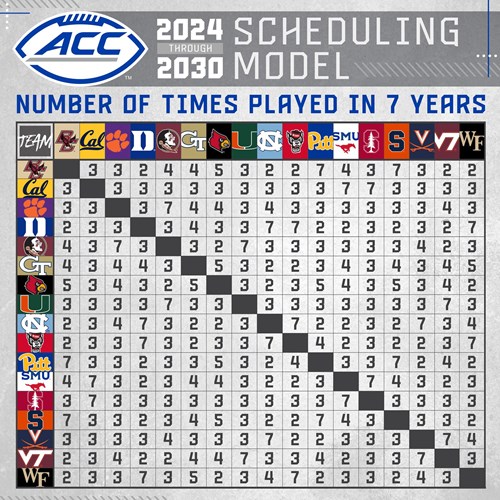 The new scheduling model protects 16 annual matchups. Of the 16 matchups, 11 are retained from the current 3-5-5 schedule model. Two are restored rivalries from the divisional format in Miami-Virginia Tech and NC State-Wake Forest and the three new schools fill the remaining three. The annual protected matchups are Boston College-Syracuse, Boston College-Pitt, Syracuse-Pitt, North Carolina-Virginia, North Carolina-Duke, North Carolina-NC State, NC State-Wake Forest, NC State-Duke, Duke-Wake Forest, Virginia Tech-Virginia, Florida State-Clemson, Miami-Florida State, Miami-Virginia Tech, Stanford-Cal, Stanford-SMU, and Cal-SMU.
Each team's opponents over the next seven years can be found below. The 2024 ACC Football schedule with specific game dates for all matchups will be announced at 9 p.m. on January 31, 2024.