There's no question who Duke's offense runs through: Marvin Bagley and Wendell Carter power this machine, which ranks second nationally in offensive efficiency. Grayson Allen, the team's senior leader, is also its top attack guard. The fourth piece, though, is really freaking good, too. When it comes to knowing one's role, and executing the assigned tasks, few players are better than Gary Trent.
Trent is in a bit of a shooting slump; the rookie wing has connected on just 24.2 percent of this three-point attempts the last five games. However, in the second half against North Carolina, Trent shook off some of the rust — splashing 3-of-6 triples. That could be the sign of good things to come for a critical piece to Duke's success.
Before we take a quick look at one of the ways Duke got Trent open in the win over UNC, let's acknowledge once more how special Trent's freshman campaign has been.
By the numbers
With Bagley and Carter sucking defenders into the paint, Trent has shined in Duke's motion attack. According to Synergy Sports, Trent has scored 1.08 points per possession on spot-up attempts (54.5 eFG%), which ranks 28th in the ACC (minimum 50 possessions). Trent has scored 158 points on spot-ups so far this season — good for No. 9 in the conference. Pitt's Parker Stewart is the only freshman to put up more points on spot-up opportunities.
Gary Trent is also one of the nation's top transition players. The 6-foot-6 wing shot 58.6 percent (73 eFG%) on transition possessions this season, per Synergy: 1.45 points per possession, No. 14 in Division I.
Trent's movement off the ball is something that will serve him well on the next level, too. He's not Ray Allen or Klay Thompson; but Trent knows how to time his cuts, read defender and fly off screens. According to Synergy, Trent scored 1.22 points per possession off screens this season (50 FG%, 62.5 eFG%).
The last number set is what we want to focus on here, too.
Classic Misdirection
Duke has a couple different actions it likes to use to get Trent clean catch-and-shoot looks at the bucket. With Duke clinging to a two-point lead late in the second half against the Heels, Gary Trent sets a flex screen for Marvin Bagley along the baseline. If Bagley is open on the block, get him the ball; there's an 80 percent chance he will score or draw a foul.
Theo Pinson, one of the ACC's most slippery defenders, does an excellent job fighting over the screen, though. Bagley's post touch is thwarted; it's time for the secondary action, which involves Trent. With Grayson Allen spaced wide to the weak-side of the floor, the middle is cleared out for Trent.
A moment of trying to free Bagley, Trent zippers up off down screen from Marques Bolden, who is waiting to pick Kenny Williams.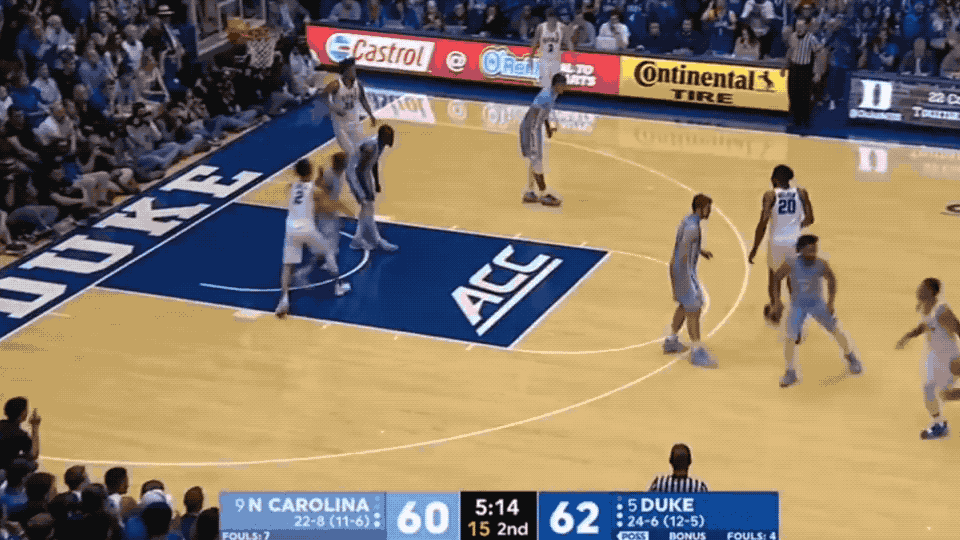 Williams is a step behind Trent when he lifts for the screen, and Bolden does a solid job actually getting in the way. Sounds simple, but that's critical, too. That's an easy pass for Trevon Duval, and an incredibly open look for Trent. Bottoms.
Postseason Fun
Gary Trent already has 23 games of 10-plus points this season. Duke's record in those games: 19-4. The Blue Devils are also 13-3 in the 16 games when Trent has attempted at least two three-point field goals and made better than 33.3 percent of those looks.
In loses to Virginia Tech, UNC and Virginia, Trent was a combined 2-of-12 on spot-up attempts in the half-court, according to Synergy.
To keep defenses honest, and from crashing down hard on Bagley and Carter in the paint, and to also help create drive lanes for Allen, Duke needs Trent to hit some triples. Duke doesn't need to run complicated stuff to get Trent looks, either. But his involvement is critical for title contention in 2018.
Read More