In a half-court offense, the best way to create an open shot is by making the defense move. A great player can do this by forcing a double team, like Marvin Bagley at Duke, or by driving past defenders and collapsing a set defense. It's really hard to do that individually.
No. 3 Virginia is 16-1 on the season, 5-o in the ACC and boasts the nation's number one defense. However, the team's offense, which ranks 31st nationally in adjusted efficiency, has been productive, too, despite not having one of these signature players.
Don't get me wrong: UVA has a bunch of special offensive players with skill sets that fit quite nicely together. To generate movement from opposing defenses, the Cavaliers use a variety of off-ball movements, cuts and screens to puncture holes.
Free Screens
No team in the nation utilizes more possessions via screens than Virginia; this is where Kyle Guy shines. According to Synergy Sports: 18.5 of Virginia's possessions come after a screen. This ranks No. 1 in Division I basketball by a wide margin — Evansville is No. 2 at 14.1 percent.
UVA makes teams pay with these possessions, too. The Cavaliers are shooting 46.6 percent (57.1 effective field goal percentage) and scoring 1.06 points per possession off of screens (No. 4 in the ACC), per Synergy.
Virginia's slow-mo mover-blocker offense prioritizes this type of action. Obviously, it's critical to have quality screeners, like Isaiah Wilkins and Jack Salt. But: it's just as important to have players that understand the timing of how to run off screens. There's a simple art here. With Luke Kennard now in the NBA, no shooter in the league causes defenses to bend more than Guy.
The 6-foot-3 sophomore is a ridiculous shooter; he will command defensive attention even if he stands idly in the corner. However, on the move, he's even more dangerous.
Guy accounts for nearly 43 percent of Virginia's screen possessions. He has scored 100 points (60.7 effective field goal rate) on 89 screen possessions this season — both of which are tops in the ACC by a mile. North Carolina's Kenny Williams in No. 2 with 40 screen possessions; Guy's teammate Devon Hall is second with 52 screen points, according to Synergy.
Teams game plan for how Tony Bennet and Virginia want to utilize Guy. This allow UVA to run counters.
The beneficiaries of Kyle Guy: Starting with Ty Jerome
After a slow start, sophomore guard Ty Jerome is playing some great two-way basketball: 13.7 points, 50 percent shooting on threes, four assists and 1.4 steals over his last seven games. Like Kyle Guy, Jerome is a terrific outside shooter: 43.1 percent on triples this season. He's also 6-foot-5 and can finish at the tin, too.
This makes him a perfect partner to pair with Guy in joint movements away from the ball. Let's take a look at the first play from Virginia's 68-51 win over NC State.
Wilkins holds the ball in high post, around the elbow; Hall (47.5 3P%) is spaced to the strong-side corner. This allows Guy, Jerome and half-man, half concrete slab Salt to play three-on-three away from the ball.
Torin Dorn face guards Jerome, expecting him to come off a pindown from Salt. Jerome, however, split cuts off Kyle Guy, diagonally to the basket — right in front of Dorn's face. Salt is a non-threat 20 feet from the basket, but here's where Guy comes into play.
As Jerome cuts across, Guy now sprints like he's going to come off Salt's pindown — one of his favorite actions. This occupies Omer Yurtseven for a second; he may have to be ready to contest Guy off the screen, which keeps the lane open. Remember: both strong-side defenders have both feet outside the paint.
Braxton Beverly can't dare to leave Guy — second in the ACC in three-point field goals (49) — and help on Jerome. The result is an easy, wide-open layup for Jerome, courtesy of a nice dish from Wilkins, too.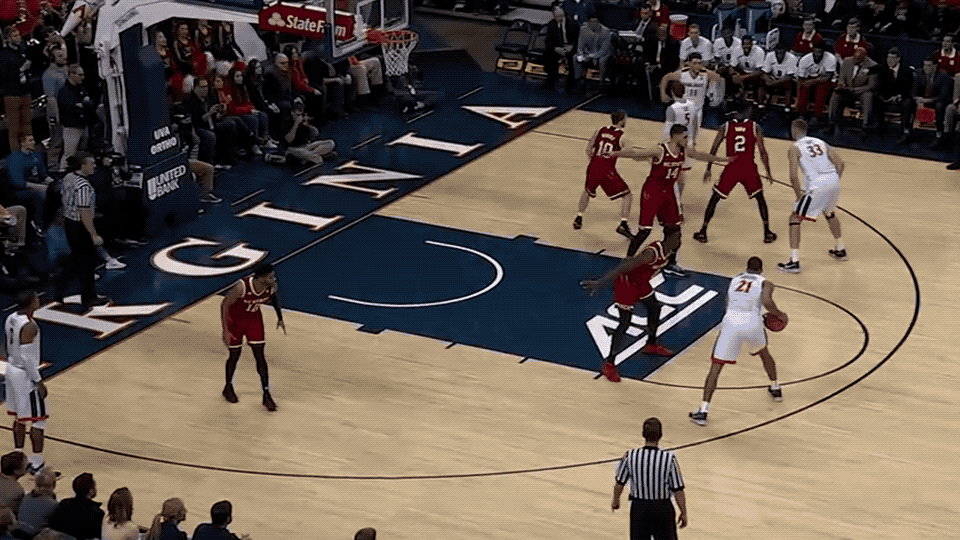 NBA comparison
This is the kind of action you will see the Golden State Warriors run every night; they utilize the off-ball gravity of Klay Thompson and Stephen Curry off of one another. Sub-in Zaza Pachulia from Salt and Draymond Green for Wilkins, and it comes together full circle.
All of this is scripted. The Cavaliers coaching staff diagrams this; it's something they want to attack, especially against an aggressive man-to-man defense.
Read More