No. 1 Duke was upset this weekend by Boston College. It was an early conference game with a noon tipoff. It's not easy winning on the road in the ACC, and the Eagles shot the ball exceptionally well. Ultimately, this win means more for Boston College than the loss does for Duke.
If anything, this can be a learning experience for the Blue Devils. But Duke's defense didn't have a counter for a specific play type the Eagles ran, and that's problematic. Holes can be poked in Duke's man-to-man defense, and the team's zone defense is leaky. Does the team have a solution?
An avalanche of threes
In order to pull off an upset, the underdog team has to be able to increase the variance of a game. The most obvious ways to do this: hit a bunch of three-pointers and make free throws. Boston College did both of these things.
The Eagles went bonkers from deep: 15-of-26 (57.7 percent). According to Sports Reference, this was just the 40th time this season a team has made 15 or more threes on 30 or fewer attempts.
Jerome Robinson went 5-of-5 from deep; the junior has made five or more threes in a game just three times in his career. Jordan Chatman his five more; Ky Bowman, one of the stars of the game, hit three more, too.
Boston College didn't get to the line a ton; the Eagles had a free throw attempt rate under 20 percent. However, they made them when they needed to — going 12-of-15 (80 percent). More on Bowman, though.
Pick-and-roll defense
The biggest concern for Duke shouldn't be Boston College sizzling from deep. Yes, Duke's perimeter defense wasn't great, but BC made some tough shots — it was an outlier of a performance. The more pressing issue was Duke's pick-and-roll defense. The mesh point with the team's trio of talent bigs — Marvin Bagley, Wendell Carter and Marques Bolden — is an issue.
Boston College simplified its second half offense, and ran essentially three sets over the final 20 minutes. The majority of those looks involved a high ball screen for Bowman or Robinson. Boston College scored 41 points in the second hall; according to Synergy Sports, BC ran 20 possessions for a pick-and-roll ball handler — more than any other play type. Bowman and Robinson delivered the goods.
The Plays
Here's a look from the first half. Bowman loves to drive left, which is where Nik Popovic, who was super active against Duke, angles his screen. Gary Trent tries to fight over the top, and Wendell Carter actually does a pretty good job showing and contesting. If he comes higher, Bowman smokes him off the dribble. But this is still an easy make for Bowman.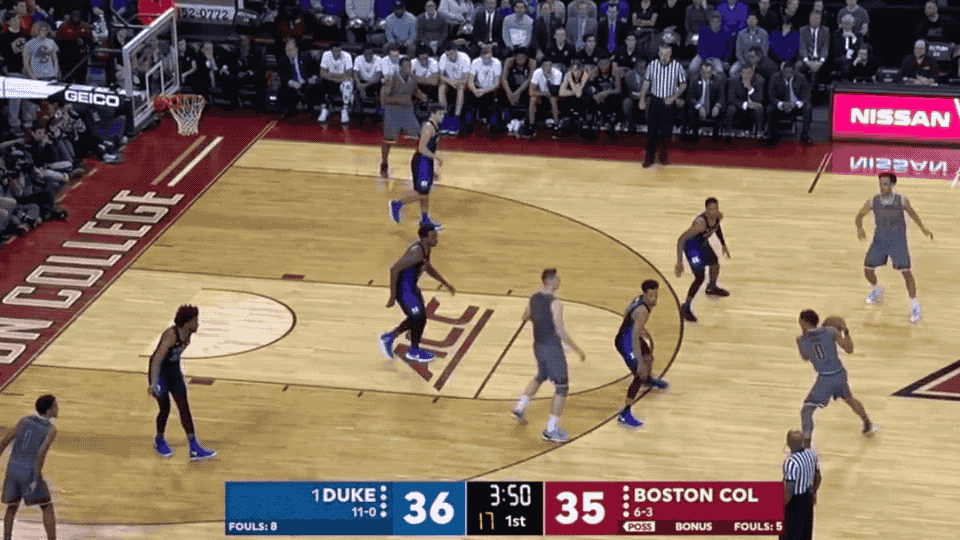 Jim Christian kept things relatively simple, but the coach used some clever design in the second half — incorporating Bowman and Robinson together into sets. Here Robinson cuts across the defense with a loopy Iverson cut. Stefon Mitchell lifts and screens for Bowman, who gets the switch he wants — Marvin Bagley.
As soon as BC gets the switch, reserve big man Johncarlos Reyes rises to set another pick. Marques Bolden, who still has issues in space, trails far too tightly. When Bowman sees Bolden above the foul line, he knows the paint is open and attacks. Bagley is a step behind him, and no one is home at the rim.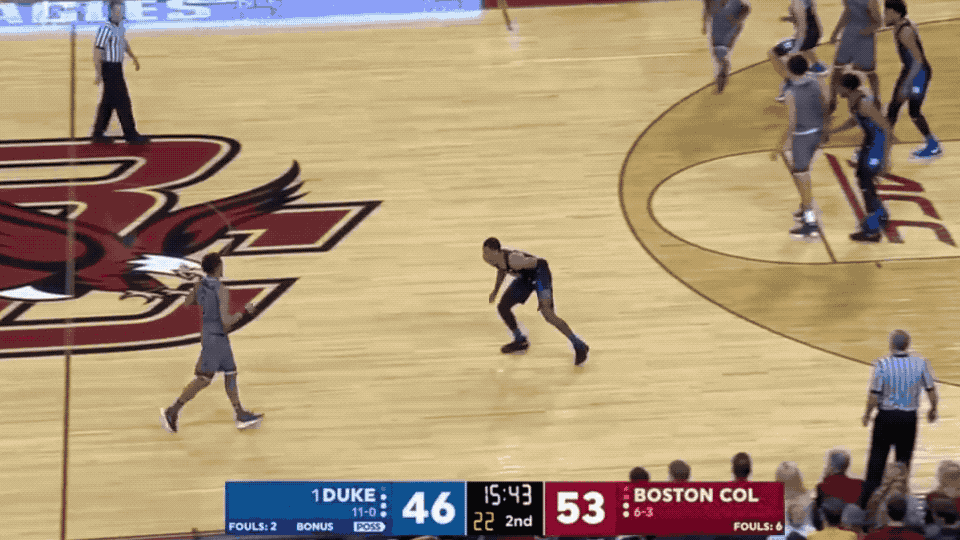 Now, lets check out a counter to that. This time, Robinson cuts across the middle; however, instead of clearing to the weak side, Robinson reads the defense — Javin DeLaurier tries to fight over the screen. Like Klay Thompson, Robinson curls hard off Popovic's screen to the basket. Ky Bowman is ready for it; Carter is not. There's no switch, and it's a well-placed alley-oop.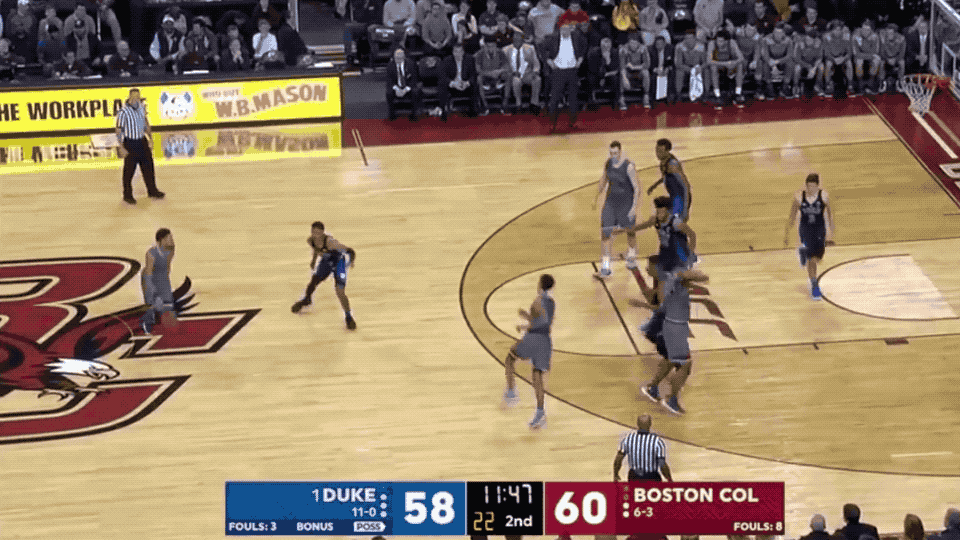 Mess with the bull
Every team in the NBA runs some variation of a horns set — two wings spaced to the corners with the two bigs ready to screen for the ball handler above the top of the key. Boston College ran this multiple times in the second half. Ky Bowman goes left, Mitchell screens Trevon Duval; Bagley once again switches to Bowman. The sophomore guard is in no rush; he dribbles to his spot, and gets the shot he wants over Bagley — going left, Kemba Walker style.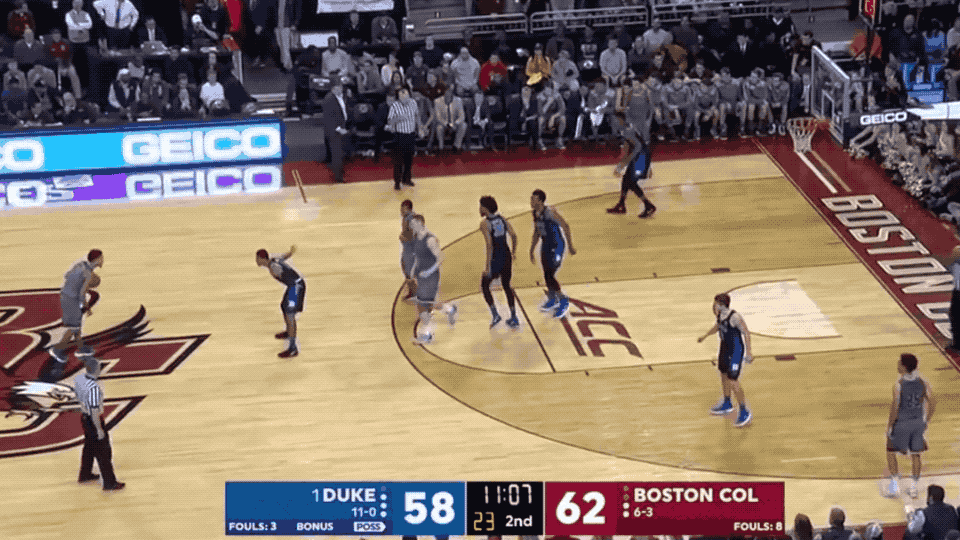 This is a hard play to stop. There's a reason why teams love running high ball screens. However, Duke could've tried trapping Bowman — find a way to get the ball out of his hands. If you blitz those screens, he can pass the ball to an open Mitchell, but what's preferable if you're Duke?
According to Synergy, Ky Bowman is shooting 43 percent out of the pick-and-roll this season. On pick-and-roll possessions, including times when Bowman is a passer, BC is scoring 0.98 points per possession.
On the flip side, Duke is allowing pick-and-roll ball handlers to shoot 42.7 percent and score 11.5 points per game, per Synergy. The Blue Devils rank No. 239 in the nation in defensive efficiency on this type of possession.
Read More
Inside The Playbook: Marvin Bagley, Grayson Allen dance in the middle of the floor