Over the weekend, Miami and NC State played a wildly entertaining game. The Hurricanes lost three of four games entering Sunday afternoon, and needed a victory. The Wolfpack, on the other hand, wanted to pull off a third upset on its home floor in the last two weeks.
What took place was a wide-open game featured two teams playing some exceptional half-court offense.
Miami shook off the offensive doldrums, and put together its third-most efficient game of the season: 122.6 points per 100 possessions, according to KenPom. It was a balanced attack for Jim Larranaga's club, too; led by Bruce Brown's 19 points, four Hurricanes scored at least 12 points. Here's a look at how Miami utilized its dominant ball-screen offense in Raleigh.
Bruce Brown: A pick-and-roll master
According to Synergy Sports, 17.6 percent of Miami's offensive possessions this season have been used by a pick-and-roll ball handler — the third-highest number in the ACC (Wake Forest, Syracuse). Six percent of the team's offensive possessions have been used via a roll man in the pick-and-roll — second in the ACC (NC State).
All of this is to say: Miami's half-court offense runs a great deal of pick-and-roll action. That was on full display against NC State, with Bruce Brown at the controls.
Brown is shooting 40.4 percent and has scored 0.87 points per possession as a shooter out of the pick-and-roll, per Synergy. However, he's even more dangerous as a passer.
When Brown passes out of the pick-and-roll, Miami scores 1.27 points per possession (61.7 FG%). That ranks second in the ACC.
The PNR inside PNC
In this first clip, freshman dynamo Chris Lykes gets a ball screen from Ebuka Izundu. Take note of how high on the floor Izundu's screen comes, and where Omer Yurtseven is at that mesh point; Yurtseven is below the free throw line while Izundu screens on Tuffy's right ear.
Lyke's zips down and Yurtseven is on his back heels by the time the point guard enters the paint. This causes Braxton Beverly to help off the wing, which leaves Bruce Brown open for an open three-pointer. Beverly should probably just let Yurtseven handle that next time; it's simply too much ground to make up to get back out to Brown.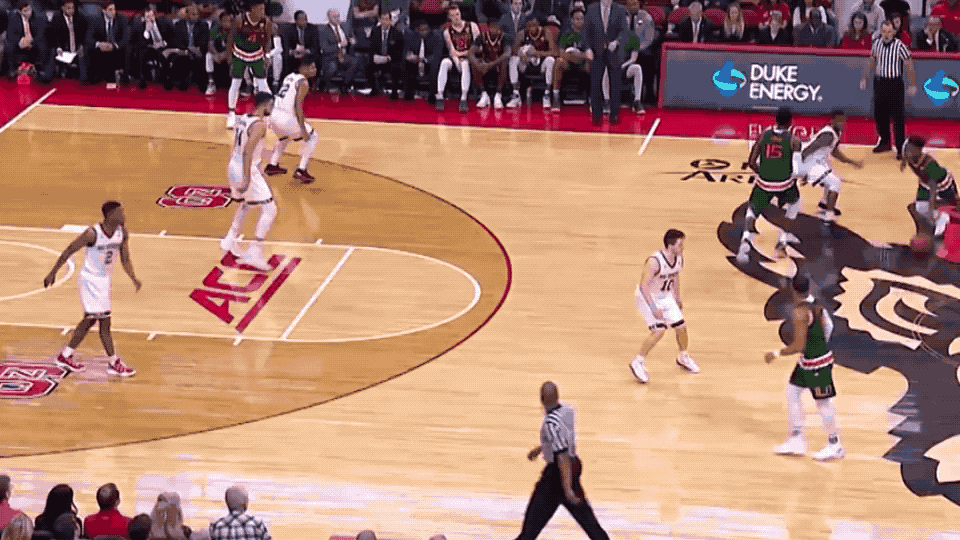 Later in the half, Lonnie Walker runs a double wing pick-and-roll. This is a play Miami got good action out of the entire game. Dewan Huell screen and rolls, while Anthony Lawrence — the second screener — pops beyond the arc on the back side. Lennard Freeman sticks with Huell, which means it's up to Torin Dorn and Al Freeman to navigate the pop.
Dorn, who is guarding Lawrence, instructs Freeman to switch, but it gets lost in communication — the shorter Freeman sticks with Walker, a dangerous offensive player. This leaves Lawrence wide open. Lawrence is 7-of-10 on pick-and-pops this season, per Synergy — 1.35 points per possession.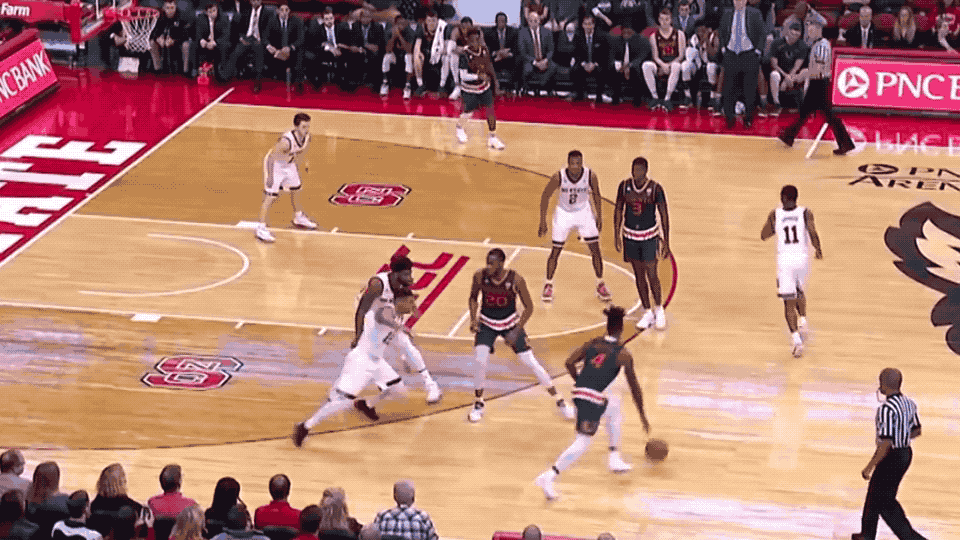 We saw it on display against No. 2 Duke: Huell is one of the most dangerous rollers in the nation. On rim runs this season, the sophomore center is shooting 70 percent and scoring 1.38 points per possession.
On this next play, keep an eye on how the threat of a Huell dunk craters NC State's defense, again. Ja'Quan Newton comes off a Huell screen to the middle of the floor — a tough spot for the Pack to defend, which occupies Yurtseven. As Huell rolls, Beverly once again must stunt down. Walker is wide for another bomb; this is an easy read for Newton.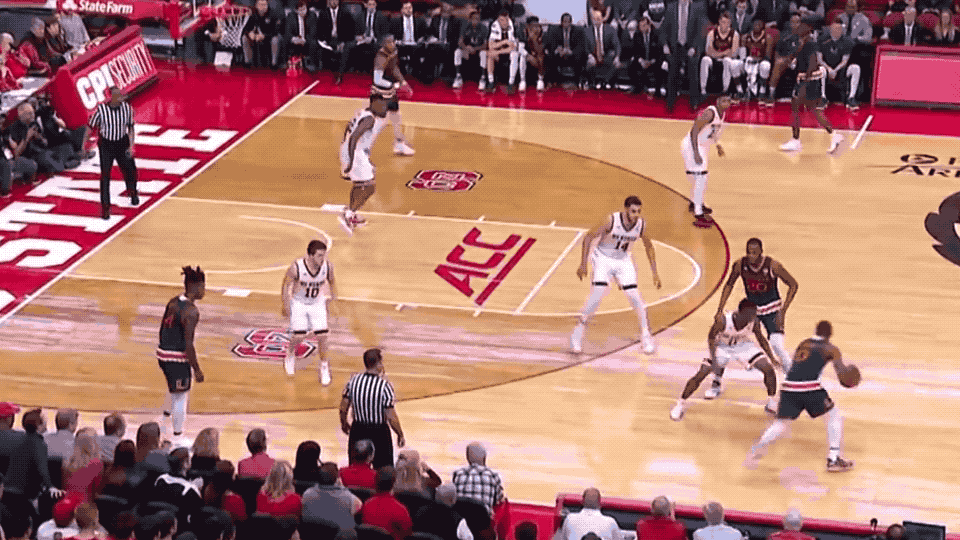 The Dagger
With 25 second left, and NC State within three points, Miami went back to the well. Huell screens for Bruce Brown, and now it's Dorn's turn to get caught in the middle.
NC State's defense is already scrambling, and as Brown comes off the screen he uses his 6-foot-5 frame to see that there's only one defender — Dorn — to guard two players. Miami has lit the tower on weak-side three-pointers all game; that's in the back of Dorn's mind. He doesn't commit to Huell's roll with Walker spaced on the wing. The result: Huell slams the door shut.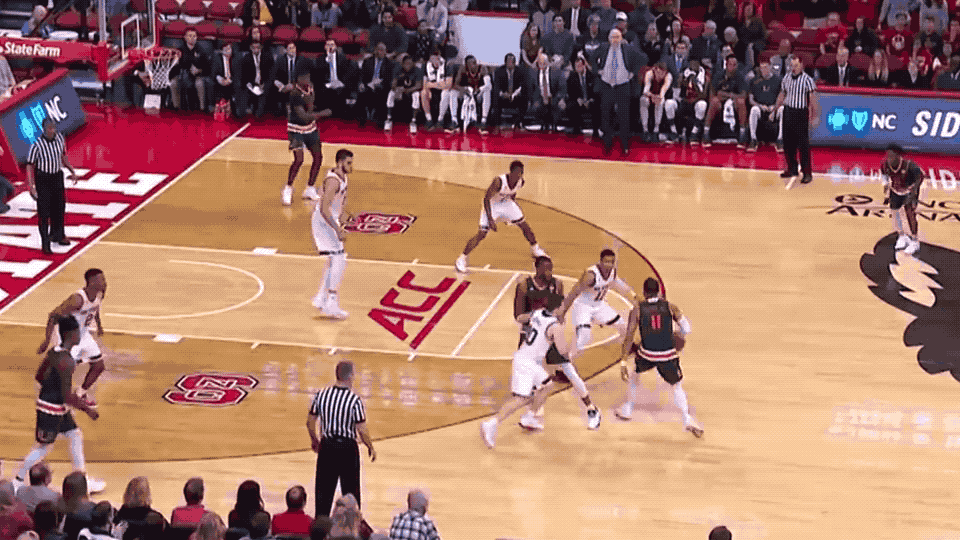 Another Element
On the first possession of the second half, Miami came out of the locker room with a designed play that easily produced a great look for Lawrence.
Huell ball screens for Lykes, and slants down the lane; this gets Yurtseven on the move. Lykes passes to Lawrence, who dribbles left to the wing — it's dribble handoff time. Lawrence flips it to Bruce Brown.
Dorn does a nice job sliding through; however, guess who: Huell is right there waiting to screen once more. Brown dribbles into the ball screen, which again puts Yurtseven on skates. Abdul-Malik Abu is left to decide between Huell and Lawrence. He picks Huell, and now Lawrence is wide open.
Lawrence, who has an effective field goal rate of 58 percent on spot-up possessions, buries the triple. That's beautiful side-to-side action from Miami — multiple ball screens, four players touch the ball and NC State's defenses is forced to make numerous rotations. If you're a Miami fan, this should inspire a lot of confidence going forward.
Read More
Will playing time for Chris Lykes continue to increase during ACC play?