With the NBA Draft done and over, and rosters now mostly set for the 2019-20 season, let's bring back the the ACC Basketball power rankings — offseason edition. Football may be right around the corner, but basketball season isn't too far off, either. It will likely be difficult for the league to replicate the success of last season — Zion-mania, Virginia winning the national title, 10 first round picks; however, the ACC is still loaded for a strong year of hoops.
After starting off with the bottom five teams (15-11), we've moved to the middle-third of the league — where the teams with serious NCAA Tournament aspirations start to appear.
10. Georgia Tech
It's rarely been aesthetically pleasing basketball under Josh Pastner at Georgia Tech. In his three seasons with the program, Tech has yet to rank inside the top 175 nationally in adjusted offensive efficiency. The 2018-19 squad posted an effective shooting mark of 49.2 percent, which is the high-water mark of Pastner's tenure there; however, it also ranked 242nd in the country, according to KenPom.
All of that said, the defensive side of the floor has mostly been a position of strength. In each season under Pastner, the Yellow Jackets have held opponents to sub-50 eFG%; on two occasions, Tech has ranked inside the top 50 nationally in terms of adjusted defensive efficiency.
Once again, that must be the case for Georgia Tech, which likes to mix up its coverages — flipping from (predominant) zone looks to a man-to-man approach.
After briefly entering his name into the 2019 NBA Draft, center James Banks decided to return for the 2019-20 season. Much like his predecessor Ben Lammers, Banks will once again lead Tech's defense from the back line.
The 6-foot-9 Banks (3.4 blocks per 40 minutes) posted a 9.3 percent block rate, good for 31st nationally. Along with Mfiondu Kabengele and Elijah Thomas, Banks was one of three ACC players to post an eight percent block rate and a defensive rebound rate of 18 percent last season.
Banks did all of that while mostly avoiding critical foul trouble, too: 3.9 fouls committed per 40 minutes, which is huge. (Moses Wright, 3.8 percent block rate, returns with some defensive upside as well.)
Overall, opponents shot just 47.4 percent on non-post-up looks around the basket against Georgia Tech's half-court defense (No. 7 in the nation), per Synergy Sports.
Offensively, Banks has some pop; he finished the season with 49 dunks while shooting close to 72 percent at the rim. However, on that end of the floor, Tech's offense flows — as much as it can actually flow — through one of the league's underrated tough shot-makers: Jose Alvarado.
After an efficient freshman season in 2017-18, perhaps a little too much fell on Alvarado to create offense without Josh Okogie. His shooting numbers (45.7 eFG%, 28.6 3P%) dipped across the board; however, with little perimeter help around him, Alvarado still managed to score over 0.9 points per spot-up possession (47.1 eFG%), according to Synergy.
It would be a significant boon for Tech if former top-50 prospect Michael Devoe could take a big step as a sophomore. Devoe showed some positive signs last season — specifically with his jump shot: 59.6 eFG% on catch-and-shoot attempts. During ACC play, he drilled nearly 44 percent of his 3-pointers, too.
However, he struggled mightily with his pull-up game and handling the ball — 21.9 percent turnover rate. Tech needs more playmaking in support of Alvrado. Khalid Moore is another rising sophomore that offers some intrigue as well.
9. Pittsburgh
After several seasons of suboptimal performances, can Pitt Basketball take a big step in Year Two of Jeff Capel? This team feels like it will be a trendy pick to get back to the NCAA Tournament for the first time since 2016. That usually comes with some buyer beware red flags; however, there's a lot to like with Pitt, which starts with point guard Xavier Johnson.
From the first game last season, Johnson took on a serious workload for the Panthers, and emerged as NBA prospect. He was the only freshman in the country with a 30 percent usage rate and a 30 percent assist rate. (5.8 assists, 1.7 steals, 6.1 fouls drawn per 40 minutes)
Over 48 percent of Johnson's field goal attempts came at the rim, and 91 of his 96 field goals in that range came unassisted. There are some enticing shot-creation aspects to his game.
According to Synergy Sports: Johnson, himself, used 260 pick-and-roll possessions (over 42 percent of his possessions) last season (0.78 points per possession, 44 eFG%), while his teammates used 271 possessions after a pass from Johnson out of screen-roll action (0.79 points per possessions). Those 531 combined pick-and-roll possessions were the most in the ACC by a mile, too. (Brandon Childress was second with 423.)
Where he's at his best, though, is in transition.
In general, Pitt's offense struggled in the half court last season, which was to be expected. That's when Johnson's decision-making can go sideways and turnovers arise. As a freshman, Johnson turned the ball over 5.1 times per 40 minutes; he also posted a 23.5 percent turnover rate out of the pick-and-roll, per Synergy. These are big numbers — of course there wasn't exactly a surplus of secondary shooting and playmaking around the speedy Johnson.
However, in the open floor, Johnson can really go. It'll be interesting to see how much he's worked on his craft and skill over the offseason.
Next to Johnson will once again be combo guard Trey McGowens (1.24 points per possession in transition). This could prove to be one of the league's better backcourt next season. McGowens wasn't a knockdown shooter from any level of the floor (50.4 FG% at the rim, 32.7 3P%), really, but he showed the ability to put the ball on the deck and create looks and contact. That's useful.
Over 76 percent of his field goals at the rim came unassisted; he also attempted 7.2 free throws per 40 minutes (76.4 FT%, 55 TS%) while drawing 5.5 fouls per 40 minutes — No. 158 in the nation, per KenPom.
A big question to answer will be how Pitt plans to replace the spot-up shooting from Jared Wilson-Frame, who splashed 98 3-pointers (39.5 3P%) last season. The Panthers need more spacing agents around Johnson's pick-and-roll slippery. Can Au'Diese Toney or someone from Pitt's 2019 recruiting class help here?
On defense, Terrell Brown (11.2 percent block rate) could emerge as an impact player.
8. Miami
This has been discussed plenty, but last season — which started with serious promise — was a challenge for Miami. Above everything, though, Chris Lykes showcased what makes him one of the top guards and competitors in the ACC. Through a limited rotation, and constant defensive attention, Lykes battled, continued to zip around ball screens and help keep Miami's offense stay above water.
(By my personal calculations, Miami ran this double drag look no fewer than 17,000 times last season.)
Despite the struggles, the Hurricanes finished eighth during ACC play in adjusted offensive efficiency, thanks mostly the shot making of Lykes — while working with pick-and-roll partner Ebuka Izundu (43 dunks).
Lykes posted a monster usage rate of 27.3 percent, and 121 of his 171 field goals (70.8 percent) were unassisted. A lot of that work (31 percent of his possessions) came out of the pick-and-roll: 0.91 points per possession (52.3 eFG%), which ranked third in the ACC (minimum 100 possessions).
Lykes — likely shorter than his 5-foot-7 billing — plays so low to the ground with his handle. He can blow by defenders or work from underneath them with nifty changes in direction. Considering his stature, it's impressive that he shot just under 59 percent at the rim, too.
Miami doesn't bring a ton back — with the exceptions of spot-up ace DJ Vasiljevic (career 37.5 3P%), Oklahoma transfer Kameron McGusty and stretch-4 Sam Waardenburg. However, the reinforcements have arrived in the form of a top-30 recruiting class.
It would be a major boon if Miami could get Cincinnati transfer Nysier Brooks — a two-way force with serious rim protection skills — a waiver to play next season.
Short of that, though, Miami still has plenty to like, including Florida grad transfer Keith Stone, a 6-foot-8 forward. Two seasons back, Stone shot 54 percent at the rim and over 42 percent on 3-pointers. He could replace Anthony Lawrence in some of the pick-and-pop actions Miami runs.
Also in this 2019 recruiting class: 4-star guard Isaiah Wong, a scoring machine, and 4-star guard Harlond Beverly. Beverly could prove to be one of the steals of the 2019 class, too.
Starting to work on a class-specific big board for 2020, and the biggest departures I have from consensus are

– Wiseman not 5
– Kai Jones top 15
– Harlond Beverly top 20

— TS% Eliot (@Cosmis) June 25, 2019
7. NC State
Outside of Jordan Nwora's decision to return to Louisville, there's likely no ACC team that got a bigger boost from a draft decision than NC State: Markell Johnson will back for his senior season.
Johnson's rise as a junior — from pass-first slasher to pick-and-roll engine — was a massive development for Kevin Keatts and the Wolfpack. It's also why Johnson returns to Raleigh as one of the most important players in the league. Without Johnson, it's unclear who would've taken on the playmaking torch in State's half-court offense.
Fortunately for Keatts, that's a discussion for another day.
While still turnover prone (20.5 percent turnover rate), Johnson is a shifty, clever player who utilizes a nice mixture of twitchy handles and athleticism (14 dunks) with some craft. He's pretty good at some of the tactical dark arts that come with running screen-roll actions, too — manipulating defenders with loopy crossovers dribbles and no-look finds (6.7 assists per 40 minutes).
According to Synergy, Johnson shot 46.5 percent (55.1 eFG%) out of the pick-and-roll this season. He's especially fond of snaking the ball screen — dribbling back across the path of the opposing help defender.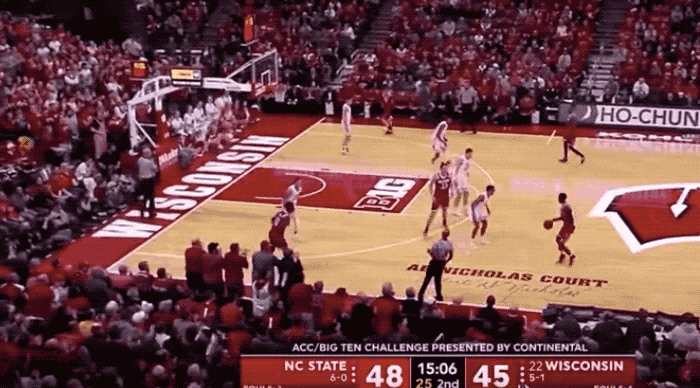 He's as comfortable as any player in college basketball at creating a switch and then finding ways to attack the new configuration.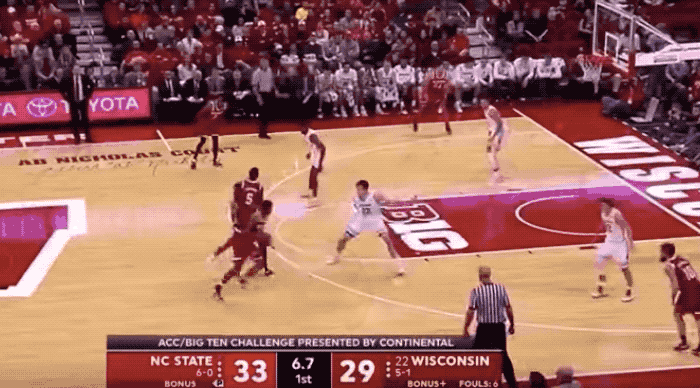 As good as he was out of the pick-and-roll, Johnson could go get his own shot out of isolation, too: 1.07 points per possession (55.2 eFG%). (Note: Johnson was the only play in the ACC to rank top five in the league in both isolation and catch-and-shoot efficiency, 67.6 eFG%.)
This season, expect Johnson to dance in the pick-and-roll a lot with springy big man DJ Funderburk, a fringe NBA prospect, too.
Funderburk — 28 dunks, 66.1 FG% at the rim — is good complement to Johnson. He can dive to the rim, looking for lobs or pocket passes — and hit the offensive glass. Funderburk shot just under 57 percent on basket rolls last season, per Synergy.
His work on the offensive glass was pivotal for NC State; it essentially won a January home game over Pitt after Johnson left with an injury. The transfer big posted an 11.2 percent offensive rebound rate and shot 65.9 percent on put-back attempts — both big numbers.
Funderburk won't draw any Joel Embiid comparisons, but even with his wiry frame, he's still decent at carving out space in the post, especially when he's able to seal his defender in State's 4-around-1 half-court system.
Johnson and Funderburk (5.9 fouls committed per 40 minutes) need to avoid foul trouble — an issue for both this season — but they should function as an excellent 1-2 combination for the Pack.
Spotting up around those possessions will be grad transfer Pat Andree, a good addition to the program this offseason. During his three seasons at Lehigh (over 2,220 minutes of action), Andree attempted 441 3-pointers — making 184 (41.7 3P%). He's a bit of a one-trick pony — spot-up shooter — but it's a necessary skill for a team that shot 35.2 percent from downtown a season ago.
According to Synergy, Andree scored 1.22 points per possession (60.6 eFG%) on half-court catch-and-shoot possessions.
From a leadership standpoint, it may be impossible to replace what Torin Dorn meant to NC State. His time in Raleigh extended back to the Mark Gottfried era; however, he'll likely be best known for helping set the culture for Keatts.
That said, Dorn wasn't just a figurehead; the dude was an awesomely rugged basketball player, who battled on the glass, defended bigger players and made tough shots (44.4 FG% on dribble jumpers). NC State has a few options to work into larger roles this season, though.
CJ Bryce was solid for most of his first season in a red uniform (0.87 points per spot-up possession); is he ready for more prominent duties next year? Devon Daniels is a borrowing driver of the basketball who plays without fear on both ends of the floor (2.8 percent block rate), but he needs to refine is shot selection. (95 2PA away from the rim, 32.6 FG%).
Jericole Hellems struggled with his shot as a freshman (44.6 eFG%), but there's some talent and positional versatility there, too.
6. Virginia
It may seem slightly disrespectful to have the reigning national champs slotted at No. 6, but remember two things here: One, Virginia just lost a historical amount of NBA talent. And two, this league is totally unforgiving. Wave goodbye to that much skill, and it's sure to leave a mark.
Of course, there's really only so far Virginia can tumble, though. This is a program with a high floor. We can talk all day about the great things Tony Bennett does — on and off the court — with his team. This enterprise is a players-first affair, and the end results, from top to bottom, are pretty darn good.
With John Beilein now in the NBA, Virginia likely claims the throne as the premier player-development program in college basketball, though there's plenty of room for debate there, too. However, the principles that Bennett preaches — defense, turnover avoidance, ball movement — mean that even in lean years, UVA should be solid and win games.
Over the last eight seasons (223 wins), Virginia has ranked inside the top 25 in adjusted defensive efficiency in each season; during that run, UVA recorded seven top-10 defenses. In only one of those eight seasons have opponents posted an effective shooting rate above 47 percent, which is wild. (Bart Torvik projects UVA to have the nation's No. 2 defense next season.)
On the other side of the floor, Virginia now has six straight seasons with turnover rates under 17 percent. In each of the last two seasons, the Cavaliers have posted sub-15 percent turnover rates.
It's due in part to the team's personnel — Kyle Guy, Ty Jerome and De'Andre Hunter were all excellent shooters — but Virginia's 3-point attempt rate grow rapidly over the last four seasons: from 28.4 percent in 2015-16 to 39.5 percent this season. In each year of that window, Virginia shot above 38 percent from downtown, too. Hello, Volume — meet Efficiency.
Again, it helps to have notable amounts of veteran NBA-ready talent; however, programs that post numbers like this year after year will find serious success — and make Dean Oliver proud.
Despite the notable departures, Virginia still bring back a good deal of talent. Postseason hero Kihei Clark — 3.8 assists per 40 minutes — is back to run the show; UVA scored 1.39 points per possession last season with Clark as a passer out of the pick-and-roll, according to Synergy. He'll team up in the backcourt with 4-star freshman Casey Morsell, who looks like a future star for the 'Hoos.
Up front, Virginia will have two of the league's more impactful big men: Mamadi Diakite, back after flirting with the NBA Draft, and Jay Huff.
Diakite is a power two-way center who should play a massive role for Virginia in the 2019-20 campaign. In ACC play last season, Diakite's block rate spiked to 12.3 percent, which was No. 1 in the conference during league action. Overall, Diakite — who started 22 games (21.8 minutes per game) — averaged three blocks per 40 minutes.
On offense, Diakite found a groove diving to the rim in Virginia's side-to-side continuity ball screen offense — empty out a side and attack the gaps. He has good hands to go along with an impressive wingspan and a quick bounce. Diakite (32 dunks) scored 1.57 points per possession (87 FG%) on basket roll last season, per Synergy.
Even with his struggles in ball-screen defense, Huff managed to become a valuable contributor last season for Virginia. At 7-foot-1, Huff is a legit stretch-5 prospect: 63.6 eFG% on catch-and-shoots, 14 3-pointers.
According to Bart Torvik's data, Huff finished the season with 29 dunks (50 percent of his total field goals), and shot 42-of-52 (80.8 FG%) at the rim. Also, he shoots from the right spots: over 86 percent of Huff's field goal attempts were either at the rim or from beyond the arc. Try to run him off the line, and he's capable of getting to the rim with his dribble, attacking closeouts.
Similar to Diakite, Huff, too, found success as a rim-runner last season: 1.43 points per possession (69.2 FG%) on basket rolls.
Now a senior, Braxton Key returns as a Swiss Army knife player, who can slide across and defend four positions: 23.4 percent defensive rebound rate (monster number), 3.7 percent block rate and 3.2 percent steal rate.
It'll be interesting to see how Bennett decides to toggle minutes with Key, Huff and Diakite. Can Key work to fill some of the lost production from Hunter?
For whatever it's worth, the 2020-21 season looms as what could be another strong one for Virginia, too. By that point, Morsell will be a sophomore, Marquette transfer Sam Houser (another really good player/shooter) will be eligible, Huff and Clark will still be in Charlottesville and 4-star guard Reece Beekman will arrive, too.
Read More ACC Basketball
Leaky Black, Jay Huff among the ACC's under-the-radar draft prospects