Tuesday's news regarding NC State signee Jalen Lecque — and his decision to test the NBA Draft waters — was far unexpected. However, it does leave the Wolfpack with a little more uncertainty regarding next season's point guard position. The Pack already have a good point guard on the roster — Markell Johnson. However, is it a guarantee that he will be back in Raleigh, too?
This is a major question to address as NC State heads into the offseason: With the NBA Draft in mind, what will Markell Johnson do?
Johnson is a junior and should absolutely test the draft waters — if for nothing else than to at least gather information, like Louisville's Jordan Nwora. There are obviously questions with Johnson's game, like his defense. (Although 2.3 steals per 40 minutes is decent.) However, he's a good athlete (14 dunks this season) and 3-point shooter — one with serious with pick-and-roll chops. This guy is a real NBA prospect.
If Lecque decides to remain in the draft — something that may not be known until May 29 — then State would really be in a bind if Johnson decided to follow suit, too.
Before that, let's take a look back on Johnson's junior season, which saw him take big strides as a pick-and-roll creator and shot-maker.
Quick Stats: An Under-The-Radar 2018-19 Season
Once an afterthought in the 2016 recruiting class behind Dennis Smith Jr. for NC State, Johnson has morphed from change-of-pace backup to scrappy screen-roll distributor to the Pack's alpha. This season, Johnson's usage rate jumped up to 23.4 percent — up from 14 percent as a freshman. Against top-50 competition, that usage went even higher: 27 percent.
In terms of counting stats, Johnson averaged 12.6 points (59.6 eFG%) and 4.2 assists per contest — while playing just over 26 minutes per game. When Johnson missed three games in the middle of the season with an injury, State went 1-2, including a loss at Wake Forest. During that time, State's offense sputtered at Wake Forest and Louisville — barely scoring above one point per possession.
First Year Under Keatts
In the 2017-18 season, Johnson functioned as more of a pass-first point guard, especially out of spread pick-and-roll. Yes, he was happy to attack a switch after a ball screen — just ask Luke Maye. However, Johnson's main objective was to find Omer Yurtseven on basket rolls and pops — or play slash-and-kick basketball with State's spot-up artists.
As a sophomore, Johnson handed out 10.1 assists per 40 minutes; he ranked fifth nationally with a 40.5 percent assist rate, and State scored 311 points on 291 pick-and-roll possessions when Johnson was a passer, according to Synergy Sports. (1.07 points per possession, 55.4 eFG%)
During his second season playing for Kevin Keatts, though, Johnson made a jump — turning into one of the nation's top pick-and-roll scorers, while finding increased accuracy from behind the arc and efficiency from all over the floor.
Keatts will be the first to admit: he's harder on his point guards. For Johnson, that may have been exactly what he needed.
The Evolution
It was obvious early in the 2018-19 season: Markell Johnson was a different dude. In NC State's first big game of the season — a road loss at Wisconsin (the Brad Davison game) — Johnson put on a show, which I wrote about in November. Johnson attacked whatever coverage Wisconsin threw at him.
When the Badgers dropped, he ramped up and drove the basket, or snaked back across the balls screen (cutting back against the direction of the screen) — settling in for a rhythm pull-up jumper. This is an NBA move, and one he's rather comfortable going to.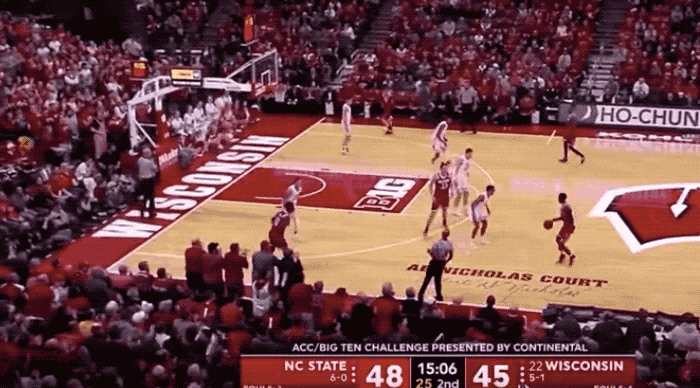 And when big man and Peaky Blinders henchman Ethan Happ tried to switch on him, Johnson happily showed off the skills.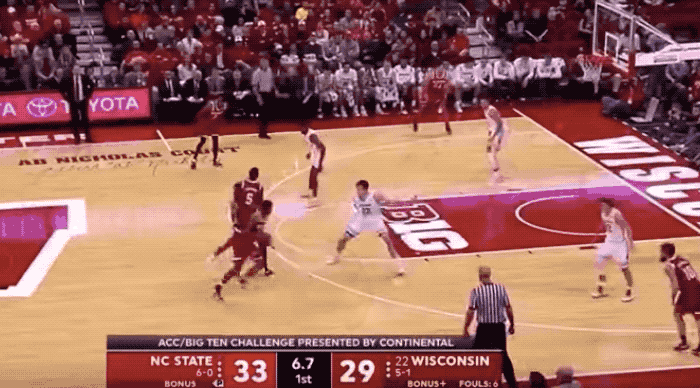 According to Synergy, Johnson shot 46.5 percent (55.1 eFG%) out of the pick-and-roll this season. He became an efficient scorer from all three levels of the half court, too. It wasn't just pull-up 3-pointers, although those are nice.
This weekend, you'll watch Auburn and Jared Harper take on Virginia in the Final Four — after the Tigers blowtorched UNC with a spread pick-and-roll attack in the Sweet 16. Well, back in December, Johnson got the best of Harper in a matchup of two dynamic offensive-mind guards.
For the season, Johnson shot 58 percent (1.2 points per possession) on half-court attempts around the rim, which is a solid number for a 6-foot-1 point guard.
Turnovers remained an issue this season, although Johnson did chop his turnover rate from a gaudy 28.7 percent last season to 20.8 percent this year. On his pick-and-roll possessions, though, that number ballooned up to 25.2 percent, per Synergy.
Regardless, Johnson showed improved tempo and pace — no longer needing to always play at 124 miles per hour. With more control and confidence, Johnson showed a smoothness to his half-court attack this season. He's the one guy on this roster who could get anywhere on the floor with a dribble.
Shot creation is a wildly valuable skill for prospect evaluation. According to Synergy, Johnson scored 1.09 points per possession (54.7 eFG%) on off-dribble jump shots this season. That ranks second in the ACC — ahead of plenty of other NBA prospects: RJ Barrett, Coby White, Cam Reddish, Ty Jerome, Ky Bowman, Nickeil Alexander-Walker and Tyus Battle.
At times, Johnson can be loose with the dribble, but his loopy crossover handles mixed with his speed is a serious weapon.
Johnson has plenty wiggle and twitch, too; he can keep defenders off balance before dribbling right up into another bomb. He knows how to create space, and the product of Cleveland is totally unafraid to lift late in the clock.
Don't believe me? Just ask NCCU head coach LeVelle Moton.
Markell Johnson is the most clutch player in the Nation with 5 min or less….Kid never misses….

— LeVelle Moton (@LeVelleMoton) March 28, 2019
Keep It Simple
Overall, Johnson shot 42.2 percent on 3-point attempts, which is doubly impressive when you factor in degree of difficulty. (It's also notable that his free throw percentage made a big jump this season as well: 73.7 percent). Johnson attempted plenty of those 3-point bombs from NBA-level range and off the bounce.
However, Johnson also made big gains in his catch-and-shoot abilities, too. Johnson posted an effective shooting rate of 57.4 percent on catch-and-shoot attempts as a sophomore, per Synergy. That's pretty good, but in the 2018-19 season Johnson became one of the better spot-up players in the ACC.
According to Synergy, Johnson increased his volume (68 FGA) and efficiency on catch-and-shoots: 67.6 effective shooting rate. That ranks fourth in the ACC amongst players with at least 50 attempts.
It Takes Two, Right?
It's certainly not impossible to envision a scenario, either, where Johnson tests the draft waters, gains valuable feedback and waits to see what Lecque does. If Lecque remains in the draft, perhaps Johnson would elect to return for his senior year in Raleigh — as one of the best players in the ACC and DJ Funderburk as a pick-and-roll partner.
(I actually think it's impressive that Johnson improved as a pick-and-roll player despite losing Yurtseven, a 7-footer who could roll efficiently or space out for 3-pointers when opponents iced screens.)
Every basketball team in America — college or pro — wants to be able to split the court and attack with multiple playmakers. That's the name of the game these days; however, it's easier said than done, obviously, for a a lot of reasons. This is pure speculation, and perhaps too far into the woods to consider, but if Johnson and Lecque don't want to split primary ball-handling duties, then there's an interesting balance to watch here.
No doubt, State fans would love to think about those two playing together — Johnson attacking a bent defense after a skip pass from Lecque. And Johnson's spot-up numbers show that he's darn good off the ball. Unfortunately, that situation just doesn't seem entirely realistic.
Furthermore, there's another scenario — one less fun to visualize, too: If somehow both Lecque and Johnson remained in the draft, State would have to pivot, quickly.
Other Alternatives: What if both Johnson and Lecque remain in the draft?
This year's NC State roster featured multiple players that took turns running the show when Markell Johnson sat. In theory, most of these guys should be back, too. (And again, this is just speculation for if Johnson went pro and left Raleigh.) Here's a look at the list.
Blake Harris
Played just 289 minutes this season, mostly as a defensive substitute
3 steals per 40 minutes, 4.3 percent steal rate
8-19 3PA (42.1 3P%), 48.4 eFG%, 42.2 2P%
25.5 percent assist rate, 26.9 percent turnover rate (4.2 turnovers per 40 minutes)
Braxton Beverly
Played over 2,000 minutes in his two-year career at NC State
Has experience running the offense as both a freshman and sophomore; however, he's more comfortable as a spot-up player/secondary option. As Johnson evolved, Beverly took on an ever more pronounced secondary role
Assist rate in 2018-19: 13.1 percent

Assist rate in 2017-18: 19.1 percent

Over 50 percent of his possessions as a sophomore were on spot-ups, per Synergy
27.1 percent turnover rate on pick-and-rolls
CJ Bryce
Bryce is more of a do-it-all wing in State's system, but up at Notre Dame he took on more of a playmaker role during the road win: 23 points and three assists

With Torin Dorn gone, Bryce will likely be asked to carry more of NC State's second-side scoring load

11.2 percent assist rate, 15.1 percent turnover rate
55.6 percent true shooting rate
Devon Daniels
Similar to Bryce, Daniels is another higher-usage wing (21.7 percent usage rate) who wants to drive downhill and score
However, he's shown some ability to play slash-and-kick or pick-and-roll basketball
For Bryce and Daniels, these guys wouldn't project as full-time ball handlers, but without Johnson they — hypothetically — may need to take on a larger role
Grad Transfer options
NC State is currently looking at a variety of high-level graduate transfers, according to Jeff Goodman.
Most of those players, though, like Matt Milton (William & Mary) and Christian Keeling (Charleston Souther), are shooters or of the score-first variety.
Obviously State needs to improve its 3-point shooting (0.84 points per possession on spot-ups), but this wouldn't satisfy the point guard need, hypothetically
Read More on Markell Johnson
What NC State missed with its starting point guard out with an injury