Earlier this week, NC State went on the road for its first true test of the season: a matchup with Wisconsin in the ACC/Big Ten Challenge. Ultimately, the Pack came up empty-handed; a 50-point second half from the Badgers proved too much.
Moral victories mean little; however, NC State did plenty on the offensive end — against a good defense — and that should matter, too. With Markell Johnson leading the way, State scoring just under 1.1 points per possession against Wisconsin, which ranks 11th nationally in weighted defensive efficiency. It's the biggest number the Badgers have allowed this season, including a loss to Virginia.
As we've discussed in this space before — on numerous occasions — Johnson is an excellent pick-and-roll point guard. In the 2017-18 season, NC State scored 1.07 points per possession when Johnson passed out of screen-roll action, according to Synergy Sports. It's early this season, but so far, so good. Let's take a look at some of the numbers and what Johnson did to Wisconsin.
Offensive Profile
NC State currently ranks 14th nationally in adjusted offensive efficiency, per KenPom. This team wants to get it and go, too. NC State is averaging just 14.8 second per offensive possessions; that ranks 17th in the nation and second amongst ACC teams — behind only UNC (13.3 seconds). It's also a little faster than a season ago: 16.1 second in the 2017-18 campaign.
Through the first seven games of the season, NC State's transition offense has hummed; according to Synergy, the Pack has scored 1.21 points per possession (70.4 eFG%) in transition, which is outstanding.
However, we want to slow things down, slightly, and show how Markell Johnson has run the show in the half court. Currently, NC State ranks 41st nationally in half-court efficiency: 0.98 points per possession.
Let Him Cook
Markell Johnson is the engine for this offense, and he loves operating after ball screens; it's the perfect marriage with Kevin Keatts. Johnson has a whole bag of tricks, too. He has the speed to simply drive past defenders — in recovery mode or after a switch. However, he isn't just a straight-line driver; Johnson has some handles and twitch. The junior point guard can get to his spots and shoot off the bounce.
As good as his own offense is, Johnson is a wonderful playmaker, too, who has shooters and rim runners at his disposal.
In the first half against Wisconsin, Johnson and Wyatt Walker engage in some simple pick-and-roll action. Walker doesn't exactly hold his screen and D'Mitrik Trice is able to fight over as Ethan Happ drops for the Badgers. This is pretty well defended by Wisconsin; however, the shot making here is just too good. Johnson (75 FG% at the rim this season) uses his left arm to create some separation from Trice and, a step later, finishes with touch and a ridiculous angle over Happ.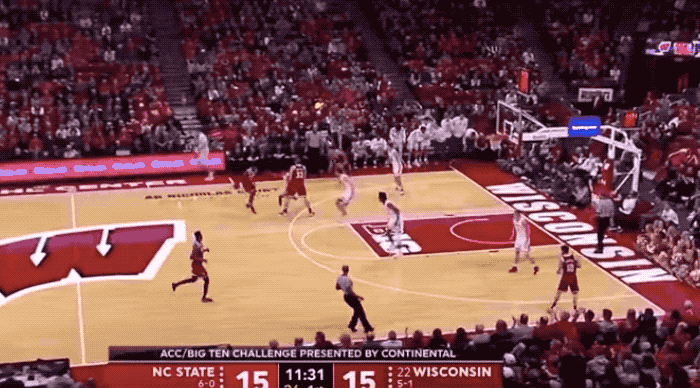 For the season, Johnson is shooting 60 percent (66.7 eFG%) out of the pick-and-roll. Those are both really healthy numbers. A big part of Johnson's success as a shot creator, though, comes from his comfort level attacking switches. If you want to make a case for Johnson as an NBA prospect, this is where you start.
To close the first half, NC State had Eric Lockett set a ball screen for Johnson, who is able to force a switch with Happ. Look at how quickly he gets over the screen, which doesn't allow Wisconsin to drop and recover. After that, he pulls it out, shows off some of the skills and drops a step-back three (50 3P% this season) on Happ's head.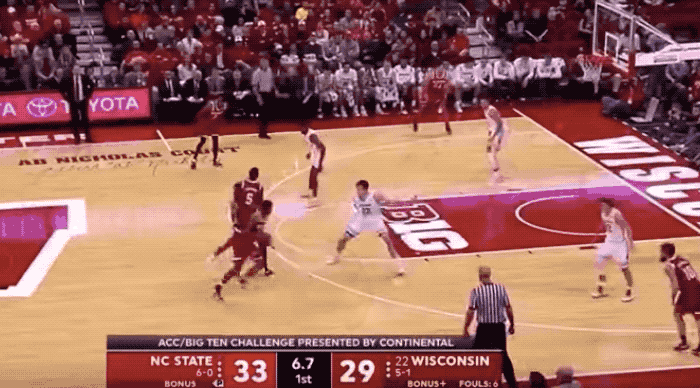 In the half court this season, Johnson has an effective shooting rate of 50 percent on jump shots off of a dribble, per Synergy.
We saw this last season, too. In NC State's overtime win at UNC, Keatts and the Pack worked tirelessly to get Luke Maye switch on Johnson, who finished the game with 20 points and 11 assists.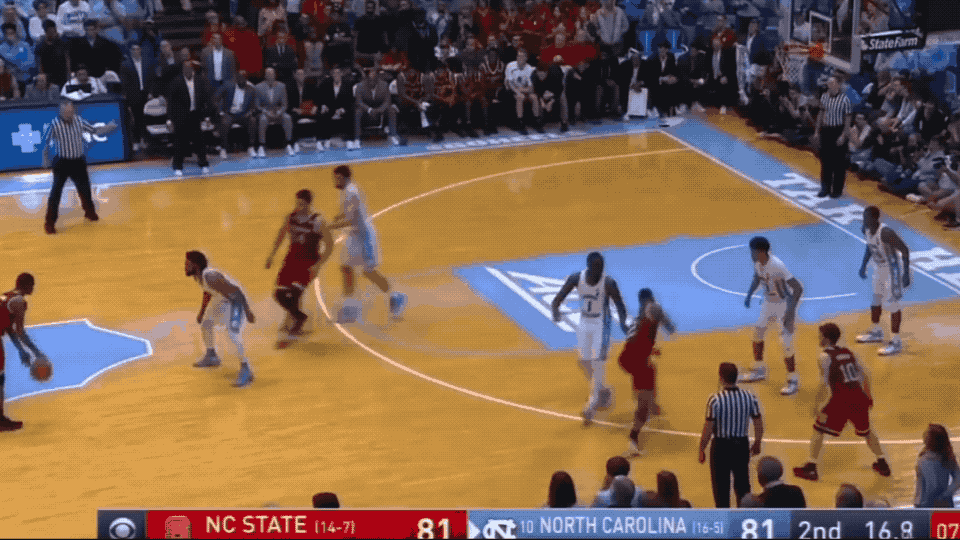 Another NBA Move
Markell Johnson made several outstanding plays in his 21-point performance against the Badgers, but this one is my favorite. Johnson gets another ball screen from Walker on Trice. Instead of attacking the rim, though, Johnson dribbles back across the defense with Happ monitoring his movements. This is called "snaking" a ball screen. Watch Chris Paul and Kyrie Irving in the NBA; they are masters of this move.
It's not a full switch here, and Happ, in corral mode, gives plenty of room to Johnson, who pulls it back beyond the arc and splashes another triple before Trice can fully contest.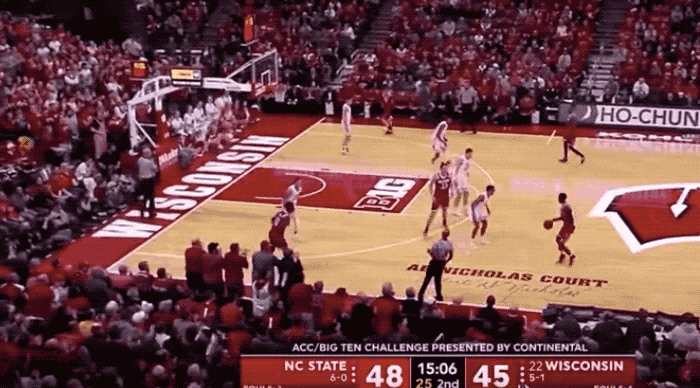 A Helping Hand from Markell Johnson
In the 2017-18 season, Johnson led the ACC with 7.3 assists per game (13.9 per 100 possessions); he ranked fifth nationally in assist rate as well — assisting on 40.5 percent of his teammates' field goals while on the floor.
At the moment, Johnson's assist numbers are still really good — 27.5 percent assist rate, 9.4 assists per 100 possessions — but down slightly from a season ago, which shouldn't come as too much of a surprise. Omer Yurtseven — his favorite target — is gone; so, too, are Sam Hunt, Al Freeman, Lennard Freeman and Abdul-Malik Abu. That's a lot of shooting and paint production out of the door.
In their absence, Johnson is looking for his own offense more. His usage rate is up to 20 percent — the highest of his career — and he's averaging 19.1 field goal attempts per 100 possessions, including 11.1 three-point attempts. That's a big jump from 12.9 field goal attempts per 100 possessions (4.8 3PA per 100) as a sophomore.
That said, he's still creating for others in the screen-roll attack, and with plenty of success. NC State is scoring 1.08 points per possession (55.4 eFG%) when Johnson passes out of the pick-and-roll this season.
On this possession against Wisconsin, Trice again fights over while Happ drops; however, Johnson is able to turn the corner some, which draws help from Aleem Ford. Johnson wastes no time hitting Dorn (52.4 3P%, 21 3PA) with a righty passes in his shooting pocket.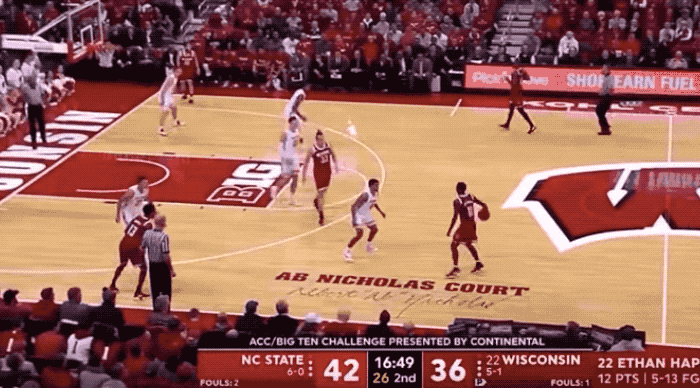 Keep An Eye On: Turnovers
If Johnson had one main issue last season, it was playing too fast and turning the ball over. According to KenPom, Johnson posted a turnover rate of 28.7 percent (29.4 percent in ACC games), which is pretty darn high.
So far, Johnson has managed to knock that rate down to 20.7 percent — 4.2 turnovers per 100 possessions (down from 6.2 last season). Those numbers are still pretty high, though. And according to Synergy, Johnson has turned the ball over on 34.8 percent of his pick-and-roll possessions, which hurts his overall efficiency.
Keatts asks Johnson to do a lot; he's the best shot creator for one of the fastest teams in America. Johnson also has to toggle the line between pass-first point guard and finding his own shot. That's not easy, either. However, if Johnson can knock those turnover numbers down a little more, while maintaining this offense's speedy-efficient balance, then NC State has the chance to have a really special season.
Read More on NC State Basketball