In NC State's upset win on the road over then-No. 10 North Carolina, the Wolfpack had one of its best offensive games of the season. Only five players scored in the overtime victory, but according to KenPom: NC State scored at a rate of 118 points per 100 possessions.
That's good for the team's second most efficient offensive output in the first half of ACC play — just behind the victory over Duke.
A lot went into winning this game, although sometimes it's as simple as hitting shots, which is exactly what Al Freeman did. As a team, State hit 15-of-30 three-pointers, which proved to make a huge difference in the game. However, it's important to note how NC State and Kevin Keatts chose to attack a top-25 defense from UNC.
BOGO Rolls
According to Synergy Sports, NC State used 39 possessions via a pick-and-roll ball handler in this game — 16 in the first half, 19 in the second and four more in overtime. In addition, five possessions were used by roll men in the pick-and-roll for the Pack.
UNC, by contrast, used just 12 pick-and-roll ball handler possessions. Keatts and NCSU chose to keep things simple, and play matchup basketball. Boy, did it ever work out.
Markell Johnson accounted for 11 of those ball handler possessions — nearly as many as North Carolina. State's coaching staff liked how UNC defended those actions (usually with a switch), and they never took their foot of that pedal. NC State just kept pushing that button.
No Spain, No Gain
Let's jump ahead to the second half, with UNC in the midst of an 8-0 run and up 55-50. After an Al Freeman triple, NC State hadn't score for over three minutes. Kevin Keatts called a timeout at the 12:56 mark, and here's what the Pack went to.
Torin Dorn and Lavar Batts space to the corners, while Johnson dribbles high. NC State stacks Abdul-Malik Abu and Braxton Beverly, and runs pick-and-roll. Johnson goes around Abu's screen, and Joel Berry fights over the top. Garrison Brooks sinks back to stop Abu's roll; however, Beverly is waiting for him.
Beverly back screens for the roller — this is called Spain action — and then pops beyond the arc. His defender, Andrew Platek, hangs in the lane to prevent a free roll to the hoop for Abu. Now look how open Beverly (50 eFG% on catch-and-shoots, per Synergy) is for the three-ball.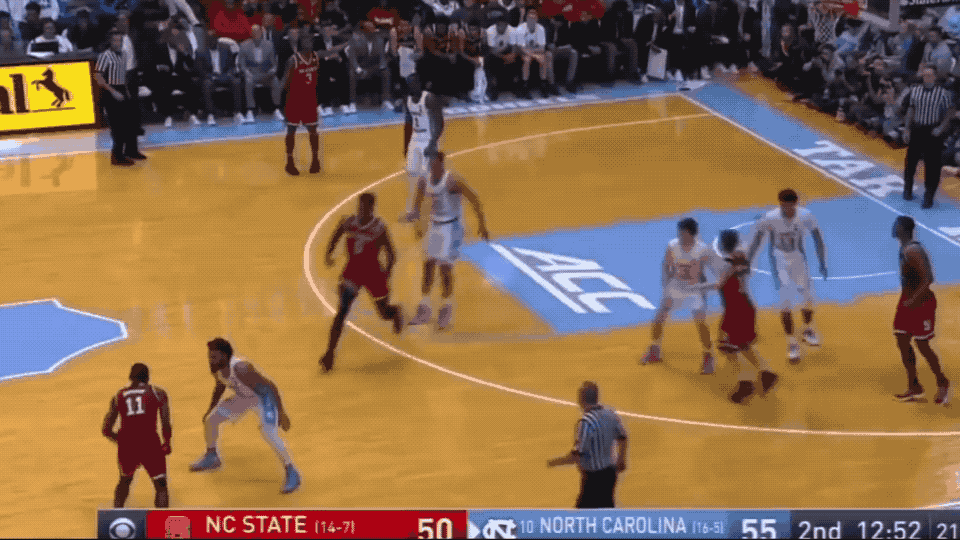 This type of action, by the way, is exactly what NC State and Mark Gottfried used to carve up Duke down the stretch in Durham. Instead of Dennis Smith Jr. and Marverick Rowan, though, Keatts has Johnson and Beverly.
Unless Draymond Green, Kevin Durant and Klay Thompson are on the same team, a defense can't switch and cover everything. There has to be a sacrifice. Beverly made them pay at a high-leverage moment.
Attack the mismatch
In the final stretch of this game, Kevin Keatts leaned heavily on Markell Johnson and Omer Yurtseven (1.24 points per possession as a roll man this season). It was simple stuff, but those two were asked to make plays, and they answered the call.
UNC was more than willing on high ball screens to switch Luke Maye onto Johnson. NC State hunted for that matchup, and exploited it relentlessly. For the season, Yurtseven has scored 89 points on 72 roll possessions — both of which are tops in the ACC, per Synergy.
With a minute to play and North Carolina up two — after a Kenny Williams curling layup — Yurtseven approached Johnson as if to set a drag screen for him. Instead, however, he quickly slipped, and UNC switched Berry onto, which Maye on Johnson. That was much too easy for NC State.
Johnson goes right by Maye with ease, which happened a half-dozen times in the final eight minutes of this game. Yurtseven is in the lane and functions as a de facto screen for Johnson to dribble off of, too.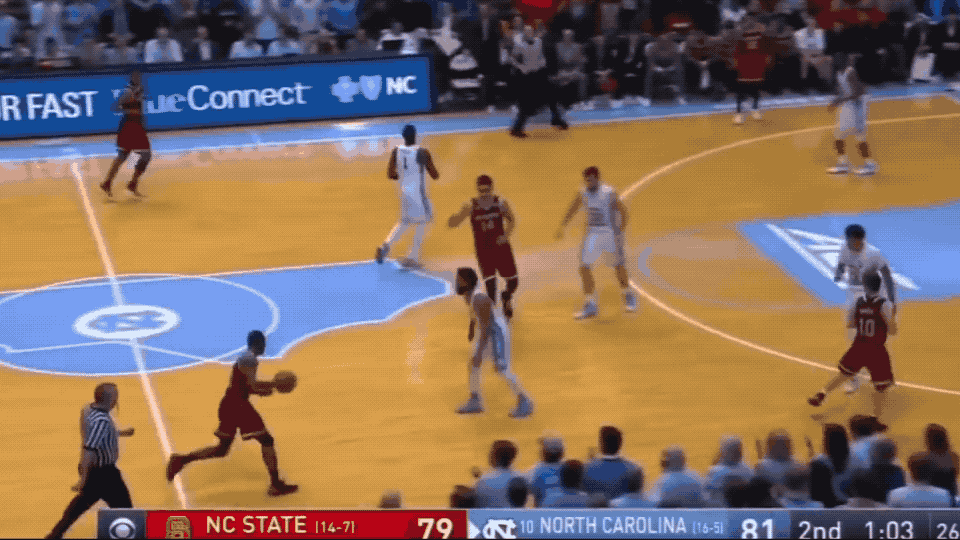 Different play, same result. On NC State's final basket of regulation, the Pack clears out to one side of the floor — again, it's Johnson-Yurtseven screen-roll time. They get the same switch, and once again Johnson smokes Maye, who is left chasing air.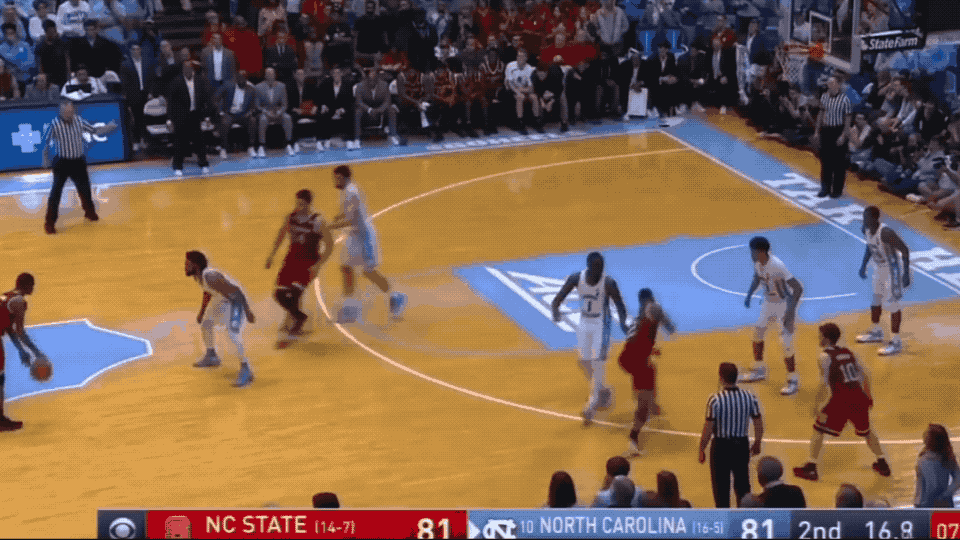 In overtime, UNC mixed up some coverages; the Heels tried stopping the action with Williams and Theo Pinson, but the damage was already done — and Johnson made them pay with an over-the-top three that put NC State up 88-85. NC State and Kevin Keatts would never trail again that afternoon.
Read More
Al Freeman named ACC Player of the Week, along with Bagley and Walker