I'm not sure about you guys, but this last two weeks have been a basketball vortex. Between Feast Week, the ACC-Big Ten Challenge and the NBA, there's a lot going on. My DVR has worked overtime. Before we hit the weekend, though, I want to post a quick Inside The Playbook piece on one of my favorite plays from the last week. This comes from Tuesday night — with NC State at Wisconsin.
No, it's not one of the 17,892 charges Brad Davison took that night, either. This is a simple baseline inbounds (A BLOB!) play from NC State, which goes into side pick-and-roll.
Bomani reacts to Brad Davison taking 5 charges in Wisconsin's win over NC State

"Have some self-respect…view yourself as an actual real live basketball player" pic.twitter.com/o04BkIlD0P

— HIGH NOON (@HIGHNOONonESPN) November 28, 2018
The Play
With NC State's lead dwindling, the Wolfpack inbounded the ball with about 15 minutes to play under Wisconsin's basket. Devon Daniels is the trigger man underneath the basket; he starts with the ball. Braxton Beverly, in his final appearance with a beard, sprints down from the wing to the corner and gets a pass from Daniels, who fans out to the opposite corner.
As soon as Beverly has possession, DJ Funderburk slides over; on the other side of the floor, C.J. Bryce and Jericole Hellems fan out to the above the arc. NC State has cleared one half of the floor, and eliminated obvious help defenders. Now, Beverly and Funderburk can run side pick-and-roll without anyone to bump or tag the rim runner.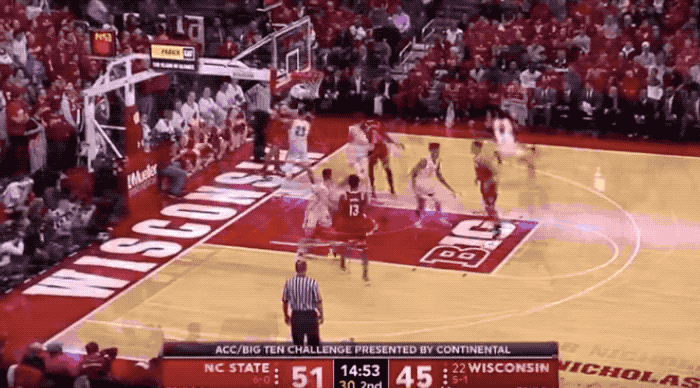 This is quick and simple; it takes all of five seconds for this play to run and for Funderburk to spike it home — his fourth dunk of the season.
Markell Johnson is the straw that stirs the drink for NC State's offense; however, this team has other guards, like Beverly, that can function as secondary creators, too. This is one of Beverly's strengths. The sophomore guard has a career assist rate of just under 19 percent — 6.7 dimes per 100 possessions. NC State has scored 1.07 points per possession (15 possessions) when Beverly has passed out of the pick-and-roll this season, per Synergy Sports.
Funderburk, who is shooting 70.8 percent from inside the arc this season, is a bouncy and speedy big man. He makes perfect sense as a dive player on offense — surrounded by four shooters. So far, the JUCO transfer has scored 1.86 points per possession (83.3 FG%) as a roll man this season, per Synergy. As the season progresses, look for the Pack to target him in more spread pick-and-roll looks.
Read More on NC State Basketball
Rewind: How Markell Johnson continues to evolve as a dynamic pick-and-roll player