We're at the de facto midpoint of another ACC Basketball week. With that in mind, let's run through another ACC Bracketology, One Stat to Know column. Currently, there are eight ACC men's teams projected to make the NCAA Tournament, per Bracket Matrix.
In this week's batch: Wide open spaces around Kyle Guy, Nassir Little goes above the rim, Tyus in a one-man Battle, NC State's quest for the free throw line and the shooting slump of Jack White.
Duke — 1
Through the first 13 games of the season, Jack White looked to be a reliable spot-up shooter for Duke. In that stretch, White shot 41.2 percent (3.9 3PA per game); he was especially good from the weak-side corners.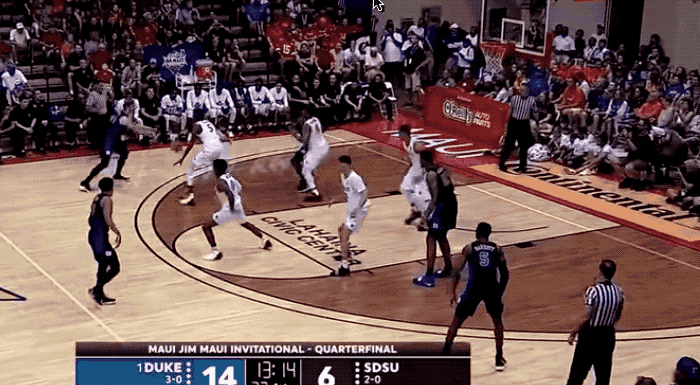 All of that, however, has changed over the last four weeks.
In the seven games since the home win over Clemson, White is just 1-of-20 on 3-point attempts (5 3P%); the lone hit came from the left corner at Florida State. At Notre Dame (15 minutes), he didn't even attempt a three, which isn't a solution to this concern — Duke needs White to get shots up with confidence.
White really likes to shoot from the left side of the floor (47 of his 71 3PA have come from that zone), which puts him to the dominant hand of both Zion Williamson and R.J. Barrett. However, over the past seven games, White is just 1-of-16 on 3-point attempts (6.3 3P%) from that side of the floor, according to Synergy Sports.
Now, White has continued to provide Duke with solid defense (he struggles against some twitchier perimeter players) and rebounding. He's still mostly a low-mistake player on offense, too, although his turnover rate has jumped to above 18 percent in ACC play.
Duke is now down to No. 301 nationally in 3-point percentage (31.1 3P%) and has scored just 0.77 points per possession  (39.7 eFG%) on spot-ups. The return of White's range shooting — along with that of Cam Reddish — would do wonders.
Virginia — 1
Even on nights when his 3-point jumper isn't falling — a rare occurrence — Kyle Guy still serves as an important offensive hub for Virginia. Back on Tuesday in the overtime win over NC State, Guy went 1-of-5 on 3-point attempts. It was just the fourth time this season (in 20 games) when Guy's been held to only one make from distance. That lone 3-ball came with about two minutes to play in regulation, too.
That said, even when he struggles, Guy's gravity as an off-ball mover and 3-point sniper forces defenses to — in the macro — try different approaches (Duke's decision to switch 1-5), or bends them in ways that leave his teammates wide open.
From this first half BLOB set, Virginia runs two players off Guy in different directions, including Kihei Clark; this causes confusion between Markell Johnson and Braxton Beverly, who decide not to switch. Johnson trails as Guy springs to the near corner off another rub screen from Mamadi Diakite (four blocks in this game). Diakite cuts hard and its an easy feed for Ty Jerome.
This isn't exactly a great individual defensive approach by DJ Funderburk, who gives up a path to the hoop too easily. But the concept is simple: send action with Guy one way, then target the open space behind it.
Later in the first half, Guy works in tandem with Jay Huff. As we've discussed plenty before, Guy is elite at shooting off screens, which accounts for over 34 percent of his used possessions this season, according to Synergy Sports: 1.2 points per possession (61.9 eFG%).
Huff sets a pindown screen on Beverly for Guy (watch his footwork), who perfectly manipulates the defense. Beverly is behind the play; Wyatt Walker feels like he needs to step up and prevent an open look. The feed here from Guy to Huff is gorgeous against an unprepared help-side defense from NC State.
Speaking of Huff, like we said last week, his ability to dive and catch lobs (he got another one at State) continues to add a little more to Virginia's offense.
North Carolina — 3
His outing against Georgia Tech wasn't Nassir Little's best, but the blue-chip forward continues to string together multiple strong performances. Over the last three games (45 minutes), Little has four steals, four dunks (24 on the season), 13-of-16 free throw attempts, 3-of-6 3-point attempts and five assists.
This two-way exchange in Atlanta was excellent, too.
Later in the game, with the floor spread, Little — who has struggled in isolation this season, but has upside — got downhill going left and finished with skill.
Also, let's be glad that Leaky Black was able to avoid a serious setback after a scary-looking ankle injury. On a limited sample, Black is shooting 42 percent on 2-point attempts away from the rim. I love this sequence, which flashes a small rainbow of his skills: slice screen, face-up, looks off a defender and settles into the pull-up. He's going to be good.
UNC's ACC Efficiency Margin by # of Freshmen on the Floor:

3 FR: +60.0 (23 minutes)
2 FR: +20.0 (87 minutes)
1 FR: +7.9 (142 minutes)
0 FR: -18.5 (28 minutes)

— Adrian Atkinson (@FreeportKid) January 30, 2019
Louisville — 3
On Wednesday night in Winston-Salem, Louisville (predictably) blew the doors off of Wake Forest. The Cards won by 28 points, but led by 35 with about 12 minutes to play in the second half. In the final game of January for Louisville, this team put a hurting on Wake Forest — 1.26 points per possession, allowing just 0.79 points per possession.
After the overtime loss to Pitt, the Cards have won six straight games (7-1 ACC), which includes three road wins (UNC, Georgia Tech, Wake) when Louisville has scored above 1.2 points per possession and held opponents to under 0.8 points per possession.
louisville goes 8-1 in the month of january with an average margin of victory of 15.5 points.

pretty good.

— Chris Hatfield (@_ChrisHatfield) January 31, 2019
Virginia Tech — 4
Normally when we discuss Virginia Tech, the conversation centers on the team's electric spread offense. Let's take a second to appreciate the defense, though, from one of the top wing prospects in the country: Nickeil Alexander-Walker.
Alexander-Walker doesn't project to be an elite-level stopper in the NBA, but he has some length and can certainly defend. That's part of his appeal as a prospect. After a career-high six steals against Miami, Alexander-Walker (4.1 percent steal rate, 3.4 percent in ACC play) has 42 swipes this season — 2.7 per 40 minutes, twice his freshman rate (1.3).
In 19 games (623 minutes), Alexander-Walker has a combined 51 steals and blocks (9). That's already more than he had in the 2017-18 season: 46 in 839 minutes. As a team, Tech's steal rate has jumped from 8.2 percent (No. 211) last season to 10.8 percent this year, a top-60 number nationally.
Now, check out this defensive sequence against Miami — on a play that doesn't include a steal directly from NAW.
Chris Lykes is one of the shiftiest players in the country; Alexander-Walker is nearly a foot taller than him, too. NAW keeps a wide base, moves his feet and stays in front of Lykes — no small feat. He may even get a piece of this pass attempt from Lykes, which was intercepted by Wabissa Bede.
Florida State — 7
In terms of finishing at the rim, Terance Mann hasn't been quite as efficient this season as he was in the 2017-18 campaign (76.5 FG%). But he's still been pretty darn good (65.3 FG%), and he's doing plenty of stuff for Florida State.
Mann, who averages 11.4 points per game, has an offensive rebound rate of 10.9 percent (which is great) and an assist rate of 13.6 percent (2.9 assists per 40 minutes), per KenPom.
He's currently one of five ACC players (minimum 300 minutes) with an effective shooting rate of 55 percent, an assist rate of 10 percent and an offensive rebound rate of 10 percent. The other players on that list include Zion Williamson, and more traditional post guys: John Mooney (he's been awesome), James Banks and Elijah Thomas.
NC State — 8
Can NC State get to the line more? In ACC play, the Pack's offense has hit some snags; the injury to Markell Johnson was a big blow, and shot selection isn't always this team's strength.
NC State's offense ranks 22nd nationally in adjusted efficiency, per KenPom. However, in ACC play the Pack has posted an adjusted offensive rating of 105.2, good for sixth in the league. So far through eight ACC games (4-4), NC State has a free throw attempt rate of just 23.3 percent — easily the worst in the ACC. For the season, that number hovers close to 29 percent, which isn't great, either.
Only one player on the team — DJ Funderburk — draws over five fouls per 40 minutes. With Johnson, Devon Daniels, CJ Bryce and Torin Dorn, NC State has some guys that can put the ball on the floor and attack. Too often, however, those drives lead to tough midrange pull-ups.
we should do more layups

— Steven (@akulawolf) January 30, 2019
According to Synergy Sports, 23 percent of State's half-court jump shots come from inside of 17 feet. The Pack shoots a good percentage on those looks (46.6 FG%), but that's easily the highest rate in the ACC. (Clemson is No. 2: 17.2 percent.)
This is a good basketball team; offensively, the Pack has some nice upside, too. But it would go a long way if State could reorient its shot distribution, slightly, and get to the rim more. The closer to the rim you get, the higher percentage the shot becomes, and you put pressure on the refs to blow a whistle with contact.
Syracuse — 9
Much like he did in the win at Duke, Tyus Battle assumed alpha guard status and led Syracuse to a win this week at Boston College. By a wide margin, Battle is Syracuse's best offensive player, especially once you factor in his ability to create.
It's not exactly beautiful to watch as Battle pounds the rock, looking for angles to attack (2.7 assists per 40 minutes); however, it's Syracuse's best shot. In the second half against BC, Battle scored 21 of his 31 points; according to Synergy, six of his seven field goals (6-of-9 FGA) in the final 20 minutes came out of isolation or a pick-and-roll.
Read More on ACC Basketball
Zion Williamson continues to hit apex status; another look at his performance at Notre Dame