When Josh Paster arrived in Atlanta from Memphis, he brought more than just his positive attitude. Georgia Tech basketball surprised many by winning 21 games and racing all of the way to the NIT Championship game. The Yellow Jackets did this mostly on the strength of a defense that ranked No. 6 nationally in terms of adjusted defensive efficiency, per KenPom.com.
Scoring points, however, was a much more arduous task. Georgia Tech, as a team, shot just 32.5 percent on three-pointers and ranked outside of the top 250 in Division I ball in offensive efficiency. That's no real surprise; this team worked with limited offensive resources.
That said, there were still some bright spots, which came in the form of two players who will both be back in the ATL next season — Ben Lammers, Josh Okogie and the back cut.
What's a back cut?
There are 200 different ways a player can cut on the basketball court. One of the more commonly used ways is the back cut.
A back cut is the perfect counter to a defense that's denying the ball to players off of the ball. In the diagram below, 2 has the ball. 1's defender overplays in denial, so 1 fakes like he's going to get the ball near the top of the key from 2 before darting backdoor for an easy layup.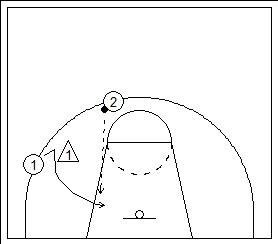 What makes it tick for Georgia Tech basketball?
As basketball more and more grows into a spread game, some of the more traditional roles become inverted. Guards have become the most dangerous screeners; post players who can operate as facilitators are en vogue, too. This is where Ben Lammers fits in perfectly; he became the ACC's Marc Gasol in 2017.
Speaking of Gasol, he's one of a handful of big guys in the NBA who function as a high-post/center of the floor passing hub. Denver's Nikola Jokic, and Golden State's Draymond Green and David West are some of the best in this action, too.
Lammers is a tremendous, patient operator at the elbow; he made a living in the pinch post for Georgia Tech this season. The numbers don't lie — Lammers was one of just six centers in Division I basketball this season to play at least 25 minutes per game, average better than two assists per game and with an assist rate of at least 12 percent.
Tonny Trocha-Morelos of Texas A&M and Lammers were the only two guys of this group to play Power Five ball. That's really impressive, especially when you factor in that Lammers played just 647 total minutes in his first two seasons at Tech.
Josh Okogie, who made the ACC All-Freshman team, emerged as one of the league's best cutters — which makes him the ideal fit for Josh Pastner's dribble-motion offense and a great one-two partner for Lammers.
According to Synergy Sports, Okogie shot 66.7 percent and scored 1.33 points per possession on cuts this season. He was even better, more specifically, on basket cuts: 1.65 points per possession (No. 5 nationally among players with 40-plus possessions) and 79.4 percent shooting.
Seeing it in action
In his best game of ACC play, Okogie scored 35 points in a blowout win over Florida State. He knifed through FSU's defense multiple times on back cuts and finished with authority. On this possession, Okogie enters the ball to Lammers in the high-post area, then kicks out wide right.
His man — Xavier Rathan-Mayes — overplays in an effort to deny the ball. Phil Cofer, for some completely unjustifiable reason, denies Quinton Stephens, who lifts up, the ball 20 feet from the hoop. Now, there's an open alley to the hoop — Lammers and Okogie know exactly what the read is.
What's great about this, too, is the secondary action it can set up for Georgia Tech basketball. Earlier in the same game against FSU, Lammers is once again in the pinch post. Okogie, who is trailed by P.J. Savoy, cuts behind Lammers as the ball is being entered into the center — this is dummy action. Tadric Jackson runs to Lammers for a handoff, but Lammers shows some ingenuity here. He fakes the handoff with Jackson, which forces Christ Kourmadjie to help off, and the lane is wide open for the easy hammer.
Inside the Playbook series
Kyle Guy and the pindown screen