Elijah Thomas made his debut in a Clemson uniform last December — a neutral-court win over Avery Johnson and Alabama. That game would help launch Thomas — a transfer from Texas A&M — to a stellar and short…
Thomas played in just 24 games for the Tigers, but he certainly made his presence felt. The forecasts positive things for Thomas — a former top-50 recruit — as he heads into his
There were only six players in the ACC during the 2016-17 season to attempt at least 100 field goals, shot above 55 percent from the floor and average one or more blocks per game.
Kennedy Meeks
Amile Jefferson
Elijah Thomas
Putting in work
Elijah Thomas is a throwback player; a back-to-the-basket bully that can muscle his way to the hoop near the low block. Look around the ACC, and think of all the true high-usage post-up bigs present in the league.
With the departures of John Collins and Kennedy Meeks, there aren't many — if any at all.. And even Collins (rim-runner) and Meeks (an offensive rebounding mooch), aren't exactly your traditional low post threats.
According to Synergy Sports, Thomas used 36.3 percent of his possessions via a post-up last season.
The game has changed. Rules changes and the understanding of the value of a three-pointer have opened the floor. It's slash-and-kick basketball. Possessions are shorter — even at Virginia. In order to adjust, bigs have to able to shoot from the perimeter or defend the rim and cover in space.
Still, similar to players like Al Jefferson and Enes Kanter in the NBA, there's room for a couple low-post brutes.
Per Synergy, Thomas scored 0.88 points per possession post-ups — good for 10th in the ACC amongst players with at least 50 post-ups. If he cut down on turnovers, that number would shoot up, too. Thomas shot 52.2 percent on post-ups — No. 3 in the league.
ET can run a little, too
Thomas didn't get a lot of touches in transition; however, when he ran selectively, the big fella had success.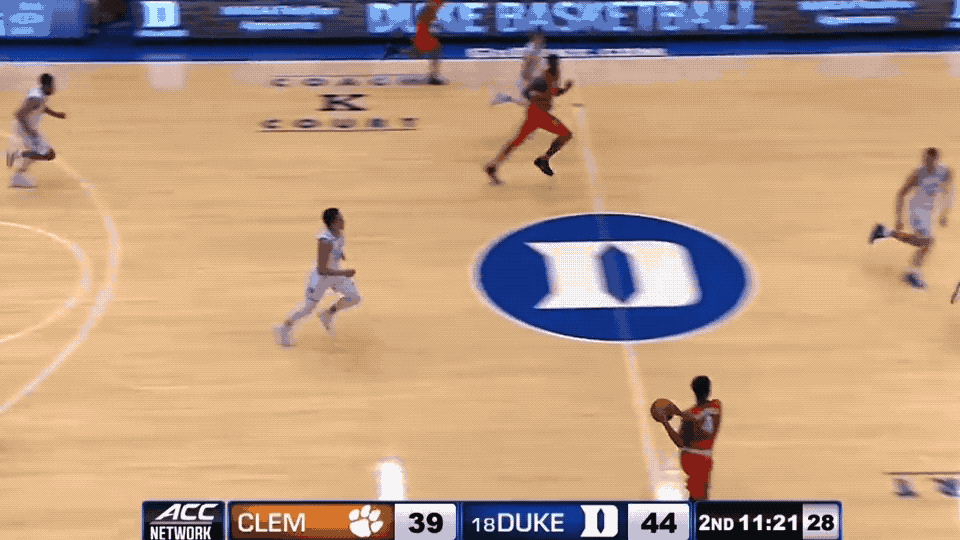 According to Synergy Sports, Thomas was 13-of-17 (76.5 percent) on transition field goal attempts last season. It's an incredibly small sample (18 possessions), so it'd be wise to not draw too many conclusions from, but Thomas ranked third in the ACC in offensive efficiency in transition: 1.56 points per possession.
Gotta have room to operate
For Thomas to be able to breathe in the post next season, Clemson needs to create space. The Tigers must wave goodbye to the shooting of Avry Holmes and Jaron Blossomgame's multi-positional flexibility.
However, Clemson does return a talented backcourt of Shelton Mitchell and Marcquise Reed — both of whom can score and shot above 40 percent from deep last season.
Now a senior, forward Donte Grantham is the closest thing to Blossomgame on Clemson's roster; he has the ability to float between the three and four. Plus, if Brad Brownell wants to function with two traditional bigs on the court, Mark Donnal — a grad transfer from Michigan — is a shooter that could pair nicely with Thomas.
Read More
Deon Cain is primed to become that next big thing at Clemson