The ascension of Luke Maye from solid role player to All-American candidate is well-documented. We have even reached the point where it's trendy to now question if Maye is the ACC's second best player — behind Marvin Bagley of Duke.
Instead of speculation, though, let's dig into the numbers. Here's why Maye is the league's No. 2 player.
Bagley distinguishes himself as the ACC's premier player, and top-5 pick, by playing above the rim on both ends of the floor. Bagley's length and ridiculously quick second-jump ability make him unique within the confines of the ACC; on a national level, Arizona's DeAndre Ayton and Jaren Jackson of Michigan State are in this category, too. The lefty competes hard and dominates at the hoop. At times, he's unstoppable.
However, what makes Maye so special offensively is his versatility; the 6-foot-8 junior is capable of scoring efficiently from any location in the half-court. Maye can stretch defenses out to the three-point arc, and punish opponents on the block. The potency of this combination is amplified by the synergistic relationship of the two; Maye can leverage his range shooting to clear pathways to the basket.
Inside Outstanding
For the season, Luke Maye averages 18.3 rebounds and 10.4 rebounds; he's one of only six Division I players that currently averages 18 points and 10 rebounds — joined by Bagley, Bonzie Colson and Ayton. Maye is shooting 46.4 percent from downtown (39-of-84 3PA), and 53.2 percent inside the arc (160-of-301 2PA).
According to Sports Reference, dating back to the 1992-93 season, Maye is one of only three ACC players to shoot 45 percent on three-point field goals (minimum 50 3PA) and 50 percent on two-point field goals (minimum 200 2PA). The only other two players: Ty Lawson, during the 2008-09 season, and Boston College's Jerome Robinson.
On non-post-up attempts at the basket, Maye is shooting 65.3 percent and scoring 1.35 points per possession, which ranks No. 37 in the nation and No. 5 in the ACC, per Synergy Sports. With his back to the basket, Maye is shooting a tidy 45.6 percent on post-up attempts, too.
Amongst ACC players with at least 30 post-up possessions and 50 spot-up possessions, Luke Maye is the only player that ranks inside the top 20 in efficiency on both possession types, according to Synergy. (However, a healthy Bonzie Colson could also land in this category.)
Game Action
With UNC spacing the floor and playing five-out basketball with Maye at the pivot, defenses are frequently put in a lurch. You can't cover everything; hiding places are limited.
Maye uses that, and the available real estate, to his advantage. This was on display in the win at NC State. In the second half, Maye connected on two three-pointers. The first came at the 17:29 mark.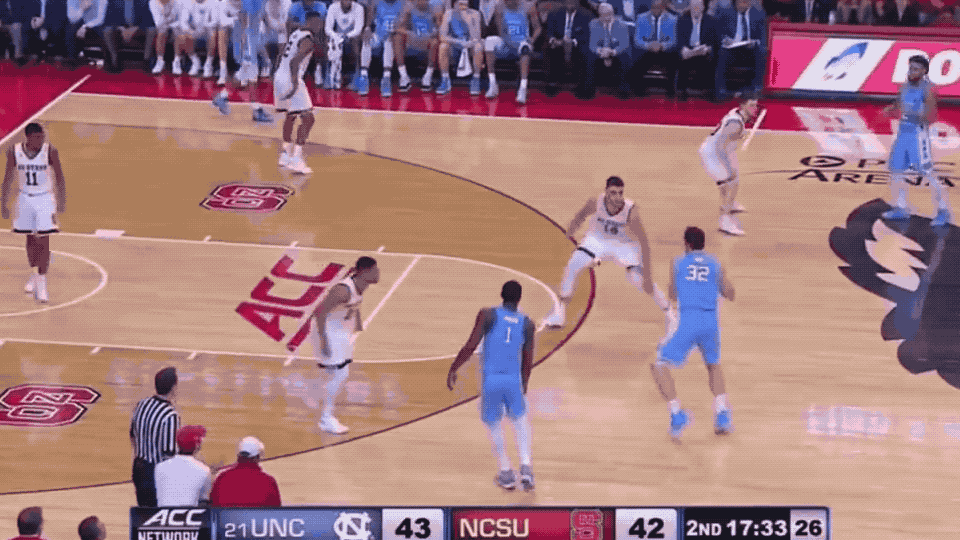 That's great and all; however, let's keep and eye on how Maye uses that to set-up his next move. Cameron Johnson empties the ball to Maye in the corner; that's all Maye needs to go get his own offense. With the floor spaced, Maye hits Lennard Freeman, one of the league's most experienced players with a pump fake, and look how easy of a path to the hoop he has for an and-one.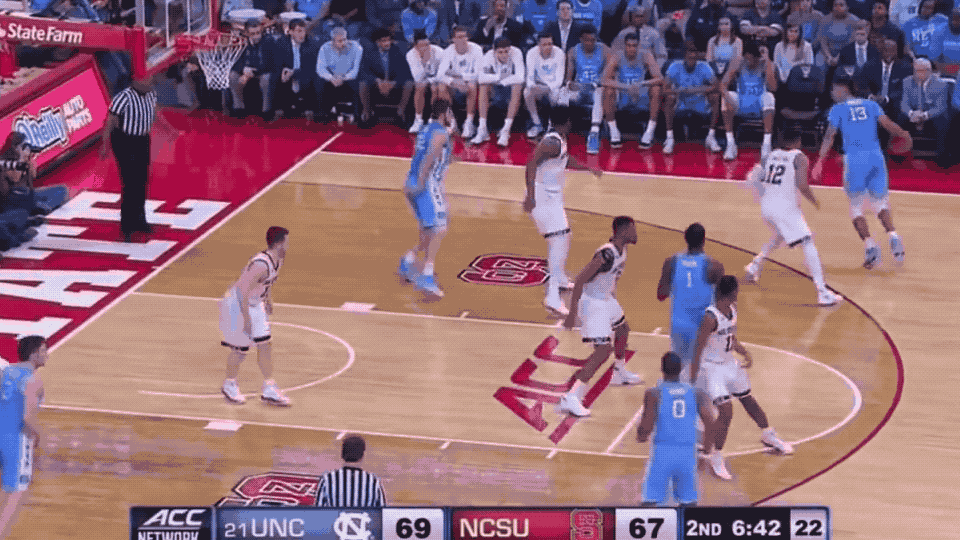 Go get a bucket
Currently in Division I basketball, there are 426 players that have used at least 300 offensive possessions in the half-court, per Synergy. Of that group, only 50 players score more than 1.06 points per possession; three of those players hail from the ACC. Wanna guess which three?
| Player | Possessions | Points per possession | FG% | National Rank |
| --- | --- | --- | --- | --- |
| Jerome Robinson | 385 | 1.101 | 50.7 FG% | No. 23 |
| Marvin Bagley | 394 | 1.099 | 58.8 FG% | No. 24 |
| Luke Maye | 419 | 1.062 | 52 FG% | No. 49 |
*Number from Synergy Sports
Maye's 445 points in the half-court are the most in the ACC this season. This level of production is simply incredible.
In 2016-17, only four ACC players used at least 400 half-court possessions and scored better than 1.05 points per possession. Three of those players — John Collins, Luke Kennard and Bonzie Colson — were named first team All-ACC. Collins and Kennard became top-20 NBA draft picks, and are in the midst of solid rookie seasons. (The fourth, Zach LeDay, All-Honorable mention)
The year prior, five ACC players hit those benchmarks: Anthony Gill, Brice Johnson, Jaron Blossomgame, Malcolm Brogdon and Grayson Allen.
Basically, Luke Maye is in incredible company when it comes to his remarkable half-court efficiency numbers.
Read More
Mike DeCourcy: Change at point guard is "exactly what Duke needs"