Wake Forest basketball made the NCAA Tournament for the first time in seven years this season. The Demon Deacons did so largely on the shoulders of the team's dynamic offense, which ranked No. 7 nationally in KenPom's efficiency ratings. In the previous season, Wake ranked outside No. 130 in points per possession. The jump the program made wasn't rocket science. John Collins became arguably the ACC's best player; Bryant Crawford emerged as an offensive force at the point guard position, and Danny Manning had his best shooting roster since his arrival in Winston-Salem.
The foundational element of Wake Forest's offense wasn't just its All-American (Collins); it was how the Deacons spread the floor around him, ran pick-and-rolls and rained three-pointers.
We live in a pick-and-roll universe
According to Synergy Sports, the Deacs ranked second in the ACC in points per possession (0.86, 40.6 FG%) on pick-and-rolls used by a ball-handler — primarily Bryant Crawford. Wake Forest also ranked No. 57 in Division I ball in offensive efficiency on pick-and-roll possessions used by the roll man — primarily John Collins.
This is something that Manning brought from his time at Tulsa; during the 2013-14 season, the Golden Hurricane shot 38.8 percent out of the pick-and-roll, per Synergy.
When we think of pick-and-roll action, we normally visualize it taking place at the top of the key as three shooters dot the arc. Wake Forest runs plenty of that, but the Demon Deacons will also move that mesh point around to the sides of the floor.
What are the advantages of a side pick-and-roll?
Simply put, it stretches a defense and causes issues for help-side defenders. With three shooters spaced to the weak side of the floor, it can be tricky for help defenders to bump a roller — the offense gets to play two-on-two, essentially. If the offense's two players are good, which Crawford and Collins certainly are, then you can see how that would make it a challenge for a defense.
Teams generally run this action high, in the middle of the floor, where the sideline can't act as a help defender. But attacking from the side can open new angles and paths to the hoop. For instance: against a rotating defense, Collins was really good at establishing offensive rebounding position if he didn't get the ball on a roll.
Here, Crawford runs a side pick-and-roll with Doral Moore: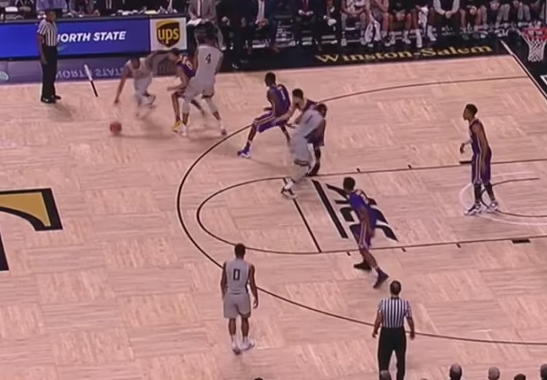 Teams can try to curtail this action by using a strategy called "Ice". A defense Ices a pick-and-roll when it tries to push the ball-handler away from the middle screen — and back toward the baseline.
Duke will try to Ice most side pick-and-rolls; if you sit close enough to the court, you can hear their bigs calling out, "Ice! Ice! Ice!" Here's a look at the Blue Devils Icing a Wake Forest side pick-and-roll.
The floor general, Crawford, whips a tremendous skip pass to Brandon Childress, who draws Matt Jones away from the corner before making the extra kick to the dangerous Keyshawn Woods in the corner for a three-ball.
Crawford makes this thing tick
As a sophomore, Crawford used 63 side pick-and-roll possessions this season against single coverage — 32 on the right, 31 on the left. If teams didn't blitz or trap Crawford — a dangerous proposition considering his height, passing vision and the John Collins Factor — he tore opponents up. Crawford ranked in the 78th percentile nationally on left pick-and-rolls and in the 88th percentile on the right.
Here's a quick visual breakdown:
| Side of floor | No. of possessions | Points per possession | FG% | TO% |
| --- | --- | --- | --- | --- |
| Right | 32 | 1.22 | 48.3% | 0% |
| Left | 31 | 1.16 | 50.0% | 6.5% |
*Statistics courtesy of Synergy Sports
The initial option of the side pick-and-roll is for the ball-handler to get to the rim for a high-percentage layup. When Crawford used a side pick-and-roll and took it all of the way to the basket, he shot 60 percent, according to Synergy Sports.
When Crawford was a passer in pick-and-rolls, Wake Forest scored 1.16 points per possession and shot 47.3 percent — two very good numbers (here's Collins throwing one down out of a Horns set)
Missing pieces
Obviously, this will be more challenging to run next season when Collins is in an NBA uniform; he was possibly the best rim-runner in college hoops last season. Wake Forest will also miss Austin Arians more than most would probably assume. He shot 43.3 percent on catch-and-shoots, according Synergy. Arians was limited, but that one primary skill of his was useful: He became a quality weak-side release valve.
Luckily, the return of Woods and Mitchell Wilbekin means Wake has at least two accurate outside shooters to space around Crawford's screen-rolls. Woods and Wilbekin both shot above 40 percent on three-pointers this season — on better than three attempts per game.
For Wake Forest basketball to continue this sort of linear growth, it will need an improvement on the defensive end and someone to replace some percentage of Collins' rim-running production. Dinos Mitoglou, now a senior, is the most obvious candidate.
In 2016-17, Mitoglou was a decent three-point shooter, but not great (33.3 percent). He put on weight and spent more time down on the block; per Sports Reference, a career-low 39.4 percent of his field-goal attempts were of the three-point variety. Mitoglou attempted more two-pointers and free throws than ever before in his college career.
Does he have the ability to function as a spread pick-and-roll dive man, though? Well, the numbers aren't the most promising. According to Synergy, Mitoglou shot just 20.8 percent on pick-and-pops this season. Two seasons ago as a freshman, however, he shot 46.5 percent (67.4 adjusted field-goal percentage) on pick-and-pops, which functions as a great counter to when teams Ice pick-and-rolls. He scored 1.22 points per possession in 2014-15, which ranked No. 3 in Division I.
If Mitoglou can regain that form and Doral Moore can become a vertical threat on lobs, then I'm bullish on Wake Forest basketball forming another efficient offensive force.
Inside the Playbook series
Kyle Guy and the pindown screen
Joel Berry, Luke Maye and pick-and-pop madness
Georgia Tech basketball's back cut mastery