College basketball returns this week, and man, is that ever awesome. To start off the new season, here's the first Inside The Playbook piece of 2017-18: Grayson Allen and the baseline-out-of-bounds play.
Back it up: The BLOB
Rewind to May, earlier this year, I wrote about how Duke likes to target the near corner in baseline-out-of-bounds (BLOB) sets, especially against man-to-man defenses. These plays have a variety of options that allow Duke to flow into its motion offense; however, the priority is to off a quick-hitter.
Cut, screen, pass, shoot. That's the motto. Attack the defense when it's set in an unnatural position.
In 2016-17, the Blue Devils shot 43.6 percent and scored 0.93 points per possession on baseline out-of-bounds possessions, per Synergy Sports. That ranked fifth best in the ACC — right behind UNC, and just ahead of Notre Dame and Wake Forest. All four of those teams scored at least 0.9 points per possession on these looks; on a related note, all four programs also ranked inside the top 18 of KenPom's offensive efficiency ratings.
The Target: Grayson Allen
Despite the departures of lottery picks Jayson Tatum, who is currently balling in the NBA, and Luke Kennard — along with Frank Jackson and Matt Jones — Duke remains stacked with perimeter talent. Grayson Allen is back, healthy and should be ready for a big senior season.
Allen does a lot of things very well, but he's one of the league's best at attacking in BLOB situations. According to Synergy, Allen posted an effective field goal rate of 51.4 percent and scored 1.022 points per possession on BLOB plays. That ranked No. 6 in the ACC a season ago — sandwiched between Justin Jackson (1.05) and Joel Berry (1.021).
Kennard was the only Blue Devil more efficient (1.07, No. 4 in the ACC) than Allen after a baseline inbounds. As a team, Duke scored 177 points after a BLOB; Allen and Kennard accounted per 89 of those, per Synergy.
Amile Jefferson will be missed, but there's an opportunity here
With Marvin Bagley and Wendell Carter, Duke possesses two of the most talented frontcourt players in the nation. In seven months, both will be lottery picks in the NBA Draft. It will be critical for Duke for at least one of those guys to establish himself as a good screener.
Amile Jefferson became one of college basketball's best screeners during his time at Duke; the chemistry he developed with Kennard on dribble handoffs powered the Blue Devils at times last season.
Those screens are also critical to free teammates up for quick-hitters on BLOB plays. Case in point — the win over Pitt last season.
With Duke clinging to a one-possession lead with three minutes left to play, the Blue Devils take it out under Pitt's basket. The Panthers are in man-to-man. Allen starts in the paint, but cuts to the corner (that target area) off a wedge screen from Jefferson. Pitt tries to switch, but switching is really hard, especially for a bad defensive team, and especially with a great shooter like Allen involved.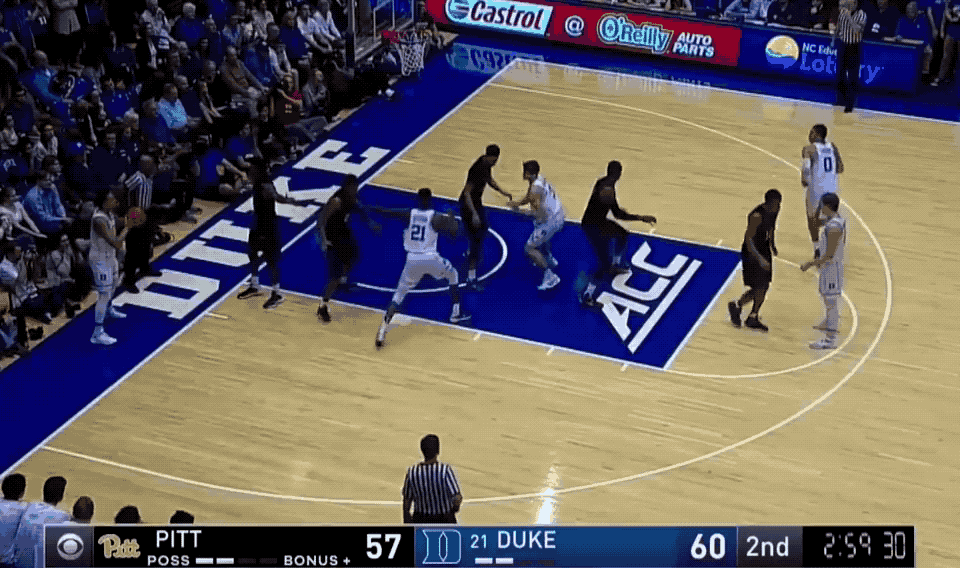 Good luck, Chuck
Bagley is projected as a top-five pick in part because of his ability to score the ball. If Bagley or Carter screen for Allen on these types of quick-hitters, what do defenses do. Switch, and all of a sudden, there's a big guarding Allen or a wing checking Bagley or Carter in the post. Either way, it's a mismatch. Try to fight through and Allen is going to have too much time to launch. shoot; he scored 1.09 points per possession on catch-and-shoots last season, per Synergy.
The gravity Bagley possesses as a screener will draw attention from every single location on the floor. This is why Golden State's Steph Curry is the NBA's most dangerous screener; defenders simply can't leave him to focus on the play coming off the screen — Klay Thompson or Kevin Durant. Duke could also use Grayson Allen as a means to screen for Bagley. Either way, it will be very challenging to stop.
Inside the Playbook Series
Kyle Guy and the pindown screen
Joel Berry, Luke Maye and pick-and-pop madness
Georgia Tech basketball's back cut mastery
Duke basketball and the increasingly popular DHO
Wake Forest fights ice with fire on its side PNRs
Syracuse basketball and its game of zones
UNC basketball and its vaunted secondary break
Miami basketball and the offense of a thousand screens
Louisville basketball, Quentin Snider and the high ball screen
Luke Kennard and Duke's naturally curly offense
Kenny William, Cam Johnson could create headaches for ACC foes
Ty Jerome, Kyle Guy give UVA flare on offense
Hold the door, UNC basketball wants the elevator up
The transition offense of FSU basketball
Stop! Hammer time with Duke basketball