Notre Dame basketball's Matt Farrell and Bonzie Colson are the ACC's preeminent pick-and-roll tandem. That is something we've discussed for the last year in this space; a few weeks ago, I went in-depth on just how prolific Farrell was this season in ball-screen action.
Now, however, we will take a look inside the playbook at how the Fighting Irish create some of these high-percentage looks for their two all-conference players. This is how Notre Dame basketball uses a play type known as "floppy" on the offensive side of the ball:
First off: What's Floppy?
Floppy is basketball jargon for a single-double play. In this set, a team will station its best shooter along the baseline under the hoop while the ball is above the top of the key. To one side of the shooter, two of his or her teammates will station out to set a double screen; on the other side, the fifth and final teammate is ready to set a single pindown screen.
The player on the baseline has the option of choosing which screen(s) to run off of. Here's a barebones look at this set, courtesy of FastModel Sports.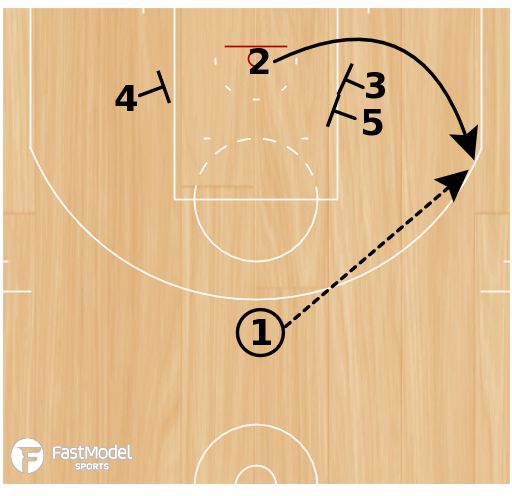 This type of action can lead to a variety of different things. For instance, the player could run around the double screen and fire up a quick catch-and-shoot. Former Duke star J.J. Redick is one of the best in the world at doing that. If you watch the Los Angeles Clippers play, you know he and Chris Paul run this play all of the time.
Floppy can also be the initial action before a team gets into its primary set; it's sophisticated window dressing used to cause switches or rotations. This set takes a little bit of time to get into, which is why a college team is more likely to use it in this capacity.
The NBA shot clock is only 24 seconds long; teams simply don't always have the time to use this as dummy action.
So, how does Notre Dame utilize floppy?
According to Synergy Sports, Matt Farrell shot 47.8 percent coming off screens this season. He spends far more of his time with the ball in his hands, but clearly he's dangerous running off screens. Teams have to honor that.
This first play comes from Notre Dame's win over Florida State in South Bend. Farrell is under the hoop, ready to run floppy, with Bonzie Colson to his right and V.J. Beachem and Rex Pflueger to his left. Farrell shoulder-fakes both ways at least one time to catch his defender — Xavier Rathan-Mayes — leaning, before zipping off the double screens.
XRM — instead of fighting over the screens — switches and passes Farrell off to the rangy Terance Mann. This curtails the catch-and-shoot for Farrell, who isn't open. Pflueger, after screening for Farrell, races off Colson's screen — a key secondary action in floppy.
The ball gets swung back to the top of the key, where it finally finds Farrell. Our beloved Bonzie Colson races from the block to set a flare screen for Steve Vasturia — or so we think. Colson's defender, Phil Cofer, way overplays this action, and now it's time to shoot fish in a barrel: Colson slips backdoor, and Farrell hits him in stride for an easy two. Back cuts are a critical part of Notre Dame's offense, which has ranked in the top 20 in efficiency for three straight seasons, per KenPom.com.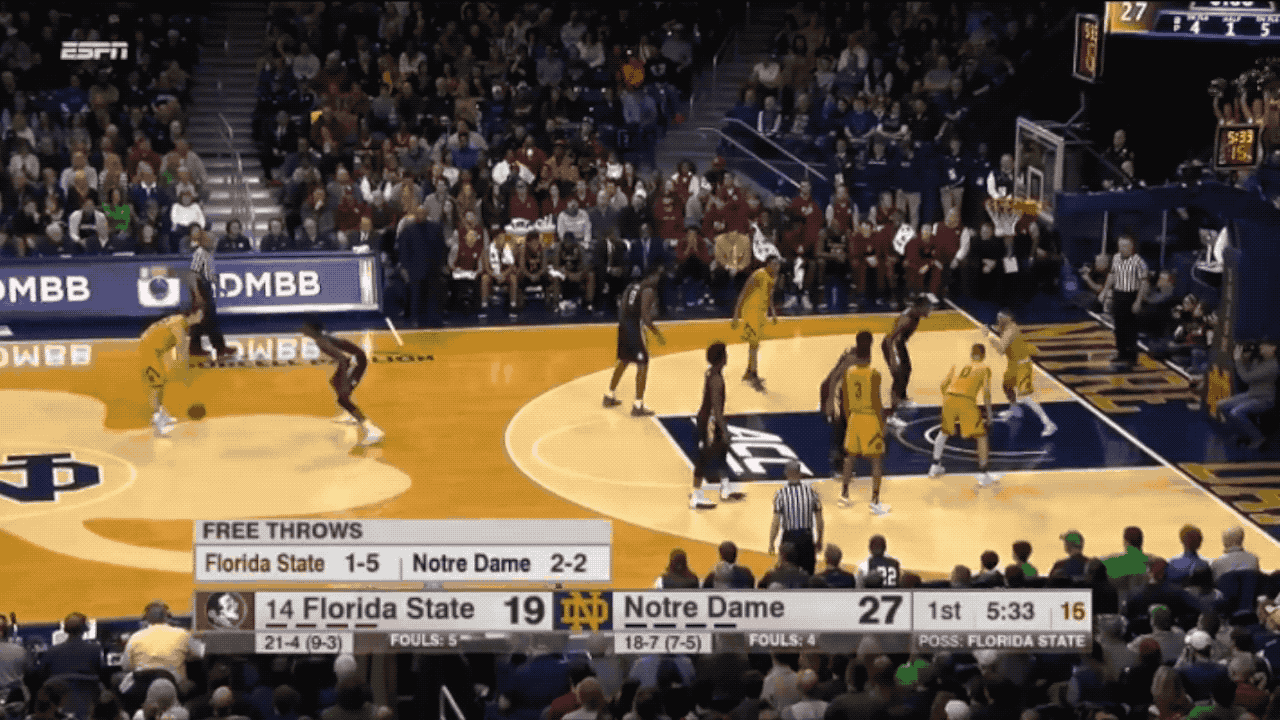 As we've discussed here before,  Colson is an exceptional cutter. He can do a little bit of everything offensively; this is yet another tool in his chest. Per Synergy, Colson scored 1.14 points per possession on cuts (58 FG%).
Anything else?
Yes, duh! On this next clip, Notre Dame once again runs floppy for Farrell — if you're noticing a trend here, it's for good reason. Farrell flies off the double from Colson and Beachem; Pflueger tosses him the ball on the wing. As soon as he finishes his screen, Beachem runs toward Vasturia's screen on the opposite side of the lane. Farrell passes the ball to Colson, who faces the basket, flanked by four plus-shooters — there's nowhere for the defense to hide.
Beachem loops all the way to the top of the key — above Pflueger — before darting down a wide-open lane for a cutting layup. Colson doesn't miss him. Look at that pristine spacing; that's Notre Dame basketball.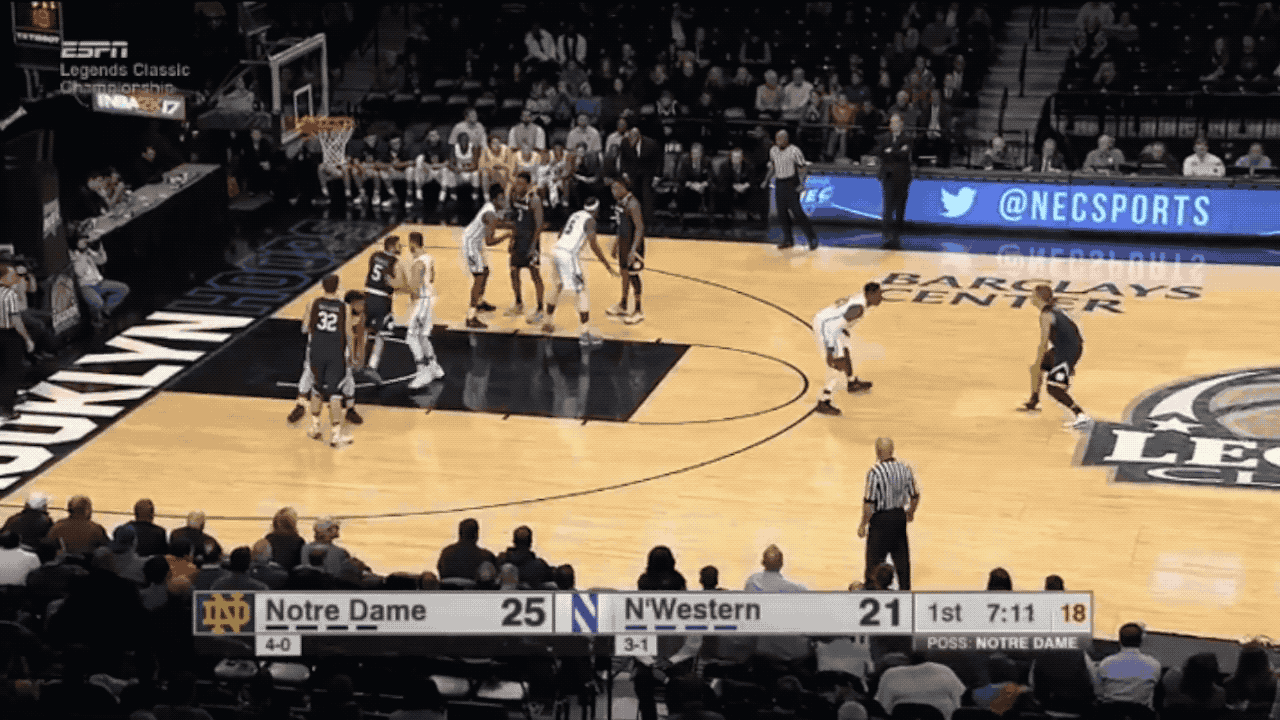 Again, let's talk about the magic of Colson and how that makes this ship sail. According to Synergy, Colson scored 1.02 points per possession on post-ups this season — second in the ACC among players with at least 100 post-ups (behind only future first-round pick John Collins).
The ubiquitous talent can really pass, too. Colson had 10 games this season of at least three assists. Per KenPom, he also assisted on 10.2 percent of is teammates' made field goals while on the court. One step further: according to Synergy, on post possessions when Colson was a passer, his teammates shot 60.7 percent from the floor, including an 87.5 percent clip on cuts. That is the type of motion action you can see the Golden State Warriors slice opponents up with countless times per night. Notre Dame basketball brings it to the ACC.
Inside the Playbook series
Kyle Guy and the pindown screen
Joel Berry, Luke Maye and pick-and-pop madness
Georgia Tech basketball's back cut mastery
Duke basketball and the increasingly popular DHO
Wake Forest fights ice with fire on its side PNRs
Syracuse basketball and its game of zones