Mike Krzyzewski built a basketball empire in Durham with an aggressive defensive-minded approach to the game. However, over the years, Duke basketball has evolved into one of the top offensive programs in college hoops. The numbers don't lie; since the 2001-02 season, Duke has finished in the top 15 of KenPom adjusted offensive efficiency 15 times.
Duke's motion offense emphasizes precise passing, proper floor spacing and a read-and-react approach. Every year, the coaching staff takes a new group of talented players and finds ways to install an offense that functions at its best when chemistry is high. The more reps, the better.
One of the other things this team nails — year after year — is its inbounds plays. That may seem like something of little significance, but that's just not true. On the margins, this is critical; it's another way to find points. Here's a look at some of the stuff Duke likes to do in these scenarios.
What's a BLOB?
No, it's not the giant inflatable water trampoline you remember from the lake at summer camp. It's an acronym for baseline-out-of-bounds. These are plays that occur when a team inbounds the ball underneath its opponent's basket.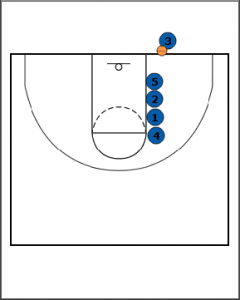 If you guard Duke man-to-man on these types of possessions, which most teams will do, you are susceptible to a barrage of different quick-hitters the Blue Devils like to run. Duke doesn't necessarily split the atom when it comes to play design, but it doesn't matter. The floor is spaced with smart players who know how to pass, screen and shoot. Everyone is a threat to screen; everyone is a threat to score. It is really hard to defend.
Frequently, on BLOB plays, Duke likes to initially target the near corner. The player inbounding the ball becomes the No. 1 option, too. This is Basketball 101.
Blobbable content
Here's a clip from the 2014-15 season with Tyus Jones as the trigger man. Jahlil Okafor is right in front of Jones; he will pop out slightly to receive the pass. As soon as Jones throws him the ball, he sprints to the corner to get a handoff from Okafor. Jones comes around that screen so hard that Okafor's defender has to come help to prevent a layup. While this happens, Amile Jefferson sets a flare screen at the top of the key for Quinn Cook, which keeps weak-side defenders occupied, too.
Now, Duke has the defense off balance and can run a quick, funky side pick-and-roll with the two players. Okafor dives to the hoop, and Jones hits him for an easy score.
This is just one variation of what Duke can do out of this play type. The Blue Devils can get into a variety of different actions for quick points — screen, cut, pass, score. Players can pop free for layups after a back cut or a juicy catch-and-shoot three-pointer after curling off a screen. All of the options are open, and it's special to watch Duke operate with this level of efficiency.
All in the family
This is a sideline out-of-bounds play, which is geographically different from its baseline brethren. However, the thought is still the same: catch the defense napping and score. Here's a look at something Duke likes to run.
In this play, Matt Jones screens the player guarding Jayson Tatum, who then pops well above the arc to receive the pass from Grayson Allen. After throwing the ball to Tatum, Allen sprints toward him to initiate a dribble handoff, which takes place high — almost halfway between the three-point line and halfcourt. That puts a ton of pressure of the defense.
Allen takes the handoff, there's no defensive switch, and his defender goes under Tatum's natural screen. UNLV won't win any awards for help defense here, but by the time Allen turns the corner, you may as well put two points up on the scoreboard.
Plays like these are the special teams of basketball; this is another example of Duke basketball doing the little, granular things well.