Duke's Luke Kennard rocketed up NBA Draft charts in recent weeks. Kennard is a gifted shoorter and a quality rebounder, too. However, he's more than just a standstill catch-and-shoot statue; Kennard is incredibly dangerous even when the ball isn't in his hands.
Go back and watch a Duke basketball games from the last two seasons; one thing you're guaranteed to notice: Kennard never stops moving without the ball. This put an incredible amount of pressure on a defense. A player like Kennard must be tagged and tracked at all times — it's gravitational pull on a basketball court.
This is something we've covered extensively in this space. Luke Kennard and Amile Jefferson became a two-headed monster in Duke's dribble handoff action.
The focus now, however, is on the curl, and how Duke's motion offense utilize that specific cut.
First off: what's a curl?
A curl is a type of cut that occurs off of a down screen; it's used to help that player get to the middle of the floor. It's a type of maneuver that allows the cutter use more of the screen — distancing he or she further from the defender.
The middle of the court presents a bevy of options: the player can shoot a jumper, attack off the dribble or curl-cut hard to the basket for a layup.
The pindown screen can occur anywhere on the floor, but Duke often uses them closer to the elbow — around the free throw line. After setting the pick, the screener will soft or shallow roll to the hoop — as an outlet for the curler.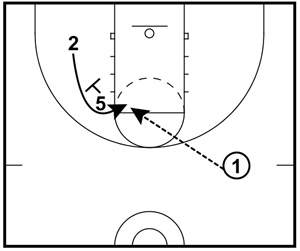 Source: Breakthrough Basketball
Curling: the non-Olympic variety
So let's check this thing in action.
In this first cut, we see Amile Jefferson screen for Luke Kennard out of a box set. Jefferson sets an angled pindown, which causes Kennard's man — Seth Allen — to track the screen wide. Kennard notices this, and uses it wisely: he curls into the paint for an easy layup. Chris Clarke, who face guards Jefferson here, isn't in a position to help. On the weak side, Jayson Tatum seals. This is easy money.
Next comes a tasty set Duke ran against UNC. Grayson Allen runs a guard-guard pick-and-roll with Matt Jones. Kennard is stationed on the baseline, with screeners to his left and right. Pick your poison; he's waiting to see which way Allen goes off the ball screen up top.
Jayson Tatum doesn't set the most crisp screen here, and Kenny Williams — a physical defender — stays tight with Kennard. Unfortunately for the Tar Heels, Kennard is a master of head and shoulder fakes in the lane. By the time he curls, it's already too late for Williams and UNC.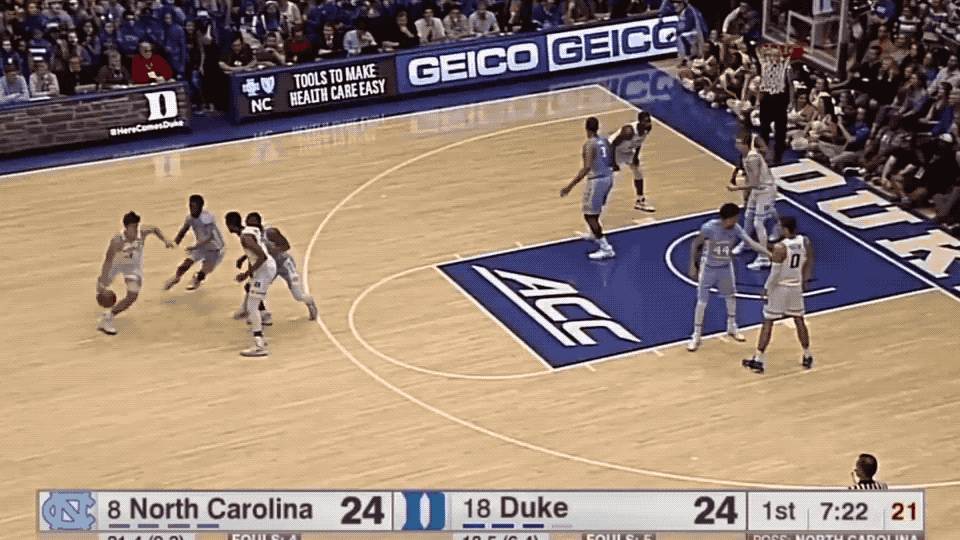 Finally, from Duke's road win at Notre Dame. Tatum does a much better job with his screen this time — crunching Rex Pflueger. Temple Gibbs does a decent job stunting down, which cuts off the easy line to the hoop; that buys Pflueger time to recover.
However, that's a relative term, though. Because Pflueger learns — like Williams above — that Kennard is a force once he curls into the paint. Kennard shot 55.2 percent inside 17 feet this season, per Synergy.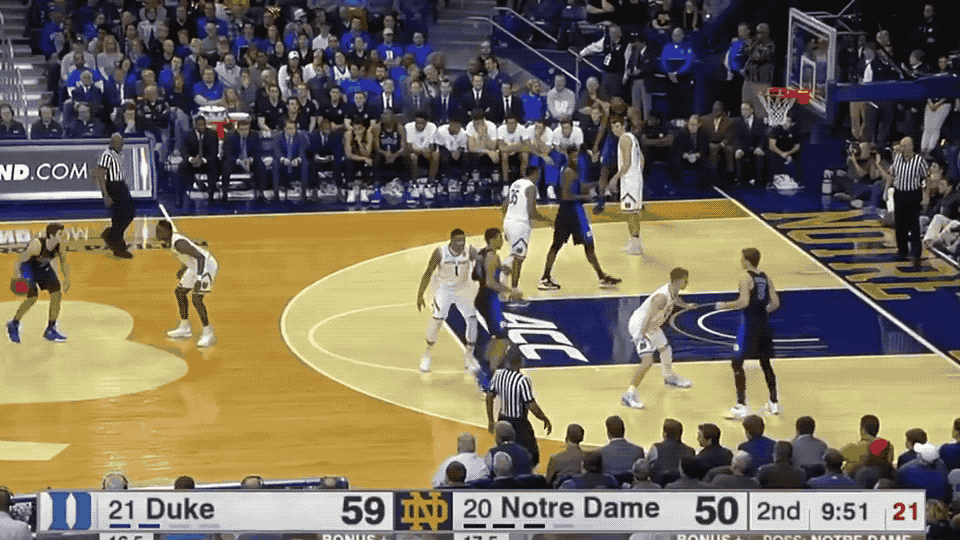 Golden State's Klay Thompson, Bradley Beal of the Wizards and Kyle Korver — last seen in the NBA Finals with Cleveland — are three of the best in the world at this action. Aspiring ballplayers would be keen to pay attention to this trio work their craft.
So, how'd it work?
The simple answer: rather well. Luke Kennard was one of the best players in America shooting off a screen. According to Synergy Sports, Kennard shot 48.8 percent coming off screens this season — 1.07 points per possession. There were 31 players in Division I basketball that used at least 90 off-screen possessions this season; of this group, Kennard ranked No. 8 in offensive efficiency on this play type.
Obviously, there are multiple ways for players to use screens — curls are just one path. Players can also flair, fade or come straight off.
On specific curl plays this season, though, Kennard shot a combined 54.5 percent.
As a team, according to Synergy, Duke shot just a tick under 44 percent when coming off screens in 2016-17. The Blue Devils were one of just four ACC teams to score better than one point per possession after coming off a screen:
| Team | No. of Possessions | Points per possession | FG% |
| --- | --- | --- | --- |
| Pittsburgh | 166 | 1.20 | 47.2% |
| Virginia Tech | 80 | 1.19 | 41.1% |
| Miami | 62 | 1.07 | 43.1% |
| Duke | 184 | 1.03 | 43.7% |
*Source: Synergy Sports
Virginia used far and away the most off-screen possessions this season: 455. Over 19 percent of UVA's possessions were of this variety. No other team in this ACC used more than seven percent of its possessions coming off screens.
Who replaces Kennard?
Luke Kennard was named to the All-ACC first team this season; the lefty built a reputation as one of the most prolific scorers in the league. His lose will be felt.
Duke, however, has the means to plug and chug. As we all know, Grayson Allen is one of the most accomplished wing scorers we have in college hoops. Despite injury issues, Allen posted an impressive adjusted field goal percentage (56%) on off-screen possessions this season. He will be featured heavily in this role next year.
Five-star wing Gary Trent Jr. will be in this mix, too. Trent is regarded as one of the top shooters in his school class. It would be a major boon for Coach K if he nails down the intricacies of moving without the ball, quickly.
With five-star Trevon Duval as point guard, both players should be free to roam and hunt baskets away from the rock.
The bigger challenge will likely be figuring out which players will set the screens. Amile Jefferson was a wiz when it came to this — a totally underrated element of his game. Marques Bolden and Wendell Carter are former prep All-Americans, but this action is tricky, and involves the ability to read and react.
Inside the Playbook series
Kyle Guy and the pindown screen
Joel Berry, Luke Maye and pick-and-pop madness
Georgia Tech basketball's back cut mastery
Duke basketball and the increasingly popular DHO
Wake Forest fights ice with fire on its side PNRs
Syracuse basketball and its game of zones
UNC basketball and its vaunted secondary break
Miami basketball and the offense of a thousand screens
Louisville basketball, Quentin Snider and the high ball screen