There were only two teams in Division I basketball this season that used over 400 possession via a screen. Those two schools: Evansville (603 possessions) and Virginia (455).
Within the ACC only one other team — North Carolina — used at least 200 off-screen possessions. Virginia nearly doubled UNC's number (245) of off-screen possessions, though. The upshot here: the Cavaliers know what they are about on offense.
Yes, Tony Bennett's methodical scheme is heavy on more than just time of possession; screen usage is also vitally important. For the record, according to KenPom, Virginia ranked dead last nationally (No. 351) in terms of adjusted tempo and average possession length.
Last month, we covered the importance of the pindown screen in Virginia's mover-blocker offense. Now, we will take that another step forward: the flare screen.
What's a flare screen?
I'm glad you asked! A flare screen is a action designed to get a player open primarily for a catch-and-shoot jumper. This screen is different its counterparts; the player coming off the screen moves away from the ball. It's an excellent counter from aggressive defenses that overplay passing lanes.
It also requires excellent timing, communication and a precise pass. Because the off-ball player floats away from the ball and screen, the pass will cover a larger distance in the air.
Here's a bare-bones look at a flare screen: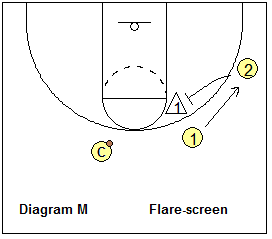 In this diagram, Player 2 screens Defender 1, which frees Player 1 up for a three-pointer. This play has some built-in deception, too. The off-ball defender won't see the flare screen until it's too late; that buys the offensive player enough time for a clean catch.
How does Virginia use the flare?
The Cavaliers will use this type of action when a guard drives middle, and defensive help comes from the opposing guard. On some possessions, UVA will use a pindown screen as the initial action to start the set.
This first clip is from the 2015-16 season — Virginia's win over George Mason. London Perrantes dribbles to the middle of the floor off a screen from Anthony Gill; Malcolm Brogdon is stationed to the top of the key. As Perrantes drives, though, the defender assigned to Brogdon slides down to curtail the penetration.
In the defender's mind, he should be able to stunt down, and then recover back to Brogdon if the ball is swung out. This — against Virginia — is a mistake, though. That's where the Cavaliers catch you.
Brogdon slides to the wing — away from Perrantes. As his defender prepares to recover, he's out of luck: Jack Salt slams him with a flare screen. Brogdon, who shot 43 percent on catch-and-shoots this season, per Synergy, doesn't miss.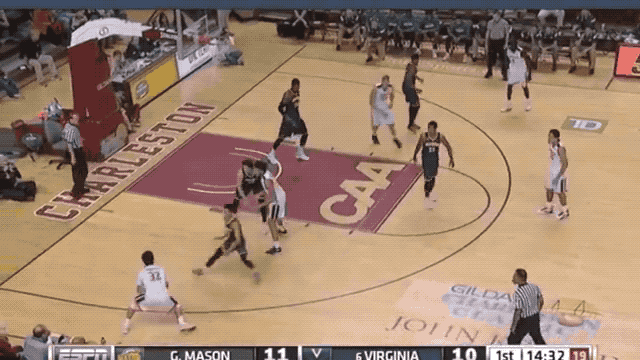 Okay, next clip: does this look familiar? Well, it should.
Perrantes doesn't use a screen this time, but he still dribbles right to the middle of the floor. Once again, there's that man Salt.
Salt chips Cameron Johnson — now a North Carolina Tar Heel — just enough, which frees Jerome in the corner for a three-ball.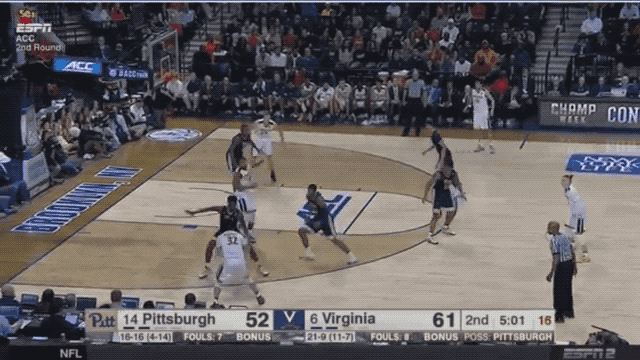 There's only so much defenses can do to prevent this action; Virginia has endless counters for opposing remedies, too. This is a read-and-react offense. The more time the team spends running these sets, the more advanced they can become.
Regardless, teams will learn quickly: leaving Jerome and Guy open for catch-and-shoots is a nightmare.
The future is now
Obviously, Brogdon and Perrantes are both gone. The two stalwarts of Virginia's backcourt have departed; in their place are Ty Jerome and Kyle Guy.
Ty Jerome is a big, physical guard that proved he isn't afraid to drive the ball into the teeth of the defense. He has a nifty in-between game, too; according to Synergy, Jerome connected on 75 percent of his runners. Similar to Kyle Guy, Jerome is a prolific perimeter shooter.
| | Spot-up FG% | Spot-up points per possession | Catch-and-shoot FG% | Catch-and-shoot points per possession |
| --- | --- | --- | --- | --- |
| Kyle Guy | 46.3% | 1.30 | 44.9% | 1.26 |
| Ty Jerome | 43.5% | 1.14 | 44.6% | 1.29 |
Source: Synergy Sports
According to Synergy, Guy and Jerome both ranked inside the top 20 in the ACC in terms of offensive efficiency on spot-up possessions. These two — along with Perrantes — join Ty Outlaw and Seth Allen of Virginia Tech as the only set of teammates to both post effective field goal percentages of 63 percent or better on spot-up possessions.
The difference with Ty Jerome and Kyle Guy: these two are just now getting started.
Inside the Playbook series
Kyle Guy and the pindown screen
Joel Berry, Luke Maye and pick-and-pop madness
Georgia Tech basketball's back cut mastery
Duke basketball and the increasingly popular DHO
Wake Forest fights ice with fire on its side PNRs
Syracuse basketball and its game of zones
UNC basketball and its vaunted secondary break
Miami basketball and the offense of a thousand screens
Louisville basketball, Quentin Snider and the high ball screen
Luke Kennard and Duke's naturally curly offense
Kenny William, Cam Johnson could create headaches for ACC foes