The lose of Donovan Mitchell — off the greener pastures in the NBA — seems like it should crater Louisville basketball's expectations for next season. Mitchell was one of the ACC's true dynamos the last two seasons; he evolved into the league's top breakdown guard in 2017, too. His absence will be felt. However, there's still a lot to like returning for the Cardinals, including Quentin Snider, who
Deng Adel, who tested the NBA Draft waters, is the team's most talented player. Ray Spalding and Anas Mahmoud are wiry, veteran big men. Surprise five-star commit Brian Bowen and V.J. King are talented wing scorers. That's a lot of great pieces.
But Snider, the team's point guard, will be tasked with running this show. This means a healthy dose of high ball screens for Louisville basketball.
What's a high ball screen?
This is perhaps the most simple play in all of basketball — regardless of competition level. The offense spreads the floor with three shooters — or two shooters and another post player in the "dunker position" along the baseline.
One player dribbles the ball at the top of the key, and let's a teammate — usually one of the post players — to raise up and screen his on-ball defender. This ignites north-south offensive basketball.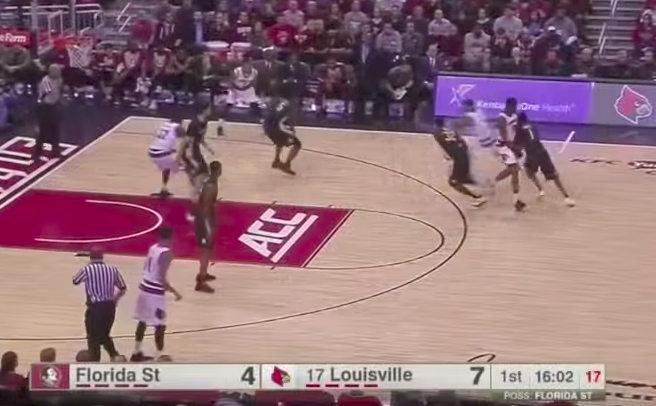 The ball-handler can attack the rim or shoot a jumper if the defending big sinks to far back. This also creates plenty of additional options: shooters, cutters or the rolling big man.
Poetry in motion for Louisville basketball
So, okay, let's see this thing in action, why don't we? One of the underlying themes of Louisville's win over Kentucky: the pick-and-roll torture chamber the Cardinals put freshman Bam Adebayo through. Quentin Snider and a variety of screeners made life miserable that night for Adebayo.
On this first possession, Snider comes off a screen from Mangok Mathiang. Adebayor tries to slide with Snider for a couple dribbles, but Snider has angle, which causes Isaiah Briscoe to dig down from the corner. Donovan Mitchell is open for a catch-and-shoot bomb in the corner; Snider doesn't miss him.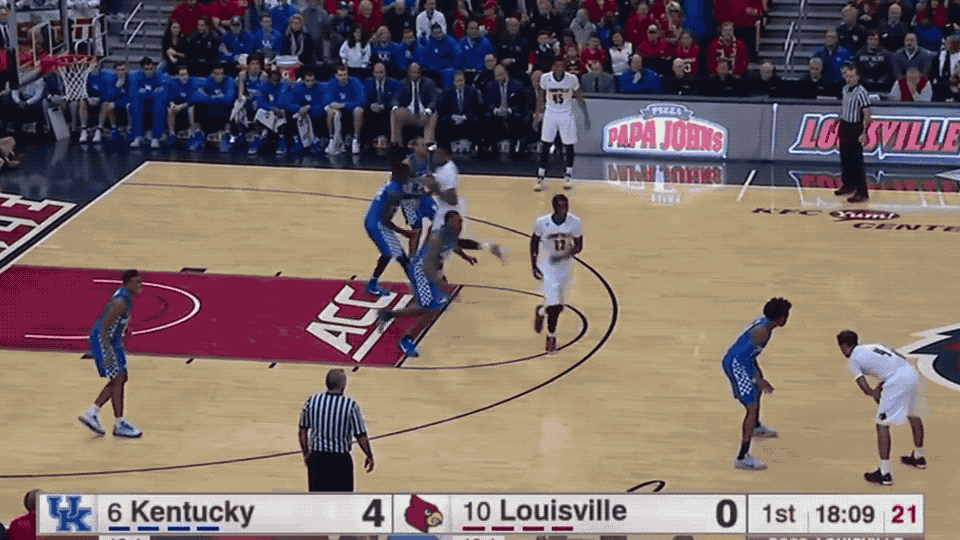 Later in the game, Mathiang chips Snider's defender — De'Aaron Fox. Snider uses a nifty behind-the-back dribble. Mathiang, astutely, adjusts and re-screens for Snider. Adebayo doesn't stay level with the screen, and he drops one step too far back. Result: Snider drill a long two.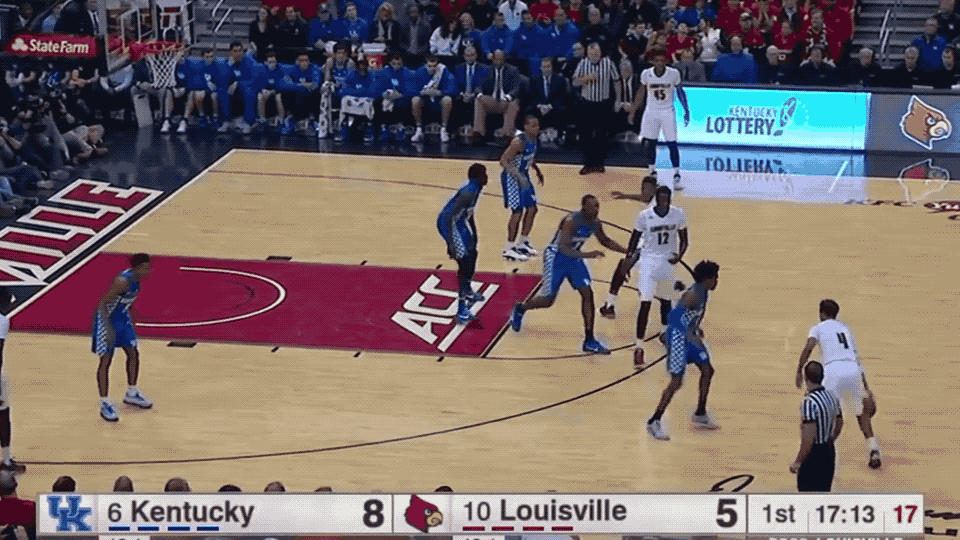 Louisville ran some weave action before going into this final high ball screen; this cleared out the middle of the court. Now it's Snider and Mathiang once again putting Adebayo through the ringer.
Mathiang doesn't angle his screen; instead, he hits Fox from behind. Kentucky switches after the screen — and now Adebayor isolated with the point guard. This is a move I'm sure Adebayo would love to have back, because what followed was straight mean.
Snider dragged Adebayor back out and sized him up, Chris Paul style. And yeah, just watch.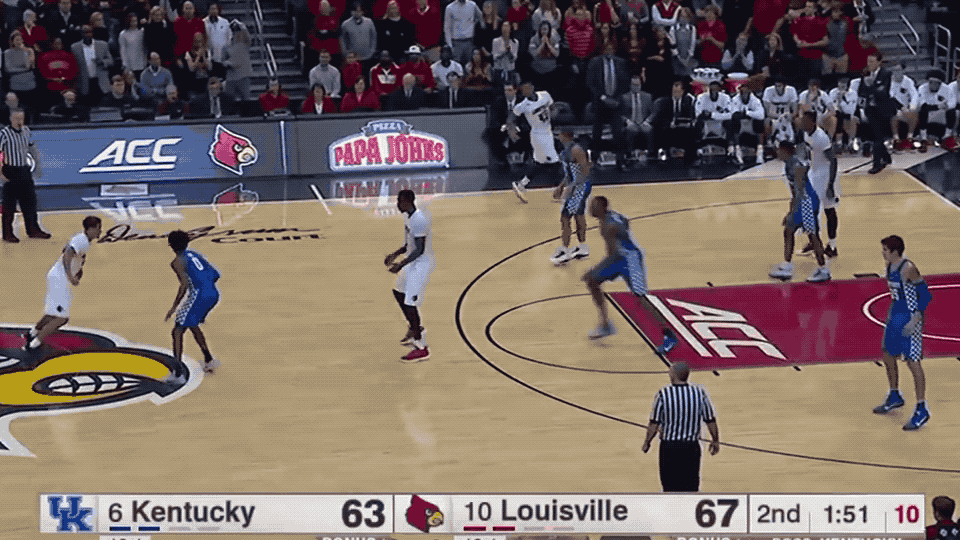 Why this will work with Quentin Snider next season
Simply put — Snider is rather good at pick-and-roll basketball. He's obviously not Donovan Mitchell — a freak of nature athlete with a refined shooting stroke. But he's still solid. The numbers bear this out, too.
According to Synergy Sports, Snider, himself, used 111 pick-and-roll possessions in 2016-17. He scored 0.89 points per possession, shot 41.2 percent and turned it over 11.7 percent of the time. Snider was one of just 10 players in the ACC to run at least 100 pick-and-rolls, but you can bank on that number jumping next season.
Louisville basketball goes on offense with this sort of spread attack. Mitchell ran 116 as well; someone else now has to carry that load.
Of this group of players, Snider has the second-lowest turnover rate, and the fourth-best field goal percentage. The next step for him will be to evolve as a creator in pick-and-roll action — finding shooters, rollers and cutters for high-percentage looks.
Late season struggles
Overall, Quentin Snider had a nice junior campaign. He shot a healthy 37.5 percent on three-pointers — on 5.4 attempts per game. Despite a modest 21.2 percent usage rate, per KenPom, he still attempted nearly three free throws per game. Snider, who lead the team with a 23.3 percent assist rate, also handed out 7.6 assists per 100 possessions.
All of that is great! Unfortunately for Snider, his shot was streaky at times.
Snider connected on less than 40 percent of his two-point field goals, which has to improve. Late season struggles had a negative influence on his season-long production; postseason play was none too kind to Snider.
He shot just 30.6 percent from the floor in three postseason games — one ACC Tournament contest, and two NCAA Tournament games. In Louisville's final game of the season, a loss in the round of 32 to Michigan, Snider went 0-of-9 from the floor.
I don't spend much time worrying about momentum or anything like that. But I have to think that a talented, motivated senior guard, like Quentin Snider, will look to quickly erase those performances from his mind. If that happens, don't be surprised to see Louisville basketball flying high at the Alamodome.
Inside the Playbook series
Kyle Guy and the pindown screen
Joel Berry, Luke Maye and pick-and-pop madness
Georgia Tech basketball's back cut mastery
Duke basketball and the increasingly popular DHO
Wake Forest fights ice with fire on its side PNRs
Syracuse basketball and its game of zones
UNC basketball and its vaunted secondary break