It's time to go back outside and draw out another play in the dirt. This time, our focus is on Kenny Williams and North Carolina.
UNC will look for ways to utilize catch-and-shoot maven Cameron Johnson in its offense. Roy Williams will have plenty of option in 2017-18, including a nifty 1-3 pick-and-pop.
However, there's another possible method to achieve offensive madness: guard-to-guard screens away from the ball. Basically, what happens when one perimeter player screens for another perimeter player.
What's the advantage of a double-guard screen away from the ball?
Defenses can only protect so much real estate. Normally, we think of the best screeners on the floor being post players. This is often the case: the larger the player, the more challenging it will be to get around his or her screen.
However, if the defense doesn't have to worry about the player setting the screen, they can just switch with ease or trap the player coming off the screen. Virginia, for instance, runs more off-screen plays than anyone in the ACC. UVA's primary screener is Jack Salt; he's big and physical, and has no problem operating as a wall most of the time.
But Salt used less than 13 percent of Virginia's possessions when he was on the floor this season — a paltry rate. Teams don't have to worry about him; they can focus their attention elsewhere — the teammate he's screening for.
This is why a guard-to-guard screen is such a menace to defend. If both players can shoot and score, then a simple off-ball screen can cause hysteria. It's scramble mode for a defense. That's why Stephen Curry is the most dangerous screener in the world.
How do teams defend this action?
NBA defenses normally switch on this type of action; if defenders are similar in size, then this is the best option. Watch the Golden State Warriors play, and you'll notice their Swiss Army knife of a defense switch and rotate on a string.
Here's the thing, though, not every team is the Warriors (no duh) — switching imposes its own set of challenges. Communication must be impeccable; if not, an offensive player is about to pop free.
Secondly, it's tough for college teams to switch. There are fewer like-sized defenders, and the mechanics are a bigger challenge for a team of 18-22-year-olds.
Actions speak louder than words
Before a knee injury cost Kenny Williams the final 14 games of North Carolina's season, UNC used this sort of action between he and Justin Jackson. The results were impressive.
This first clip comes from UNC's home win over Davidson; it's classic screen the screener action. Williams sets a flex screen for Justin Jackson along the baseline. The Wildcats switch, but it's not clean; Williams' new defender lags behind as the sophomore zips off a colossal double screen from Kennedy Meeks and Isaiah Hicks. The result: a wide-open triple.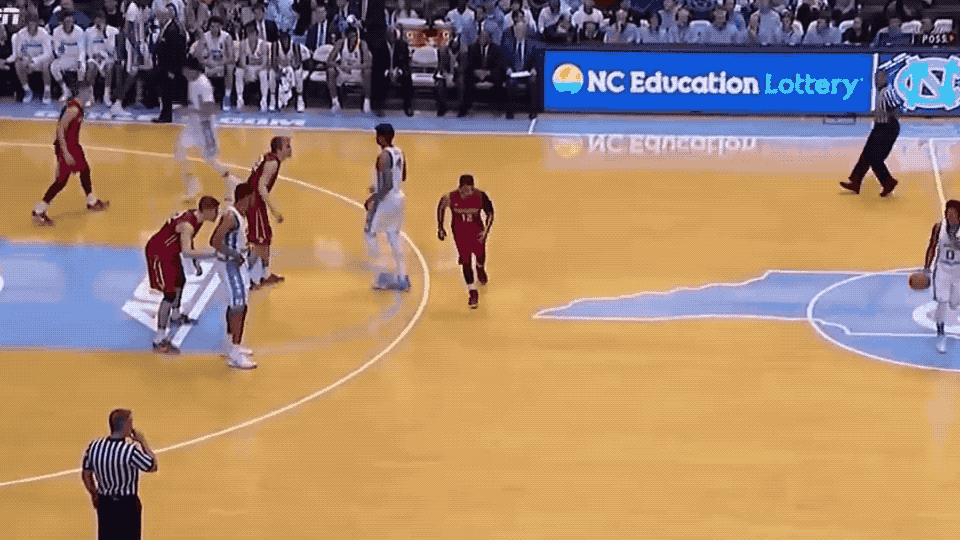 Here's how UNC can counter this action when teams start to overplay, too. During their comeback win over Tennessee, Williams again sets a flex screen — it's the same play — this time for Stillman White. The Volunteers don't switch, however. Williams runs through an elevator door screen from Tony Bradley and Luke Maye.
Lew Evans, No. 21 in Orange, hedges out to prevent the pass to Williams. Bradley see this, and immediately slips to the basket. Nate Britt doesn't miss him. Slam, bam, thank you, ma'am.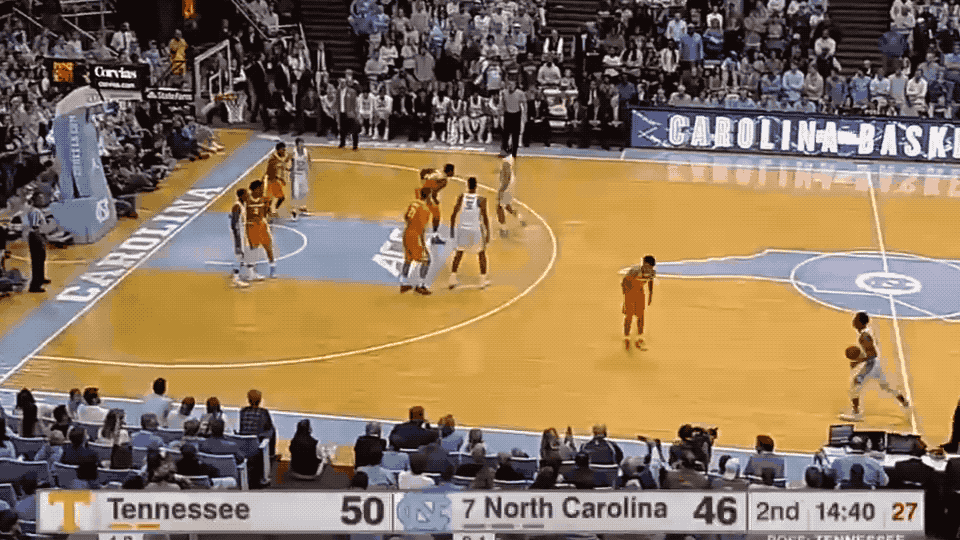 Why it will work without Justin Jackson
Kenny Williams shot a respectable 33.8 percent on three-pointers as a sophomore. That's a slightly below average clip; however, I'm bullish that he can get back to his early season form from a year ago.
Williams shot 40 percent from downtown on nearly three attempts per game over North Carolina's first 14 contests.
On catch-and-shoot possessions, according to Synergy Sports, Williams scored 1.11 points per possession (37.5 FG%). That's a number better than Terry Henderson, Jonathan Isaac, Dennis Smith Jr. and Grayson Allen.
Williams posted an adjusted field goal percentage of 55.4 percent — which takes into account the added value of three-pointers. He ranked 35th in the ACC in this metric; it's worth noting, though, that 17 of the 34 players ahead of him will not return next season.
| | Catch-and-shoot possessions | PPP | FG% | aFG% | True shooting % (overall) |
| --- | --- | --- | --- | --- | --- |
| Justin Jackson | 203 | 1.09 | 36.9% | 54.7% | 55.5% |
| Joel Berry | 157 | 1.22 | 40.8% | 61.1% | 56.9% |
| Cam Johnson | 159 | 1.20 | 40.3% | 60.1% | 61.6% |
| Kenny Williams | 56 | 1.11 | 37.5% | 55.4% | 52.9% |
It will be wise for UNC to leverage the shooting of Williams with that of Cameron Johnson and Joel Berry — two incredibly accomplished perimeter marksmen.
Get down and get groovy
Theo Pinson provides some intrigue with this look, too. Pinson has yet to demonstrate any sort of outside shoot. If that trend continues in his senior season, the Greensboro native can still play a role here: facilitator.
Pinson is a terrific shot-creator; UNC could put him on the ball, and then run this sort of action with some combination Williams, Berry and Johnson. That would be a bear to defend, especially if Luke Maye is the fifth player on the floor.
Again, teams can only defend so much space.
Inside the Playbook series
Kyle Guy and the pindown screen
Joel Berry, Luke Maye and pick-and-pop madness
Georgia Tech basketball's back cut mastery
Duke basketball and the increasingly popular DHO
Wake Forest fights ice with fire on its side PNRs
Syracuse basketball and its game of zones
UNC basketball and its vaunted secondary break
Miami basketball and the offense of a thousand screens
Louisville basketball, Quentin Snider and the high ball screen