When it comes to a Jim Larranaga-coached offense, you can expect two things from Miami basketball: a slower pace and an endless stream of ball screens. Since Larranaga arrived in Coral Gables, the Hurricanes have never once finished inside the top 210 nationally in terms of pace, according to KenPom.com. On three separate occasions, Miami has ranked outside of the top 300 in terms of adjusted pace — with the low coming back in 2014 (58.7 possessions per game).
Let's take a look — from a couple angles — at why and how Miami uses this offense.
Why does Miami play at this pace?
Look, quite simply, it's exhausting to defend for a full 30-second shot clock, especially if you have to navigate through a maze of on-ball screens. It wears on a defense — both physically and mentally. Virginia may be the kingpin inside the ACC when it comes to snail-mail offenses; however, the Canes are right there, too.
The results, by the way, are pretty good. Miami basketball has become a powerful program under the guidance of Larranaga.
How frequently does Miami basketball utilize ball screens?
According to Synergy Sports, over 16 percent of Miami's possessions in the 2016-17 season were used by pick-and-roll ball-handlers — 399 in total. This is the highest percentage of any ACC team. Wake Forest (14.8%) and Louisville (12.5%) aren't too far behind, but that's still a notable margin.
Ja'Quan Newton wasn't the most efficient pick-and-roll scorer in the league last season — just 0.76 points per possession, according to Synergy — but it wasn't for a lack of effort or attempts. When Miami used a ball-handler in a possession this season, it was Newton 49.4 percent of the time — essentially half. Forty percent of the possessions Newton used (197, most in the ACC) were in the pick-and-roll, which is a lot.
Rising sophomore star Bruce Brown is high on this totem poll, too. Miami, Wake Forest and Louisville were the only three ACC programs to have multiple players use at least 90 pick-and-roll possessions as a ball-handler.
This is a two-way street, though. If you want to play one of the power positions for Miami — you better be a skilled screener. The Hurricanes will miss Kamari Murphy in that department. Murphy was more than an excellent defender and offensive rebounder (9.9% offensive rebounding rate); he was also a deft screener.
Well, let's see this thing in action?
Here's a shot — a snippet — of Miami from the 2015-16 season: the team's first-round matchup against Buffalo in the 2016 NCAA Tournament. This is two-man Miami basketball's two-man action between Newton and Murphy.
Murphy quickly drag screens in semi-transition, then slips to the basket. Buffalo's defense stays sound; Newton is patient and waits for Murphy to pop back out and set another ball screen. Murphy screens the inside of Newton's defender; this opens an alley to the middle of the floor, and now we see some bend in Buffalo's defense.
Both defenders actually stick with Newton; his defender fights over while the post player assigned to Murphy slides with the point guard. Murphy is actually open on the short side roll, but Newton keeps the rock, dribbles in and hits a floater. Davon Reed is also open beyond the arc for a catch-and-shoot three-pointer if need be.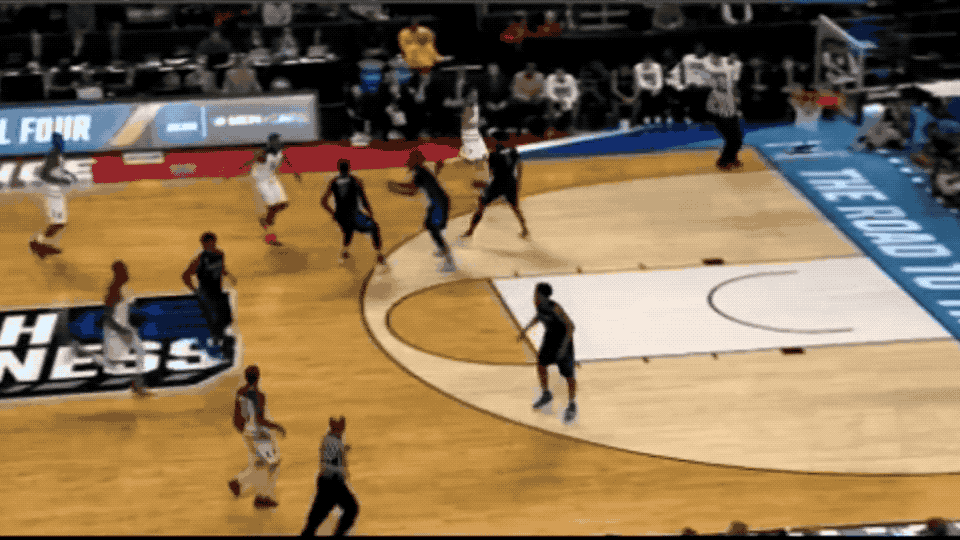 Murphy and Reed are both gone, but Newton, Brown and incoming 5-star guard Lonnie Walker give Miami plenty of intriguing pick-and-roll operators. They'll need dance partners, though. Miami, fortunately, has options, including Dewan Huell, who put together a promising freshman season in 2016-17. Huell, according to Synergy, shot 68.8 percent as a roll man this past season.
Inside the Playbook series
Kyle Guy and the pindown screen
Joel Berry, Luke Maye and pick-and-pop madness
Georgia Tech basketball's back cut mastery
Duke basketball and the increasingly popular DHO
Wake Forest fights ice with fire on its side PNRs
Syracuse basketball and its game of zones
UNC basketball and its vaunted secondary break