Plenty of NC State players saw improvements in the debut season of Kevin Keatts. Omer Yurtseven morphed into a potent inside-out threat that brought some stretch to the center position — new territory in college hoops. Torin Dorn evolved into a wildly important small-ball 4 — the ultimate glue guy for NC State. Graduate transfer Sam Hunt became one of the best spot-up shooters in college basketball.
The list goes on; however, the engine that powered all of this — the conduit for NC State's offense — was point guard Markell Johnson.
Johnson benefitted a great deal moving Mark Gottfried's UCLA high-post offense, and playing alongside the ball-dominant Dennis Smith Jr., to the pick-and-roll system of Keatts. The ball was placed into Johnson's hands, and he proved to be a very capable driver and creator of offense.
An offensive pick-me-up for Markell Johnson
Even with DSJ running the show in 2016-17, less than 10 percent of NC State's offensive possessions (9.7 percent, ninth most in the ACC) were used by pick-and-roll ball handlers: 0.81 points per possession (47.6 eFG%), according to Synergy Sports.
While less efficient from a scoring standpoint (0.66 points per possession), Wolfpack ball handlers used a much larger share of possessions in 2017-18: 14.6 percent — fourth most in the ACC.
Next to or in relief of Smith, Johnson participated in 100 total pick-and-roll possessions — as a shooter (18.2 percent of his total possessions) or passer, per Synergy. When Johnson was a passer out of the pick-and-roll as a freshman (69 possessions), NC State scored 0.80 points per possession (44.5 eFG%).
Despite playing just 145 more minutes as a sophomore, Johnson's role as a pick-and-roll creator grew exponentially. According to Synergy: in 2017-18, Johnson used 407 total pick-and-roll possessions — as a shooter (39.5 percent of his total possessions) or passer.
NC State scored 311 points on 291 pick-and-roll possessions when Johnson was a passer: 1.07 points per possession (55.4 eFG%). That's a monster of combination of volume and efficiency. Here NC State uses Spain (back pick) action to get Braxton Beverly a look from deep.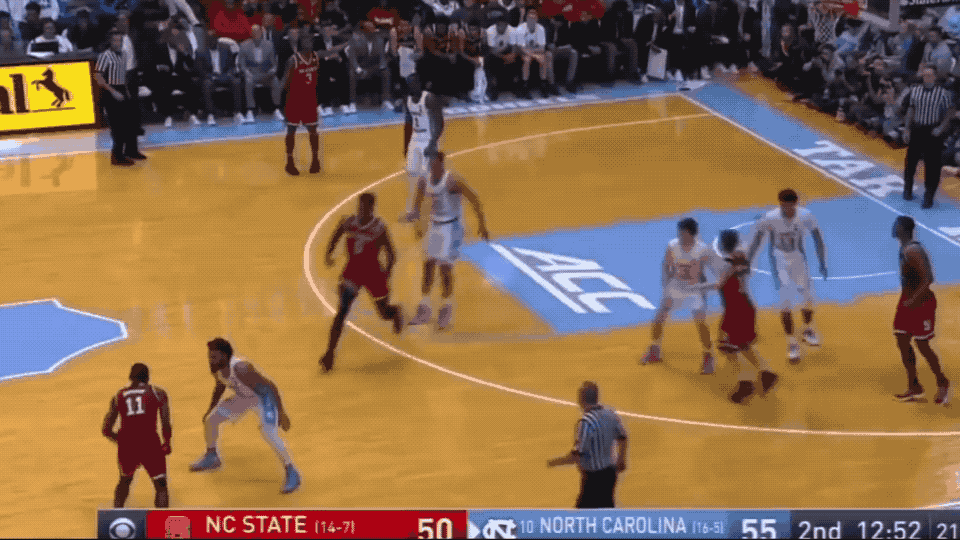 In terms of efficiency, that was good for No. 19 in the nation amongst players with at least 200 pass possessions.
Pass Happy
According to KenPom, Johnson assisted on 40.5 percent of his teammates' field goals while on the floor last season — No. 5 in the nation. That number jumped to 44.6 percent in ACC play, which was good for tops in the league.
Johnson is one of only three ACC players since the 2009-10 season to play at least 500 minutes in a season, and post an assist rate north of 40 percent. He dished out nearly 14 assists per 100 possessions, per Sports Reference.
Room for improvement
As good as NC State was with Markell Johnson looking for cutters and shooters out of the screen-roll game, there are obvious areas of improvement, too. That list starts with his ability to cut his turnovers down — a priority for his junior season.
Johnson posted a turnover rate of 28.7 percent in 2017-18; he averaged over six turnovers per 100 possessions, too. According to Synergy, the 6-foot-1 Johnson turned the ball over on 36.2 percent of the pick-and-roll possessions he used — a massive number.
Of the 344 Division I players that used at least 100 pick-and-roll possessions in 2017-18, that ranked 344th (dead last) in terms of turnover rate. So, yeah, not great.
Johnson's reputation isn't that of a shooter (career 49.2 eFG%); however, in a small sample, he's shot pretty well off the dribble: 22-of-62 FGA (35.5 FG%), 0.87 points per possession. Closer to the rim, though, Johnson could stand to improve his efficiency.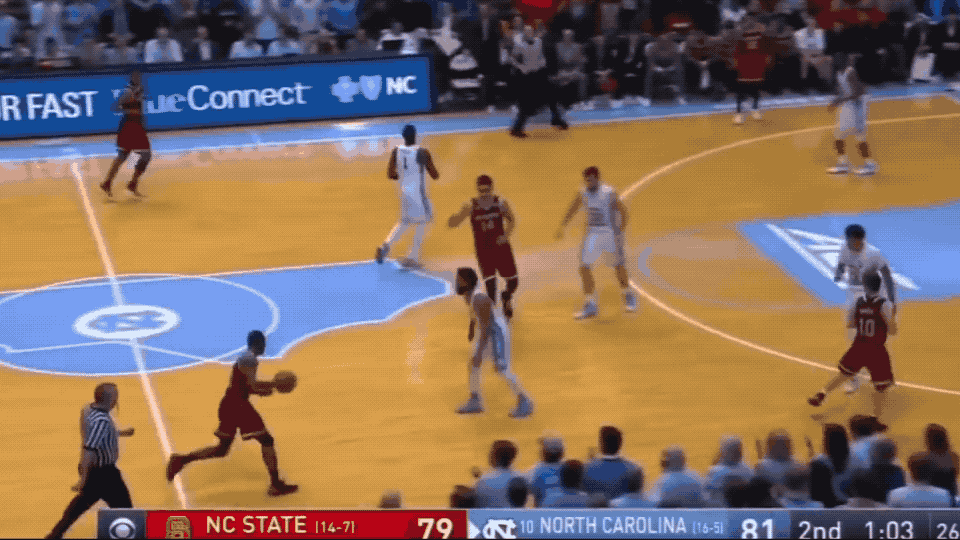 He has the speed and craft to get to the rim, and he's shown some ability to finish in traffic. But through the first 56 games of his career, Johnson has shot just 46.5 percent and scored 0.97 points per possession on attempts at the basket.
Omer not comin' back
In 2017-18, Markell Johnson and NC State ran a lot of 1-5 pick-and-roll — the point guard and center combination. However, with Omer Yurtseven's decision to transfer to Georgetown, and the departures of seniors Lennard Freeman and Abdul-Malik Abu, NC State may have to reorient offensively — to an extent.
Samford grad transfer Wyatt Walker is more of a threat to score from the post; however, he does present an intriguing screen-roll option to partner up with Johnson. This will be a key pairing to monitor. How much of Yurtseven's production can Walker replace?
NC State also adds two freshman centers to its roster: 4-star Manny Bates and 3-star Ian Steere. It remains to be seen if one or both of those two are ready to play big minutes. Learning the nuances of the pick-and-roll game isn't as simple as screening and rolling to the hoop, looking for dunks, though. There's an art to running the action efficiently; excellent timing and non-verbal communication are baseline requirements, and it may take time for Bates and Steere to figure out this new terrain.
The most intriguing option, though, is one that NC State and Keatts will have to wait on. Earlier this summer, the Pack landed Kentucky transfer and former 5-star recruit Sacha Killeya-Jones. SKJ must sit out during the 2018-19 season as he redshirts, but the 6-foot-10 pogo stick has serious potential as a dive player and vertical lob threat. Two seasons from now, Johnson and SKJ could form a really nice pick-and-roll battery for Keatts.
From left field
NC State created a top-20 offense last season that relied heavily on four-out principles, with Dorn operating as the lynchpin for that spacey attack. Yurtseven could help spread the floor, too (2.2 3PA per 40 minutes, 50 3P%), which allowed the Pack to hit five-out nirvana at times. When opponents tried icing Yurtseven ball screens for Johnson or Beverly, the 7-footer would counter, and float quickly to the top of the key — looking for catch-and-shoots.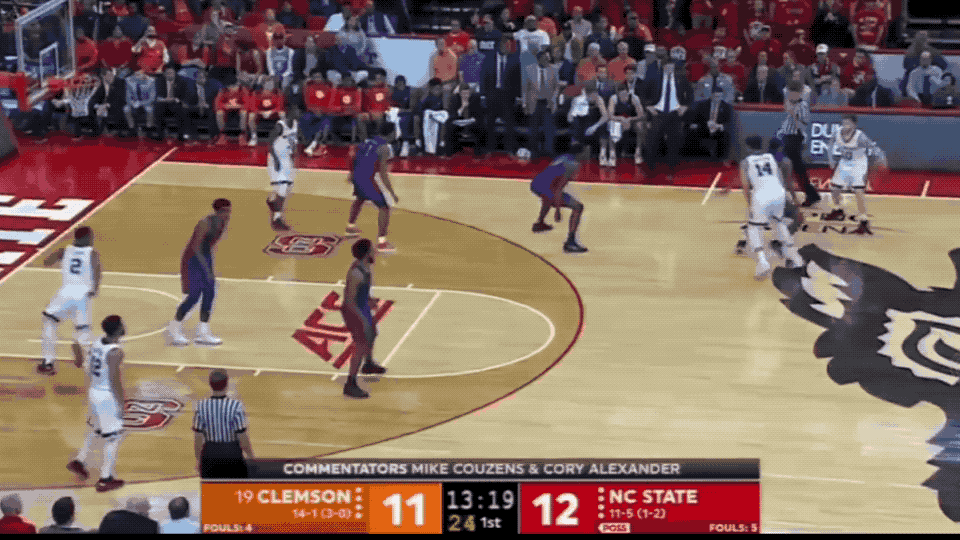 Keatts and company could take this a step further in 2018-19. UNC Wilmington transfer CJ Bryce is now eligible to play; so, too, is the explosive Devon Daniels, a transfer from Utah. Those additions, along with the return of Dorn and grad transfer Erick Lockett, give NC State a roster that's filled with long, athletic wings. This is the vision of Keatts.
Add in 6-foot-9 JUCO transfer Derek Funderburk: Keatts now has a contingent of players that will allow him to get funky, and mix-and-match with lineups. The upshot: NC State could use a variety of players to work in tandem with Markell Johnson in the pick-and-roll, which could cause matchup issues all over the floor.
In the NBA, that type of screening action — with like-sized players — can allow for obvious switch opportunities on the defensive end. That's not exactly the case in the college game, which features less game-to-game scouting, and a more traditional approach of pick-and-roll coverage. When Johnson does catch opponents in a switch, especially an opposing big, he knows what to do with it.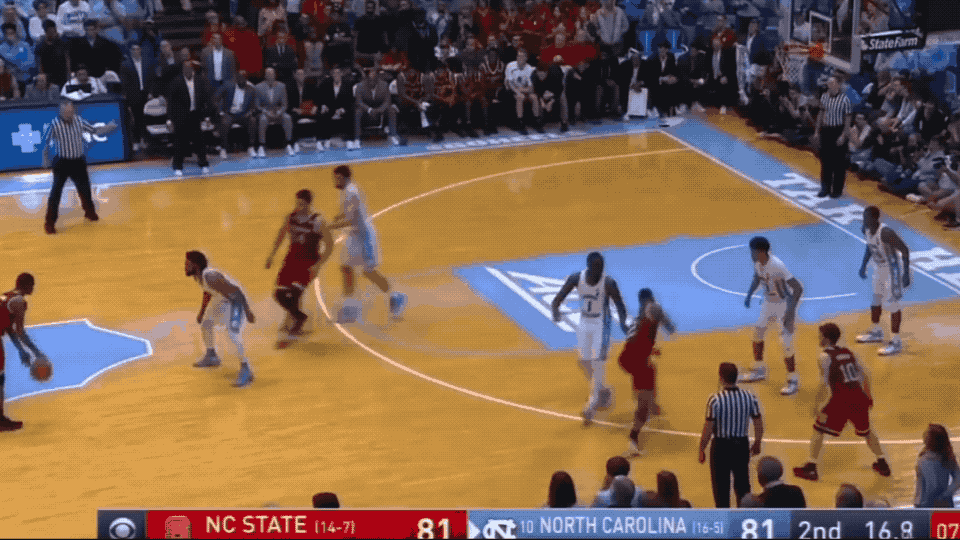 This may be a bit of a stretch; it's certainly in out-of-the-box approach to half-court offense, but the Pack could organize offensively in ways that few other college teams attempt.
Read More