Before all of the hullabaloo this week surrounding Duke's series of team meetings, the Blue Devils had a basketball game. They lost in a Tobacco Road thriller to NC State, 84-82. In this game, the Wolfpack was led for 40 minutes by its All-Milky Way Galaxy point guard Dennis Smith Jr.
Smith scored a career-high 32 points on an efficient 18 field-goal attempts; he also handed out six assists and turned the ball over just three times, despite playing 33 minutes and posting a usage rate of 42.2 percent, according to Sports-Reference. This means more than two out of every five NC State possessions ended with DSJ shooting, getting fouled or turning the ball over.
While Smith performed wonderfully all game, his play in the final four minutes was crucial. A Luke Kennard turnover with 3:52 remaining triggered the final media timeout, with Duke leading 70-67. It's clear that Mark Gottfried used this time to make the decision: abandon his handsome UCLA high-post offense and play exclusively through Smith.
In the final four minutes of this game, the Wolfpack had 11 offensive possessions. Five of those possessions resulted in a turnover or a foul, thanks to Duke's frenetic trapping defense. The other six possessions, which ran sequentially, were spent in the half-court. The ball started in the hands of Smith and rarely left. DSJ scored or assisted on every possession.
On five of those six half-court sets, NC State ran the same action every time. Gottfried spotted Terry Henderson in one corner, and Markell Johnson in the other. Close to the top of the key, Abdul-Malik Abu and Maverick Rowan would get into a stack formation with Abu's feet nearly kissing the three-point line.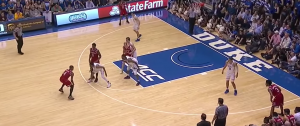 This is a set you will see a lot of NBA teams run when they have a ball-dominant guard who can slice up a defense with a properly spaced floor. Oklahoma City does it for Russell Westbrook; Kemba Walker will get this look for Charlotte when the Hornets need a bucket. There's no question that NBA personnel people drooled when they saw this. Duke had no answer.
(Note: I was at this game and couldn't stop pestering my neighbor on press row, "Look, they're running it again!")
Smith would dribble right off Abu's high ball screen. If Smith had an alley, he could attack. However, he flashed some brilliant playmaking skills, too. If Smith didn't drive to the cup, Rowan would set a back-pick on Abu's man — Amile Jefferson or Harry Giles — which would give NC State a rim-running option to throw the ball to. The one time that Abu didn't dive to the rim, he re-screened for Rowan, who popped beyond the arc and banged home a three-ball from Smith with 2:03 left in the game.
Here's a breakdown of those final possessions:
Smith finds Abu for a dunk, 3:35

Matt Jones and Giles (Abu's man) doubled Smith off of the screen.
Grayson Allen stayed at the free-throw line with Rowan.
Abu, left unattended, rolled to the hoop and Smith zipped a pass to him for a dunk.
Jayson Tatum was late rotating down to Abu off of Henderson in the corner.

Smith finds Abu for an alley-oop, 2:40

Jones and Allen once again double Smith off the initial screen.
Rowan back-picks Giles.
Abu is free to run unmolested to the rim for the lob from Smith.
Again: Tatum is late helping down from the wing.

Smith finds Rowan for a three-pointer, 2:03

Smith dribbles right and again draws two defenders — Jones and Jefferson.
Abu doesn't run to the rim and instead down-screens for Rowan.
Rowan pops above the arc and drills a catch-and-shoot three.

Smith scores a driving layup, 1:30

Abu screens Jones; Rowan screens Jefferson (Abu's man).
Kennard late to help.
Smith drives left and gets all the way to the rim, easily.

Smith fouled by Jones, 0:50

Smith dribbles right off Abu's screen.
Abu and Rowan immediately clear out.
Smith goes one-on-one with Jones and gets fouled.
He misses both free throws.
Duke got burned when they doubled Smith. It's fine to do that if the objective is to take the ball out of his hands; however, if that's the case, then Tatum has to be ready to rotate down from the wing. He was late twice, and on both occasions, it resulted with Abu playing tag with the rim.
The Wolfpack didn't miss a set from the field and got nine points on five possessions with this action; that's a ridiculous 1.8 points per possession. Smith is a 73 percent free-throw shooter, too. If he makes one of those free-throw attempts, the Wolfpack would have an offensive efficiency of two points per possession — which is insane.
The only time NC State didn't run this action in the final four minutes in the half court, Smith drilled a deep three from the right wing. He was absurdly good, and I will be curious to see if, in future high-leverage situations, NC State turns to this same design again.
If it ain't broke, don't fix it.