Lennard Freeman isn't the only returning NC State big man that's living large in the new system of Kevin Keatts. After an up-and-down freshman season, and a flirtation with the NBA, Omer Yurtseven is in the midst of a strong sophomore campaign.
This is another opportunity for Yurtseven to audition for NBA scouts and personnel; so far, he flashed some skills, especially in NC State's pick-and-roll game. The 7-footer is averaging 12.3 points on less than eight field goal attempts per game (7.9).
Despite the loss of an offensive force like Dennis Smith Jr., NC State is playing faster and and almost as efficiently on offense. Yurtseven is a beneficiary. In 10 games this season, Yurtseven has scored in double figures eight times. That's already more than his freshman season: 22 appearances, six games of double-digit scoring.
| | Offensive Efficiency | Adjusted Tempo | Possession Length |
| --- | --- | --- | --- |
| 2016-17 | 112.6 (46) | 70.3 (71) | 16.9 (120) |
| 2017-18 | 109.4 (67) | 72.5 (61) | 15.2 (31) |
Dunk the halls
Nearly seven percent of NC State's offensive possessions (6.9 percent) this season have been used by a roll man in the pick-and-roll, per Synergy Sports. That's a major increase from a year ago: 2.8 percent. The Wolfpack have cashed in on these opportunities, too.
According to Synergy, NC State is shooting 64.2 percent and scoring 1.4 points per possession this season when a roller finishes the play. That ranks No. 16 in the nation, and is a serious jump from 2016-17. Last season, NC State scored just 0.84 points per possession on these attempts — No. 294 in Division I ball, per Synergy.
Yurtseven has shot 76 percent as a roll man this season, and scored 1.68 points per per possession. Amongst Division I players with at least 20 pick-and-roll possessions, Yurtseven ranks No. 3 nationally in efficiency.
Freeman has been rather productive, too: 1.39 points per possession, 66.7 percent shooting.
Let's not drag this out any further
After falling down early, NC State roared back in its ACC-Big Ten Challenge victory over Penn State — defeating the Nittany Lions 85-78. A big part of NC State's success on offense (1.12 points per possession, according to KenPom) that night: the pick-and-roll game.
According to Synergy, NC State used 28 combined possessions for either the ball handler (22) in the pick-and-roll or the roll man (six). Omer Yurtseven, who scored a career-high 19 points on seven field goal attempts, accounted for five of those six roll possessions.
NC State got multiple good looks by utilizing the "drag" screen. A drag screen is a ball screen set in transition from a trailer. It's a quick screen — one that requires tempo and timing. This is an action that's meant to take advantage of a scrambling transition defense, too.
Late in the first half, with Penn State clinging to a one-point lead, State attacks in transition, with the strong side of the floor cleared out for Braxton Beverly and Omer Yurtseven.
Beverly waits for Yurtseven, who sprints up and slams his defender with a drag screen. Yurtseven rolls quickly, and with no help defender on that side of the floor, backup center Satchel Pierce is left to either stop the roll or curtail Beverly's drive.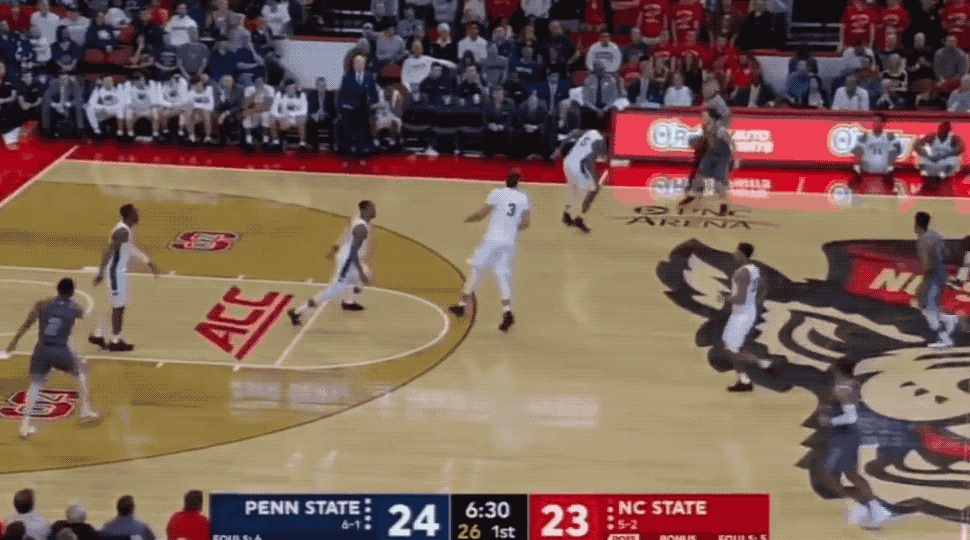 This is a benefit that comes from playing Torin Dorn as a small-ball 4; every other NC State player on the floor is spaced beyond the arc on the weak-side of the floor. When Yurtseven rambles into the paint, there isn't a single Penn State player with a foot in the lane. The help can't get there in time, and the result is an easy slam for Yurtseven.
Read More