With actual basketball games only a week away (yay!), it's time to bring back our All-Analytics teams for ACC basketball. Last week, the ACC released its preseason all-league roster, following Operation Basketball. This is our version — with a little twist.
There's one key stipulation for roster inclusion: only returning players can make the cut. The best players in the league are probably rookies — RJ Barrett, Zion Williamson, Nassir Little, Jaylen Hoard, Cameron Reddish; however, these selections are based off numbers produced at an ACC-level last season.
We will write about Barrett and Williamson and Little all season, and when filling out our postseason All-ACC roster, those guys will likely feature prominently. For this exercise, though, it's just returning players.
OK, let's do it.
Luke Maye, North Carolina
During his breakout junior season, Maye went from role player to featured (25 percent usage rate) offensive weapon. The results were pretty darn good, too. Maye averaged 16.9 points and 10.1 rebounds while shooting 43.1 percent from deep (50-of-116 3PA); he became just the 14th player since the 1992-93 season to average 15 points, 10 rebounds and shoot above 40 percent on threes (minimum 50 3PA). He's joined on that list by Kevin Durant and Bonzie Colson.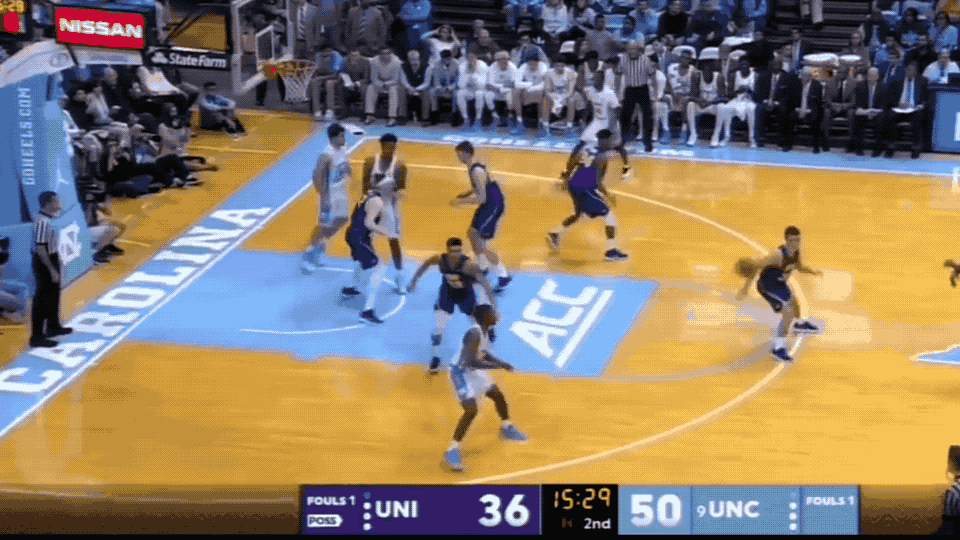 A true inside-out scoring threat, Maye shot 60.4 percent on non-post-up attempts at the basket — while ranking second in the ACC in cut points (137) — and posted an effective shooting rate of 55.9 percent on catch-and-shoots, according to Synergy Sports.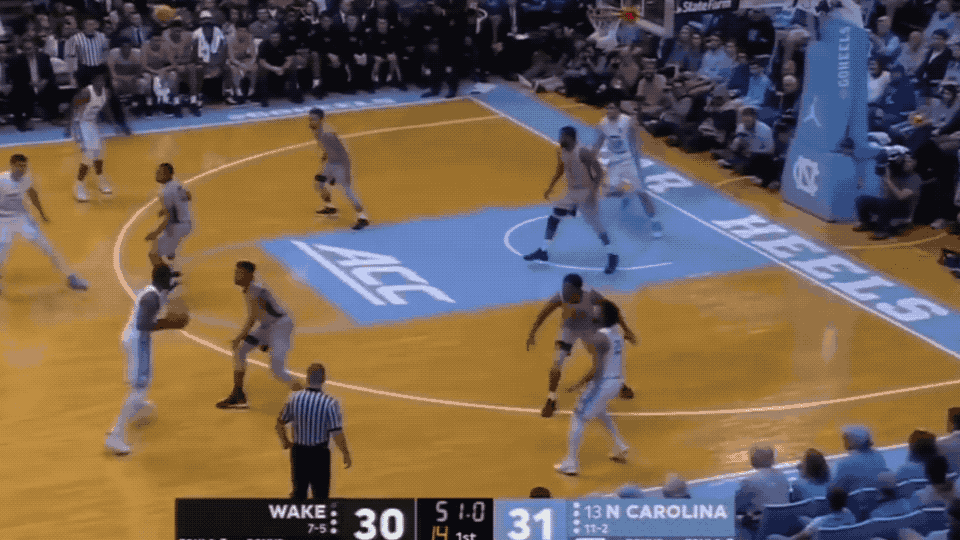 Maye grabbed over 10 percent of available offensive rebounds while on the floor, and shot 60.6 percent (1.19 points per possession) on put-back attempts, per Synergy.
He's a solid passer who can score (43.9 FG% on post-ups) or distribute out of the post — 4.1 assists per 100 possessions.
North Carolina once again projects as a top-five offense, and Maye is a big part of that picture. Kenny Williams and Cameron Johnson should space the floor, keeping the paint open for Maye and Nassir Little to do serious damage.
De'Andre Hunter, Virginia
At the end of the 2018 season, Hunter could've made the leap to the NBA. A likely top-20 pick, Hunter returns to college hoops as the top non-freshman draft prospect in the nation. (This is easier to declare after the super unfortunate news regarding Missouri's Jontay Porter.)
Hunter is the top two-way player in the ACC; if things break right, he could totally pull a Malcolm Brogdon and win the league's Player of the Year and Defensive Player of the Year awards. With a wingspan the hovers around seven feet, Hunter is a nasty on-ball defender.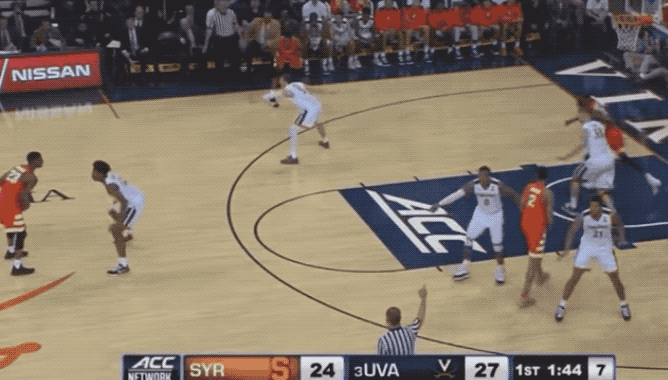 He plays with a great motor and instincts on the weak side, too. Watch him closeout here and then recover. On the next level, he could be a terror as a switchy help defender.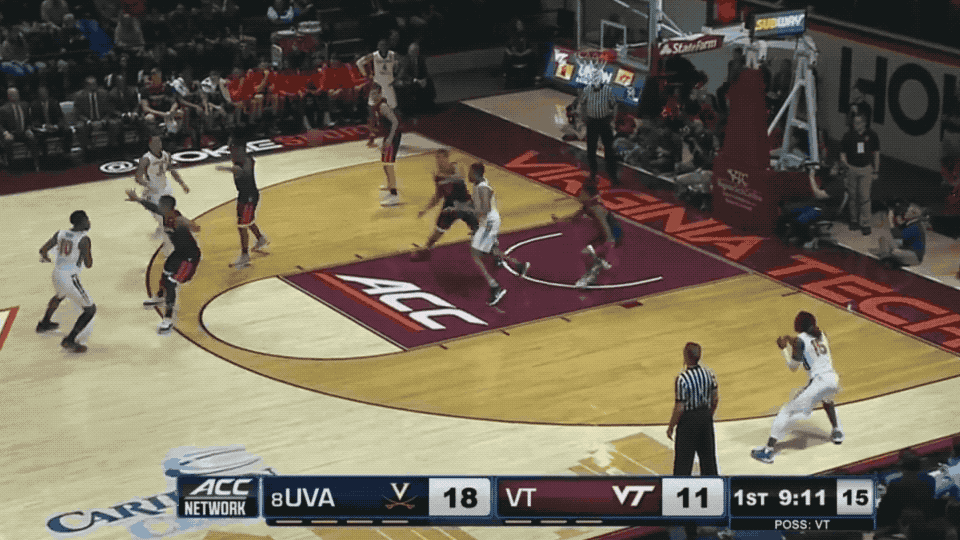 The ACC's Sixth Man of the Year last season, Hunter's per 40 minute numbers were outstanding during his redshirt freshman season: 18.4 points, 7.1 rebounds, 2.2 assists, 1.2 steals and six free throw attempts.
He played just under 20 minutes per game last season, which will jump big in the 2018-19 campaign. While on the floor, though, Hunter was certainly busy — a usage rate of nearly 26 percent, per KenPom. With more playing time and similar usage, he will put up monster numbers.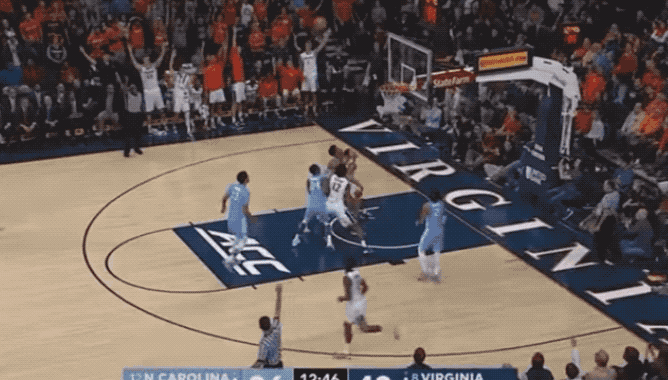 Hunter's face-up game is outstanding and if he continues to add to his range (3.3 3PA per 40 minutes, 38.7 3P%), the Philly product will beat closeouts and dominate at the rim. According to Synergy, Hunter scored 1.27 points per possession (60.3 FG%) on finishes at the hoop. If he can't get all of the way to the rim, Hunter has some nice shot creation, too (45.2 FG% on dribble jumpers).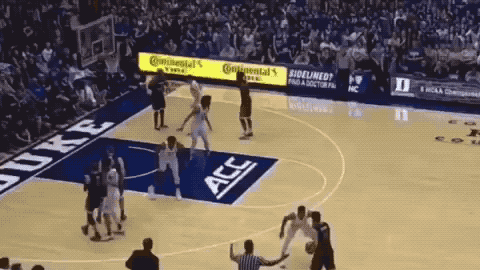 Kyle Guy, Virginia
When it comes to spot-up proficiency and off-ball gravity, Guy is the ACC's kingpin. Guy knows how to set up his defenders and use screens — a mixture of natural talent and film watching, he told me at Operation Basketball. Watch Guy fake like he's going to set a pindown screen for Ty Jerome, before racing through the strong-side elevator door screen.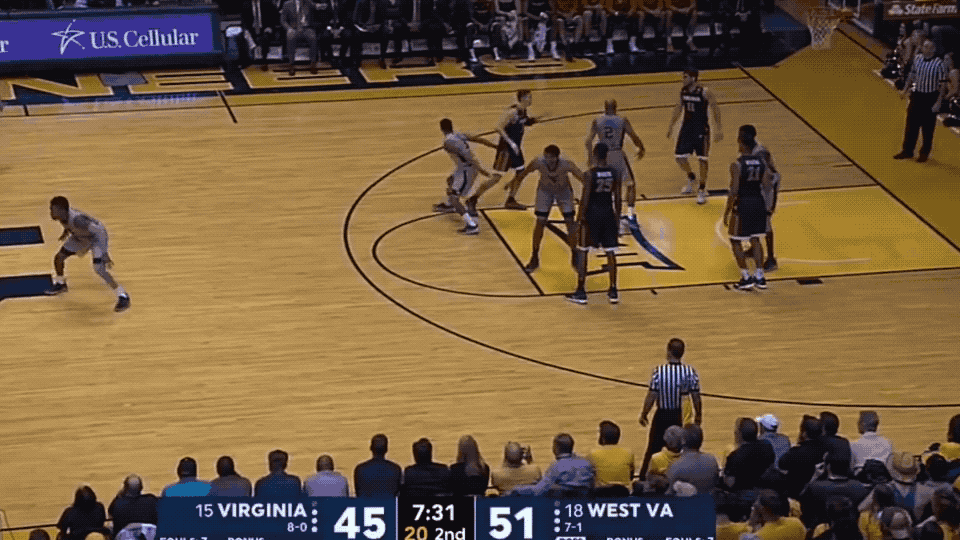 Nearly 50 percent of Guy's career field goal attempts have come beyond the arc; he knows his strengths. According to Synergy, Guy shot 44.8 percent (56.1 eFG%) and scored 1.08 points per possession coming off of screens in the 2017-18 season. The 194 points he scored on off-screen possessions ranked fourth nationally, per Synergy.
In terms of catch-and-shoot attempts in the half-court, Guy was special: 92-of-227 (40.5 FG%), 1.14 points per possession (56.8 eFG%). He recorded more catch-and-shoot field goal attempts (227) and points (258) than anyone in the ACC last season.
Here's an after-timeout look to get a bucket before halftime against Louisville. UVA fakes like they want to post Hunter; meanwhile, Guy rockets off a pindown from Isaiah Wilkins. Louisville switches and contests pretty well, but Guy's release is super quick.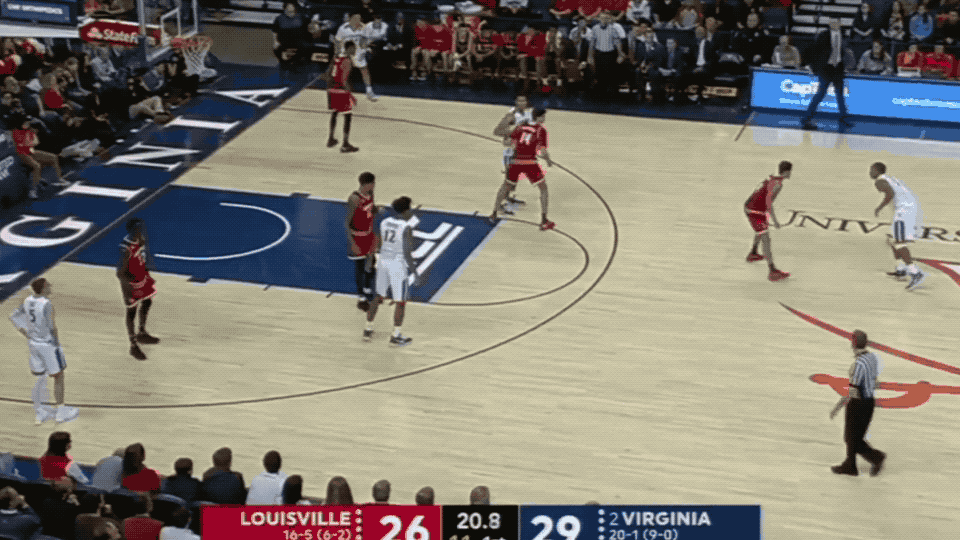 Guy is an excellent offensive player — a critical spacing element to Virginia's mover-blocker offense. However, this season it will be worth monitoring the number of trips he takes to the free throw line (1.9 FTA per 40 minutes). That's the next step for the junior sharpshooter.
Justin Robinson, Virginia Tech
When it comes to guard play, the ACC is absolutely loaded. At the point guard position, Robinson — among returning players — is the gold standard, though. The senior guard is a truly special offensive player; he basically does everything well.
Robinson is a high-usage (24 percent usage rate) and efficient scorer (59.2 percent true shooting). However, he's best known for his ability to create for others and pull the strings for one of the best offenses in the nation. Robinson assisted on 33 percent of his teammates' field goals while on the floor last season (10.4 per 100 possession) — a top 50 number in Division I.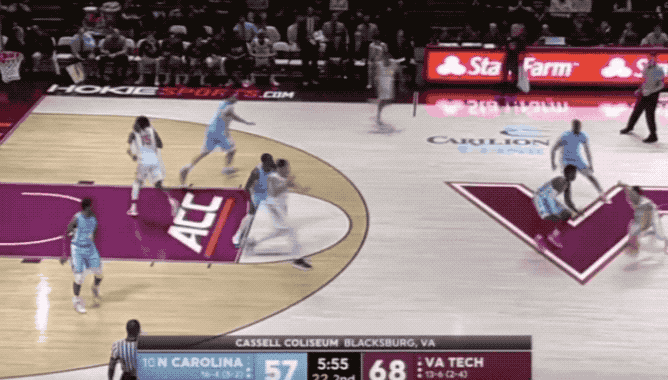 According to Synergy, Virginia Tech, which dots the arc with an army of shooters, scored 1.18 points per possession (62.4 eFG%) when Robinson passed out of the pick-and-roll last season — No. 5 nationally (minimum of 200 possessions). This is a next level move — splits the double team, sucks the defense in and finds Nickeil Alexander-Walker for the triple.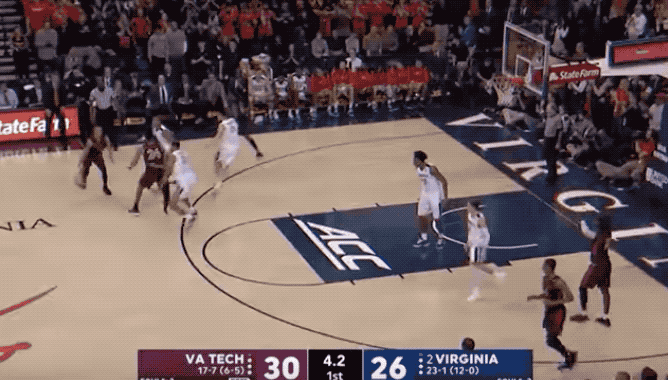 Robinson can get his own, too, though, and he can get it done from multiple levels. As a junior, he shot 50.8 percent on two-point field goal attempts (52.3 FG% at the rim) and averaged 5.6 free throw attempts per 40 minutes. He's a pro at splitting traps.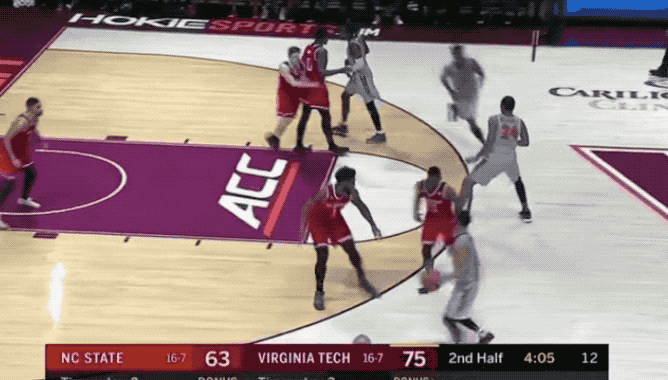 He's also an excellent spot-up player. Robinson scored 1.22 points per possession (61 eFG%) on catch-and-shoot looks last season, according to Synergy.
TJ Gibbs, Notre Dame
One of the best attacking guards in the country is back in South Bend for Notre Dame: Gibbs is a force on offense. Gibbs lets it fly from deep (40.3 3P%, 9 3PA per 100 possessions) and gets to the line plenty, too (6.9 FTA per 100 possessions, 83.8 FT%).
Gibbs was a beast on spot-up attempts during the 2017-18 season; as a sophomore, Gibbs scored 228 points on 194 spot-up possessions — 1.18 points per possession, No. 1 in the ACC (minimum of 100 possessions).
He's a little limited outside of the shooting abilities, but Gibbs did post an assist rate of 15.2 percent. The avoidance of turnovers is a key principle of Notre Dame's invariably efficient offense, and Gibbs recorded a turnover rate just under 10 percent, which is good.
The kicker for Gibbs this season will be how he functions as the fulcrum of Mike Brey's offense. Bonzie Colson and Matt Farrell are gone; more will be expected of Gibbs. He shot 34 percent on off-dribble jumpers last season, per Synergy. But he will be expected to improve that number — both in terms of volume and efficiency.
Read More on ACC Basketball
Trent Forrest on FSU's Elite Eight run: "That was a big step for me"