Cameron Johnson scored 21 points in North Carolina's 87-79 win over Clemson — three off tying a career high. He will get the headlines, and deservingly so; however, a lot of good offense went into UNC's victory.
One of the first tenants a youth basketball coach will teach his or her players is a really simple lesson in physics, too: the ball moves faster than the players on the floor. You want to reliably break apart an opposing defense? Well, your passes better better be crisp.
In Tuesday's win over No. 20 Clemson, North Carolina basketball took that lesson to heart. UNC assisted on 23 of the team's 26 field goal, which translates to an assist rate of 88.5 percent. That's the highest assist rate the Tar Heels have had in a game this season. The last time North Carolina assisted on over 88 percent of its made field goals was back during the 2012-13 season.
Six different Tar Heels recorded at least two assists in the victory, led by Theo Pinson — who assisted on 33 percent of his teammates' made field goals while on the floor.
North Carolina filled up the box score in a variety of ways, though — some of which were the direct result of some confusing defense from the Tigers. Let's take a look at three different ways UNC got the job done.
Double Trouble
Clemson's defense, especially in the first half, tried to double team North Carolina players in the half-court. UNC had 14 turnovers in this game, but the Heels handled the doubles with ease; on multiple occasions, it led directly to a made basket, too.
Theo Pinson enters the ball to Luke Maye in the baseline post, which causes Elijah Thomas to come over and double. Maye is a low-turnover player (11.8 percent turnover rate) and a good passer; he doesn't panic. Pinson sets a flare screen for Cameron Johnson — now Maye has an outlet.
Johnson immediately pings the ball to a cutting Pinson for some nifty give-and-go action and a hockey assist for Maye. Notice: Thomas never recovers from the double team; he's out of the play, entirely.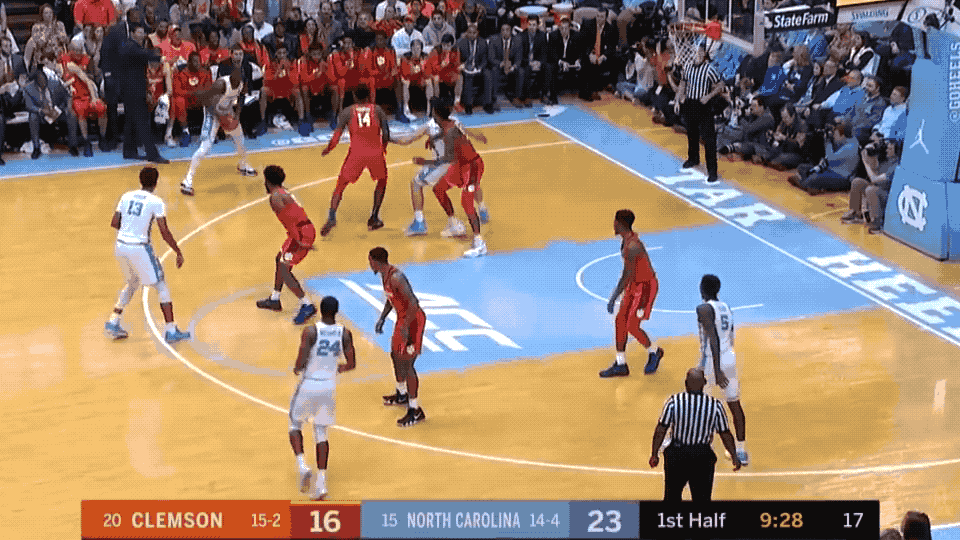 Don't hedge your bets
Next we have some more excellent passing and cutting from the Heels as a counter to some more ineffective defense from the Tigers.
Cameron Johnson and Luke Maye run a generic side pick-and-roll early in the first half. Maye's defender, Donte Grantham, hedges hard on Johnson, dribbling to his left. I know Johnson is a dangerous shooter, but he's 30-plus feet away from the basket; there's no need to hedge like this. The defense is no completely bent out of shape.
Shelton Mitchell, who had a monster second half, doesn't switch to Maye, either. He stays with Johnson, so no there's a big problem. Maye, one of the nation's best players, is wide open along the right flank. Clemson is using five defenders to guard four players.
With Joel Berry and Kenny Williams spaced to the weak-side, two potential help defenders have been removed from the play, too.
Maye rolls uncontested to the basket, and Grantham — who is way out of the play — can't recover in time to stop an easy dunk. Once again, UNC uses an extra pass to create this bucket. Johnson gets the hockey assist after dishing to Pinson, who gets one of his six assists with a diagonal pass to a cutting Maye.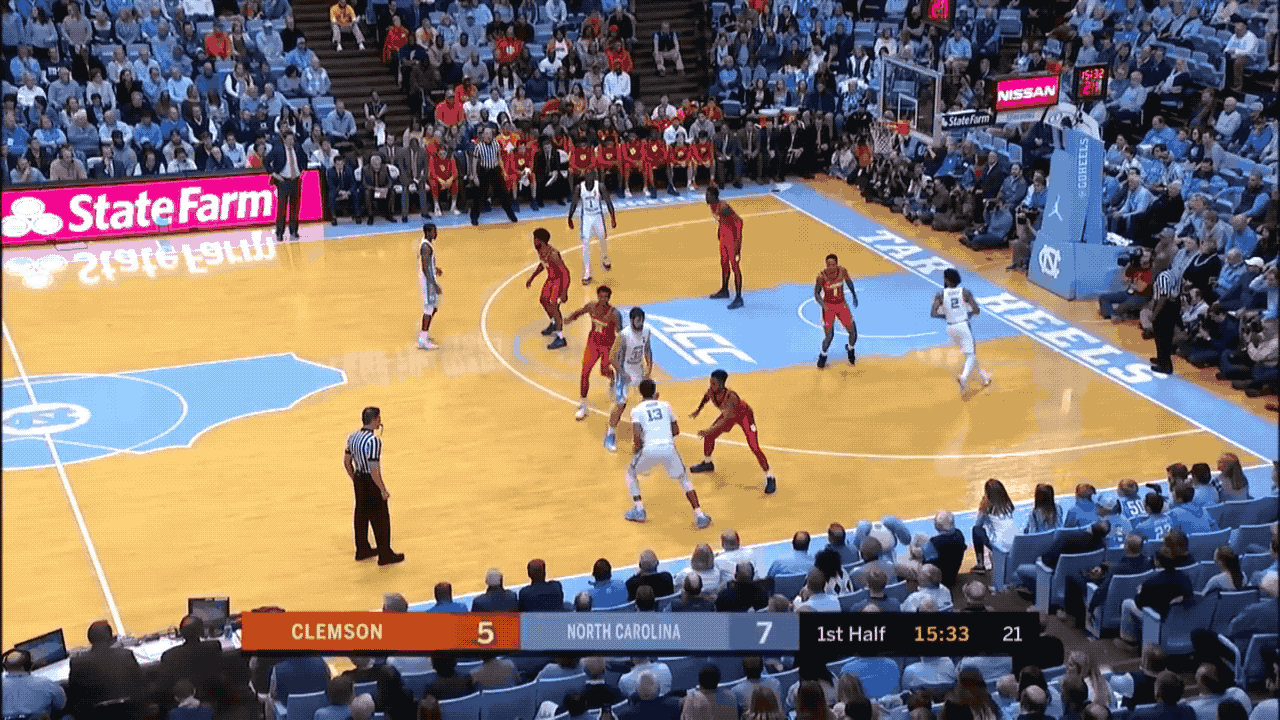 According to Synergy Sports, Maye is shooting 64.9 percent on cuts this season, and scoring 1.35 points per possession.
This happened again, later in the first half. Joel Berry and Sterling Manley run a pick-and-roll, and Mark Donnal, who is Manley's defender, hedges hard — 25 feet from the basket. Once more, Clemson is forced to defend 3-on-4, and UNC smokes them with an extra pass.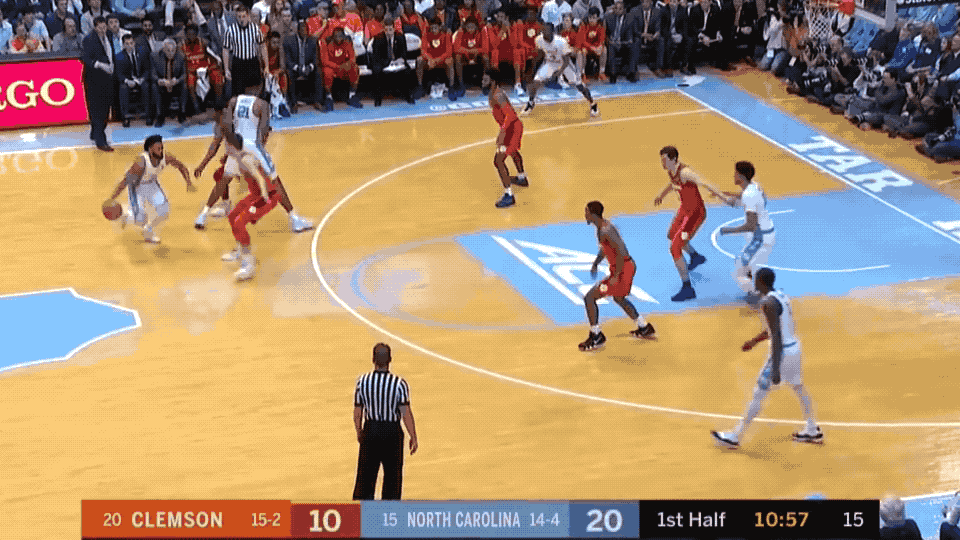 Skip to My Lou
North Carolina did an excellent job reversing the ball over the top with skip passes and flare screens. On this play, Theo Pinson sets up the dangerous Kenny Williams for a 3-ball. However, make sure to keep an eye on the location of Clemson's defenders when this happens — they are all on the strong-side of the floor. The defense is unbalanced, and UNC takes advantage.
Pinson notices this and throws Williams open, like a quarterback leading a receiver to a vacant spot on the field. Cameron Johnson does a nice job with a little flare screen on Gabe DeVoe.
DeVoe scrambles to prevent and open catch-and-shoot for Williams; however, the junior wing takes advantage of that panic: shoulder fake, reverse dribble and splash.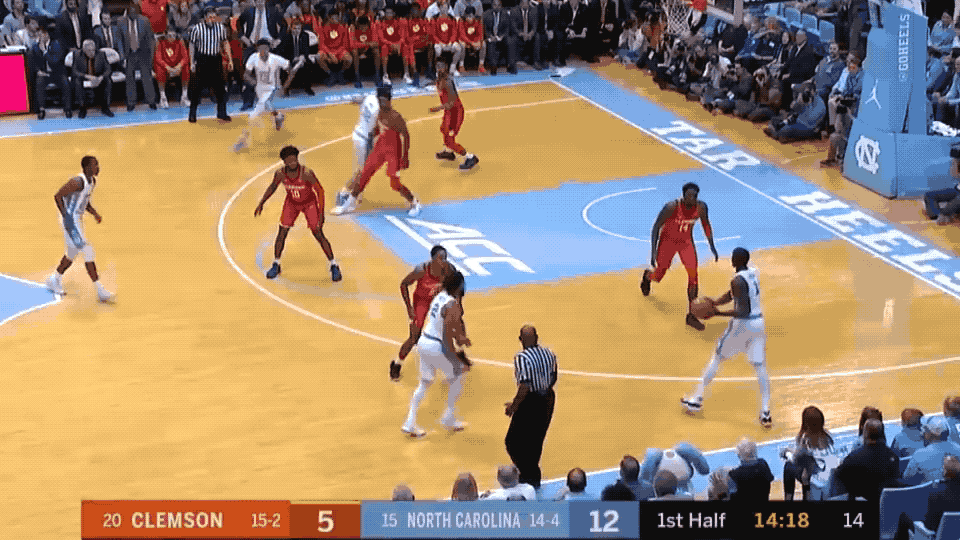 Williams, according to Synergy, scores 1.27 points per spot-up possession (65.2 effective field goal percentage). That ranks sixth in the ACC amongst players with at least 30 possessions.
Late in the half, Luke Maye does the same thing with Brandon Robinson. Maye goes over the top — throwing Robinson into open space. Clemson is positioned better this time, but Robinson immediately heads to the corner and hits Williams with a little dribble handoff action. The result: another open three-point attempt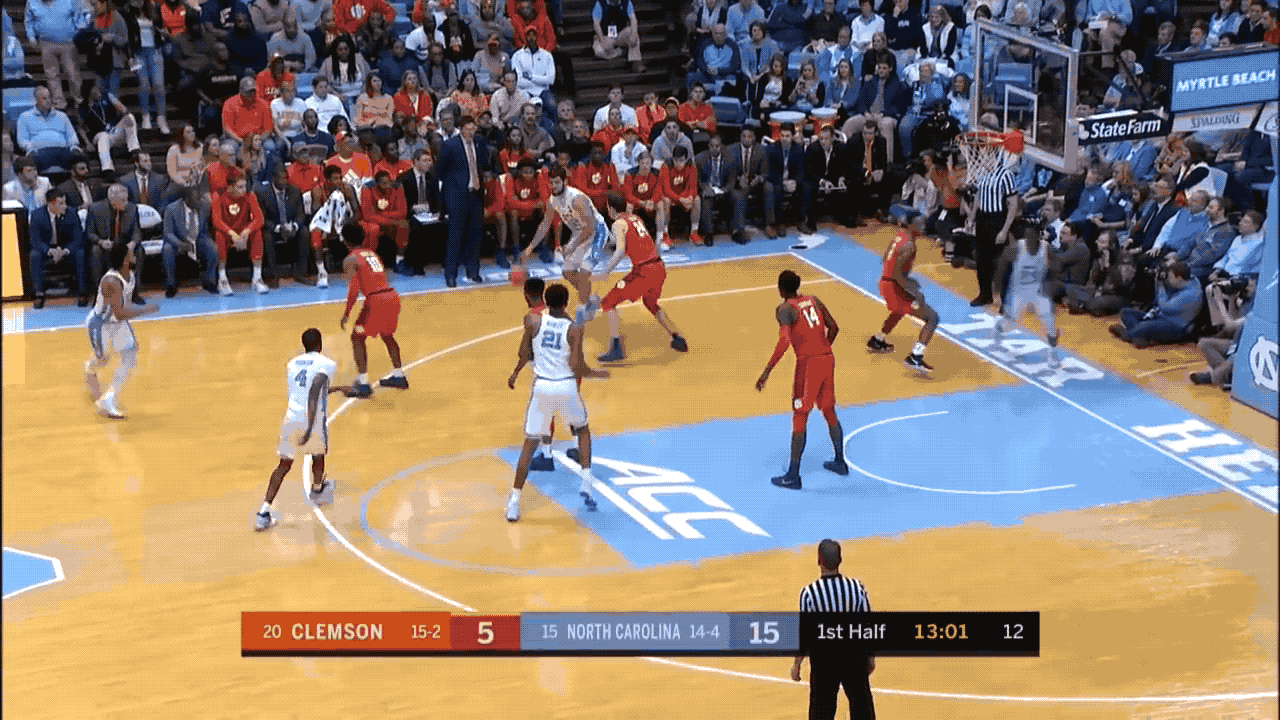 There's a miss, but that's a result Clemson really can't live with, especially if they are overplaying on defense. Williams is shooting 42.4 percent (63.6 effective field goal rate) on catch-and-shoots, per Synergy.
Read More