North Carolina's offense looks different this year. Yes, the Tar Heels are still one of the best offensive rebounding teams in the nation. That remains. However, UNC is embracing its skill and shooting in a way that we haven't really seen since the Reggie Bullock and P.J. Hairston-led team of 2012-13.
On offense, the Tar Heels have attempted 1,224 field goals this season — 408 of those have been three-point attempts. This means that 33.3 percent of UNC's attempts have come from beyond the arc; that's the highest three-point attempt rate a North Carolina team has posted since 2002-03 — the first season for Roy Williams as head coach at UNC.
The Heels can do this in part because of Luke Maye, who offers range shooting (48.2 3P%) from an unnatural position. If your center/power forward can shoot threes at an efficient clip, everything opens up on offense.
A Flare for the Dramatics
In Tuesday's win over No. 20 Clemson, UNC put on a passing display, which helped result in 15 three-pointers for the Tar Heels. One of those triples caught my eye, too.
Late in the second half, with UNC clinging to a three-point lead, Roy Williams had his team run a quick-hitter designed to get Luke Maye an open look at the basket.
With three UNC players dropped below the free throw line, Luke Maye sets a ball screen for Joel Berry on Marcquise Reed. Instead of rolling, though, Maye pops out to the right. Here's where North Carolina gets a little creative.
Kenny Williams, another dangerous three-point shooter, lifts up and sets a flare screen on Maye's defender — Donte Grantham. This buys Maye enough time to catch and lift for clean shot.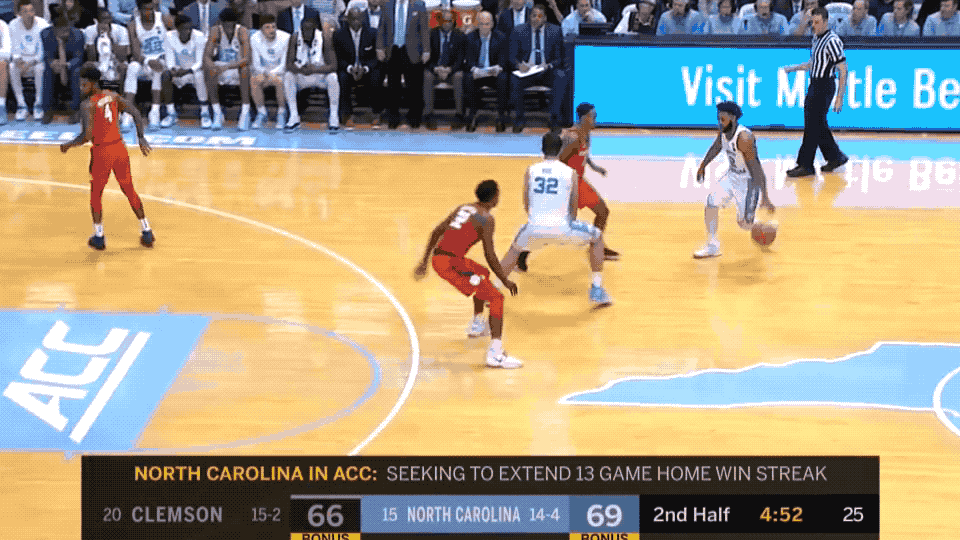 Take note of how much time is on the shot clock when Maye releases the ball — it's about 22 seconds. UNC flows right into this action; Clemson doesn't have time to diagnose what's happening. This is quick efficient offense out of an action that plenty of NBA teams love to run. Watch the Oklahoma City Thunder play, and they will run similar stuff to get Carmelo Anthony pick-and-pop looks in tandem with Russell Westbrook.
Even if Clemson decides to switch on this play, fine. Maye can lift above the smaller defender for the same shot, or take the opposing guard down low for a high-percentage look in the paint.
This is something that UNC could never run for Kennedy Meeks or Isaiah Hicks. This is incredibly tough to defend; most college big men are used to running around flare screens 22 feet from the rim. It's a key differentiation point for the Heels on offense, and it's something that should be at the top of North Carolina's playbook all season.
According to Synergy Sports: Maye is 26-of-55 on catch-and-shoot attempts this season — with an effective field goal rate of 70 percent. That ranks fifth in the ACC amongst players with at least 30 attempts.
Read More
Pass the Buck: Cameron Johnson, UNC keep Clemson's defense on skates