Duke basketball opened up its Canadian exhibition tour this week with an 86-67 win over Ryerson. While two parts of Duke's star-studded rookie class are on the shelf with injuries — Tre Jones and Cameron Reddish — it was still the first time a lot of us got to see Zion Williamson and RJ Barrett on the floor together. The duo didn't disappoint, either, especially Williamson.
A 6-foot-7, 285-pound dunking robot, Williamson, 18, was all over the floor, making plays on both ends, and flashing a skill set that far exceeds some of the man-child concerns. Williamson looked plenty athletic in the exhibition opener, no surprise, including a ridiculous put-back slam in the second quarter; however, it's what he did in tandem with his powerful bounce that should have college hoops and NBA junkies salivating.
Here is your first of many Zion Williamson tip-dunks at Duke. He's already got 21 points, and he's 3-of-4 on threes pic.twitter.com/qt6ej8QqAq

— Ricky O'Donnell (@SBN_Ricky) August 15, 2018
I fully understand that it's just the middle of August, and this display came against — as a buddy of mine described it — a 15-seed. That said, it's still really impressive; the physical gifts are clearly there, along with a package of skills that makes for a unique basketball player.
Glassified Information
Let's stay here and look at the rebounding performance from Zion Williamson, who finished with 13 boards in 33 minutes, including seven on the offensive glass. Williamson may not match the length and rapid-fire second jump of Marvin Bagley, but he absolutely explodes off the floor, locates the ball at its apex, and powers through opponents to proclaim the ball as his.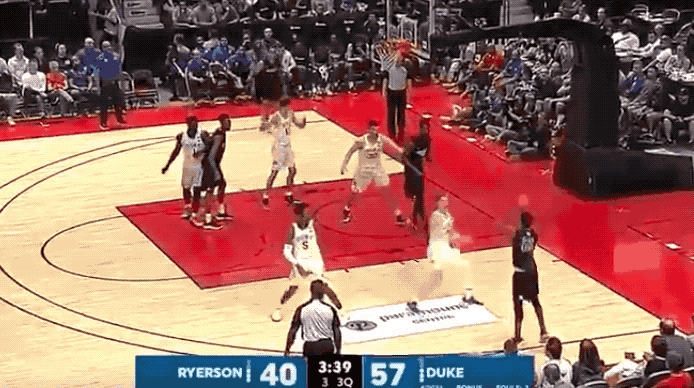 There's a world of possibilities for Zion on the defensive side of the floor. How many positions can he guard? Will he switch and closeout with sound footwork? In terms of basketball IQ, where does he grade out?
(Also: If there is anything to nitpick on with Williamson vs. Ryerson, it was his timing, body positioning on several closeouts. I did like, however, that Duke used him as a switch partner with multiple teammates on defense.)
Over the next 10 months, leading into the 2019 draft, we will have plenty of time to kick around those thoughts. What jumped out, though: his ability to defensive rebound, and then push the pace.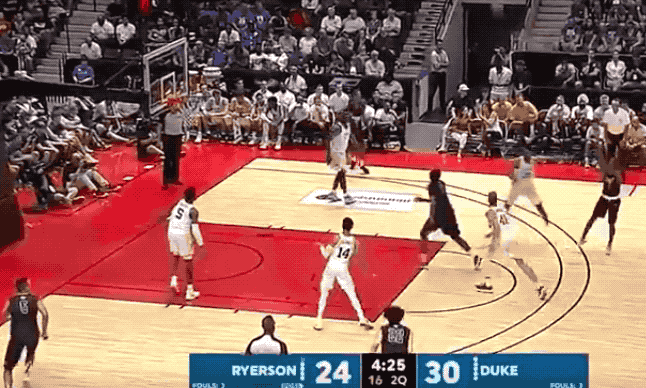 When Duke goes small, and plays Zion at the 5, this type of stuff will be borderline unstoppable.
As polished as Wendell Carter Jr. was at Duke, even this type of skill was slightly beyond his scope. This will absolutely be a boon for whatever roster Williamson is a part of in the future; his ability to shift directly from half-court defense to transition offense looks legit. Williamson doesn't need to outlet the ball to a teammate; instead he just grabs and goes. Instant offense, before the defense has a shot to get set.
On the offensive end, Williamson did more than just get his own on the glass. He used some of those rebounds as a way to set teammates up for easy buckets. This tip-pass to Javin DeLaurier is brainy, intuitive and unselfish basketball from Zion — right at the end of the quarter.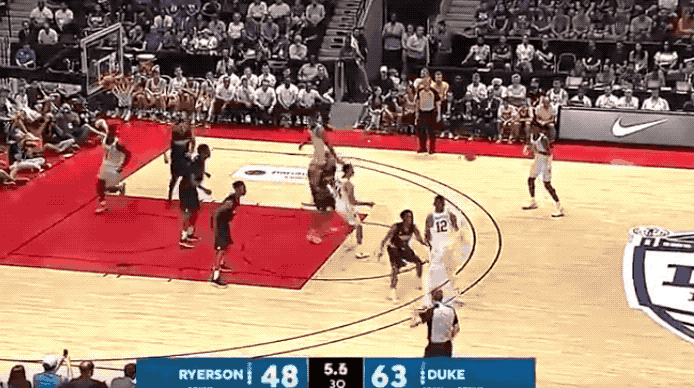 A Passing Suprise
Perhaps, as basketball fans, we've become a little spoiled with LeBron James. It's not just the winning and individual brilliance and the elegance on and off the court. Watch the man play a full basketball game; you will be struck by his absurd combination of power, vision and grace. It's almost comical to think: the best passer in the history of the game is the size of a modern day NFL defensive end — but, like, only taller.
LeBron's essentially Julius Peppers out there on floor, but when he's not busy bulldozing opponents, he's perfectly happy to shred defenses with perfect pocket passes, cross-court lasers right into the shooting pocket of his teammates and no-look dimes to cutters.
I'm in no way trying to draw a serious LeBron-Zion comparison; that's a fool's game. Williamson did, however, have several excellent passes in the opener — at least a half-dozen from my recollection. He dished out four assists — to no turnovers — but some of his best looks came on cross-court zips to Jack White.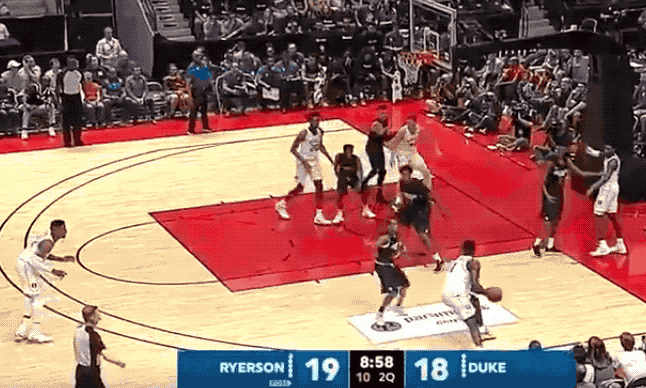 That rebound and stick-back are absurdly impressive, too, but let's focus more on the look. This is just remarkable vision from Williamson, who spins, avoids the travel, and hits White in the weak-side corner, while on the move.
From Duke's perspective: this is excellent — it gets them into their offense and the ball moving side-to-side without having to really run anything. White can either shoot, or he can keep the ball moving to the wing. In which case, good chance he's moving the ball to Barrett or Reddish, who can smoke a closeout.
This one's kind of interesting …

Duke had 11 assists last night. Those baskets broke down like this:

3's: 9
Mid range: 1
Dunk: 1

Of the 9 assisted 3's, 3 of them were from Jack White making an extra pass and 4 were from Zion kickouts.

Jack White's gonna play.

— Ben Swain (@TheBenSwain) August 16, 2018
This type of vision and unselfish play from Williamson should make him an absolute menace in transition. He has the ability to grab a rebound, push the ball on his own dribble and look for shooters. I'd advise defenders to not get in the way.
Reading the future: One-on-one attack
A few times before in this space we've discussed the future of offensive basketball. With teams becoming more and more like-sized and switchy on defense, offenses have to evolve, too. (Note: Make sure to check out the excellent research behind that last link from Dimitrije Curcic over at RunRepeat.) Teams can't just dot the floor with a handful of shooters and expect efficient results. They must be able to get north-south, punish mismatches and counter switches. Again, Zion Williamson makes a lot of sense in this paradigm.
Let Zion eat pic.twitter.com/TtsS4N83WE

— Ricky O'Donnell (@SBN_Ricky) August 16, 2018
While playing on the weak-side of the floor, and staying in the flow of an offense, Williamson has a nice first step. It's quick and powerful, and he can use it to artfully move past — or right through — defenders. That's going to be tough for any back-line defender to corral.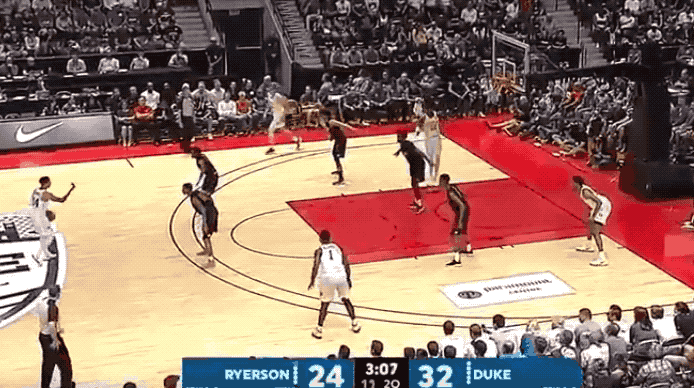 At Duke and beyond, Williamson will play off the ball plenty, especially as that three-pointer of his evolves. He will have to become a useful second-side player — someone who can attack a bent defense.
I wouldn't describe Williamson's handle as crisp, but he's certainly comfortable putting the ball on the floor, and playing with his back to the basket. Once he gets a step, or around a defender, he's gone. And with his combination of power and bounce at the rim, he can play alone in certain spaces above or at the rim.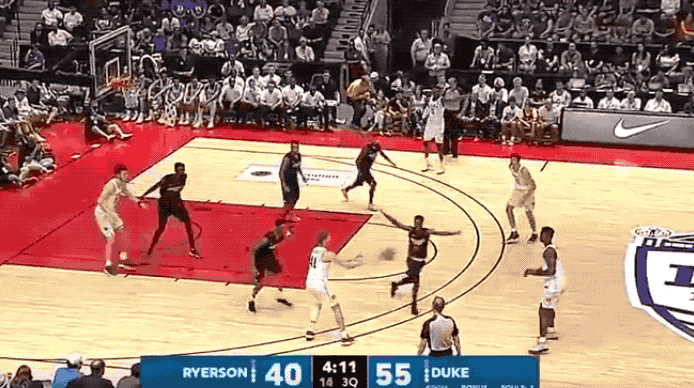 Both sides of the fence
Duke rarely features straight up 1-5 pick-and-roll in its motion offense. Last season, only 2.2 percent of Duke's offensive possessions were finished by pick-and-roll roll men (14th in the ACC), per Synergy Sports: 1.27 points per possession (68.2 eFG%). That's a massive scoring number, but it was still Duke's least used possession type, according to Synergy.
It's worth noting that last season's team had some spacing issues, but Duke still rarely went straight up screen-roll despite having two excellent roll players: Bagley and Carter. (It was a bigger function when Bagley sat with an injury and Carter got to play as the lone primary big — think back to the Louisville game.)
I'd love to see Zion's ability to run both sides of this type of action, like Giannis Antetokounmpo or Ben Simmons; could he have the feel to play-make with the ball in his hands and a screen atop the key? The short roll, dive, cut, and finish — as the screener — seems like a natural fit already. We'll most likely have to wait until he gets on the next level to see that in action, though.
Duke, however, does run its fair share of weaving handoff action — in the mid-post and outside the arc. It'll be fascinating to watch Williamson function on both ends of this play type. He could handoff, set a Hulk-sized screen, and then roll with force to the hoop. Or could be the one receiving the handoff — looking to score off the bounce, with a full-head of steam, or find a teammate for a slack-and-kick three-ball.
Transition: Offense & Defense
Whether Williamson is the one leading the break with his own dribble, or filling an outside lane, he's going to be a monster in transition. I hesitate to sound like a broken record, but: contending above the rim with this guy is going to be an absolute cross to bear.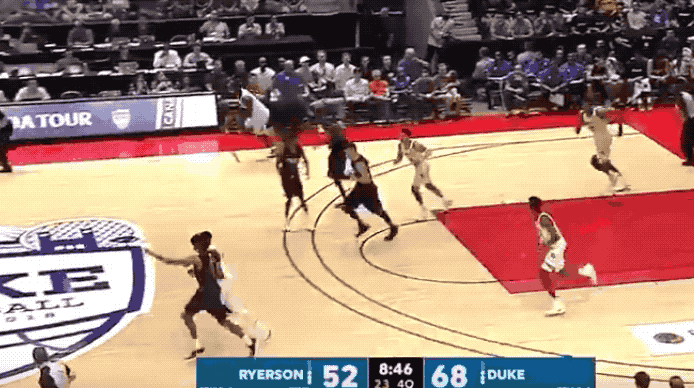 This is where Williamson sort of breaks the player mold, again; there are just so few players with his size/athleticism to compare him with. Squint hard and perhaps you see LeBron or Charles Barkley or Draymond Green. Those are all rough facsimiles; we need to watch this guy play more. That said, he may have that LeBron-like ability to turn transition possessions into automatic points.
For years now, when LeBron gets the ball going downhill on the break, it's a wrap for defenders. Like, he's just too big and too strong and too skilled to stop. He goes over or around helpless defenders; it's overwhelming.
It was just one exhibition game in the middle of August, but Williamson gives off some of that feel, too. At a certain point, he's going to score 80-plus percent of the time.
On the other side of the floor, Williamson also had several impressive chasedown block attempts, including one that was negated because of a goal-tend. He finished the game with two steals and two block — one on a closeout, and the other a nice stop in transition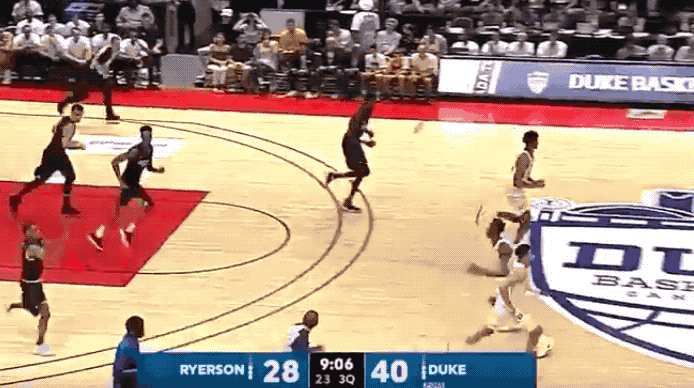 The Ryerson player tries to go reverse, but Williamson is patient, and waits to pin the shot on the other side of the glass.
Read More on Zion Williamson
Could the ACC have 4 of the top 5 picks in the 2019 NBA Draft?