Even before he suits up for Duke basketball, freshman wing RJ Barrett will be more advanced than 99.9 percent of his peers. It's not just his game — where he is as a player — which is impressive; but it's also what he's been up to this summer.
Barrett, the No. 1 player in the 2018 class, is in Durham now for summer school; prior to that, though, he was back home in Canada, suiting up for Team Canada in FIBA World Cup qualifiers. And before that, he was in California working out with super-trainer Drew Hanlen. (5-star teammate Cameron Reddish worked out with Hanlen, too.)
With the season only a few months away, what does the ACC have to get ready for with RJ Barrett? Let's take a look.
Why is he different?
Over the last decade (and really the last five years), Duke has seen it's fair share of one-and-done prodigies come through town. Kyrie Irving, Austin Rivers, Jabari Parker, Justise Winslow, Tyus Jones, Jahlil Okafor, Brandon Ingram, Jayson Tatum, Harry Giles, Marvin Bagley, Wendell Carter — to name more than a few.
Some of those guys have already, and quickly, morphed into terrific NBA players. Irving is a five-time All-Star, and an NBA champion; Tatum is the league's Next Big Thing, and looks bound for Springfield; Ingram is ready to play sidekick for LeBron Freaking James this season; and Carter is setting people on fire in Vegas right now.
However, it's worth a wager to say that Duke hasn't quite had a player like RJ Barrett stroll through the doors of Cameron just yet.
A prominent archetype of Duke's prolific one-and-done run has been the stretch/small-ball 4. Parker, Winslow, Ingram and Tatum could all be pushed into this positional box. In this time period, the Blue Devils have had plenty of jet-quick guards, too: Irving, Jones, Frank Jackson and Trevon Duval. No one in this group stands above 6-foot-3, though.
Barrett, at 6-foot-6, offers up something unique: a big guard/wing that can handle, get his own shot and set-up his teammates.
Team Canada: A Leaning Experience
For years now, Canada has been on the rise as a basketball nation. The 2017-18 season began with a dozen Canadians on NBA rosters, including some really good players: Jamal Murray, Andrew Wiggins and Kelly Olynyk. More are on the way, too; the No. 11 pick in the 2018 NBA Draft, Kentucky's Shai Gilgeous-Alexander, is also Canadian.
(Currently, Canada sits 23rd in FIBA's rankings; however, an ascent is on the horizon.)
In two World Cup qualifiers for Canada this summer — wins over the Dominican Republic and the Virgin Islands — Barrett starred next to a roster of NBA talent; this isn't a junior circuit tournament. In 45 total minutes of action, Barrett averaged 13.5 points on 50 percent shooting (all nine field goals inside the paint) and two assists per game. Canada was +32 with Barrett on the court.
With Murray and Wiggins sitting out, Barrett started alongside Olynyk, Dillon Brooks, Dwight Powell and Cory Joseph — who combined to play 319 games and over 8,000 minutes in the NBA this season.
(Also from the ACC: We've seen Louisville's Jordan Nwora gain valuable experience, too, while getting buckets for the Nigerian national team this summer.)
This all comes a year (July 2017) after Barrett led the Canadian U19 team to a 12-point victory over John Calipari and Team USA in Egypt. And in April of this year, Barrett piloted a victory for the World Select Team over the USA Junior National Team at the Nike Hoops Summit in Portland. He's unafraid of the best competition — period. (Word out of Durham says this trend has continued during his brief time at Duke.)
Attack Game
With a wing-heavy roster for the 2018-19 season, Duke should be able to play four-out basketball once more. When Zion Williamson slides to the 5 — which should absolutely happen at times — the Blue Devils can go five-out. This should mean plenty of driving lines to the hoop.
Barrett will likely lead the Blue Devils in usage rate next season; eventually, the hope would be for him to turn into a ball-dominant scorer in the NBA. However, he will play off the ball plenty next season, too — next to Tre Jones. This could turn him into the ACC's top closeout-beater. (Apologies to De'Andre Hunter — sorry, Dre.)

Behind the combined powers of Wendell Carter and Marvin Bagley, Duke was one of the top teams in the nation in terms of cut points. The Blue Devils scored 1.31 points per possession (67.4 FG%) on cuts last season, per Synergy Sports — No. 18 in the nation.
Again, Barrett will have the ball in his hands a ton next season — however, he's already shown flashes of being a dynamic cutter. This dude plays and runs hard, and he cuts with gusto and a purpose.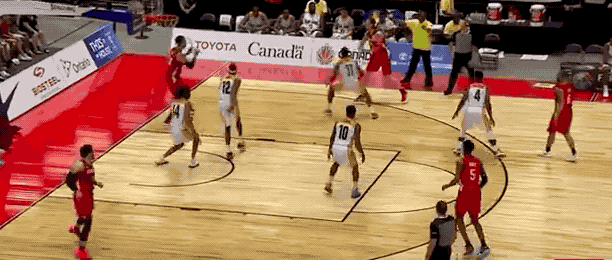 With Jones, Williamson and Cameron Reddish drawing gravity, these types of channels could be omnipresent — especially if Joey Baker and Alex O'Connell can help loosen defenses with their range shooting.
This type of action is enouraging to see as well: Barrett using off-ball screens. On this possession, Canada inverts its offense with Olynyk spacing out, and a flex screen to get Barrett a touch on the block. When that isn't there, Olynyk reverses the ball, and sets a pindown for Barrett, who curls with a purpose into the lane — something Duke's run for Luke Kennard and Grayson Allen plenty of the last few years.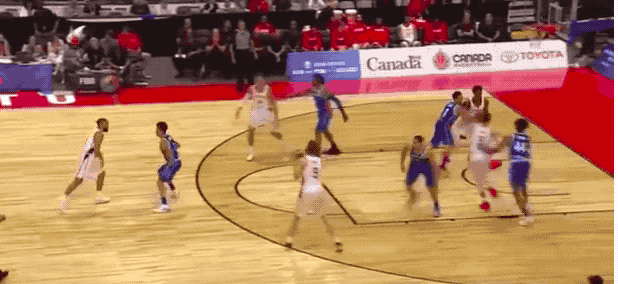 Over the top
Ben Simmons brought home the 2018 NBA Rookie of the Year award in large part because he's a special passer — much to the chagrin of some Adidas copywriters. Simmons, a 6-foot-10 passing hub, can see over the top of defenders, and flip nifty passes to cutters or dudes spotting up. Every point on the floor becomes a space to run offense through.
RJ Barrett isn't that — he's not a near-7-foot passing-bot. (In fact, most people aren't built like that!) And I don't want to draw any notable link between the two; they are different players. Barrett, however, is a big guard. The geometry will change in the NBA, but it's hard to imagine too many college defenders bothering his airspace as he looks for teammates.

At this point, Duke doesn't run the most complicated offense — it's a lot of simple motion action designed to get their awesome players the ball in advantageous spots. For Barrett to reach his potential as the offensive fulcrum while at Duke, this type of passing is key.
This is what I mean when I say Duke has yet to have a player with his skill set — a bigger guard that can make plays for others.
Never Lost In Transition
Duke has ranked inside the top 10 nationally in adjusted offensive efficiency for 10 straight seasons, according to KenPom. It would be rather unwise to expect that streak to snap in 2018-19, too.
The 2017-18 Blue Devils were a force in transition: 1.13 points per possession (65 eFG%), according to Synergy. Gary Trent (1.42 points per possession) was a boss; Bagley and Carter got up-and-down the floor with ease for dunk; Allen led the ACC with 155 transition points. While he struggled with his shot, Trevon Duval put some of his best work together on the break — playing with pace and looking for hit-ahead passes.
With Barrett, Jones, Reddish and Williamson in the fold — plus O'Connell (1.36 points per possession) — Duke could raise that bar this season. Barrett wants to work back to his left hand, but he's an absolute dynamo in transition. This Eurostep isn't too shabby, either.

From the win over the Dominican Republic: Barrett fights hard over the handoff, trails the play, blocks the shot, which ignites a one-man fast-break. (Barrett gambles a good bit on defense — looking to get steals or blocks.). There's no question: he can play above the rim.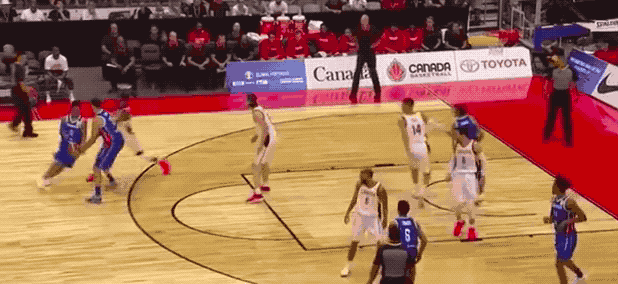 What's even more exciting than that, though: his ability to find teammates on the fly — with some pizazz — or out of secondary actions. This behind-the-back dime to Olynyk certain turned some heads two weeks ago in Ottawa.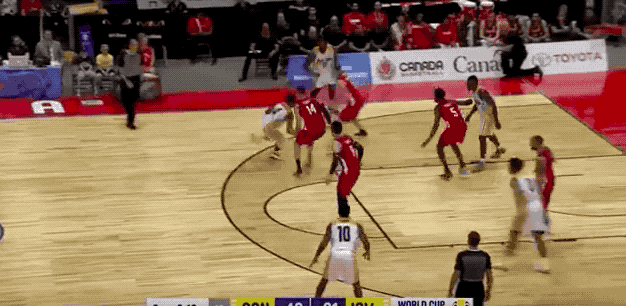 On defense, Barrett likes to hang in and snag rebounds, which can be used to trigger secondary breaks; he can grab-and-go like a pro already. With the Virgin Islands defense set, Barrett gets into a quick-hitter — using a drag screen from Olynyk for a little pick-and-pop action. Get used to seeing this.

Hangin' with Hanlen
More good news for Duke fans, and fans of those NBA teams that will tank next season in hopes of landing a top-three pick: Barrett was in California this summer working out again with Drew Hanlen.
Hanlen, who played four seasons of college ball at Belmont, has become the go-to workout guru for NBA stars, and draft hopefuls. His client list for this summer alone included Jayson Tatum, Joel Embiid, Mo Bamba — and basically too many others to name.
Well, Barrett was there, too, for parts of these summer workouts. (Prior to the draft, Syracuse's Tyus Battle worked out with Hanlen as well, before deciding to return to school.) This wasn't the first time Barrett has trained with Hanlen, though. Last summer he spent time with Hanlen in Vegas.
After these experiences, it's hard to think of too many — if any — college players more advanced in terms of their skill development. This is a tremendous boon for Barrett and Duke. There's a reason why Duke is one of the favorites to get back to the Final Four in 2019.
Read More
Freshman high-riser Zion Williamson sets vertical leap record at Duke — why that could matter