When it comes to offensive talent, few players in the ACC are better than Kyle Guy. It's something we've talked about in this space many times: Guy is an outstanding shooter, utilizer of screens and gravity-bender on offense. Within the confines of the league right now, he's unparalleled as an off-ball force.
However, is there a chance if Guy reoriented parts of his offensive game, that it would make Virginia a more dynamic team and postseason contender?
In a class of his own: Kyle Guy
First, let's start with the good; the numbers more than reflect Guy's off-ball efficiency. As a sophomore, Guy shot 44.8 percent (56.1 eFG%) and scored 1.08 points per possession coming off of screens, per Synergy Sports. The 194 points he scored an off-screen possessions ranked fourth nationally, according to Synergy.
In terms of catch-and-shoot attempts in the half-court, Guy was prolific: 92-of-227 (40.5 FG%), 1.14 points per possession (56.8 eFG%). He recorded more catch-and-shoot field goal attempts (227) and points (258) than anyone in the ACC last season.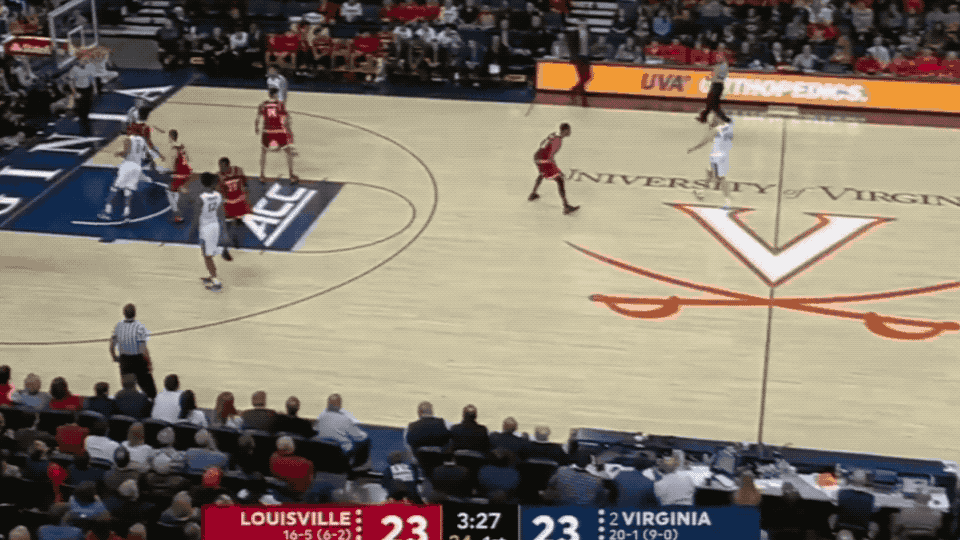 Within Synergy's database (dates back to the 2005-06 season), Guy's 258 points are the most in a single season for raw catch-and-shoot scoring in the ACC. In total, only 20 players have eclipsed the 200-point mark on catch-and-shoot attempts in the half-court. (Andrew White in 2016-17 and Scott Wood in 2012-13 are tied for second: 249 points.)
Guy loves to let it fly from deep, as he should: 212 attempts from beyond the arc (12.7 3PA per 100 possessions) in 2017-18.
All of this makes him the perfect fit for Virginia's mover-blocker offense, which emphasizes range shooting, spacing and effective screening. In 2017-18, 18.8 percent of Virginia's offensive possessions came off screens (1.03 points per possession, No. 58 in the nation) — easily the highest possession share in the nation.
It's tough to defend, too. According to KenPom, Virginia has ranked inside the top 30 nationally in adjusted offensive efficiency in four of the last five seasons.
But what about…
As good as Guy is, there's still serious room for growth as playmaker. Clearly, the ball will frequently be in the capable hands of Ty Jerome and De'Andre Hunter, who should see his playing time and touches rise, too.
But Guy is quick, a good athlete and skilled; he should look to improve his attack game on offense in 2018-19. Guy attempted just 1.5 free throws per game last season — in over 32 minutes per game.
In total, Guy attempted just 51 free throws in 1,102 minutes of action — 3.1 free throw attempts per 100 possessions (down from 3.7 in 2016-17). Guy posted a free throw attempt rate of just 17.1 percent as a freshman; that dipped to under 12 percent in 2017-18.
According to Sports Reference, Guy was one of only two Division I players last season to play at least 1,000 minutes, post a usage rate north of 25 percent and attempt fewer than 60 free throws.
Usage rate measures the percentage of possessions that end with a player shooting the ball, drawing a shooting foul or turning the ball over when that player is on the floor. Guy is without a doubt a high-usage player: 26.1 percent — up from 22.3 percent as a freshman. True to UVA form, Guy also rarely turns the ball over: 8.5 percent, according to Sports Reference.
So, he's not turning the ball over, or getting to the line; Guy, instead, is just shooting a lot of jumpers. That's almost definitely fine: Guy is an awesome shooter, and he should keep chucking three-pointers. However, he could stand to attack more, too: according to Synergy, less than 17 percent of Guy's half-court field goal attempts came at the rim.
Recent History
The best offense of the Tony Bennett era in Charlottesville belongs to the 2015-16 team, which won 29 games and came within one second-half collapse from a trip to the Final Four. That year, UVA ranked 8th nationally in adjusted offensive efficiency — 120.6 points per 100 possessions. According to Synergy, that group scored right at one point per possession in the half-court — good for No. 6 in the nation, tied with Duke.
Led by ACC Player of the Year Malcolm Brogdon and the wildly-underrated Anthony Gill (10.8 FTA per 100 possessions), Virginia posted a free throw attempt rate of 32.1 percent that season. That was good for No. 289 in the nation — not great, obviously, but better than the two seasons that followed. (The 2014-15 squad, which was also a force, posted a free throw attempt rate of 34.9 percent: No. 232 in Division I.)
With Brogdon and Gill in the professional ranks, that clip has dipped, precipitously:
2016-17: 26 percent FT attempt rate (No. 346)
2017-18: 24.5 percent FT attempt rate (No. 345)
(Of course: the 2015-16 team also avoided turnovers like the plague and shot above 40 percent from deep, too. That's also pretty darn important.)
Other title contenders
I thought it would be interesting to go back over the last four seasons, and see how the last 16 Final Four teams have performed in terms of free throw attempt rate. This is far from comprehensive; however, it can be instructive, too.
So, here's a look at each Final Four team — dating back to 2015: free throw attempt rate, national rank (via KenPom) and the free throw attempt rate of each team's most heavily used player (based on usage rate).
Year
Team
FT Attempt Rate
Player
FT Attempt Rate
2015
Duke
39.8% (No. 97)
Jahlil Okafor
46.2%
Wisconsin
36.2% (No. 193)
Frank Kaminsky
41.0%
Michigan State
32.7% (No. 283)
Travis Trice
33.6%
Kentucky
43.9% (No. 31)
Karl-Anthony Towns
52.3%
2016
Villanova
34.1% (No. 242)
Josh Hart
30.6%
North Carolina
32.3% (No. 285)
Brice Johnson
42.3%
Oklahoma
33.0% (No. 271)
Buddy Hield
33.3%
Syracuse
35.4% (No. 208)
Michael Gbinije
32.8%
2017
North Carolina
34.3% (No. 208)
Justin Jackson
22.4%
Gonzaga
39.0% (No. 76)
Nigel Williams-Goss
40.0%
Oregon
34.4% (No. 203)
Dillon Brooks
29.6%
2018
Villanova
29.4% (No. 287)
Jalen Brunson
31.3%
Michigan
30.7% (No. 258)
Charles Matthews
37.2%
Kansas
27.0% (No. 329)
Devonte Graham
40.6%
Loyola Chicago
32.2% (No. 210)
Sister Jean
(Kidding: Aundre Jackson)
27.0%
It's easy to see: every single one of these teams has a higher free throw attempt rate than the last two Virginia squads. The contrast jumps out a little more when you zero in on how Kyle Guy stacks up with some of these other high-use players. He's way below even Justin Jackson's 22.4 percent — another catch-and-shoot menace.
Of course, on-court geography matters here, too. If a team's most-used player is a post player — say, Jahlil Okafor or Brice Johnson — that guy is more likely to have a high free throw attempt rate. There's more contact around the basket; additional contact equates to more trips to the line.
Shock the system
Every year, as the NCAA Tournament approaches, we hear the same tired arguments and value judgments on Virginia basketball: "Can this team, with this style of play, and the lack of a ball-dominant star, win a title?"
That argument almost completely ignores the fact that it's hard to advance to the Final Four, let alone win a title, especially in the randomness machine that is a 68-team single-elimination tournament played over the course of three weeks.
It also misses another point: Bennett and Virginia haven't really been at this that long together; the coach heads into his 10th season at the school in 2018-19. In that timeframe, he's been to the NCAA Tournament six times, including two trips as a 5-seed and a 10-seed.
To say Virginia's missteps in March — outside of the UMBC loss — are drastic, or a part of some organizational mismanagement, is hyperbolic. Virginia, under Bennett, will get to the Final Four; it's only a matter of time.
(This isn't a call to action on Virginia's style of play, although I do believe it'd behoove them to push pace, create more possessions, etc.)
Going forward, though, it'd be nice to see Kyle Guy put the ball on the deck more and get to the rim. He shot 40.6 percent at the hoop this season, which isn't great. There's room for improvement here, too. If he could balance that elite three-point shooting with the ability to slash, then he becomes one of the truly special offensive players in America.
Hunter will help greatly with this free throw initiative, too. With Isaiah Wilkins gone, Hunter will see more minutes; with Devon Hall gone, Hunter will see more possessions. He's a monster and can improve his potential lottery status by playing like a pinball in the lane.
Few players in college basketball can match him physically; this is something Virginia hasn't had in a long time. Combine that with some increased aggression from Guy, and the Cavaliers should be on their way to increased utility from the charity stripe. From there, who knows? Why not Minneapolis, though?
Read More
Post NBA Decisions — ACC Basketball rankings, Part 2: A Cut Above