When we discuss the value of Isaiah Wilkins, the conversation invariably centers on his defense. That's understandable: Wilkins is likely the best defensive player in the ACC. However, there's another function of Wilkins' game that deserves credit, too: his ability to set screens.
Call (for a) Screen
According to Synergy Sports, 18 percent of Virginia's possessions this season have come off of a screen. That's the move-blocker offense in full display. No team in the nation runs a high percentage of off-screen possessions than UVA; Evansville is No. 2 — 16.3 percent. Virginia has run 275 screen possessions so far this season; that's 121 more than North Carolina, which ranks second in the ACC in total screen possessions.
The Cavaliers have scored 1.06 points per possession on these play types — 45.8 percent shooting, 56.4 percent effective shooting rate, per Synergy.
Obviously, it helps to have deadeye shooters, like Kyle Guy, Devon Hall and Ty Jerome. This is a two-way street, though, right?
This is where Isaiah Wilkins comes in.
Up in Cards
Earlier this week, No. 2 Virginia improved to 10-0 in ACC play with a home victory over a frisky Louisville squad. Keep an eye on No. 21 — Wilkins is involved in every screen play here.
With the score tied at 23, after a Deng Adel turnover, Hall comes off a double screen, up from the baseline — first off Guy, then Wilkins. As Hall curls into the paint, he occupies Anas Mahmoud. The wing is open. When Hall clears, Guy (who maybe gets away with a push-off) immediately zips off a pindown screen from Wilkins, too.
By the time he gets out there, Darius Perry is too late.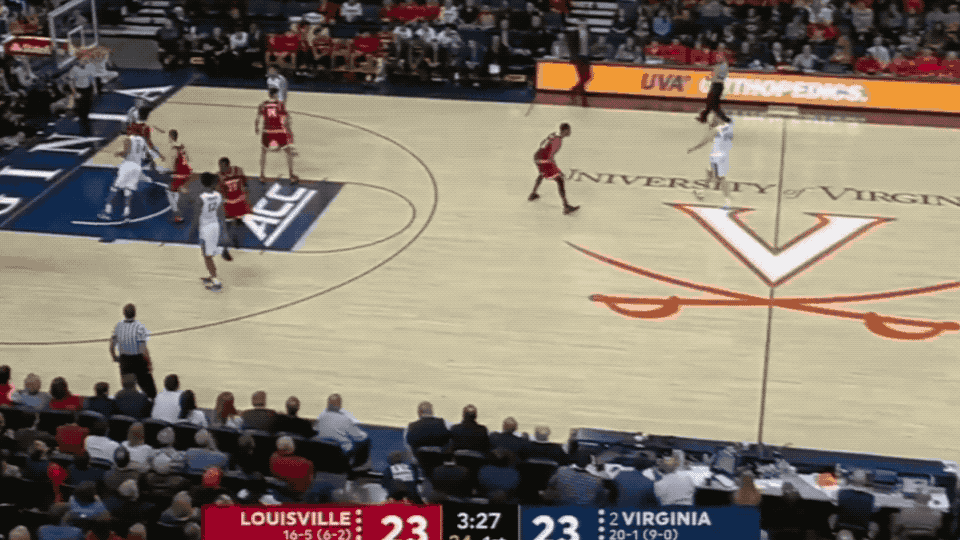 ATO, FTW
Now let's flash forward to the end of the first half. After a timeout (ATO) with 41 seconds remaining, this is what Tony Bennett drew up. UVA spreads the floor with Guy and Marco Anthony in the corners; Wilkins and De'Andre Hunter are at the elbow is a loose horns set.
Hall dribbles right, like he wants to get into handoff action with Anthony or look for Hunter on the block, who slides down; this, however, is classic misdirection. Adel is either occupied by this dummy action, or slightly checked out on defense, because when Guy sprints up from the weak side to fly off the screen from Wilkins, Louisville's star wing is a step behind.
The 7-foot Mahmoud actually does a pretty nice job switching out — something I'm sure NBA scouts will note. Despite the difference in reach, there's more than enough space still for Guy to rapidly fire from deep.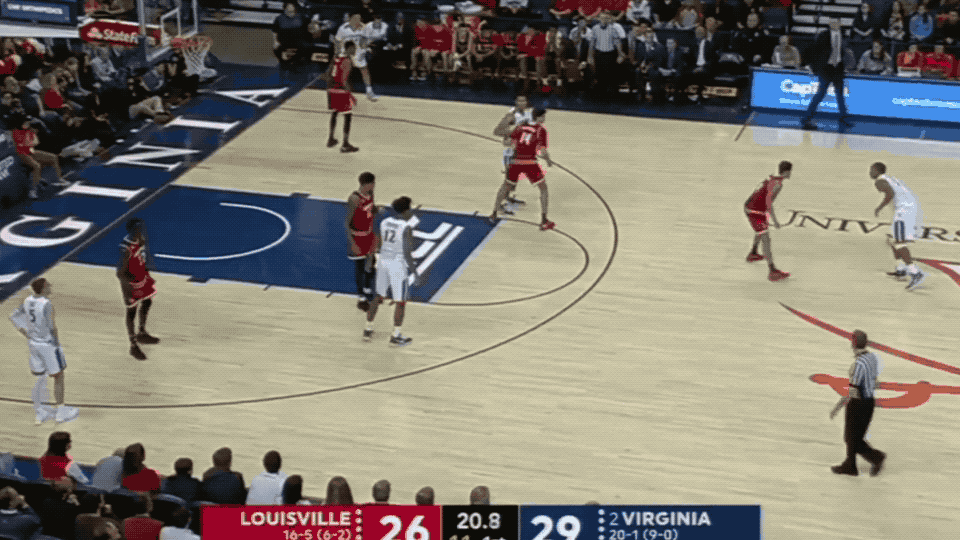 Guy accounts for nearly 44 percent of Virginia's screen possessions, per Synergy, and he's scored 133 points (third most in Division I) on 120 of these possessions (1.11 per possession).
This is also a play that allows Wilkins to flare or pop out after screening for Guy, and look for catch-and-shoots. Wilkins has struggled with his jumper at times this season, but imagine this action with Hunter in the future.
Last but not least
Finally, it's Devon Hall's turn to let one fly. In the second half, with UVA up seven and about halfway through a possession, we see some impressive off-ball chemistry between Hall and Wilkins.
Hall catches Adel leaning, and Wilkins makes the same read — it's time for another down screen. That's the time of bond that comes with two guys playing a lot of basketball together over the last four years. Jerome sees it too, and hits Hall with a rhythm pass.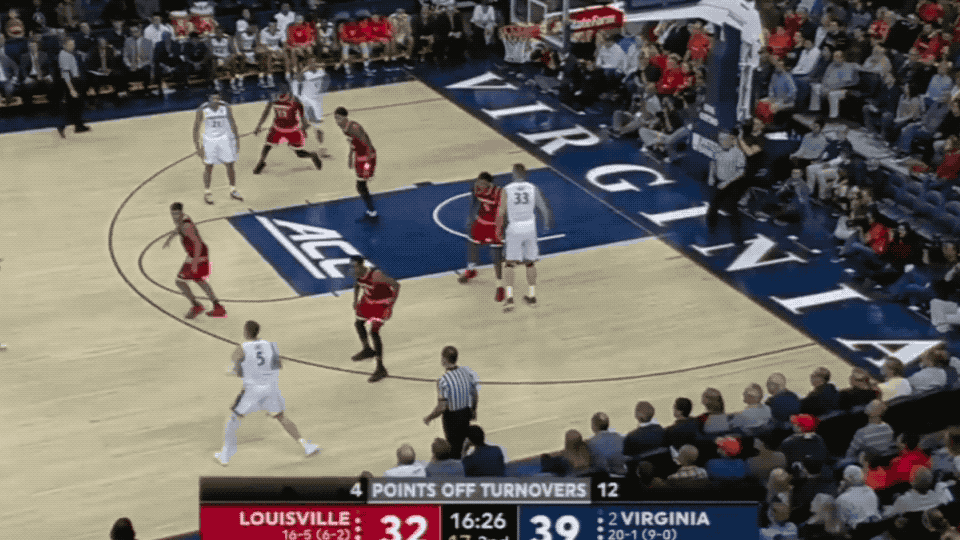 According to Synergy, 19 percent of Virginia's screen possessions for through Hall. The senior wing, in the midst of a career season, is 25-of-42 (59.5 percent, 77.4 effective field goal rate) on off-screen possessions — 1.46 points per possession, No. 1 in the nation (minimum of 50 possessions).
Read More
After Louisville game, will Marco Anthony have a more prominent role in UVA's rotation?