There's understandable excitement surrounding UNC basketball with the commitment of Armando Bacot. It's certainly nice news to receive at the outset of a preseason trip to the Bahamas, and the 2019 5-star big man adds to the recent uptick in recruiting for the program. However, prior to Bacot suiting up for the Tar Heels, UNC has quite the roster stacked up for the 2018-19 season.
There's no reason to think North Carolina can't return to another Final Four, which would be the program's third in the last four seasons. Before we get to that, though, it's worth kicking around some ideas on lineup combinations for UNC.
Whether it gets the initial starting nod or not (I'd bet not), a critical five-man group for UNC this season will be Coby White, Kenny Williams, Cameron Johnson, Nassir Little and Luke Maye. I think the Heels should get to this lineup as much as possible.
From the jump
Over the course of a long season, it seems likely that Roy Williams will tinker with a variety of lineups — as he should. Despite a bit of a question mark at the point guard position, this is a deep UNC basketball roster. There's interesting flexibility with this group, too.
Cameron Johnson, Nassir Little and Rechon Black are interesting swing pieces, who can guard multiple positions. With those guys in the rotation, UNC has the ability to mix and match, and try a variety of combinations: small, big, defensive-oriented, etc.
Freshman Coby White is penciled in at the point guard spot, but Seventh Woods (140 minutes in 2017-18), now a junior, will see minutes there, too. The 6-foot-8 Black can handle it as well, according to Roy Williams.
As the excellent Dadgum Box Scores points out, Bobby Frasor (2005-06) is the only UNC freshman of the Roy Williams era to start every game. If White's the real deal at point guard, maybe he lands that distinction, too; there just aren't a lot of alternatives, unless Woods — turnover-prone in his past — made a jump over the offseason.
Another variable here, outside of positional needs/depth: North Carolina's tradition of starting seniors during the final home game of the schedule, including walk-ons. This can, on occasion, knock a usual starter out of the first lineup. For instance, Harrison Barnes played 31 minutes off the bench in UNC's March 2011 win over Duke.
(Of note: This year's team features just three seniors, and they're already locks to start: Maye, Williams and Johnson, a graduate student.)
Start big, go small?
This is something that ESPN's Zach Lowe has discussed before with regard to the NBA. Even as the game of basketball has become smaller and more skill-oriented, teams generally wait for the game to start, and get going, before they pivot to their optimal small-ball lineups. Start big, move to speed and skill later.
I think this thought process could apply to UNC basketball in multiple ways. It's well known: Roy Williams is a fan of starting, playing with two traditional big men. There are some instances when the Heels have successfully downsized, like the Reggie Bullock-P.J. pairing in 2013 and last season's Death Lineup.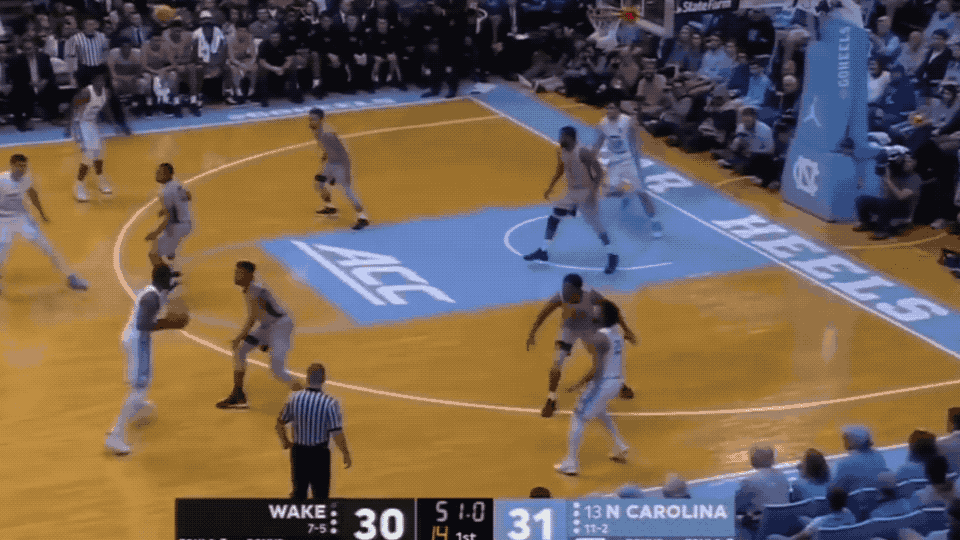 Up front, UNC brings back a trio of productive sophomores: Sterling Manley, Garrison Brooks and Brandon Huffman.
At the top of that list is Sterling Manley. The 6-foot-11 Manley provides rim protection (3.6 blocks per 100 possessions), rebounding — 23.8 percent defensive rebound rate — and paint scoring. According to Synergy Sports, Manley shot 60 percent on non-post-up attempts around the rim. (There's so much upside in Manley; the NBA may be in his future.)
Manley didn't start any games for UNC as a freshman; Brooks, a talented offensive rebounder, started the first 16 games of the season, however, before ceding to Cameron Johnson.
Early in the season, I'd imagine Roy rolls with either Manley or Brooks up front with Maye in the starting five. Whether the sticks for the whole season or not, it will be fascinating to see which group closes games for the Heels. Will Roy go small? If so, with who?
Sooner rather than later
The like-sized lineup of White, Williams, Johnson, Little and Maye is so interesting because of the combined shooting power and versatility. Williams, Johnson and Maye all scored over 100 points on spot-up possessions last season, according to Synergy.
That trio combined to score 354 points on 341 spot-up possessions — 1.04 points per possession — and shot 123-of-318 (38.7 FG%). Williams, especially, was super efficient: 1.15 points per possession (58.2 eFG%), which ranks fifth-best amongst returning ACC players (minimum 100 possessions). He stands to benefit, again, from the offensive gravity of Maye and Little.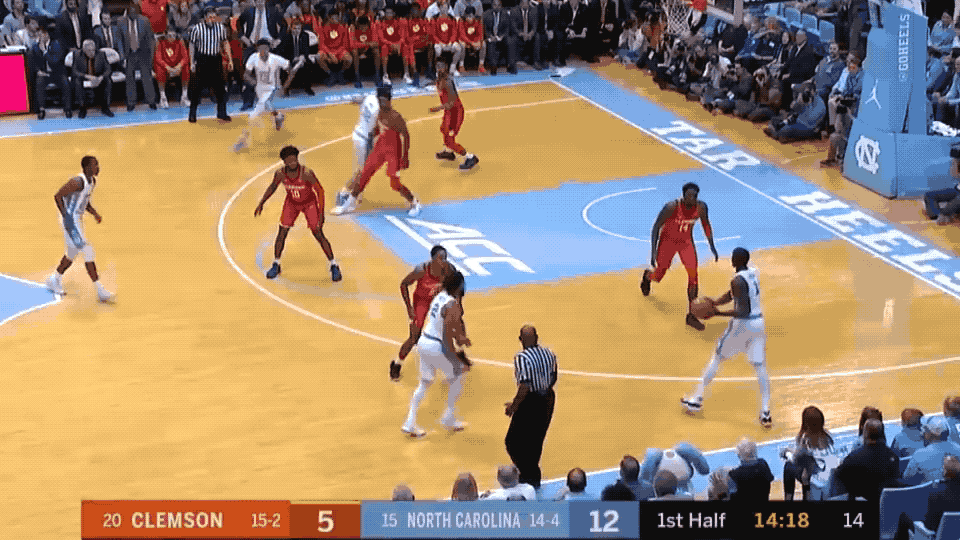 Maye, who played a lot of minutes as the lone big for the Heels in 2017-18, is a serious matchup issue for opponents. A threat to hit from 22 feet away (55.9 eFG% on catch-and-shoots, per Synergy), Maye is a clever, high-volume scorer in the paint (72.2 FG% on basket cuts), too.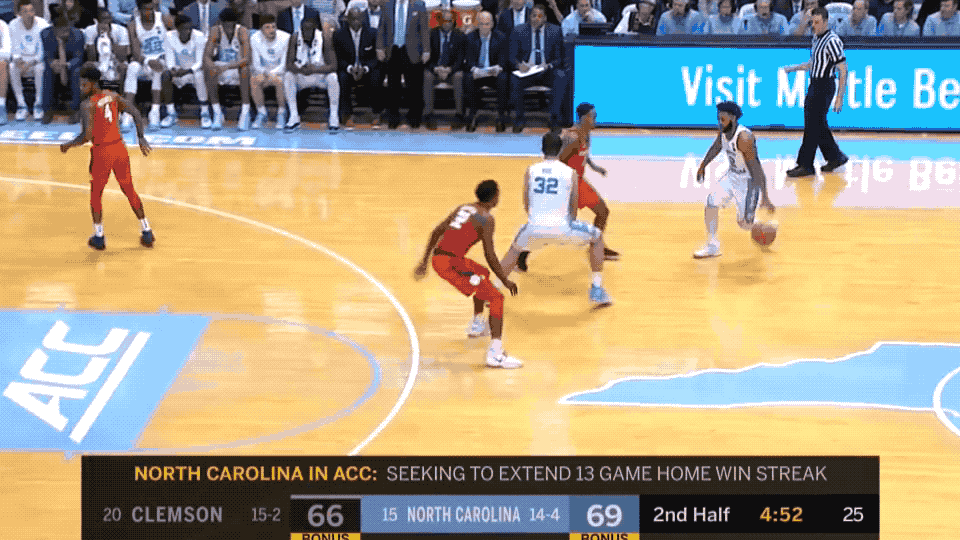 Combine that with Little, who has drawn comparisons to Kawhi Leonard and has serious shot-creation chops, and White, the all-time leading scorer in North Carolina prep basketball: wow. It's wild to think of how scary this five could be.
This group could also allow UNC to reach five-out basketball nirvana on offense, which opens up cut lanes for Maye, and force defenses into rotations — where Little can excel. The 5-star freshman has the ability to attack closeouts, drive it to the rim and create his open shot.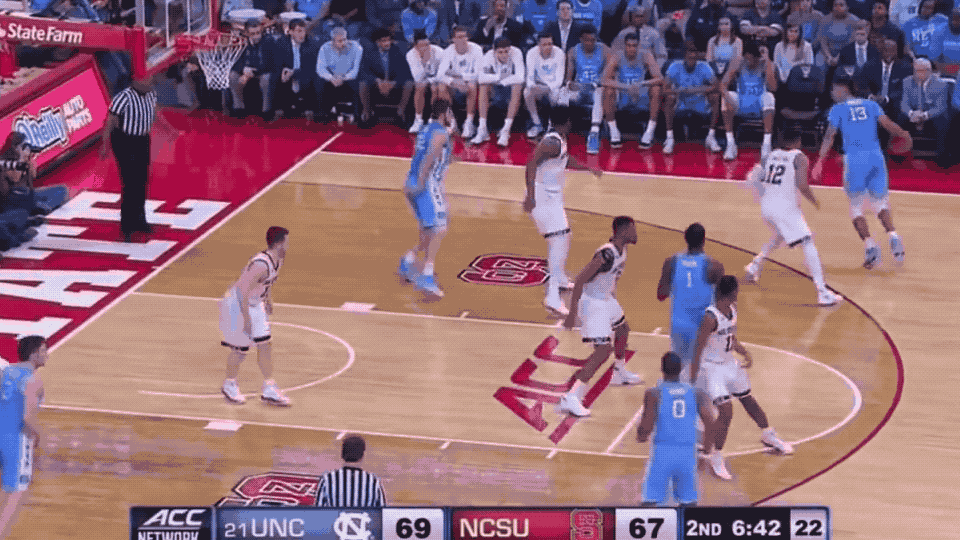 The(o) missing link
Regardless of who sees the floor for UNC basketball next season, it's safe to say this program will greatly miss Theo Pinson. Pinson was an infectious personality, who brought joy to the game, effort to the defensive side of the floor and a playmaking flair to the offense (9.5 assists per 100 possessions last season).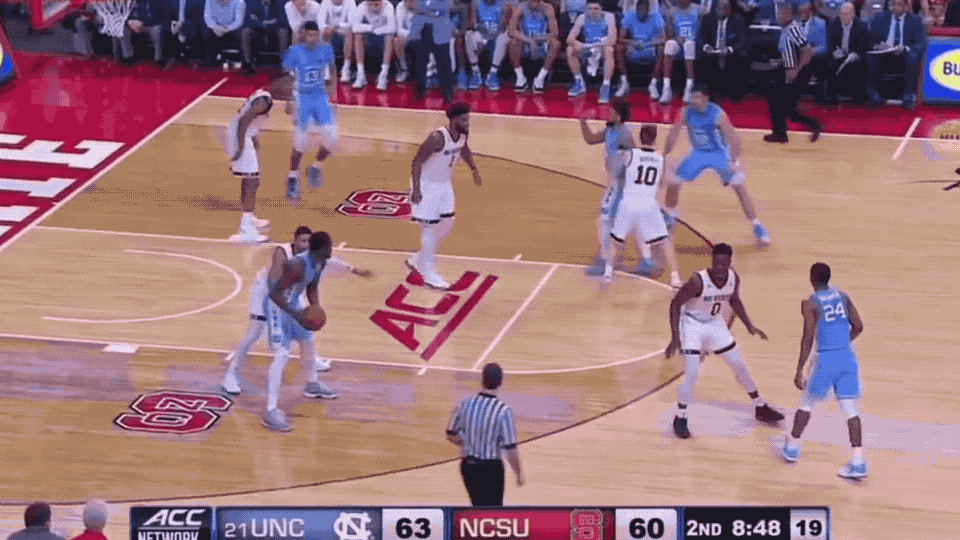 As much upside as this small-ball lineup has, it has to be able to get stops in leverage minutes for UNC to reach its apex next season.
Even with Pinson flying around, North Carolina had issues defending the three-point arc in 2018. Opponents shot 38 percent from deep against UNC, which is a big number; what's more disconcerting, though, is the number of attempts. According to KenPom, 41 percent of opponent field goal attempts against UNC last season came from beyond the arc. That's easily the highest rate since Roy Williams took over in Chapel Hill.
Opponents scored 1.03 points per possession (53.9 eFG%) on spot-up possessions against UNC — No. 326 in Division I ball. This has to change.
There are so many different ways for Little, White and Black to have an impact, but it's critical that they defend with vigor, and find ways to replace Pinson's playmaking. Returning players Brandon Robinson and Andrew Platek (121.2 offensive rating) can carve out more significant rotation spots in this regard, too.
Read More on UNC Basketball