In the 2017-18 season, four ACC teams finished inside the top 10 of KenPom's defensive efficiency rankings. Virginia led the way: No. 1 nationally in adjusted defensive efficiency, with one of the great defensive units in recent college hoops history. This has become known territory for UVA; the Cavaliers have posted top-10 defenses in five straight seasons. And with De'Andre Hunter back, there's reason to believe it will happen again.
Virginia's Pack Line approach is a team effort — post-to-post doubles, timely perimeter switches and gang rebounding. All of that requires communication, institutional knowledge, effective coaching and great effort; however, it's pretty darn important to have individual talent, too. You need players.
Isaiah Wilkins may be the best defender of the Tony Bennett era in Charlottesville; Devon Hall proved enough 3-and-D chops to garner a second round pick from the Oklahoma City Thunder. (Note: Hall will play next season in Australia while Wilkins will spend training camp with the Charlotte Hornets.)
For their efforts, both Wilkins and Hall were named in March to the ACC's All-Defensive team — with Wilkins as the leading vote-getter. Even with those two gone now, though, UVA projects to once again have the nation's top defense. And Hunter may be ready to take the league by storm — and challenge for the throne of top UVA defender under Bennett.
De'Andre Hunter
Outside of the one-and-done savants, no ACC player is more talented than De'Andre Hunter. Hunter has lottery potential, too, and he has the chance to be the top player and defender in the conference next season. (This would be a fun ode to former Cavalier Malcolm Brogdon.)
At 6-foot-8 with a wingspan beyond seven feet, Hunter has the build — and fast-twitch athleticism to be a monster NBA defender. It's more than just the physical tool, though: Hunter sees the game well.
This excellent help defense and play recognition from the weak side of the floor. All in one possession: he closes out perfectly on Chris Clarke — a good shooter and driver — and is ready to slide over and contain the rim run from Kerry Blackshear.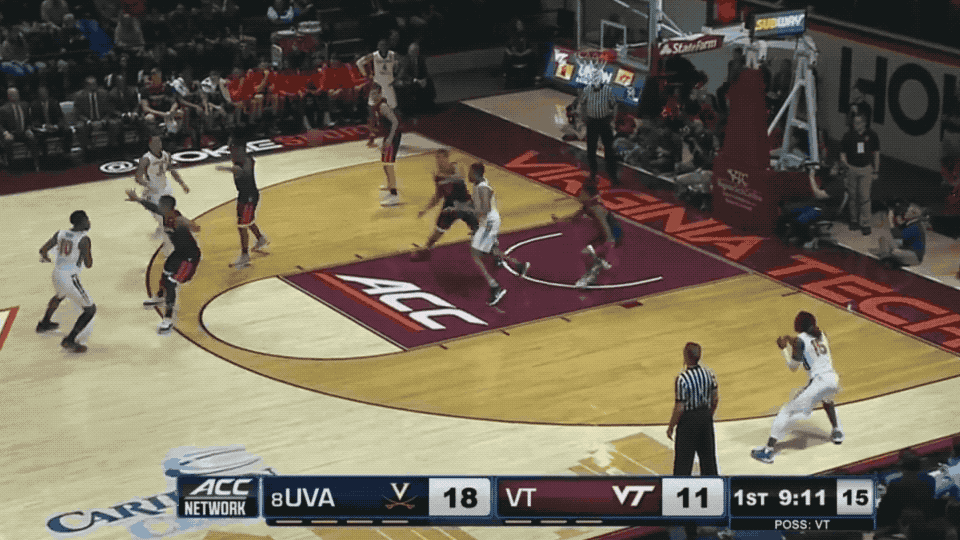 The leadership and defensive know-how of Wilkins will be tough to replace, but this is Hunter's year to star defensively. According to Sports Reference, Hunter is one of 11 returning ACC players (minimum 500 minutes) last season to post a steal rate of 1.5 percent, a block rate of two percent and one defensive win share. (Mamadi Diakie joins him on that list — more on this in a bit.)
This — what he does to Frank Howard — is straight mean. He slides easily in front of Howard, who goes right to his dominant hand. Now the wingspan comes into play: Hunter forces the loose ball and snatches it — off to the races. Once he gets the ball in transition, it's a done deal, too. (Hunter in transition, per Synergy Sports: 1.53 points per possession, 71.4 eFG%)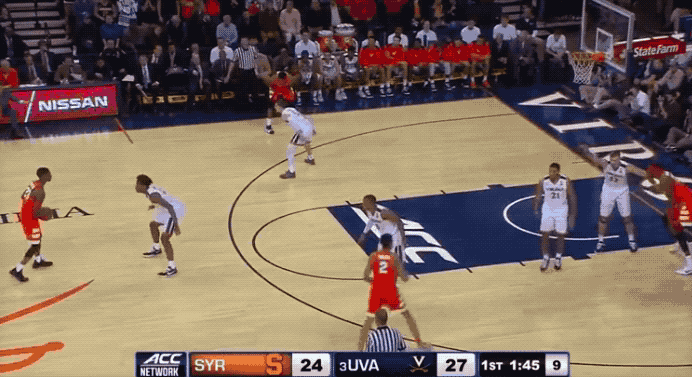 It's easy to close one's eyes, and envision an NBA future that includes Hunter switching across four — maybe five positions — and causing havoc all over. Does this look familiar?
(Look, I want to pump the breaks pretty quickly on serious comparisons to Kawhi Leonard, one of the five best players on Earth when he's right. But his defensive skill set is exactly what every team in the league covets: a multi-positional defender with some offensive juice, too.)
Hunter has the ability to slide with a point guard like Howard, and bully up with another rangy forward: Oshae Brissett. Watch him here in isolation against Brissett: Hunter uses those long arms to stay attached with his man, but also to give himself some room to slide. He knows that he can recover and contest.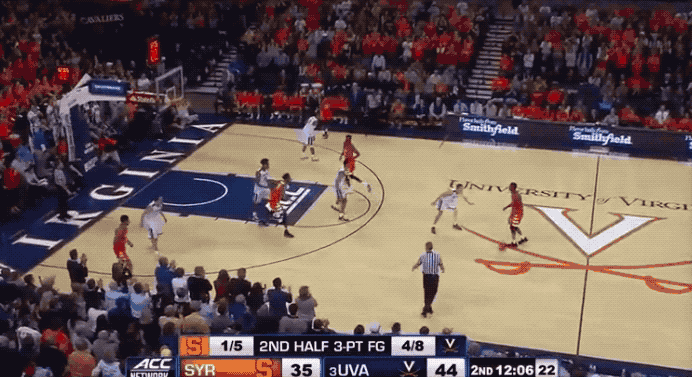 That's excellent balance from Hunter, who slides with Brissett's dribble, beats him to the spot, avoids contact and perfectly times the block.
Ty Jerome
When we discuss Ty Jerome, the focus is invariably on his offense. That's understandable: Jerome is an excellent offensive player — a ball-mover that gets defenses lurching side-to-side with deft passes. He's also a solid spot-up shooter (51 eFG%, per Synergy Sports). All of that is great; however, there's some value added from the defensive side of the floor, too.
Despite a 6-foot-5 frame, Jerome isn't very long or that athletic/fluid — for a guard. However, he's the top of this defense, and he's constantly talking, communicating and competing. He plays heads up defense — on and off-ball — and is unafraid to mix it up with anyone.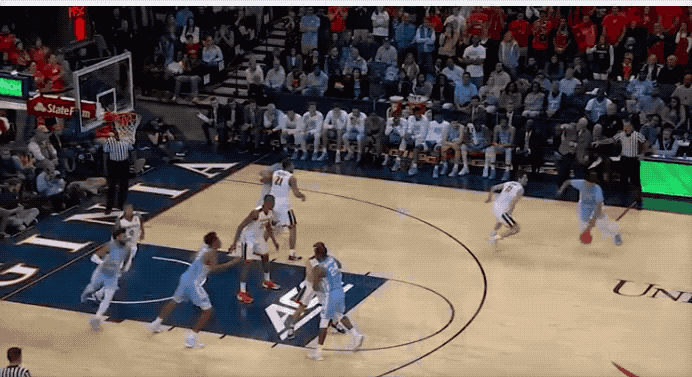 It's no surprise his play at the CP3 Elite Guard Camp drew rave review this summer in Winston-Salem, which featured several other ACC guards.
Ty Jerome shined as the best pure basketball player at the @CP3 Elite Guard Camp, according to @Mike_Schmitz

the 21-year-old reminded #NBA scouts why he should be considered a legitimate prospect with his play outside of his structured college system >> https://t.co/u8EERo2ufC pic.twitter.com/IooW5e9Sdy

— DraftExpressContent (@DXContent) August 5, 2018
Jerome — 3.5 steals per 100 possessions — was one of only 28 Division I players in 2017-18 with at least two defensive win shares and a steal rate above three percent, per Sports Reference. He was joined on that list by NBA Draft picks Jevon Carter and Ray Spalding — plus Gary Clark of Cincinnati.
Again, this is excellent recognition from a UVA defender — Jerome switches with Devon Hall, from Kenny Williams to Joel Berry. He smothers the handoff action with Garrison Brooks, which forces Berry to desperately hurl the ball to Williams, who can't even get the shot off. Heady play from Jerome.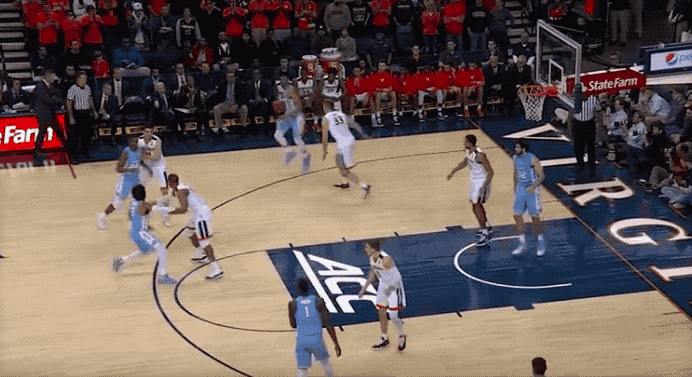 Also: his 3.5 percent steal rate was good for No. 54 in the nation, according to KenPom.
Mamadi Diakite
While De'Andre Hunter should pop this season as one of the top two-way draft prospects in the country, there's another promising forward on UVA's roster with defensive upside: Mamadi Diakite.
The 6-foot-9 Diakite is still raw, learning the game of basketball; however, his versatility on defensive intrigues. He's evolved from being a simple shot-blocker.
"When Mamadi first arrived to Blue Ridge School, you could probably quantify the number of hours of competitive basketball he had played in the tens of hours," Diakite's high school coach and former UVA player, Cade Lemcke said. Diakite is one of five returning ACC players (minimum 500 minutes) to post a steal rate of 1.5 percent and a block rate of four percent (two blocks per 100 possessions).
Jack Salt will start plenty of games, and log plenty of minutes. But the prospect of Diakite and Hunter running over the floor, disrupting actions, challenging shots at the rim. Diakite, a former soccer player, has the wheels and footwork to cover ground. There's an opportunity for him to help replace the defensive potency of Isaiah Wilkins, too.
The Major Key: A Wildcard
It would be a serious boon for Tony Bennett's crew if Alabama transfer Braxton Key could become immediately eligible to play in 2018-19 — which the school is petitioning for. So far, a final decision is yet to be rendered.
However, if Key is eligible to suit up this season, UVA will have a trio of rangy athletes to cause havoc along the back line: De'Andre Hunter, Mamadi Diakite and Braxton Key. At 6-foot-8, Key is rangy: 1.7 steals and 1.1 blocks per 100 possessions in his career (60 games, 47 starts). Key also played played minutes for a top-20 Bama defense this past season, too.
Those post-to-post doubles Virginia runs could be even more ferocious next season — with more speed and wingspan flying at opponents. UVA is always a force defensively at the paint; last season, the Cavaliers held opponents to just 1.02 points per possession (49.2 FG%) at the basket — No. 15 in the nation, per Synergy Sports.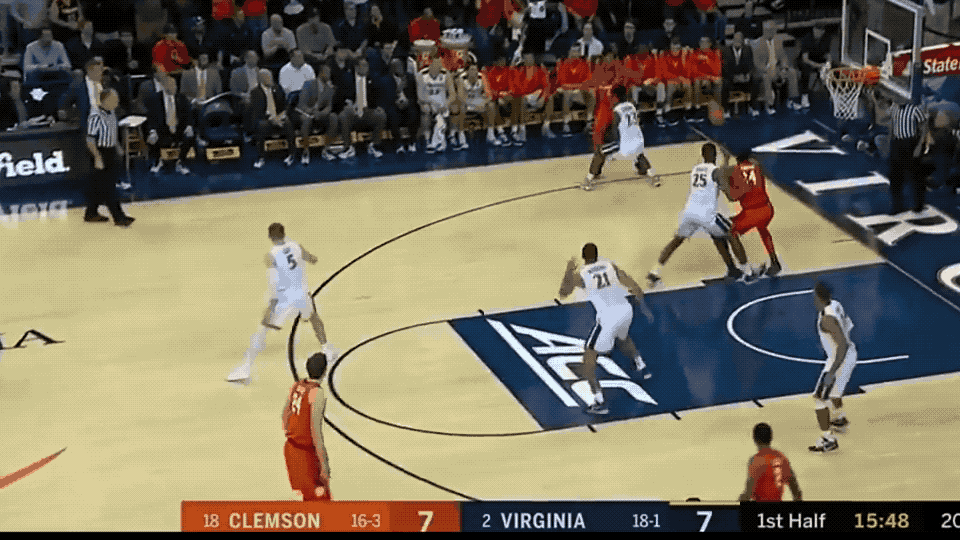 Only 31.1 percent of opponent possessions against UVA non-post-up finishes at the best — the fourth lowest number in the ACC.
Read More on De'Andre Hunter