In case you have missed out, Virginia is clicking on all cylinders right now. After some minor midseason scuttles (playing Duke is hard, y'all), Virginia has three straight victories by 24+ points. In all three of those wins — Georgia Tech, Pittsburgh, Syracuse — the Cavaliers scored over 1.2 points per possession and held the opponent to under 0.9 points per possession and sub-46 eFG%, too. If that seems good, well, that's because it is.
Two of those recent performances came against Georgia Tech and Syracuse — two top-35 defenses, according to KenPom. The other was against Pittsburgh, which is currently in free-fall mode.
According to @kenpomeroy, the only other team this season to shoot at least 20 3s in a game and make at least 70 percent of them was Iowa vs. Illinois (15-of-21) on Jan. 20.

Virginia just made 72 percent of its 25 3-pointers vs. SU and matched a school record for made 3s (18).

— Matt Norlander (@MattNorlander) March 5, 2019
The win over Syracuse was one to remember, too. It's not just the fancy statistics that a massive second half produced; instead, it's another reminder — as postseason play approaches, rapidly — that this team has a special combination of on-floor talent and coaching acumen. This team has the ability to make a major NCAA run and continue Virginia's recent track record of putting quality players in the NBA.
*Andy Dwyer voice* "Nailed It"
As many who follow or play basketball know, one of the best ways to unbuckle a 2-3 zone is to attack the middle. Flash a player to the nail (the soft spot), let them turn-and-face — and go to work. During its Saturday night win at the Carrier Dome, Duke did this with RJ Barrett.
De'Andre Hunter is the best face-up attacker in the ACC; he's built to exploit this kind of defense. Space the floor with shooters, and Hunter can kill a zone from the nail.
Virginia's massive second half — 47 points — was influenced greatly by a wonderful halftime adjustment from Virginia's coaching staff, which Jordan Sperber first noted on Twitter.
Virginia's 2nd half adjustment last night to put Jerome in the high post and dribble Chukwu out to the perimeter: pic.twitter.com/CNZFNPksVX

— Jordan Sperber (@hoopvision68) March 5, 2019
Paschal Chukwu is the proto-zone center for Syracuse; he's really tall (7-foot-2) and a pretty good shot blocker. Syracuse ranks 11th nationally in block rate (12.1 percent), and Chukwu has averaged 3.3 blocks per 40 minutes this season.
Chukwu, however, doesn't move well in space; the further he gets away from planting himself at the rim, the more uncomfortable he becomes. Correlated with that: Syracuse's zone starts to erode. Gaps widen, passing lanes open and it becomes possible to puncture holes, especially with high-end talent.
A defense predicated on paint protection starts to look real faulty with its back-line rim-protector 20 feet from the hoop. According to Synergy Sports, opponents have shot under 47 percent on non-post-up attempts in the half court this season, a top-10 number nationally. I'm willing to bet: most of that success hasn't occurred with Chukwu lifted above the free throw line.
Look at the shape of Syracuse's zone when Ty Jerome releases this pass. An aggressive 2-3 is able to bend, move and recover as the ball gets swung and players rotate; however, this is a defense that's been pushed to its brink. The rim is exposed and Virginia has a numbers advantage to capitalize on.
Ty Jerome's 14 assists tonight tie the #UVa single-game record shared by John Crotty, Cory Alexander and Harold Deane. Most by an #ACC player this season.

— David Teel (@DavidTeelatDP) March 5, 2019
Virginia has shot 28-of-43 on 3-point attempts (65 3P%) against zone defenses the last three games, per Synergy. Of those 28 makes, 24 have been assisted. Jerome accounts for 10 of those assists, while Hunter has six.
That 3-pointer is the result of a smart move from Jerome, an excellent on-the-go shooter, who quickly relocates to the wing after a pass to Hunter. It's an inverted give-and-go.
Baseline Screens
Last week, I wrote about how Virginia carved up Georgia Tech despite the Yellow Jackets altering defenses. One of the look that really stood out from that game came early in the first half. UVA overloaded the strong side of the floor with Kyle Guy filling to the corner and De'Andre Hunter cutting behind him to the block — off a double screen from Braxton Key and Jack Salt.
Up in Syracuse, the Cavaliers used more baseline screens to create looks from deep. On this possession, Virginia once again floods one side of the floor — Hunter on the wing, Guy to the corner. Jerome hits Hunter (48.6 3p%) on the wing, which forces Oshae Brissett to rise from the zone's back line before Frank Howard can come cover.
In a move that would make Gregg Popovich proud, Hunter doesn't hold the ball and quickly passes to Guy, deep in the corner. As this happens, Mamadi Diakite screens Chukwu; Guy is now unaccounted for, and it's up to Brissett to feverishly closeout. Unfortunately for Syracuse, Guy needs no time to square his feet and fire. (Guy and Cameron Johnson are the ACC's kingpins in this distinction.)
(Also, note the time on the shot clock. Guy releases the ball with 21 seconds left. I'm a big proponent of earlyish-clock 3-pointers.)
This look is different and a little less orchestrated — with dribble movement from Jerome and Guy, but it involves another baseline chip screen from Jay Huff.
According to Synergy, there are 61 ACC players with 50+ half-court catch-and-shoot field goal attempts this season, so far. Of that group, only 12 have effective shooting rates on said possessions above 60 percent. Three of those 12 come from Virginia.
| | FGA | eFG% | 3P% |
| --- | --- | --- | --- |
| Kyle Guy | 187 | 64.2 eFG% | 76-171 3PA (44.4 3P%) |
| Ty Jerome | 83 | 75.3 eFG% | 41-81 3PA (50.6 3P%) |
| De'Andre Hunter | 73 | 72.6 eFG% | 32-63 3PA (50.8 3P%) |
Here, on this look, it's Hunter and Guy to the same side of the floor, again. Elijah Hughes, lifted to prevent an easy catch-and-shoot for Guy, reads the play and sprints back to deny an open look for Hunter (another block screen from Huff). There's no defense for what happens next, though, which is just high-level basketball.
Before he hits the floor, Hunter hits Guy with a touch pass and before you can blink, it's time to put another three points on the board. Guy's footwork and rhythm-timing are pretty darn special.
There should be no questioning of this team's connectivity.
De'Andre Hunter: Assertive Basketball
Look, around these parts we are proud owners of as much De'Andre Hunter stock as possible. Outside of the dynamic Zion Williamson, there isn't a player in the ACC this season I've enjoyed work as much as Hunter.
Hunter's smooth, efficient game lends itself to multiple interpretations, though — at least for how he projects to the NBA. Some see a slower release on his jump shot, which could certainly be problematic against NBA-level defenders and closeouts.
This block by Zion Williamson is one of the most athletic plays I've ever seen pic.twitter.com/FWdVSXRi9j

— Athlete Tweets 🏈🏀⚾️ (@AthleticDesires) February 10, 2019
(I must say: there was some limited pearl-clutching over Hunter's release after the Zion block. This ignores a couple notable details, though. One, Hunter caught a low pass, below his knees, which required extra time to load up. And secondly, this effort from Zion, who started the possession on the other side of the floor, is superhuman; like, look where he jumps from. Outside of Zion and Giannis Antetokounmpo, is there another human that could even consider to try something like this?)
Off of that, does Hunter have the twitchy explosiveness needed to beat his defender without some previously-created advantage? He's certainly skilled; however, does he have the first step and knee bend to create the necessary burst? I see the limitations, but I'm optimistic that he does.
There are others, however, that see Hunter's game as deliberate and calculated. Personally, that's my belief, too. Hunter (1.8 turnovers per 40 minutes in 62 career games) can score efficiently from all three levels of the floor; even if he maxes out as a good second-side scorer — someone that can force/attack a closeout — on the next level, that's still a good piece to have on any roster.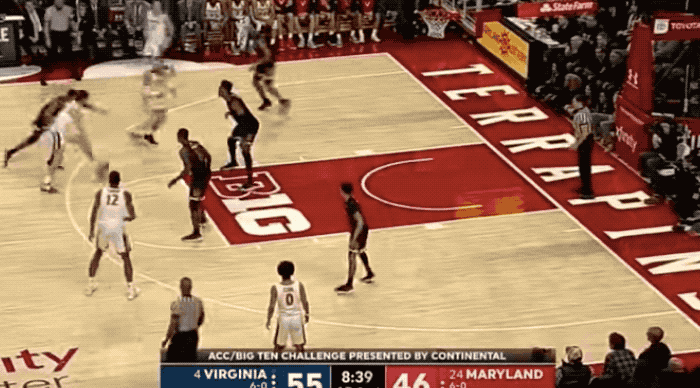 Back to the Syracuse game: Marek Dolezaj may be rail-thin, but at 6-foot-10, he's long and blocking one shot per 40 minutes this season. From one of those lift possessions with Jerome in the middle, Hunter catches a high pass, gets the ball to his shooting pocket and is unbothered from Dolezaj's closeout. Splash.
In 29 games, Hunter has just 16 dunks on the season. Considering his athletic advantages, that's not huge total. In fact, it ranks 23rd in the ACC — tied with NC State's Torin Dorn. But he's shooting nearly 63 percent at the rim in the half court, per Synergy, which is solid. In these three most recent games, Hunter has flashed some serious drive skills, too.
You know that moment when you've completed like 99% of a puzzle and you can see all the pieces falling into place and it all comes together. That's DeAndre Hunter right now

— RMJ=H (@rmj_equals_hero) February 28, 2019
Going left, Hunter scoots by two poor closeouts and uses a nifty hop-step to get all of the way to the rim. Look at how much space he clears with this maneuver. He lands inside the restricted area before he rises to finish.
On Monday against Syracuse, Hunter again used that hop-step to help him get from beyond the arc into the teeth of the defense. This time, though, he rewards Huff (74 FG% at the rim) with paint touch.
All season long, Hunter has shown the ability to play with his head up on drives to the basket — looking opposite corner for kick-out 3-pointers or in the dunker spot for drop-off passes.
Hunter's assist numbers — 2.9 per 40 minutes, 15.2 percent assist rate — won't knock your socks off. Passing won't be a plus-skill of his but if you watch Hunter play, you know he makes simple, quick reads that keep the offense humming.
Most of that comes from his face-up game. However, in a contest that featured four assists from Hunter, his best pass came from a play that didn't even register a bucket for UVA. Watch him split Cuse's zone with a two-handed chest pass/laser right to Huff. He just snaps this pass right off on a rope.
This mixed with his efficient shot profile (60.6 eFG%), low turnover rate (11.6 percent), competitiveness and defensive abilities makes for a really special player/prospect. As postseason awards flood in and the 2019 NBA Draft approaches, the next four months could be very special.
Read More on UVA Basketball and Ty Jerome
Week 18 Power Rankings: De'Andre Hunter plays both sides of the screen-roll for UVA