There's a simplicity to the game of Virginia's De'Andre Hunter. One of the best draft prospects in the country, Hunter provides two-way versatility and can basically do everything on the basketball court. He's fluid offensively and score from all three levels. The blocks (0.4 per 40 minutes) and steals (0.7 per 40 minutes) numbers are surprisingly low, but he's still an excellent defender — capable of checking four positions and keeping his man in front of him at all times.
Hunter is in the midst of an excellent shooting season (62.5 true shooting rate), too; he's the only ACC player clearing all of the .500/.400/.800 benchmarks. His mixture as a plus-shooter and low-turnover player (9.3 percent turnover rate, 1.3 per 40 minutes) — along with his defense — makes for a high-floor prospect. Hunter is also the type of player that can fit with any basketball team.
Before he takes on the pros, though, Hunter has at least a few more months clad in Virginia orange and blue. For a program dead set on avenging last season's ghosts, he's exactly what Tony Bennett and the Cavs need.
Iso Ball
Back on Saturday's showdown at Duke, the Blue Devils relied heavily on a 1-5 switch scheme hellbent on taking away clean catch-and-shoot 3-point looks for Kyle Guy and Ty Jerome. It worked. However, a good defense and a good game plan can't take away everything. Under the lights of Cameron Indoor, and with the basketball universe watching, Tony Bennett turned to De'Andre Hunter: Go get your shot.
If and when opponents commit to taking away Virginia's "sides" offense, the Cavaliers have a really good counter. Get the ball to De'Andre and let him work. (Of course: most, if not all, college teams don't have the personnel that Duke does, which can open up those switchy possibilities.)
Duke threw a variety of defenders at him, including some really impactful ones like Jack White and Cam Reddish. These are future NBA defenders; Reddish, especially, looks capable of becoming a 3-and-D stud in the pros.
On this possession, Reddish slides and cuts off Hunter's drive. No matter, though: Hunter pulls it back out, takes his time, gets to his spot and hits with ease. (I'm a huge fan of Hunter's face-up game, and he had it cooking against Duke.)
(He now has 74 2-point field goals this season — only 28.4 percent of which have been assisted. The dude can go get a bucket if you need it, which is huge for Virginia.)
Hunter has a tendency to rely on his midrange game for offense (only nine dunks this season), and with some reason — he's a good midrange shooter (41.4 FG% on 2-point half-court jumpers, per Synergy). However, with his length and athleticism, he can certainly get to the rim, too. More of this would be nice.
And it's not like Hunter doesn't get to the basket, entirely. Nearly 47 percent of his half-court attempts are of the non-post-up variety at the rim, per Synergy. (1.17 points per possession, 57.3 FG%)
Closeout Beater
Back to the Duke game: According to Synergy Sports, Hunter was 8-of-11 (72.7 FG%) on half-court field goal attempts inside the arc, including a combined 6-of-8 (75 FG%) on spot-up and isolation attempts. Some of his best work against the Blue Devils came from his ability to smoke closeouts. This is one of his strengths, and has long as he continues to hit 3-pointers it should be a big boon for him on the next level.
The dunk on Jack White isn't the result of Virginia creating a lot of advantage, then sending the ball to Hunter; Duke doesn't have to go through multiple rotations. This is just a quick swing to the corner and an attack. However, the vertical cut from Braxton Key forces Reddish to take one step away from Hunter. The future lottery pick shows off some good short-range quickness and wastes no time on the exploitation.
Next: This is one of Hunter's best plays from the Duke game. Jack Salt sets a simple pindown for Hunter on the strong side of the floor. Again, Duke did a lot of 1-5 switching to curtail open looks from deep. Marques Bolden — improved defensively at the rim (10.9 percent block rate) and in space — switches out. Bolden is much better at getting in a stance and moving his feet these days, but this is a mismatch. There's zero hesitation from Hunter: attack.
It really is fun to watch the light go on for a player like Hunter. He can play basketball without thinking. Get it and go.
Second Side
This is something we've discussed before with Hunter, it will matter a great deal when he gets to the NBA, too: The ability to play on the second side of an offense. There's clearly some upside with Hunter when it comes to his face-up/isolation game. However, even if he struggles to create separation and get his own shot in the NBA, the ability to space out and attack a recovering defense when the ball is swung is critical.
Hunter drained a 3-ball on the possession before, which forces the hard closeout. Even if he maxes out as a fourth option in the NBA (nothing wrong with that, by the way), then this is still a great way to find reliable offense.
Remember that first step he used against Duke? Well, that helps set up one of his go-to moves — the jab step. He caught Wake Forest's Chaundee Brown with a few of these on Tuesday night.
Over the last two games — Duke and Wake — Hunter is a combined 5-of-7 (71.4 FG%) on half-court jump shots inside the 3-point line, per Synergy.
Now for the season, Hunter has scored 1.24 points per possession (61.8 eFG%) on spot-up possession — a top-10 number in the ACC. He efficiently blends standstill shooting with shot creation here, too. Hunter's scored 1.41 points per possession (70.4 eFG%) on no-dribble spot-up jumpers, and 1.17 points per possession (56.3 eFG%) on spot-up drives to the hoop.
More than passable
De'Andre Hunter has a lot of strengths as a player, but his ability as a passer isn't in the top five. That said, he's shown some growth here, too. Hunter won't blow anyone away with his vision or pick-and-roll decision making; however, from his face-up attacks, the 6-foot-7 Philly product can make simple reads, and deliver crisp passes.
He's up to 2.9 assists per 40 minutes (2.2 last season), and has assisted on 15 percent of his teammates' field goals while on the floor this season. Again, noting earth shattering, but it's no longer a weakness; he can find offense for others.
Earlier this season, he slapped up nine assists against Middle Tennessee State. In the win over Wake Forest, Hunter dished out five assists — the third most for his career. Watch him play games with Olivier Sarr here. Sarr shades to the middle of the floor as Hunter comes off a pindown from Salt, who quickly opens up and makes himself available for a pass.
Keep an eye on how much ground Hunter covers with that first step/dribble. Sarr commits as it looks like Hunter is rising for another pull-up jumper — only to hit Salt for a layup.
He's even shown the ability to maintain his dribble in traffic and slip the occasional slick pocket pass. Tell me the big fellas don't appreciate this level of service
With his height and length, Hunter can see and throw over the top of defenders. Again, he's just kind of scratching the surface here
Hunter already has more assists this season (39 in 539 minutes) than he did all of his redshirt freshman campaign (36 in 657 minutes). With that, his assist-to-turnover ratio has improved (2.2 to 1, up from 1.2 to 1 last season), too.
Defense: Plenty to like even if the stocks disagree
No conversation on Hunter is complete without a look at his defense. For a guy with his skill set and frame, it is a bit surprising that he isn't more of a STOCKS player (steals and blocks combined). In nearly 540 minutes of action, Hunter has only 15 combined steals (10) and blocks (5). One of those blocks did come in impressive fashion against Wake Forest, though.
According to KenPom, he's under 1.5 percent in both steal and block rate. Hunter has good help instincts as a defender — as you can see from the block above. He can make weak-side reads as a help defender and recover when needed. It's a little baffling that it hasn't turned into more obvious impact plays.
Still, I always go back to this one play against Virginia Tech last season with Hunter. Watch this entire sequence; it's amazing. He closes out perfectly and under control on Chris Clarke. It forces a ball rotation. Now back on the weak side, he diagnoses the roll from Kerry Blackshear Jr. and is in position to take the charge. (It was called a block, though.)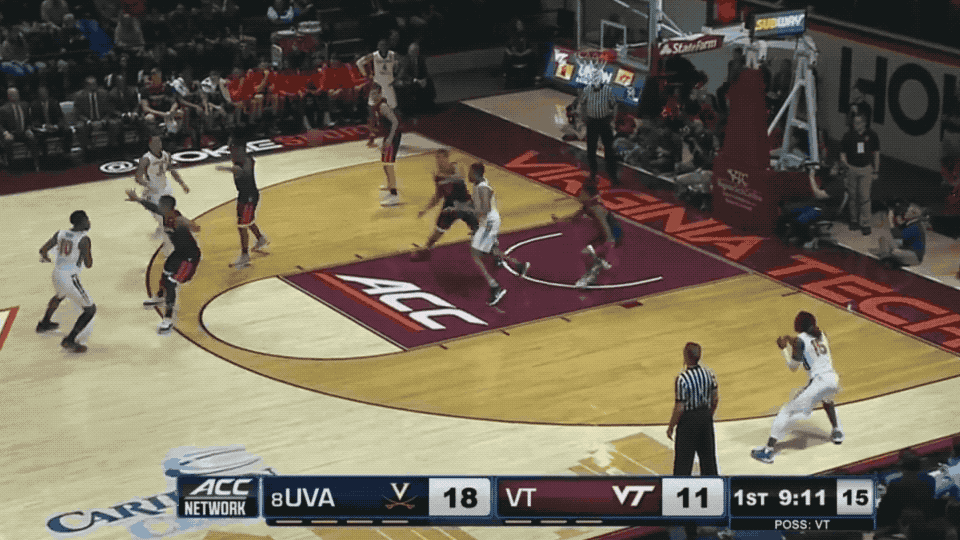 As an on-ball defender, Hunter is smooth. Similar to his offensive game, Hunter is a low-mistake defender. He plays with quick feet and uses his wingspan, which allows him to just keep every defender in front of him. From last season against Syracuse: look at how Hunter buys himself some room with his arms — staying in contact with Oshae Brissett from the initial touch. Hunters to be in two places at once — ready for drive from Brissett. At the end, he's able to contest, too.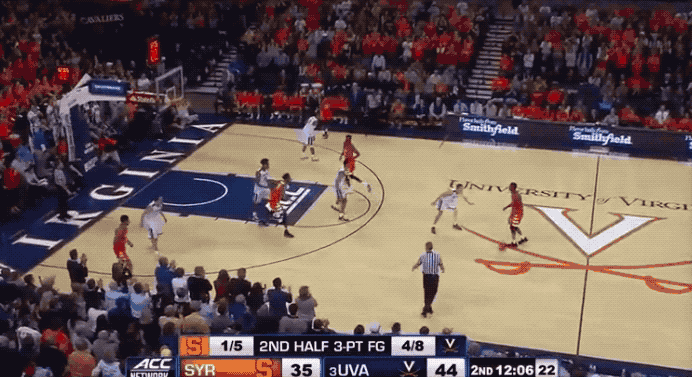 In the Duke game, Zion Williamson got through him a few times, but that's just Zion being Zion. Against the mere mortals of Wake Forest, he was really good. (Jaylen Hoard smoked him on one half-court drive, but he was solid other than that.)
Over his two-year career, players he's covered in man-to-man defense have scored just 0.70 points per possession (304 possession) on 31.1 percent shooting, per Synergy. Those numbers come without some important context, but they are really good.
Do we need to see more?
With Hunter's impressive abilities, there will always be the desire to get more. While playing a far greater share of minutes this season, Hunter's usage rate has dipped: 23.2 percent, which is still above average. His field goal attempts per 100 possessions (10.9) are a marginal increase over last season, and he's actually drawing fouls at a slightly lower rate.
As a freshman, Hunter drew 5.1 fouls and attempted six free throws per 40 minutes. This season, that's down to 4.8 fouls and 5.6 free throw attempts per 40 minutes. Nothing too big here, especially in Virginia's egalitarian approach to offense, but Hunter could use a few more possessions — in particular ones that involve him attacking the rim.
Of course, some will want to see more out of Hunter from a blocks/steals perspective, which I get. However, put that guy on the floor and instantly your defense becomes better. He has great on-ball and help capabilities; when he gets to the next level, he will have more opportunities to switch and show a greater range of skills. Hunter may never be an A-1 stopper, but he will help raise the overall defensive profile of whatever team he's on.
Read More on UVA Basketball