Not sure if you guys heard, but there's a little basketball game tonight in Durham. Some dude named Obama is expected be there, which is pretty darn cool. Both teams currently rank inside the AP top 10 and the top 10 of KenPom's adjusted efficiency margin, adding even more zest to the meeting. According to Bracket Matrix, Duke and UNC currently project as two of the top eight seeds in the NCAA Tournament, too. This should be fun.
This is the 46th time Duke and UNC have met with both in the top 10. The higher-seeded team has a 23-22 record in those games.

— Shawn Krest (@ShawnKrest) February 20, 2019
The rosters are loaded with talent, as usual; a minimum of six future first round NBA Draft picks will take the floor tonight. With that in mind, let's run through a couple quick matchup notes before Duke and UNC get things going.
Point Guard Blue Bloods: Coby White vs. Tre Jones
Prior to Duke's midseason win over St. John's, we highlighted the Tre Jones-Shamoire Ponds competition as something to watch. Well, Duke blitzed St. John's that day in part because Jones totally eliminated Ponds: 3-of-11 FGA (1-of-6 FGA with Jones as the primary defender) and five turnovers (three steals for Jones).
Those turnovers ignite the most ferocious two-man fast break in college hoops.
Duke has scored 1.13 points per possessions (63.4 eFG%) in transition this season, led by Zion Williamson (52 dunks), who is one of the top transition scorers in the country. According to Synergy, Zion has scored 1.32 points per possession on 83 percent shooting (No. 1 in Division I). Jones has assisted on nearly 48 percent of Williamson's transition field goals this season.
Jones is one of the top on-ball pressure defenders in college hoops; however, he will have his hands full with another rookie backcourt star — Coby White. One of the top point/combo guards in the nation, White is a demon with the basketball, especially in transition (54.3 eFG%, per Synergy).
At close to 6-foot-5, White normally has a height advantage over his point guard peers; that will be the case against Jones, too. With all of his twitchy ball-handling maneuvers, loopy crossovers and daring behind-the-back handles, White can usually create space when he wants to get a shot off.
White doesn't exactly worship at the alter of Steph Curry Range Shooting, but he's rather fond of pull-up 3-point looks, although he's far better off the catch (68.9 eFG% in the half court, 34-of-72 on catch-and-shoot 3PA, per Synergy).
According to Synergy, White is 18-of-56 (32.1 3P%) on pull-up 3-point attempts, including iso and pick-and-roll possessions.
White finds ways to attack the rim even in the half court. He can bob-and-weave his way through a defense or split a ball screen. Of course, he can also force dribble penetration with a lightning-quick first step (58.3 FG% at the rim).
When teams don't switch and he draws extra defenders or forces a defensive rotation, White is more than happy to play off that advantage with a pass. He averages over six assists per 40 minutes in conference play (4.5 per game), and has assisted on 29 percent of his teammates' field goals while on the floor.
He can certainly create high-percentage looks for his teammates; White has assisted on a team-high 42 dunks or layups this season, per Synergy.
Can Jones disrupt?
However, White is a risk to play loose with the ball, which is a liability around Jones. So far this season, White has averaged 4.1 turnovers per 40 minutes; in ACC play, he has a turnover rate of 20 percent.
For UNC to upset Duke in Durham, White has to have a big game in terms of both shot making and turnover avoidance. That puts the onus on Jones, who has averaged 2.5 steals per 40 minutes this season (3.3 percent steal rate). Jones has played in 23 games this season; in 21 of those outings, he's recorded at least one steal, including 14 multi-steal games.
On defense, Duke has switched liberally on high ball screens, especially since the start of ACC play. Will Mike Krzyzewski feel comfortable having Marques Bolden and Zion Williamson switch on White 25 feet from the basket? RJ Barrett has had issues defensively, too. That's another switch matchup White could light up, potentially.
It should be noted, too: White is an excellent splitter of ball-screen traps or double teams. Duke may consider switching to avoid White wiggling his way into 4-of-3 situations.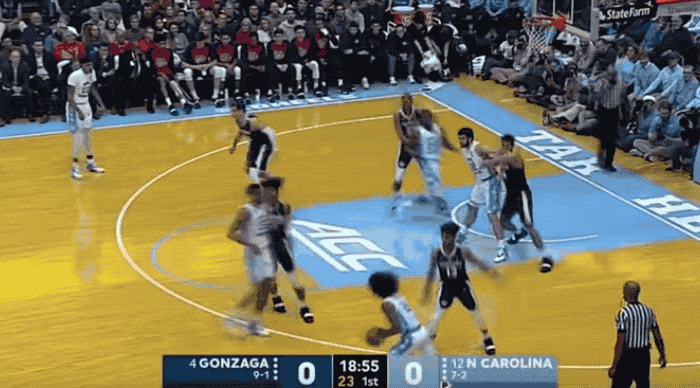 Regardless, if Jones can make life miserable for White — as he's done with dozens of other guards this season — Duke has a major advantage.
The 3-Point Line
In a somewhat new wrinkle to the rivalry, North Carolina is the far superior 3-point shooting team. UNC ranks 20th nationally in 3-point percentage (38.6 3P%) and 42nd in effective shooting (54.3 eFG%). Duke, on the other hand, isn't a bad shooting team (54.4 eFG%), but the Blue Devils — as has been well-documented — struggle from deep (31.3 3P%, No. 305).
KenPom's database tracks back to the 2000-01 season; during this timeframe, Duke has never shot below 34.9 percent from deep — until now. That includes nine seasons above 38 percent on 3-point attempts.
North Carolina, which boasts the No. 2 spot offense in the nation (1.17 points per possession, 60.6 eFG%), has just two other seasons going above 38 percent from deep — the 2005 and 2009 title teams.
Despite the struggles from 3-points range, Duke (0.8 points per possession on spot-ups, No. 338) knows it's important to get those shots up. With Cam Reddish leading the way (188 3PA), 37 percent of Duke's field goal attempts are of the 3-point variety — a slight increase over last season. For the Tar Heels, 35.6 percent of the team's attempts have come from beyond the arc.
Simply put: Cameron Johnson, now healthy, has amazed this season (47.9 3P%). Johnson has an effective shooting rate that flirts with 74 percent on catch-and-shoot attempts, per Synergy. He needs little time to get his feet set and fire off another triple.
The veteran sniper has been dynamic shooting on the move this season, too: 1.33 points per possession (65.8 eFG%) off screens, according to Synergy. This look, which comes off a set of staggered weak-side pindowns, is one of UNC's preferred actions. Again, watch him square his feet and let it fly.
Duke, however, is an excellent defensive team; the Blue Devils rank second nationally in adjusted efficiency and first in steal rate (14.1 percent). Coach K's club has variety of NBA-level defenders, including Reddish, a monster 3-and-D prospect. (Let's go, baby: Cam Battle!)
Reddish (2.8 steals per 40 minutes) has done outstanding work against some of the ACC's other elite off-ball shooters, like Kyle Guy and Jordan Chatman. His handiwork against Johnson tonight could also prove pivotal.
What to do with Zion?
Then there's that Zion Williamson fella. Remember him? He's pretty great at basketball, if you haven't heard. The future No. 1 pick has a profound two-way impact whenever he sets foot on the basketball court. On both ends of the floor, UNC must be aware of his presence at all times.
So far this season, no one has really held him in check. His lowest scoring game of the season — 11 points in 17 minutes at Florida State — came as a direct result of an eye poke. In terms of individual offensive rating (99), his worst game this season was way back in December against Texas Tech, the nation's No. 1 defense. (Williamson fouled out of that game, but not before scoring 17 points and grabbing 13 rebounds — plus two stocks, too. Yeah, he's good.)
Including the Texas Tech win, Zion has just five games of 50 percent or lower shooting. Duke has gone 4-1 in those games — with the lone loss coming against Gonzaga.
Williamson also had a season-high five turnovers against the Red Raiders, which he duplicated in the win over UVA in Charlottesville. Can UNC wall off the rim against Zion? Well, that's a tall task and will require a collective effort; it's critical that Nassir Little — UNC's best one-on-one option vs. Zion — play big, too.
Williamson has scored 1.48 points per possession (72.7 FG%) at the rim in the half court — a top-15 number nationally. He's far too quick for Luke Maye in space and other wing defenders don't have the size to deal with his power.
It will require a team effort to make life difficult for Williamson, who has also scored 1.62 points per possession (77 FG%) on post-ups this season, which ranks No. 1 in the nation. When he drops that right shoulder and gets to his left hand, it's over.
If you send extra help, well, that's not really a solution, either; Zion is such a willing and skillful passer (16 percent assist rate). He will locate and hit an open teammate, and there are plenty of good options, like RJ Barrett and Reddish.
Duke is 14-1 in games when Williamson has record 2+ assists. A deft passer, Williamson is comfortable dishing on the go, in short spaces.
Yeah, That Way
Defensively, Williamson is a terror, too. He's the most destructive help defender in the county: 3.1 steals and 2.6 blocks per 40 minutes. He gambles a lot, but it's worth it. He shuts down passing lanes and makes over-the-top passes disappear. (Just ask Louisville)
Williamson's hands are so quick; he's able to pick the pocket of even the most skilled/veteran guards in the ACC. Forget about him for a second, and he's flying in from the back side for a steal — ready to start up the highlight factory.
Break out the Windex
Another key to contain Williamson: Do your best to keep him off the offensive glass. It's a point several opponent coaches have harped on. It's not just Zion; Duke ranks sixth nationally in offensive rebound rate (37.6 percent). Williamson, though, is at the top of the priority list.
Stop Zion? Make shots? Gamble on their shooters?

What are the keys to beating Duke?

If you listen to the head coaches that have faced Duke this season, many mention a couple of the same things

Rebounds & turnovers

In order to win, you first have to avoid losing

📹⬇️ pic.twitter.com/biXet9J7Rh

— Dadgum Box Scores (@dadgumboxscores) February 20, 2019
An explosive second-leaper, Williamson has rebounded 13.3 percent of Duke's misses while on the floor — a top-50 number nationally.
These rebounds turn into instant-offense, too. Zion is shooting 73 percent on put-back attempts after an offensive rebound (1.48 points per possession), which is a monster number.
Enjoy The Game
Have fun tonight, college hoops fans. Enjoy the game. (Also, I should've made a bigger mention of RJ Barrett in this preview, but I think we covered just about everything else.)
Read More on ACC Basketball
Inside The Boxscore: Hunter gets the better of Alexander-Walker