We're back with the second week of ACC Bracketology, One Number to Know. In this week's batch, we look at Virginia's ability to spread the floor, Jay Huff, Jordan Nwora, FSU's Christ Koumadje and what Duke should try without Tre Jones.
(Projected seeds via Bracket Matrix.)
Virginia — 1
Virginia basketball is cooking with gas; this team looks like an absolute war machine at the moment. We all know about the defense, which is again great. However, let's focus on their offense for a second. The Hoos rank seventh nationally in 3-point percentage (40.8 3P%) and No. 161 in 3-point attempt rate — 39 percent of the team's field goal attempts have come from beyond the arc.
They certainly have the personnel to do damage off the catch. Kyle Guy (53.8 eFG%), Ty Jerome (73.7 eFG%), De'Andre Hunter (57.6 eFG%) and Braxton Key (56.9 eFG%) are all scoring over 1.1 points per possession on spot-ups, per Synergy Sports.
Jerome really has been amazing shooting the basketball this season. I also continue to be impressed with the simple-but-effective passing ability of Dre Hunter.
Speaking of Key, he's done a little bit of everything for UVA this season — rebounds, low turnovers, blocks/steals; however, his shooting has been a nice bonus, too.
This is such a minor first-world problem, but I think it's important for Key (34.5 3P%) and Kihei Clark (32.4 2P%) to continue to provide some added range shooting. When one (or more) of the three of Guy, Jerome and Hunter hit the bench, Virginia's shooting/spacing drops. Can Key and Clark continue to contribute in auxiliary roles here?
Bonus Virginia: Jay Huff
Jay Huff can get lost defensively on occasion for Virginia but, in limited minutes, he's helped this team. Huff plays under 10 minutes per game; however, he's shot 75 percent from inside the arc, 81.8 percent at the rim and has scored 1.14 points per possession out of the pick-and-roll.
Jay Huff with the ferocious DAGGER in the rivalry W! 😳🗡#Wahoowa #MustSeeACC (@UVAMensHoops,@jayhuff_)@NewYorkLife #GoodAtLife #ad pic.twitter.com/rRjNkSuM3M

— ACC Digital Network (@theACCDN) January 16, 2019
There's also some stretch to the 7-footer's game, too: 6-of-10 3PA. It isn't online quite yet, but UVA could have one of the better offensive players in the ACC in a few years.
Duke — 1
We have plenty of playmaking ability from Zion Williamson, R.J. Barrett and Cam Reddish so far this season. It's time to see that expand, though. Without Tre Jones, some talking heads have advocated letting Jordan Goldwire and Alex O'Connell handle the ball more. Just…no.
Yes, those two are perimeter options off the bench for Duke; Jones plays over 29 minutes per game, someone has to absorb that loss. Increased minutes for Goldwire and, especially, O'Connell — along with Jack White — are on the agenda. However, to suggest giving the ball more to lesser players is sort of ridiculous, no? (White and O'Connell could really help by hitting some 3-pointers, though.)
Barrett averages five assists per 40 minutes; he has the ability to pass, and the most optimistic NBA projections for the lefty spit out: lead guard. No Jones, though, means Duke needs less of this tunnel-vision approach from Barrett.
This has been a legitimately good RJ game. Maybe his best game of the year that I've seen. But c'mon man. pic.twitter.com/jqWjJZwc80

— Cole Zwicker (@colezwicker) January 9, 2019
Also, why not Williamson touch the ball as much as humanly possible? He can play both sides of the pick-and-roll — get to those actions.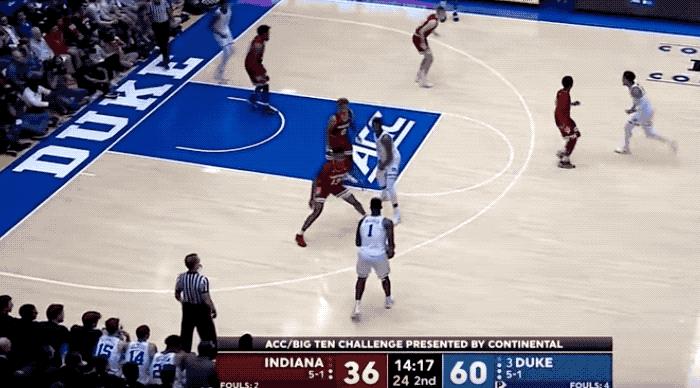 Now, if I were Coach K, I'd find ways to get Barrett and Williamson involved in as many two-man actions as possible.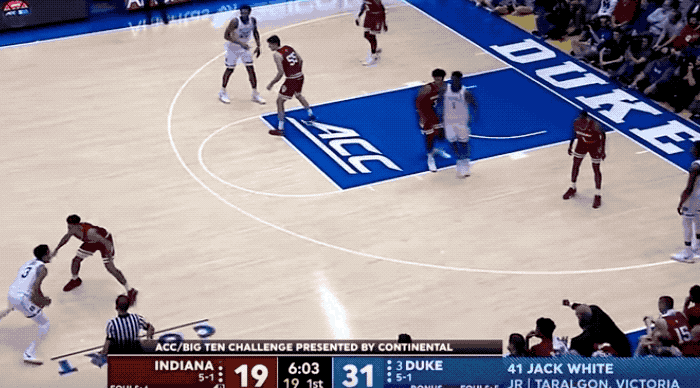 In lineups when Duke maximizes shooting — so with both White and AOC on the floor — spread the court and let Williamson attack.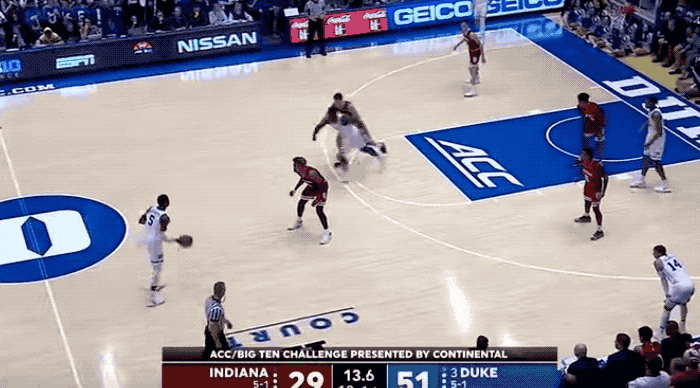 Let's not forget: Reddish played point guard in the prep ranks. While he's struggled with his handle at time this season, he's quick and can pass, too. Is there some upside to unlock here? (Note: Virginia is a tough team to experiment this type of stuff against.)
This, of course, doesn't answer what Duke will do defensively sans Jones — arguably the top perimeter defender in the country. That's a challenge because Duke's transition offense is excellent, while the half-court unit has slogged at times. This is a concern.
*sitting in the corner, counting my Tre Jones stock pic.twitter.com/TSY7adQvxB

— Brian Geisinger (@bgeis_bird) December 2, 2018
Virginia Tech — 3
The 1.45 points per possession allowed in the road loss to Virginia was the worst defensive performance for the Hokies since a Feb. 2017 loss to Donovan Mitchell and Louisville.
Virginia Tech ran into a buzzsaw in UVA; however, there are things this team can do better defensively, too. Currently, the Hokies rank No. 346 nationally — almost dead least — in opponent 3-point attempt rate, per KenPom. Over 48 percent of opponent attempts have come from beyond the arc; in four ACC games (3-1), the number has jumped to 51.8 percent, the worst in the ACC.
North Carolina — 3
According to Synergy Sports, Miami has been decent in transition defense this season — just under one point per possession (57.4 eFG%). Going by Synergy's numbers, UNC has struggled in transition this season: 0.93 points per possession. Is this an opportunity for the Heels on Saturday, to get the ship moving in the right direction?
Miami ranks 322nd nationally in bench minutes (22 percent), according to KenPom; without Dewan Hernandez, the Hurricanes are playing a Mike D'Antoni-esque seven-man rotation. North Carolina ranks fifth in adjusted tempo and No. 3 nationally in average time of possession on offensive (13.7 seconds).
Also: Are we due for another 3-point barrage from Cameron Johnson?
Over the last 2 games, Cameron Johnson is 0-for-7 from 3

But he is 6-for-9 from 2PT land

Last night Johnson missed a trio of 3PT shots, but made 3-of-5 from 2PT land while collecting a season-high 6 assists too

Video showing the made 2PT shots & assists pic.twitter.com/bQ7O211F6A

— Dadgum Box Scores (@dadgumboxscores) January 16, 2019
Florida State — 5
For the season, Florida State's Christ Koumadje has attempted 86 field goals, making 49 (57 FG%). Of those 86 attempts, 56 (65.1 percent) have come at the rim: 44-of-56 (78.6 percent). As the excellent Adrian Atkinson notes, Koumadjue leads the ACC with 40 dunks (5.6 per 40 minutes).
ACC Individual Dunk Leaders:

1. Koumadje (FSU): 40
2. Williamson (DU): 34
3. Banks (GT): 24
4. Barrett (DU): 23
5. Little (UNC): 20
6. Mann (FSU): 19
T7. Kabengele (FSU): 18
T7. Bolden (DU): 18
T7. Enoch: (UL): 18
10. Nwora (UL): 17
11. Brown (Pitt): 17
12. DeLaurier (DU): 15

— Adrian Atkinson (@FreeportKid) January 17, 2019
This means: nearly 82 percent of Koumadje's field goals this season — 40-of-49 — have been dunks. That's a good thing, too. Of note: Koumadje is 5-of-30 (16.7 FG%) on attempts away from the rime.
NC State — 6
We know DJ Funderburk can makes plays on the offensive glass, but he isn't alone in that distinction on this NC State roster.
It has helped to go against Miami and Pittsburgh — two teams that struggle clearing defensive possessions with a rebound. However, this is still pretty impressive. NC State has rebounded 37.6 percent of its misses in ACC play — tops in the conference.
Funderburk (10.2 percent), Wyatt Walker (20.9 percent) and Eric Lockett (11.9 percent) all have offensive rebound rates north of 10 percent. This has helped Funderburk, who ranks second in the ACC in offensive rating, get high-percentage looks, which he's taking advantage of: 75 percent shooting on 2-point attempts against ACC competition.
Louisville — 7
In his debut season at Louisville, Chris Mack has built an offense that ranks No. 13 nationally in adjusted efficiency. At the de factor midpoint of the season, this team has shown the ability to attack the money areas of the floor — shoot threes (42.6 percent of their FGA are 3PA) and get to the line (45 percent FT attempt rate).
Jordan Nwora's rise as a high-usage (27.8 percent usage rate), 3-point slinging offensive hub has been huge, too. Nwora (61.5 percent true shooting) is 41-of-100 on 3-point attempts this season, and he has serious range — watch from his 32-point outburst against Boston College.
According to Synergy Sports, Nwora has scored 1.57 points per possession (78.3 eFG%) on half-court catch-and-shoots this season — No. 7 nationally (minimum 50 possessions). One of the impressive features of Nwora's game: his ability to shoot on the move, coming off screens.
However, closeout too hard on Nwora, and he can make you pay on straight-line drives, too. For the season, he has 17 dunks and is shooting 68 percent at the rim.
Against Boston College: In a two-possession scenario with under a minute to play, Nwora hit the dagger — pump, reset dribble, splash.
Syracuse — 10
In the upset win at No. 1 Duke, Tyus Battle put on a show — 32 points on a career-high 28 field goal attempts. Battle has the ability to finish at the rim (71 FG%), put he loves dribbling into pull-up 2-point attempts.
Nearly 45 percent of Battle's field goal attempts (102 FGA) are of the 2-point variety — away from the rim: 41-of-102 (40.2 FG%). Of those 41 makes, only six have been assisted. As this has gone on, Battle's 3-point attempt rate has dipped to only 28.1 percent, down from 56 percent as a freshman.
Read More on ACC Basketball