In an effort to factor in last night's thrill Virginia-North Carolina matchup, we decided to wait a day for this week's ACC Basketball Power Rankings. So, on a Tuesday, here you go. Plus: Coby White makes challenging stuff look easy, Cam Reddish finds comfort in his role, Ty Jerome does everything a coach could dream of and Chris Lykes refuses to back down.
No. 1 Duke
There's been plenty of hand-wring over Cam Reddish's role this season at Duke — how his performance has met or not met expectations. Recently, though, Reddish has found his groove; when he plays like this, Duke looks nearly unbeatable.
Over the last four games, over 75 percent of Reddish's field goal attempts have been of the 3-point variety (37 of 49). He's connected on 16 of those 37 attempts (43 3P%). This is a perfect formula for him; spot-up around open looks (created by Zion Williamson), attack closeouts and defend like crazy.
In this same span of games, Reddish also has 13 stocks (11 steals, two blocks). He's defended like a mad man, too. Going back to the Boston College win, Reddish took two of the ACC's top off-ball sniper out of the game — Jordan Chatman and Kyle Guy. He locks and trails gracefully around screens, using his length to contest and disrupt actions.
Guy caught him once or twice up in Charlottesville, and Jerome scooted by him for a finish, too, but other than than, he's been airtight. Reddish (three steals per 40 minutes) is one of the best defensive prospects in the country.
Also, Saturday's win was another wonderful outing for Zion Williamson. He tied a career high with five turnovers, but he still shot 75 percent from the field (81 eFG%), dished out five assists, attempted seven free throws and recorded six stocks (three steals, three blocks). (He's up to 98 stocks in 23 games now, which is absurd.)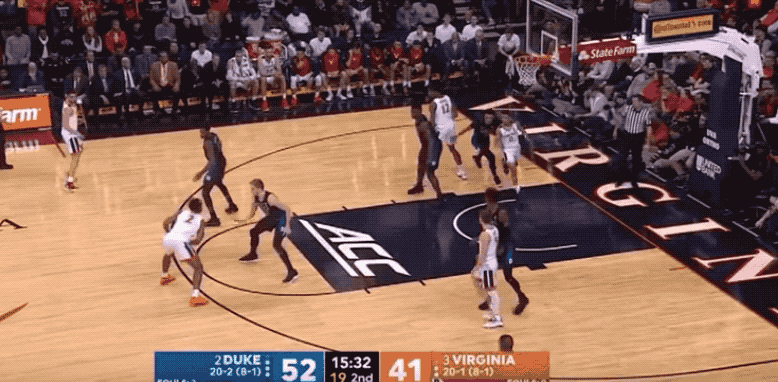 This should've been a dunk on the backdoor cut for De'Andre Hunter; Zion isn't in position. However, that dude's recovery speed is simply incredible. Oh, yeah. This happened, too.
This block by Zion is one of the most athletic plays I have ever seen pic.twitter.com/SEWQo61g4E

— Matt Jones (@KySportsRadio) February 10, 2019
No. 2 Virginia
Kyle Guy hit two massive 3-pointers late against North Carolina, and Dre Hunter helped keep Virginia afloat in Chapel Hill — thanks to another efficient outing on offense (and some timely defense late on Coby White).
When it absolutely needed it vs. UNC, Virginia went right back to Dre Hunter in the middle third of the floor pic.twitter.com/bH7ThCfaxG

— Brian Geisinger (@bgeis_bird) February 12, 2019
Once again, though, Ty Jerome was brilliant for UVA. He routinely attacked switches against Luke Maye — finding offense for himself or setting others up. Jerome handed out 11 assists — one off tying a career high.
From Virginia's mover-blocker offense, Jerome curls and flares around screens, looking for catch-and-shoot jumpers or channels to attack. When Tony Bennett wants to run some sort of floppy action for Guy, he can trust Jerome with the ball.
And when Virginia goes to its ball-screen approach, Jerome can really facilitate, too. In ACC play, Jerome ranks second in the league with a 35.7 percent assist rate.
Even against less-favorable match-ups, Jerome wrangled his way into the lane for some tough finishes. He's so clever with using angles and placing to ball high on the glass when needed for added touch.
No. 3 North Carolina
On its home floor Monday night, North Carolina couldn't quite hold off Virginia and Dre Hunter. UVA, as it usually does, got the game down to its tempo and remained efficient on offense.
58.5 possessions tonight in Chapel Hill: UNC scored 1.03 PPP, but couldn't get enough stops, allowing 1.19 PPP.

— Adrian Atkinson (@FreeportKid) February 12, 2019
As Adrian Atkinson points out, when this happens for the Tar Heels under Roy Williams, it doesn't always yield great results, especially against Virginia.
Roy Williams's record at UNC in games with 60 or fewer possessions falls to 9-7. Many of those, of course, are against Tony Bennett's Cavs.

— Adrian Atkinson (@FreeportKid) February 12, 2019
However, I want to take a second to highlight the shot making of Coby White. The freshman guard didn't have his best game against the Hoos (3-of-11 3PA, three turnovers); however, he still flashed some brilliant catch-and-shoot abilities and the desire to finish through contact.
Mamadi Diakite hedged hard and forced White to go wide, but Kyle Guy is still a step behind White, who uses his handle and size to create leverage and then finish at the rim. Combine this with his speed and range shooting, wow, you have a special offensive player.
Hunter goes vertical here, but White (67.2 FG% at the rim) hangs and finishes.
Watch him on the fast break here — White goes right at Diakite, one of the top shot blockers in the country (13.3 percent block rate in ACC play).
Same thing from over the weekend against Miami.
Of course, his pull-up 3-point game is really fun, too. If you're a North Carolina fan, enjoy this guy while you can; it won't last too long.
Just a ridiculous shot-making game from Coby White vs. Miami: 4-5 pull-up 3PA. Fun matchup between he and Lykes, trading blows back and forth. pic.twitter.com/VioWx1YWpC

— Brian Geisinger (@bgeis_bird) February 11, 2019
No. 4 Louisville
Louisville spent the majority of January absolutely running through the bottom tier of the ACC. The Cards lost just once in that month and picked up wins over Boston College, Georgia Tech, Pittsburgh, Miami and Wake Forest.
The rebound win over Virginia Tech (again, sans Justin Robinson) was solid; however, the road loss at Florida State featured far too many turnovers (23, 31.5 percent), including six from the usually-rocksteady Dwayne Sutton. Louisville is down to No. 134 nationally in turnover rate: 18.3 percent.
Two big opportunities present themselves this week, starting with visiting No. 2 Duke on Tuesday night. This team is ready for the challenge.
Credit Chris Mack for today's humor on the ACC teleconference.

On a @danielle_lerner question about Zion Williamson, Mack: "Whooooooo?"

— Conor O'Neill (@ConorONeillWSJ) February 11, 2019
No. 5 Virginia Tech
Look, it's no secret: I like Nickeil Alexander-Walker's game, and I believe him to be a solid two-way NBA prospect. However, Saturday afternoon at Littlejohn Coliseum won't be a game that NAW would like to remember.
Pressed into a more ball-dominant offensive role without Justin Robinson, Alexander-Walker has hit a few snags. On the road at Clemson, NAW scored 13 points on 14 field goal attempts (1-of-5 3PA); prior to fouling out, he also turned the ball over five times to zero assists.
Justin Robinson of the #Hokies is on crutches

— Mark Berman (@BermanRoanoke) February 9, 2019
It's been fun to watch Alexander-Walker evolve as a pick-and-roll playmaker; he has the ability to make reads (looking opposite corner) and throw passes with both hands. But this is why I still like him far more as a secondary creator and second-side decision-maker, as opposed to a lead guard.
Since Robinson left the lineup, has scored under 90 points per 100 possessions twice. For one of the best offenses in America, that's hard to stomach. At Clemson, the Hokies posted a ghastly effective shooting rate of just 33.3 percent. That's the worst mark Virginia Tech has put up since Buzz Williams got to town.
This team needs its All-ACC point guard back.
No. 6 Florida State
If you sold any of your Florida State stock in late January, after three straight defeats, shame on you. The thrilling overtime win over Louisville was the team's fifth straight W and one of Florida State's best wins of the season.
FSU got off to a really slow start and shot the ball horrendously (7-of-23 3PA, 43.4 eFG%) against Louisville; however, led by my guy Trent Forrest, the Seminoles crashed the offensive glass, avoided turnovers and causes havoc defensively. Florida State finished with 14 offensive rebounds (34.1 percent), eight turnovers (11 percent) and 11 steals (15.1 percent).
Forrest grabbed four offensive rebounds, handed out four of the teams six assists (eek) and picked up five steals, too. The five steals for Forrest ties a career high; he's now averaging 2.9 swipes per 40 minutes. Forrest ranks 27th nationally with a 4.1 percent steal rate, according to KenPom.
Forrest really does a nice job using his size/speed combination to bully his way into the lane and look for kick-out options.
The ACC's preeminent microwave bench scorer, Mfiondu Kabengele, dropped in 22 points (on 12 FGA) and three offensive rebounds (12.5 percent offensive rebound rate in ACC play). For the season, Kabengele has drawn 7.2 fouls per 40 minutes — a top-10 number nationally.
Quick observation: Terrance Mann is up to 50 percent 3-point shooting (11-of-22 3PA) in ACC play now, too.
No. 7 NC State
We mentioned it last week: After the loss to UNC, NC State had an opportunity to redirect its season. So far, so good. Over the final 10 minutes of game action, NC State never trailed Pittsburgh and held on for a 79-76 victory.
Against Pittsburgh, four players — Braxton Beverly, Markell Johnson, C.J. Bryce and Torin Dorn — combined to hit 14 3-pointers. Johnson stuffed the stat sheet: 10 points, eight assists and two steals. Bryce had another productive outing, too: 21 points, four offensive rebounds and two assists.
Kevin Keatts: This was probably his best game back from his injury. When I look at his numbers, that's Markell. I think he had 10 points, but more importantly he had eight assists and only two turnovers. pic.twitter.com/obEGxx3g6i

— Inside Pack Sports (@InsidePackSport) February 10, 2019
For the season, Bryce is averaging 12.5 points per game on nearly 60 percent true shooting. During ACC play, he ranks inside the top 20 in effective shooting, true shooting, turnover rate and 3-point percentage (42.2 3P%).
No. 8 Syracuse
Last week, Syracuse split its two home games. First, Syracuse lost in blowout fashion to Florida State: 80-62, scoring just 0.86 points per possession. Over the weekend, however, the Orange defended its home floor with a victory over Boston College.
To the surprise of no one, Tyus Battle was solid against the Eagles: 21 points, three steals. Syracuse needed a secondary scorer, though, and Buddy Boeheim proved to be just that. The freshman guard scored 16 points on just seven field goal attempts (4-of-5 3PA).
Really funny when the Dome wanted Buddy Boeheim to shoot this three and Jim Boeheim told the crowed shhhh I'm the coach pic.twitter.com/RKm1rVplCO

— Orange Bias (@OrangeBias) February 11, 2019
It's imperative for Syracuse that guys like Buddy Boeheim and Elijah Hughes continue to hit 3-point shots. That's the missing ingredient around Battle's attacking offense and a zone defense that ranks 24th nationally in adjusted efficiency.
No. 9 Clemson
Well, what do ya know. When the schedule lightened up, Clemson got to winning. The Tigers have picked up four straight wins, including Saturday's triumph over Virginia Tech (minus Justin Robinson), which serves as Clemson's best win of the season.
And just like that, Clemson lands back in the projected field for the NCAA Tournament. (Bracket Matrix has Clemson as an 11-seed.)
Today's @ESPNLunardi NCAA Bracketology
(9 ACC bids)
Duke/UVa-1 seeds (with Tennessee, Gonzaga)
UNC-2
Louisville-4
Virginia Tech-5
Florida State-6
Syracuse-8
NC State-9
Clemson-10
NOTE: ACC record for most NCAA bids = 9, in both 2017 & 2018.

— David Glenn Show (@DavidGlennShow) February 12, 2019
In this span of competition, Shelton Mitchell shook off some of his struggles, too. The veteran guard splashed five 3-pointers over Virginia Tech, which marked his fourth straight game with at least one hit from deep. Three of those games have included multiple 3-pointers.
No. 10 Notre Dame
After a rough outing at Miami for T.J. Gibbs (two points, 1-of-9 FGA), the junior guard responded in a rematch with Georgia Tech. Gibbs scored 20 points (8-of-9 FTA), handed out five assists and nabbed five steals, too.
.@NDmbb picks up a Sunday night victory, defeating Georgia Tech 69-59. TJ Gibbs led all players with 20 points while John Mooney added an 11 point / 14 rebound double-double. #ACCMBB pic.twitter.com/4qvncbz9pn

— ACC Men's Basketball (@accmbb) February 11, 2019
This wasn't a pretty win for the Irish (37.5 eFG%). However, its defense showed up; Georgia Tech managed to score 0.94 points per possession. Notre Dame is 9-3 in games its held the opponent to under one point per possession — with most of that success coming against weaker non-conference competition.
No. 11 Pittsburgh
Pittsburgh's encouraging 2018-19 season took a bit of a frustrating turn last week. After losing five straight, the Panthers dropped two more — at Wake Forest, home to NC State — by a combined five points.
In terms of offensive rebounds, Pitt has been solid; the Panthers ranks 60th nationally in offensive rebound rate, per KenPom. On the other end of the floor, though, work on the glass is substandard. Pittsburgh ranks No. 336 in the nation in defensive rebound rate.
Wake Forest and NC State both crushed Pitt on the offensive glass. The Demon Deacons (18 offensive rebounds) and Wolfpack (20 offensive rebounds) each posted offensive rebound rates north of 45 percent.
Jeff Capel said he thinks outside of Au'Diese Toney that Pitt doesn't have instinctive rebounders. How do they fix that?

"We have to recruit. We have to recruit guys like that. It's not a knock; it's just the reality. We don't have guys that naturally, instinctively have that."

— Craig Meyer (@CraigMeyerPG) February 11, 2019
Note: Freshman guard Xavier Johnson (31 percent usage and 55.3 percent true shooting in ACC play) continues to be rather good.
No. 12 Miami
Miami fell to 10-13 on the season after the loss to UNC in Chapel Hill — another trying chapter in a season of frustration for the Canes. (Of note: Miami has held a second-half lead in 18 of its 23 games. This team just doesn't have the depth to reliably finish games.) Let's focus on the positives here, though, yeah?
Once again, Chris Lykes continues to amaze. In 41 minutes of action (38 percent usage rate, too), Lykes scored 27 points — one off a season high. Lykes is just so fast with the basketball; he uses that and his low center of gravity to get to his spots.
As usual, most of the offense from Lykes came out of the pick-and-roll. The sophomore went 4-of-12 on attempts out of that action, including 2-of-6 on 3-point attempts.
Miami runs a lot of single-high/flat ball screens for Lykes; however, the Canes use plenty of double/drag screen action for Lykes, too. In those scenarios, Ebuka Izundu will roll while Anthony Lawrence pops and spaces out. From there, it's up to Lykes to make a decision.
Watch this quick release — over Nassir Little's wingspan — off a single guard-to-guard ball screen from D.J. Vasiljevic. The Lykes-Little matchup was an advantageous one for Miami on Saturday, and UNC frequently assigned Little to defend Lykes.
Unfortunately for Miami, those ball screens are also an invitation to double or trap Lykes. Opponent want to get the ball out of his hands; for Miami, the value of a possession decreases the second that happens. Sometimes Miami lets him just work in isolation, instead.
Lykes was a magician in isolation, too. According to Synergy, he went 5-of-8 (3-of-4 3PA) out of isolation attempts. North Carolina countered this by throwing the kitchen sink at the smallest guy on the floor — frequently sending high double teams at Lykes even when there wasn't a ball screen.
For the most part, Miami did pretty well playing 4-on-3 on the back side of those possessions — making the extra kick-out pass. However, Lykes turned the ball over six times, which is a big hit; plus, Miami needs the ball in his hands.
No. 13 Georgia Tech
Following Sunday's loss to Notre Dame in South Bend, Georgia Tech fell to 3-8 in league play. In those 11 games, the Yellow Jackets have scored above one point per possession just twice, and one of those outings came against Wake Forest's traffic cone defense.
There's one serious positive to take from the defeat, though: a strong outing for freshman guard Micahel Devoe. Devoe scored a career-high 18 points thanks to a career-best four 3-pointers; he also handed out six assists, which tied a personal best, too.
Inside the Chart: Jackets look to thaw their shooting in frigid South Bend … Can Tech defend Irish as well as it did Jan. 22 in Atlanta … Devoe quietly demonstrates shooting ability … Banks and Durham … more from @AndyDemetra https://t.co/v6ie6CSQ1c pic.twitter.com/O5cXnUIkf5

— Georgia Tech Basketball (@GTMBB) February 10, 2019
Devoe (0.82 points per possession on spot-ups, per Synergy) has a gaudy 24.4 percent turnover rate in ACC play; his 48.9 percent effective shooting clip against conference foes isn't great, either. However, he's up to 46 percent on 3-pointers in league play, which is encouraging.
No. 14 Boston College
After sitting the first five minutes due to a violation of team rules, Ky Bowman came off the bench to have a big game in the loss at Syracuse: 21 points (3-of-5 spot-up 3PA), five 3-pointers, seven rebounds and two steals.
9:40, 1st half | BC trails 14-12

Ky Bowman – the Nation's Most Dynamic Reserve Guard – scored five quick points for the Eagles and spurred a 6-0 BC run.

Steffon Mitchell with 3 rebounds, an assist, a steal, and a blocked shot.#WeAreBC 🦅

— Boston College Men's Basketball (@BCMBB) February 9, 2019
However, his efforts weren't enough. The Eagles managed to score just 0.85 points per possession; for the season, BC has scored under 0.9 points per possession against half-court zone defenses.
This week, Boston College stays at home for match-ups with Pittsburgh and Miami. Currently, KenPom has BC as a slight favorite in both contests.
No. 15 Wake Forest
Behind a monster performance from Jaylen Hoard (19 points, 17 rebounds, four assists, three blocks), Wake Forest got its second ACC victory of the season — a much-need victory over a solid Pitt team. Can Wake make it two straight? Eh, probably not. Wednesday's game is at Florida State, which is a reminder that Wake has really struggled on the road under Danny Manning.
In fact, since the start of the 2014-15 season, Wake Forest is 4-37 in road ACC games. Factor in the Jeff Bzdelik tenure and, yeah, this just hasn't been a great decade of basketball for travel games in ACC play.
Contributor Rankings
| | David Glenn | Brian Geisinger | Josh Graham | Consensus |
| --- | --- | --- | --- | --- |
| 1 | Duke | Duke | Duke | Duke |
| 2 | Virginia | Virginia | Virginia | Virginia |
| 3 | UNC | UNC | UNC | UNC |
| 4 | Florida State | Virginia Tech | Louisville | Louisville |
| 5 | Louisville | Louisville | Virginia Tech | Virginia Tech |
| 6 | Virginia Tech | Florida State | NC State | Florida State |
| 7 | Syracuse | NC State | Florida State | NC State |
| 8 | NC State | Syracuse | Syracuse | Syracuse |
| 9 | Clemson | Clemson | Clemson | Clemson |
| 10 | Miami | Pitt | Notre Dame | Notre Dame |
| 11 | Pitt | Notre Dame | Georgia Tech | Pitt |
| 12 | Notre Dame | Miami | Boston College | Miami |
| 13 | Georgia Tech | Georgia Tech | Miami | Georgia Tech |
| 14 | Boston College | Boston College | Pitt | Boston College |
| 15 | Wake Forest | Wake Forest | Wake Forest | Wake Forest |