After committing to North Carolina, and then getting his full release from Pittsburgh on Thursday, well, it's safe to say it's been a busy week for Cameron Johnson and UNC. Now that the red tape is in the rearview mirror, we can thankfully talk ball.
One of theme that's emerged this week: how Johnson could function as a facsimile for Justin Jackson — who is in prep mode for the NBA Draft. No one is saying that Johnson will be as good or better than the league's player of the year; however, his skill set at least partially aligns with Jackson's.
Let's take this one step further, and look at a specific way UNC can deploy Cameron Johnson next season.
Managing Expectations
A very real reality of North Carolina's current roster is its lack of frontcourt depth. Luke Maye, thankfully healthy after a scary car accident this week, returns as the team's only big man with college experience. Three freshmen — Garrison Brooks, Sterling Manley and Brandon Huffman — enter the fold, but are completely unproven.
This has led many to surmise that the Tar Heels will downsize and play small-ball far more often in 2017-18. That's a strategy Roy Williams has mostly shied away from, though.
The 2012-13 team, which featured Reggie Bullock and P.J. Hairston as its two best players, is really the one example in recent memory when Williams went small. And even then, Hairston didn't join the starting five until a mid-Februrary game at Duke. After that game, Hairston became a much bigger cog in UNC's offense — no longer relegated to bench gunner status:
First 21 games: 1 start, 19.2 minutes

Final 13 games: 13 starts, 30.8 minutes
I love a spread 4-around-1 style of offense as much as anyone; however, it's tough to argue with how UNC has played ball the last three seasons, especially. In each of those three seasons, two traditional bigs were omnipresent on the floor for the Tar Heels, who ranked top five nationally in offensive rebounding rate (2015-17), per KenPom.
Regardless, whether out of necessity or just trying to put the best five players on the floor, Williams will likely have to trot out some stretchier lineups that feature Theo Pinson and Cameron Johnson as the two forwards.
One cool thing UNC can try
There really aren't that many elite traditional power forwards in college basketball; the Heels shouldn't have to worry about getting eaten alive in the restricted area, although controlling the glass would likely be more of a challenge. Pinson — a ferocious defender — and Johnson could switch and trade assignments if need be. Defensively, they could make it work.
However, it should be a slam dunk (pun!), and I think there's a cool wrinkle UNC can try, with Johnson on offense: 1-4 pick-and-pops with Joel Berry. North Carolina didn't run this action all that much with Justin Jackson; it's not as effective if two the players on the floor are non-shooters, like Kennedy Meeks and Isaiah Hicks. But in the demolition of NC State in Chapel Hill, UNC ran this action to close out the first half. The Wolfpack weren't ready, and had no answer.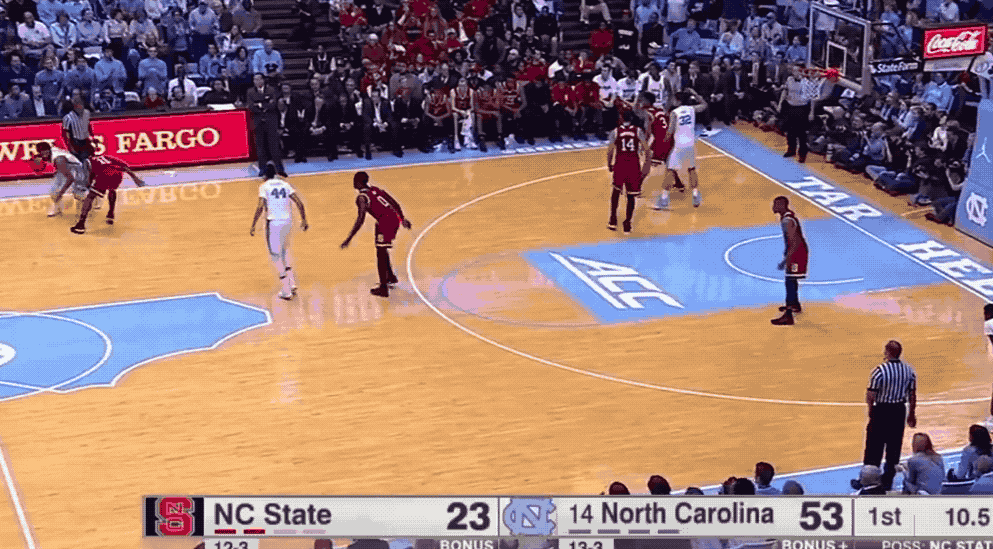 Both Markell Johnson and Abdul-Malik Abu stick with Joel Berry, which leaves a dangerous shooter wide open. That was one of six three-pointers Jackson connected on that day. As a junior, Jackson became the ACC's best two-way bomber: a defensive menace who could launch threes and make stuff happen in transition. It's worth noting: Johnson actually shot a higher percentage on catch-and-shoot opportunities this season than Jackson, per Synergy Sports.
| | Possessions | Points/Possession | FG% | aFG% |
| --- | --- | --- | --- | --- |
| Cameron Johnson | 159 | 1.2 | 40.3% | 60.1% |
| Justin Jackson | 203 | 1.09 | 36.9% | 54.7% |
The Tar Heels could also get really funky, and try this action with Pinson and Johnson while Berry, Maye and Kenny Williams — all good three-point shooters — space the floor. According to Synergy, Johnson didn't attempt one pick-and-pop three this season, but this is worth exploring in 2017-18.
Additionally: Johnson as a small-ball 4 trailer in UNC's patented secondary break looms as a potentially potent item, too.